DAVE'S DIARY - 18 JANUARY 2011 - JACK INGRAM INTERVIEW
JACK BACK IN BLACK
"We'll be lovin in the moonlight/ break out my old guitar/ sing fishin in the dark/ baby get ready/ we'll take a little sip/ we'll take a little dip &/ sleep in the bed of my Chevy." - Barefoot And Crazy - Jack Ingram.
Texan singer-songwriter Jack Ingram had mixed feelings when he lost a role in a new movie starring Kris Kristofferson and Dwight Yoakam.

But the singing actor, who performed in the movie pilot, is not crying over spilled malt.

Instead the singer is gearing up for his return in March for his second Australian tour.

Ingram headlines the CMC Rocks The Hunter festival at the Hope Estate with fellow Texan Miranda Lambert, Georgian superstar Alan Jackson and Joe Nichols.

Not being cast in The Last Rites of Ransom Pride, written by Oklahoma born outlaw singer Ray Wylie Hubbard, is bitter sweet for Ingram.
Ingram, father of two, strutted his stuff in the pilot for the movie about outlaws in the 19th century.

It features Jason Priestley who plays cousin Blake in white trash TV comedy My Name Is Earl.
"I'm not sure if I did something wrong or how it worked," says Ingram, a latter day neighbour and touring partner of Hubbard.

"It's an independent movie and they got their money from Canada. If you get their money you have to use 70 % of their actors - that's one of the reasons. I don't care. I've got a pretty day job. Neither Kris or Dwight got my role. I'm a fan of both of them. I'm also a huge fan of Ray Wylie. I've been on plenty of shows with him."

Ingram is touring here to promote his 13th album Big Dreams & High Hopes on indie label Big Machine.

His previous interview with Beat and Nu Country TV landed him in the Guinness Book Of Records for most consecutive interviews in a day - 215.

Although Ingram hired expatriate Adelaide guitarist-singer-songwriter Jedd Hughes to sing and play on his new CD he didn't tour here with Ingram last year.

"I'm not bringing Jedd, would you like me to?" Ingram joked about Jedd who performs at CMC Rocks The Hunter on March 5 and 6 with Sarah Buxton as Buxton Hughes.

"Jedd's really busy doing studio sessions and writing songs in Nashville. He also plays with Rodney Crowell who toured down there last year with Will Kimbrough. He's fantastic - one of my favourites. I've got a guitarist who goes on road with me so I'm bringing him instead.

I first heard Jedd when he played with Patty Loveless. He has a co-write with Guy Clark on his new CD The Song Writes Itself. That's really cool - I haven't had the guts to call Guy Clark and write with him yet."

Fellow Texans Clark and Crowell have notched up three Australian tours dating back to the eighties.
PATTY GRIFFIN - SEEING STARS
"I see stars that are stranded by the side of the road/ I see stars that look liker raindrops sticking to the hood of my car/ I'm seeing stars, wishing on stars." - Seeing Stars - Jack Ingram-Chris Tompkins.
But Maine born, latter day Texan Patty Griffin who has also toured here twice, is Ingram's duet partner on recent single Seeing Stars.

"We recorded that at Martie McGuire's studio in Austin," says Ingram of the multi-instrumentalist whose Courtyard Hounds duo cancelled its 2010 Australian tour at the 11th hour.

"I'm a big fan of the Dixie Chicks and Martie & Emily in their own right in their duo The Court Yard Hounds. Recording with Patty was a dream come true. I have worked with her in the past and knew she was perfect for this song. I've been a huge fan of her for a long time. She's really an incredible artist."
So what about Nanci Griffith, born in Austin, Texas, and now living south of Nashville in Civil War town Franklin, who was on the Thredbo bill with Virginian Phil Vassar?

"I'm also a big fan of Nanci," Ingram said.

"I got to hang out with her early in my career when I first went to Nashville. I wound up playing the same bars. She writes great songs."

Ingram also hung around some stone country icons as part of the 2010 Country Throwdown tour.

His tour mates included Jamey Johnson, Ryan Bingham, Eric Church, Montgomery Gentry, Jedd Hughes and Sarah Buxton, Little Big Town, Lost Trailers, Eli Young Band and former Trick Pony singer Heidi Newfield.

Ingram credits his dad for his song Biloxi, written after he repeatedly asked to be featured in a song.

It was about Jack's then 41-year old dad moving to Biloxi and leaving his family behind in Texas.

After that, Jack says his dad didn't ask to be in any more tunes.

When Jack became a father he recorded what he considers Biloxi II about his dad.

The Ed Hill-Steve Dale Jones-Mark D Sanders song That's a Man tells the tale of Jack's dad and other men who fight in wars, work hard to support their families and stand up for their moral beliefs.

"When you look back there are always things you'd change," Jack says. "As I've made records and moved on in career I look back and think, 'that was my truth at that time.'

That was how I felt at the time and there is no use looking back. I just move onto the next one."

Fellow Texan Robert Earl Keen also inspired the song Mustang Burn - a true story about Keen's car burning at a Willie Nelson July 4 picnic.
MOVIES AND PORSCHES

"How many times have I been face down/ drowning in the bottom of a bottle/ trying to get up only knocked me to my knees/ and how many times have I flown around this world?" - Not Giving Up On Me - Jack Ingram-Jeffrey Steele-Tom Hambridge.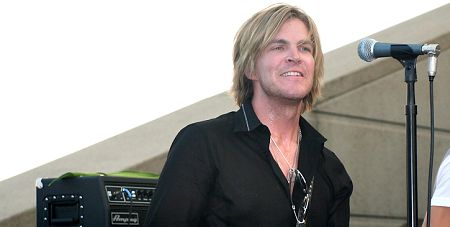 Ingram, who belatedly won the 2008 Academy of Country Music best new male vocalist award at 37 for 2007 album This Is It, has scored a brace of country hits.

But it was the outlaw singer's six live albums - dating back to 1997 - that most reflect his raunchy live shows that boosted his profile.

And, of course, his acting career that included roles with Sandra Bullock and Harry Connick Jr in Hope Floats and TV series Army Wives.

Most cherished is his role as a mechanic in the movie Abilene with veteran actor Ernest Borgnine.

"I couldn't believe it, when I rehearsed my lines with him he was sitting there in his underwear at the hotel the morning we went to shoot that movie," Ingram revealed.

"It was pretty cool to act with a guy who was such a huge star at one point. It was a little frightening. He's a great actor, great to see him being a working actor. When you see these guys who reach the top of their profession, whether it be acting or music, it's not about the stars and fame and all the glory. They're working musicians and actors and they care about the craft. It's same with Sandra Bullock won an Oscar for her role in The Blind Side."

Ironically, Bullock's on screen husband was Louisiana born country star Tim McGraw who toured here last year and stars with Gwyneth Paltrow in new movie Country Strong.

Ingram's hard-edged country songs, littered with social comment and left field humour, have not denied him mainstream success.

But so far he has not picked up sponsorship from his namesake - an Alabama Porsche dealer.

"Yes, that Jack Ingram is a Porsche dealer in Montgomery," Ingram joked.

"We don't get confused that often as he hasn't offered me sponsorships. He's a Nascar driver from years back, very successful. I'm still waiting on an offer to take his Porsches out on the road. Maybe the cheque's in the mail."

Ingram, Kasey Chambers, Troy Cassar-Daley, O'Shea, Canadians Dean Brody and Emerson Drive and many more perform the CMC Rocks The Hunter festival at Hope Estate, Pokolbin, on March 5 and 6.

Bookings - Phone 1 300 369 882 or www.countrymusicchannel.com.au