DAVE'S DIARY - 30 AUGUST 2009 - JACK INGRAM INTERVIEW
JACK, JEDD AND A BEAT UP BARBIE DOLL
"She puts on her make-up and drives to the bar/ in her boyfriend's old man's brand new car/ she's got no idea what she does or why." - Barbie Doll - Jack Ingram-Todd Snider
When Texan troubadour Jack Ingram needed fresh talent for his revamp of 1999 barroom burner Barbie Doll he didn't look far.

Ingram chose Quorn born expatriate Australian guitarist Jedd Hughes to play and sing on the song's 10th anniversary on 13th album Big Dreams & High Hopes.

Jedd was not the only luminary in The Little Big Lost Beat-Up Ford Funky Times Freedom Choir.

Arizona born Australian tourist Dierks Bentley was Ingram's duet partner and Little Big Town, Lost Trailers, Randy Houser, James Otto, Hughes and songwriter Bruce Sanders filled the bill on the response chorus.

So, why did Ingram choose Hughes?
"I've been a fan of Jedd's for a long time," Ingram 38 told Nu Country TV in his Guinness Book of World Records triumph for most interviews in a day.
"I first saw him when he was playing with Patty Loveless - he was a great player. He was only 18 or 19 at the time - he had so much soul and grace. I became a fan of his. He released his own album Transcontinental that I got and became a fan of. He's been around for a long time in Nashville trying to make it happen. He sang and played on Free and Barbie Doll on my album. We've been friends for a while and finally got to work together."

Hughes, graduate of South Plains College music degree at Levelland, Texas, works with Ingram's fellow Texan born Aussie tourist Rodney Crowell's road band.

But Ingram and Todd Snider's frequent collaborator Will Kimbrough toured here as Crowell's guitarist in April.

TODD SNIDER DOLLED UP
"That girl's a Barbie Doll, a Barbie Doll/ she's real good looking but she's got no heart at all." - Barbie Doll - Jack Ingram-Todd Snider
Ingram, father of three and wed to wife Amy for 13 years, is no sucker for Barbie Dolls - especially the blow-up variety.

So was Barbie Doll - penned with Oregon born, Texas tuned Snider - a subliminal sister of Kent Finlay's Blow Up Plastic Girl that flew over radio for Mel McDaniel?

"It could be, man, Todd is a diehard fan of Kent Finlay, as I am, but I've never put that together before," Ingram joked.

"It's probably subliminal. I'll have to tell Todd about that."

Oklahoma born McDaniel scored widespread exposure for the song in Queensland when it scored airplay on 4KQ - then a country station.

< Todd Snider
Music director Rod Stone, a former Nu Country FM DJ, was involved in a humorous on air fracas with morals maverick Vilma Ward when he played the song from Mel's 1978 album Gentle To Your Senses.
Stone broke the record on air but Ward told the DJ she believed it was a Slim Dusty disc that hit the floor.

McDaniel, now 66, joked about the incident in an interview with me in Nashville in 1983 and recorded radio IDS for the song, spoofing Ward.

The Grand Ole Opry star is now recovering from a heart attack on stage in Lafayette, Louisiana, and medically induced coma.

Meanwhile back to Jack who plans an Australian tour to promote his rich catalogue.

PSYCHOLOGY GRADUATE
Ava Adele/ I already can tell/ you are the one for me/ well it hasn't been long/ but I'm already way gone/ in the eyes." - Ava Adele - Jack Ingram.
The Houston-born, Woodlands-raised singer-songwriter has cool credentials to write reality rooted country songs.

Jack - father of daughter Ava Adele, seven, and two sons Eli, five, and Hudson, three, graduated from Southern Methodist University with a degree in psychology.

"I was studying psychology for same reason I was into music," says Ingram.

"I was just trying to find out what makes people tick. And what makes me tick. They say that music can be therapeutic. I've always thought two things go hand and hand."

Like singing and acting.

Ingram recently performed in American TV series Army Wives - a show that starred Allison Moorer's elder sister Shelby Lynne and features music by expat Australian singer Fiona Kernaghan.

Shelby Lynne was cast as Stella Raye, a down-and-out country singer, for August 9 episode that featured two new songs, Beat the Blues and Like a Fool.

Ingram was in the August 16 episode.

"My acting chops are so stellar from my role as a bar musician in the movie Hope Floats the Army Wives folks working on that show asked me to play similar role as a bar singer," Jack joked.

Ingram performed two songs - Coming Back For More and Ready For Love - in Sandra Bullock-Harry Connick Jr movie Hope Floats.

Forest Whitaker, cast in The Crying Game and Phenomenon, was director.

Both were a far cry from his role as a mechanic in Abilene.

"Did you ever see that?" he asked.

"I had two speaking parts with Ernest Borgnine. That was really cool. It was great to work with him - a great experience."
RAY WYLIE HUBBARD OUTLAW MOVIE
"I know why you asked me here/ you're not sure the coast is clear/ you're about to speak your mind/ this small talk is a bad sign." - How Many Days - Jim Lauderdale-Terry McBride
So what about Jack's role with Gary Busey in The Last Rites of Ransom Pride?
Ray Wylie Hubbard

Photo by Carol Taylor

Fellow Texan singer-songwriter Ray Wylie Hubbard wrote the script about the role of an outlaw in the early 1900s.

"It moved on without me," Ingram revealed.
"The way they get a lot of these independent movies financed is they make a trailer - a three minute thing to summarise the plot. Then they go and try to get money - once that process happened the trailer was a success and got the money. The guys putting up the money wanted someone to play my part more-well known to hedge their bets. I don't consider it a big deal. I've got a really good day job. Anything that comes from acting is a bonus. I really enjoy doing it - anything else that comes I'll consider."
Ingram isn't sure when Hubbard started work on the screenplay.

"He's been on a roll for the past 10 years, roughly the same amount of time he's been sober," he revealed of the legendary Oklahoma born outlaw singer.

"But, man, the dude's been writing like crazy. I always loved him & everybody down in Texas loved him for his 'what might happen at a show' aspect, but he started making some just flat-out great records over the past 10 years."

Ingram also played the heartthrob in the video for fellow Texan Lee Ann Womack's I May Hate Myself in the Morning.
BAREFOOT AND CRAZY
We'll be lovin in the moonlight/ break out my old guitar/ sing fishin in the dark/ baby get ready/ we'll take a little sip/ we'll take a little dip &/ sleep in the bed of my Chevy." - Barefoot And Crazy - Jack Ingram.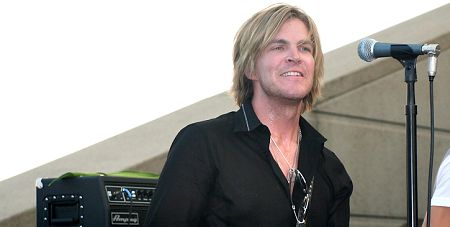 Ingram's acting is a launch pad for his video clips that we have anxiously awaited for six years.

"We did a TV games show for charity and performed Barefoot & Crazy on a big late night TV show," says Ingram who filmed the video at Lake Travis near Austin - the Texan capital he now calls home.

"If we're gonna throw a pool party I want to do it in my own backyard," Jack said.

"That's whole idea of Barefoot & Crazy. You get a little wild and kick out all that stress right where you are. It's a matter of just letting go and letting it fly. For me, that's something I think we all forget can happen a whole lot closer to home than we think."

Jack may have sourced some songs from wife Amy but it was his eldest daughter who prompted the ballad Ava Adele on his recent album.

Ingram has also made a video clip for another new single That's a Man.

"There's three verses in the song," Ingram explained.

"The first verse is about an 19-year-old, the second is about two marines who go off to war and only one returns and the third is farmer living off the land where his family lived for a century."
PATTY GRIFFIN
"I got so good at hiding/ I couldn't find myself/ but baby you got me smiling/ and feeling like someone else/ yeah you changed my makeup/ I ain't the same sad clown/ ever since you showed up/ hey this ain't the same sad town." - One Thing - Jack Ingram


Photo by Ron Baker

Ingram renewed his recording relationship with latter day Austin singer-songwriter Patty Griffin who has toured here twice.

Patty duets with Jack on Seeing Stars - a song he wrote with Chris Tompkins and recorded at Dixie Chicks fiddler Martie McGuire's Austin studio.

Patty was generous enough to sing on two songs on Electric," Ingram said.

"She has a voice that's just silver and emotion - you feel everything. To have her on What Makes You Say and One Thing was a thrill; knowing what she could do to Seeing Stars makes this one of the highlights of this record we're making. It's a special song and it's the magic Seeing Stars should have."
Ingram also wrote with former Boy Howdy singer Jeffrey Steele, Craig Wiseman, Radney Foster and Charles Kelley of Lady Antebellum for this project.
LONESOME QUESTION
No one can make me stammer and stutter/ fall over every word that I utter/ no one else can talk me to takin' another view/ no one else can make my heart flutter like you." - Flutter - C Boyd.
It's a far cry from Ingram's career launch when he mixed studies by day with music at night.

That was when he released indie discs Jack Ingram and Lonesome Question in 1993 and 1994.

It was not long after completed his degree in psychology.

By the time he graduated he was making a living performing music.

Those discs, with bonus live track Travis County, boomeranged in 2004 for Columbia on the compilation Young Man.

That was long after fellow Texan Steve Earle and Ray Kennedy produced Livin' or Dyin' in 1997 for ill-fated but creative Rising Tide label that also featured Kris Tyler and Matraca Berg.

It boasted another Ingram-Snider collaboration - cheating song Airways Motel.

Ingram charted in 1997 with Flutter at #51 on Billboard - and How Many Days two years later that peaked at #64.

Rising Tide sank without trace but not before releasing first of Ingram's live discs - Live At Adairs.

Other included Unleashed Live in 2000 with Charlie and Bruce Robison, Live at Billy Bob's - 2003, Acoustic Motel Live - 2004 and Happy, Happy, Live at Gruene Hall - 2004.

Ingram was on Sony boutique label Lucky Dog with David Allan Coe and the Robison Brothers when Unleashed surfaced.

He also released Richard Bennett produced Hey You in 1999 and Frank Liddell-Mike McCarthy helmed Electric in 2002 before Lucky Dog packed up its outlaw tent.
BIG MACHINE YEARS
Wherever you are/ through rivers of rain/ over mountains of pain/ do whatever on earth I've gotta do/ I'll follow the dream I'll follow my heart." - Wherever You Are - Jack Ingram.
Ingram joined indie label Big Machine - home of recent Australian tourist Taylor Swift - for his 2006 disc Live - Wherever You Are, recorded at famed Gruene -the oldest dance hall in Texas.

The album featured two studio cuts - his first Billboard #1 hit Wherever You Are - and Love You.

He followed with 2007 album This Is It and belatedly won Academy of Country Music 2008 best new male vocalist award.

Ingram cut fellow Texan Radney Foster's song Measure of a Man and featured Sheryl Crow on Hold On.

Jack also included Easy as 1, 2, 3 (Part II) - another Snider co-write.
Sadly at the time of our interview the three albums on the label, operated by Scott Borchetta, had not released here in the unlucky radio country.

But that will soon change.

Ingram was expansive on the title track of his new disc.
"The song Big Dreams & High Hopes came about after talking to a friend who was asking me what kept me going in business - what kept me fighting for my music," Ingram revealed.

"And I simply replied 'a guitar and big dreams and high hopes'. At that moment I knew I had to write it. The song is about how this whole thing got started for me and why it keeps rolling on. The theme of dreaming big and reaching beyond your grasp is really prevalent on this album. By following your heart and trying hard to see your dreams become reality, that's how you stay vibrant and viable to other people - and yourself as well. That's the essence of that song, and the whole album really, so it became a no-brainer to title the record after it."
BLACK TIE & BOOTS
"When I was fifteen, I left home young/ tore up the tracks and then some/ me and my dad didn't see eye to eye/ I never took to him, he never took the time/ bullet proof, more than tough/ smarter than he ever was." - Measure Of A Man - Radney Foster
Ingram, like fellow Texans including Asleep At The Wheel co-founder Ray Benson, Willie Nelson and singing crime novelist Kinky Friedman is no stranger to being feted by politicians.

Ingram played a lavish Black Tie & Boots Inaugural Ball in Washington, D.C. with Neal McCoy, Tracy Byrd, Randy Rogers Band, Asleep At The Wheel, Bruce and Charlie Robison, Kelly Willis and Cross Canadian Ragweed.

Jack is familiar with black tie balls.

"I went up with Pat Green for the last inauguration," Jack said of George Dubya's second reign.

But it was a bull - not a ball - that felled him in Nashville.

Ingram competed in a celebrity Steer Riding Contest at a recent championship Bull Riding championship.

Ingram, Trent Willmon and Jason Meadows competed but in three seconds flat he was on the floor after being thrown from the steer.

He was treated in the emergency room where doctors told him he had not sustained broken bones.

He flew home to Austin in serious pain from the ordeal.

"I feel like I've been in car wreck, first & last time on a bull," he said at the time.

"This job is hazardous enough without adding serious bodily harm."

As well as mainstream airplay, Ingram has a soft place to fall on Americana stations.

He hosts weekly radio show Jack's Tracks on The Wolf - 99.5 in Dallas - and also on XM satellite radio.

But after the 215-interview marathon to promote his album he was breathless.

"After the last 24 hours, I officially have nothing left to say."