DAVE'S DIARY - 20/12/10 - PREVIEW OF EPISODE 3 - SERIES 15
SANTA CELEBRATES NU COUNTRY TV CHRISTMAS
We celebrate young guns and unsung heroes in the Christmas edition of Nu Country TV this Saturday - December 25 - at 9.30 p m on C 31.

Novocastrian Catherine Britt honours one of her heroines from afar and Hank Williams Jr revisits his colourful past.

We also feature Canadian band Emerson Drive on the eve of their first Australian tour at CMC Rocks The Hunter on March 5 and 6.

And expatriate Fawkner fraulein Jasmine Rae returns to the show after a Nashville recording sojourn.

NSW rural rompers Simply Bushed and the Hunter Valley raised Dennis Boys Band debut on the show.

And Brothers 3, also from way out west near Mudgee, show how they have blazed a flaming trail out on the pubescent prairie.

Producer David Dawson borrowed Mrs Claus' clobber to play host Santa via tutelage of videographer Annie Davies in Heather Rutherford's leafy Mont Albert retreat.

Nu Country TV is repeated Monday - 3.30 a.m., Tuesday 4.30 pm and Wednesday - midnight.

It's also accessible online on the C 31 web page.
CATHERINE BRITT AND SWEET EMMYLOU
Catherine Britt celebrates Alabama born icon Emmylou Harris's return tour of Australia with her new single Sweet Emmylou.

The Britt song, penned with prolific Nashville writer Rory Lee Feek, is on Catherine's first ABC Music album.

Feek - of Joey & Rory - also recorded the Emmylou tribute.

Britt, 25, thought it was so nice she cut it twice - first time as a hidden track.

It's one of 14 Britt originals on her self-titled album cut at Sing Sing in Richmond with similar studio pickers to Britt's mentor Kasey Chambers.

Britt wrote it during her six-year sojourn in Music City while signed to multi-national label BMG.
The video honours Harris, 63 and making her fourth Australian tour in January with concerts at the Grand Ole Sydney Opry House.
It begins with segue to Britt from Harris's vinyl masterpiece Pieces Of The Sky.

Harris, a 12 time Grammy winner, first toured Australia in 1984 for expat Australasian promoter Barry Coburn - original manger of March tourist Alan Jackson.

On that visit her tour manager Phil Road Mangler Kaufmann re-enacted the 1973 body snatching of Emmylou's late duet partner Gram Parsons for a story in the Sydney Daily Telegraph.

Kaufman and his little Aussie mate Michael Martin stole the body of Parsons who died at 26 on September 19, 1973, from a booze and drug overdose at the Twenty Nine Palms motel.
They stole Parsons body in a hearse from Van Nuys Airport for a cut-rate desert cremation at Joshua Tree State Park.
It was part of a death pact at the funeral of Byrds guitarist Clarence White who was killed by a drink driver at 29 on July 15.

Art imitated life when Johnny Knoxville starred as Kaufman in the 2004 movie Grand Theft Parsons.

Kaufman celebrated his 75th birthday shortly after touring here with Texan troubadour Nanci Griffith in March.

Like Custer he will return for the Emmylou tour but unlike Gram he will steer clear of Britt's body before she reaches 26.

CLICK HERE for a Britt feature in the Diary on May 2, 2010.
HANK ALSO DRANK
Parsons' premature death had eerie echoes of Hank Williams who died 20 years earlier in the back of a Cadillac at 29 on New Year's Day in 1953.

The genes of Williams have been well worn on the charts and stages with more impact than Parsons' descendants.

Hank Williams Jr, aged two when his iconic dad died, was on the road at eight carrying on the family tradition.

Hank Jr, known as Bocephus, discovered a singing sister Jett midst his own four marriages.

He also sired son Shelton, recording as Hank 111, and daughters Holly and Hilary whose musical and literary careers survived a near fatal car crash in 2006.

Holly, who toured here with Kasey Chambers in 2005, has released two albums and Hilary wrote a book about the Mississippi car crash en route to their maternal grandfather's funeral.

Hilary survived 23 operations in a Memphis hospital for a broken pelvis, ruptured colon and other life threatening injuries.
That was 41 years after Hank Jr had facial and body constructive surgery after falling from Ajax Mountain, Montana, in a hunting accident.

Hank Jr performs in the humorous video for classic hit Young Country on this week's show.

CLICK HERE for a Hank Jr CD review in the Diary on February 16, 2010.


JASMINE RAE - YOUNG COUNTRY
Jasmine Rae relocated from killing fields of northern Melbourne suburb Fawkner to Guitar Town to record her second album.

The Telstra Road To Tamworth winner cut Listen Here with expatriate Australian producer Mark Moffatt.

History repeated for Moffatt - pedal steel guitarist in seventies Melbourne country band Saltbush who also toured the U.S. at the peak of their fame.

Expatriate Australasian star maker Barry Coburn took Saltbush to the U.S. three decades before he lured Moffatt there as his Ten-Ten Music house producer.

Now it's former music teacher Rae, just 23, who has ascended from the suburb infamous for its cemetery and serial killing fields.

Rae landed the key role of support act on the Australian tour by Georgian born superstar Alan Jackson - shot to fame in Nashville by Coburn - and Texan Miranda Lambert.

She returns to her hometown for their Rod Laver Arena concert on Friday March 4 before the CMC Rocks The Hunter festival weekend at the Hope Estate in Pokolbin.

Jasmine performs in the raunchy video for her new single Hunky Country Boys.

She wrote it with fellow solo artist Matt Scullion - a prolific writer with Corryong born country king Lee Kernaghan and Grenfell gaucho Steve Forde.

Listen Here - set for March release - also includes Already Broken penned with expat Aussie child star and actress Sherrie Austen.

CLICK HERE for a Jasmine story in the Diary on September 29, 2008.
BROTHERS 3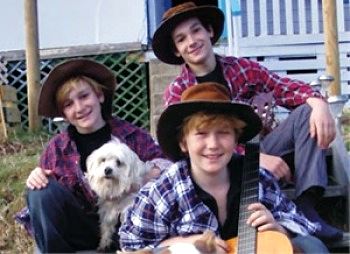 When Brothers 3 first began performing on their farm at Carcalgong near Mudgee they were pre-pubescent prodigies.

They still are.

That's despite their clout of appearing in movies, stage shows and on TV.

These multi-instrumentalists return to Nu Country TV with the title track of debut album Where Eagles Fly.

Their Ross Wood directed video has live footage, animation, a Google earth collage and, of course, eagles.

The Brothers 3 - Shardyn, Tayzin and Makirum (just 14, 13 and 12 years old respectively) - wrote all 10 songs on their album.

They have worked on stage and screen with Hugh Jackman, Warren Williams, Darren Coggan and John Williamson in The Boy From Oz, Home and Away, All Saints, Happy Feet and bush musical Quambatook.

Brothers 3 perform at Tamworth Country Music Festival January 17-23.

The trio play and swap banjo, guitars, mandolin, keyboards, bass, trumpet, clarinet and harmonica and are trained in Celtic Reel and Hillbilly Tap.

They release their second album Wattle Fire in 2011 featuring a video of the title track and Leaving Home Now.

The boys split their time between their Drummoyne suburban home and their family farm.

Family matriarch Alita Fay earned her stripes as a reporter on the Simon Townsend Wonderworld TV show.

That was a show that also featured singer Edith Bliss as a reporter.

Edith played janitor as Wolverines singer Darcy LeYear performed his tune Hillbillies Hate Change - an eighties country music social comment song penned by Darcy and Nu Country TV producer Dawson.

Further info - www.myspace.com/brothersthree
DENNIS BOYS MUSCLE UP NEAR MUSWELLBROOK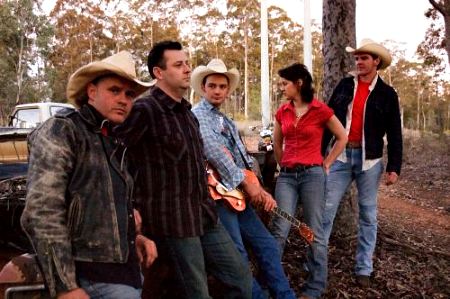 The rural siblings theme continues this week with the debut by the Dennis Boys Band from Antiene in the Hunter Valley.

They filmed their video for One More Time on their 400-hectare cattle farm 10 miles south of Muswellbrook.

The Dennis brothers and sister are a little older than Brothers 3.

They are Shane, 42, on guitar-vocals, Earl, 38, bass-vocals, Leah, 32, vocals and Lyle, 30, guitar and vocals.

Eight generations of the Dennis clan grew up on their sprawling farm at Antiene despite draconian drains of death duties and capital gains taxes.

It's described by Shane as "a breeding ground for cattlemen, horsemen, truckies and coalminers about 10 miles south of Muswellbrook".

Shane was the first musician in the family when he played guitar at 10. He was inspired by dad Dale's record collection - Appalachian folk and bluegrass, Gene Vincent and Elvis Presley and stone country of Hank Williams and George Jones.

"I talked Mum Jenny into buying a drum kit for Earl. Our little brother Glenn was four. He climbed up and started whacking away like he'd been playing all his life. That's why Earl ended up on bass," Shane says.

"Our first pub gig was Muswellbrook Hotel. We used to do Aberdeen footy club presentation nights, polocrosse shows in the pissing-down rain, rodeos on the back of trucks. Lots of boozing, lots of chasing girls, the odd brawl here and there. Glenn's not playing now. He had about 15 years in the old Dennis Boys Band. He's done his tour of duty."

Shane was a stockman and now drives "dozers and dump trucks" in the local pits.

Earl worked for Paramount Pictures as assistant unit manager on films including The Matrix, Mission Impossible II and Oscar and Lucinda.

"Earl was a general save-the-day cowboy for Paramount. These days he drives semi-trailers and tippers," Shane says.

"We call him Big Nasty from the movie Convoy."

Leah works as a manufacturing jeweller and Lyle is a farrier.

Further info - www.rackoffrecords.com
EMERSON DRIVE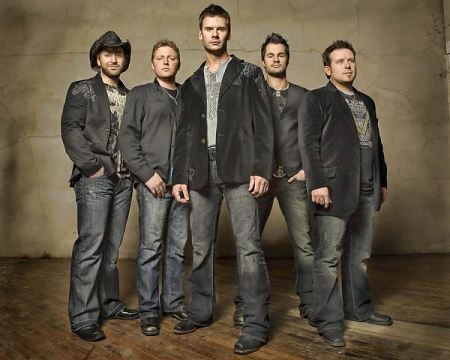 Popular Canadian band Emerson Drive will visit the Dennis Boys Band territory when it plays CMC Rocks The Hunter on March 5 and 6.

The band embroiders the international flavour of the lavish bill headlined by Alan Jackson, Joe Nichols and Texans Miranda Lambert and Jack Ingram.

The group performs the evocative video clip for its recent hit That Kind Of Beautiful - a poignant journey through time.

The tourists recovered from the death of their bassist Patrick Borque three years ago.

Patrick replaced their original bassist Jeff Loberg in 2003.

They say their friend's death served as inspiration for song selection on their fourth CD.

"The title of the album is Believe," lead singer Brad Mates said.

I think that sums up a lot of what we've gone through in the last couple years. To be able to go through something tragic like that, and be able to talk about it on stage to people who may have gone through a similar situation, gives people a bit of hope, because we fought through it."

Emerson Drive debuted on Nu Country in 2008 with Moments - a song inspired by an episode of the Twilight Zone.

It had a #1 hit with the song from third album Countrified.

Emerson Drive began life as 12 Gauge in 1995 and recorded 2 CDS under that name.

Further info - http://emersondrive.musiccitynetworks.com/
SIMPLY BUSHED EN ROUTE TO BUNYIP
Veteran Sydney bush band Simply Bushed provides a snippet of Dad's Cruiser on the eve of its debut at the 21st Bunyip Country Music festival - Sunday February 27.

We feature their other videos Cangai Bridge and The Great Australian Love Song later in the series.

Burly bon vivant-lead guitarist Paul Grierson fronts the band and shares lead vocals with Chris Rieger (acoustic rhythm guitar and banjo), and Steve Stuut on drums,

Simply Bushed, celebrating 20 years in the saddle, launched new album Look At The Time at Tamworth in January this year.

Ted Mulry Gang refugee and long time studio ace Herm Kovac produced the disc featuring 12 new original songs written by Chris and Paul.

The first single is the equally humorous Surly Shirley.

Further info - www.simplybushed.com.au

KEITH URBAN CD FOR TOUR
Expatriate Australasian superstar Keith Urban returns for a triumphant tour with chart-topping mates Lady Antebellum in April.

And Keith's long time record company EMI-Capitol has great news for Nu Country TV viewers.

Promotions ace Bianca O'Neill has donated copies of his huge selling ninth album Get Closer.

All you have to do is either become a member of Nu Country TV or renew your membership.

It costs just $20.

Please send a cheque or money order made out to Nu Country Music to us at P O Box 625 - Northcote - 3070.

We also now have electronic banking for membership payment and renewal.

But email us first at music@nucountry.com.au as stocks are limited.
Other prizes on offer include -
Taylor Swift - 2ND CD Fearless.
Alan Jackson - 34 Number 1's.
Tim McGraw Southern Voice Tour CD with 11-bonus video clips.
Dierks Bentley - Feel The Fire. CD
Felicity - Landing Lights
Slim Dusty Sittin' On 80 Boxed Set
Twin CD-DVD pack - The Best Of The Country Music Channel 2010.
Steve Forde - Guns & Guitars
Catherine Britt - Little Wildflowers.
Mike Brady - Country To Country.
A variety of compilation CDS.