DAVE'S DIARY - 2/8/10 - PREVIEW OF EPISODE 9 - SERIES 14
TEEN TONKING ON NU COUNTRY TV
Sapphire Coast singer-songwriter Cameron Cusack debuts on Nu Country TV this Saturday - August 7 - with a homegrown video clip.

Nu Country TV editor Peter Staubli filmed Cameron's video for his latest single Dreams (Are Not That Far) in a quaint Merimbula hall and nearby scenic Tura Beach locales.

Cusack, 18, wrote the song with fellow young gun Aleyce Simmons for his album Wasting Time that also features his Victorian bushfires tribute Last Days of Summer.

Anneliese Staubli, 17 and a former Victorian Youth Theatre student, hosts the Dolphin Cove show featuring her exclusive interview with teen tonker Cusack.

Virginia born singing pianist Phil Vassar and Moe raised singer Victoria Baillie, who both played the CMC Rocks The Snowys festival at Threbdo, also showcase their latest videos.

So does Louisiana born superstar and acclaimed actor Tim McGraw and his September tour support act - Sydney trio Jonah's Road.
CUSACK - FROM BUSKING TO BRIGHT LIGHTS
When Cameron busked on the mean streets of Merimbula and Bega as a schoolboy over spring and summer he sang in the slipstream of Grafton raised mentor Troy Cassar-Daley.

Cusack, then a secondary student, not only emulated his benefactor he later landed gigs with him in country music HQ Tamworth.

That was after winning talent quests and raising more than the $1200 he needed to travel to Tamworth for the 2009 Camerata School of Country Music.

He graduated from the Camerata and earned daily bookings at Outback Jacks Bar & Grill with a vast cast of guests.

Cameron later appeared before a capacity crowd on Troy's TRECC show at the Tamworth Festival.
Since then Cusack, who wrote seven of the 10 songs on his debut album, has been in big demand far from the seaside scene of his rhyme.

He co-produced the album with Dave Sparks who played banjo, lap and pedal steel.

The singer played acoustic and electric guitar, harmonica and mandolin and harmonised with his mother Shelley.

Drummer Michael Green, Blake Watkin on congas-drums, bassist Matt Zuiderduin, fiddler Gus Olding and pianist Clark D'Arcy fleshed out the album recorded at Pirate Studios.

Staubli filmed the video during a specially convened concert at Twyford Hall, Merimbula, and a scenic lookout at Dolphin Cove, Tura Beach.

This week's host Anneliese was born and raised in leafy Glen Iris and moved to windswept Tura Beach in 2009.

She is currently in Year 11 at Lumen Christi Catholic College in Pambula Beach.

Anneliese has long pursued a keen interest in Creative Arts - she studied piano, Media, public speaking and Drama with the Victorian Youth Theatre.

Anneliese hopes to pursue a career in the performing arts area or perhaps design.

Further info on her interviewee - www.myspace.com/cameroncusack
VICTORIA BAILLIE - FROM MOE TO WAMBERAL
Cusack's talent quest wins were a little further north than the launch pad for former Moe minstrel Victoria Baillie.

Baillie also won a brace of quests as a teenager and landed gigs at famed Bunyip Country Music festival further southwest on Highway 1.

The Coalville Road reared chanteuse, now 24, cut a self-titled EP in 2006 to expose her music.

But, now after releasing debut album Start Brand New, she reaps rewards from her new home at Wamberal on the NSW Central Coast.

She won a Golden Guitar at the 38th Australian Country Music Awards in Tamworth in January with her single Make Me for Maton best new talent.
Director Duncan Toombs chose a Central coast beach to film Victoria's video for Mr Yesterday - the fourth single from her album.

Six-time Golden Guitarist Melinda Schneider and Goulburn Valley raised singer Tamara Stewart wrote the vitriolic song about a woman banishing a beau from her life.

The clip, featuring Michelle Vincent and Victoria's sister Barbara, is one of the highlights of this week's show.

Barbara Baillie wrote her sister's single Melt on the album recorded at Matt Fell's Love Hertz Studio in Sydney.

Fell produced the disc with Victoria's partner and guitarist Rod Motbey.

Victoria and Morgan Evans appeared with Lee Kernaghan in the video clip for the title track of his 9th album Planet Country.

CLICK HERE for a Victoria Baillie CD from the Diary.
VASSAR - BLUE RIDGE MOUNTAINS TO SNOWYS
Phil Vassar was born in the Blue Ridge Mountains of West Virginia but made his Australian debut at the third CMC Rocks The Snowys festival at Thredbo in March.

But the ocean was the beatific backdrop for the video of Everywhere I Go from his fifth album Travelling Circus.

Vassar ensured sand and salt didn't stain the keys of his priceless piano in the video.

But when he performed with his hot band at Thredbo he thawed the chilly night air by standing and singing atop his piano.

The prolific songwriter bemoans guitars and drums dwarfing the pianos of his youth in the country genre.
So Vassar, 45, turned his trauma into a tune - Where Have All The Pianos Gone?

CLICK HERE for a Vassar feature from the Diary on February 16, 2010.
TIM MCGRAW - JOGGING AND FLYING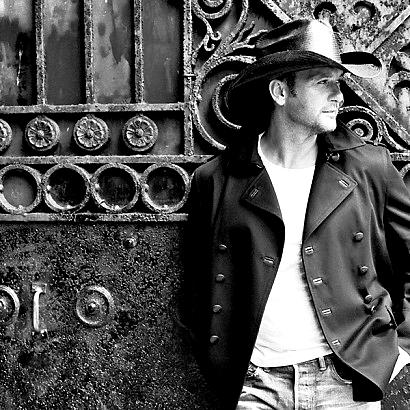 Louisiana born superstar and actor Tim McGraw has traded drinking for jogging two years before his debut Australian September tour.

McGraw, 43, and father of three daughters revealed in a recent interview he quit drinking with help from singing spouse Faith Hill.

"Ten years ago you could recover from the road a lot quicker," Tim said.

"In the past, to get warmed up for a show, everybody would do a shot or something."

You might catch Tim and his Dancehall Doctors putting spring into their step near Rod Laver Arena prior to the concert on Sunday September 19.

"It's such a great warm-up to get a three mile run in, then come in and sort of go real quick on stage right after that," McGraw confessed.

"You're already warmed up, you get going into the show and you're fired up. Everything's pumping."

McGraw uses a marital metaphor in the video this week for historic hit She's My Kind Of Rain.

Tim and Faith recently sold their Beverly Hills six-bedroom mansion for $9.5 million.

They bought the four-acre plot for $6.4 million in 2003 when Hill was filming The Stepford Wives with Keith Urban's thespian wife Nicole.

The couple raised their daughters in Nashville where they have lived since 1989.

Gwyneth Paltrow, who plays Tim's wife in new movie Country Strong, took guitar lessons from real life husband Chris Martin of Coldplay.

The movie, filmed in and around Nashville, features more than 100 local musicians.

Vince Gill and Patty Griffin provide backing vocals on Paltrow's version of the title track single.

Jennifer Hanson, Tony Martin and Mark Nesler wrote the tune - the first glimpse of the soundtrack released by RCA on October 26.

Hit writers Liz Rose, Hillary Lindsey, Luke Laird, Bob DiPiero, Tom Douglas, Josh Kear and Chris Tompkins are among tunesmiths with songs in the movie, released on December 22.

McGraw, a pilot, plans to add flying to his repertoire when he reaches the Queensland leg of his tour.

"I'm a new pilot," McGraw revealed recently, "so I've already got a plane reserved, so I'm going to go solo out over the outback,"

CLICK HERE for a Tim feature in our Diary on May 23, 2010.
JONAH'S ROAD
Sydney band Jonah's Road performs the video for its song All Mine from second album Counting Down The Days.

It's one of several video clips released since 2004 debut album Hold On scored national ABC and community radio airplay.

Jonah's Road cut its second album at Matt Fell's Love Hertz studio and visited Nashville before winning a support role on McGraw's east coast tour with Steve Forde.

The trio has since released its new 9-track EP End Of The World.

Band members Jay Collie, John Kater and Rodney Auld are prolific writers with a penchant for harmonic hooks and melodies.

Further info - www.jonahsroad.com
WIN TIM MCGRAW TOUR SOUVENIR CD
Award winning Tim McGraw tour promoter Michael Chugg and Rob Potts are promoting Series #14 of Nu Country TV.

Now the superstar and singing actor's record company Sony has given Nu Country viewers a chance to win his souvenir tour CD.

The Southern Voice CD, with bonus tracks, is released here to promote McGraw's debut Australian tour with wife Faith Hill and The Dancehall Doctors in September.

All you have to do is become a member of Nu Country TV or renew your membership.

It costs just $20.

Please send a cheque or money order made out to Nu Country Music to us at P O Box 625 - Northcote - 3070.

Please email us first at music@nucountry.com.au as stocks are limited.
WIN ROSANNE CASH CD
We also have Rosanne Cash's acclaimed new EMI CD The List - new versions of classics from a list given to her by late father Johnny when she was 18 in 1973.

Guests on the Cash collection include Bruce Springsteen, Elvis Costello, Jeff Tweedy and Rufus Wainwright.

Cash's second husband John Leventhal produced the CD for Manhattan Records.

It features songs dating back to the Carter Family, the Hanks - Williams, Snow and Cochran - Harlan Howard, Merle Haggard and Bob Dylan.

We'll reward your new membership or membership renewal with a copy of the CD - please send us a cheque or money order for $20.

Please email us first at music@nucountry.com.au as stocks are limited.
WIN DIERKS BENTLEY CD

EMI Records has provided Nu Country TV with Arizona born Dierks Bentley's fifth chart topping CD Feel The Fire.

Bentley won an enthusiastic following on his debut Australian tour in May with superstars Brooks & Dunn.

Dierks, 33, has scored seven #1 hits since leaving Phoenix for Nashville as a teenager.

The singer has broadened his music by including bluegrass - featuring the famed McCoury family - on albums dating back to his indie debut Danglin' Rope.

He has also recorded duets with prolific Grammy winner Alison Krauss and Texan chanteuse Patty Griffin.

Win Feel The Fire by becoming a member of Nu Country or renewing membership.

It only costs $20 including postage.

Please email us first at music@nucountry.com.au

We will then send you the CD on receipt of your cheque or money order made out to Nu Country Music.
WIN SLIM DUSTY CLASSIC BOX SET
We have more good news for viewers - EMI Records has given us an invaluable collectors' item - a brace of the 4 Box sets by late Australian country legend Slim Dusty.

Sittin' On 80 features a lost, classic track discovered by Slim's widow Joy McKean.

Joy found Give Me Room from a 1997 recording at their home studio Columbia Lane.

It was written by one of Slim's favourite writers John Dohling - outback station hand and good mate who passed away in November last year.

Sadly he never heard the final version of Slim's recording of his classic trucking song.

It has now been released as a single and included on Sittin' On 80.

Slim's legendary Travelling Country Band played on the song that has been digitally re-mastered by Australia's mastering guru Don Bartley.

All you have to do to win Slim's 4 CD Box set is become a member of Nu Country TV or renew your membership.

It only costs $20 and includes postage.

Please email us first at music@nucountry.com.au

We will then send you the CD on receipt of your cheque or money order made out to Nu Country Music.

TAYLOR SWIFT FEARLESS CD OFFER
Universal Music has donated copies of teen sensation Taylor Swift's huge selling second album Fearless to Nu Country TV.

Viewers who become members or renew their membership for just $20 can win the Fearless CD.

Swift, 19, played capacity audiences on her Australian tour in March and returns here in February.

Please email us at music@nucountry.com.au with your pledge.

Important note - please email us first.

Don't send membership cheque until you have been confirmed as the winner.
WIN FELICITY CD
Multiple Golden Guitarist winner Felicity Urquhart returned to Nu Country TV as hosts during Series #12, beginning in June.

You can win autographed copies of Felicity's sixth album Landing Lights, available here in shops on Shock.

All you have to do is become a member of Nu Country TV or renew membership.

It only costs $20 including postage.

Please email us first at music@nucountry.com.au and let us know which CD you would like.

We will then send you the CD on receipt of your cheque or money order made out to Nu Country Music.
WIN CATHERINE BRITT CDS
MIKE BRADY TOO
We have Catherine Britt's third CD Little Wildflower for viewers who wish to become members or renew membership.

Catherine, Adam Brand and Mike Brady were among artists who donated their talent to the Whittlesea Bushfire benefit on Saturday April 4.

Brady donated autographed copies of his Country To Country CD to viewers who become members or current members who renew their membership.

Mike was also a VIP guest host of Nu Country TV during our eighth series.

So for your $20 membership you can win Mike's CD Country To Country or Catherine Britt's Little Wildflower CD.
WIN JASMINE RAE & STEVE FORDE CDS
We also have the following CDS for viewers who email our web page and pledge $20 membership at music@nucountry.com.au

Telstra Road To Tamworth winner Jasmine Rae's debut CD Look It Up.

We also have Steve Forde's fifth album Guns & Guitars.