DAVE'S DIARY - 16/8/10 - PREVIEW OF EPISODE 11 - SERIES 14
ZAC BACK ON NU COUNTRY TV
Georgian chart toppers - Zac Brown Band - headline Nu Country TV this Saturday - August 21 - at 10 pm on C 31.

They chomp on their chicken fried #1 hit in a show with California born surfer cowboy Gary Allan and Broadway belle Laura Bell Bundy's debut.

Heather Rutherford hosts the episode that features the maiden appearance of Canadian trio Doc Walker.

And Corryong born Lee Kernaghan, born in the Victorian high country at Corryong, and Lou Bradley who calls the Mullumbimby mountains home both return to the show.

It's repeated Wednesday at 1 am and 3.30 pm and accessible 24 hours a day on the C 31 web page.

ZAC BROWN BAND CHICKEN FRIED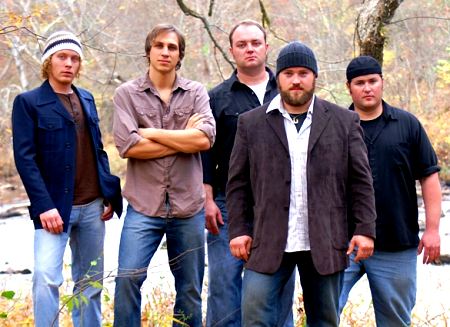 The Zac Brown Band has no shortage of duet partners after its belated ascent of chart tops.

Fellow Georgian Alan Jackson and Floridian Jimmy Buffett - partners on the #1 hit It's 5 O'Clock Somewhere - join the band on its fifth album You Get What You Give.

Jackson performs a duet on As She's Walking Away and Brown's mentor Buffett joins the band for Knee Deep.

The album is set for a September 21 release on Atlantic Records.

Zac's band topped Billboard charts last week with second #1 hit Free.

So we reach back this Saturday to the video for its debut #1 hit Chicken Fried - a song also cut by defunct Virginian band Lost Trailers.

The band primed the sales pump with a vast vat of video clips - a smart marketing move to penetrate radio.

Major labels passed on Zac in Australia so indie label Shock picked up the baton.

The Foundation was released in 2008 and has sold more than two million copies.

The band, whose music has the joyous summer vibe perfected by Buffett and Kenny Chesney, opened shows for the Dave Matthews Band in July.

CLICK HERE for a CD Review from the Diary on August 9, 2010.

LAURA BELL BUNDY
Kentucky born Broadway star Laura Bell Bundy debuts on Nu Country with her vibrant video for her debut hit Giddy On Up.

She whips up summary justice to a cheater with more than a little help from her friends
Giddy On Up is off her debut album Aching & Shaking.

The Tony nominated actress trod the boards in Broadway shows Legally Blonde, Hairspray and Wicked.

Bundy, 29, is now producing a country music show for the stage.

She also landed a role in popular TV show How I Met Your Mother.

Fellow star Carrie Underwood guest-starred on the show last year as a pharmaceutical rep and Kenny Rogers appeared as himself singing an emotional tribute to a deceased dog.

The singing actress's numerous TV credits include a two-year stint on Guiding Light.

Bundy also appears in new Miranda Lambert video, Only Prettier with Kellie Pickler and Lady Antebellum singer Hilary Scott.

CLICK HERE for a Bundy CD review in the Diary.
GARY ALLAN
Frequent Australian tourist Gary Allan returns to Nu Country with the video of latest single Today from his eighth album Get Off On The Pain.

The latter day Nashville resident knows all about pain.

Allan, 42, boomeranged with a brace of pathos primed tunes after suicide of his third wife Angela in 2004.

"I became the ambassador to suicide," Allan told Nu Country on the eve of his 2008 Australian tour with Canadian Corb Lund.

CLICK HERE for an Allan feature interview in the Diary on February 26, 2008.

CLICK HERE for a new CD Review.
LEE KERNAGHAN - AUSTRALIAN BOY
Allan performed at the Great Western Hotel in Rockhampton when Lee Kernaghan was one of the owners.

But Corryong born singer Lee long sold his interest in the popular pub, replete with live rodeo arena, to concentrate on his music.

Kernaghan returns to Nu Country this week with the video for his new single Australian Boy from his ninth album Planet Country.

Carlton fan Lee has Goulburn Valley born Blues utility player Andrew Walker on his speed dial and included the MCG in his video clip.

He also paid homage to Utes, choppers and Diggers in Townsville.

Lee, 46 and father of two sons, recruited singing spouse Robyn to sing and write on his album.

She collaborated on writing Cowgirl and Girl's Gone Wild.

He returns to Victoria in November for gigs including outdoor shows in Bonnie Doon & Mildura.

CLICK HERE for a Lee feature interview in the Diary on November 10,
2009.
LOU BRADLEY - ANIMATED COWBOYS
Mullumbimby mountain minstrel Lou Bradley performs in her video this week for Cowboy off her second album La, La Not Listening.

Bradley, mother of three, mixes her music with humorous animation of puppets and dolls.

Shane Nicholson produced the album at his Sound Hole studio on the NSW Central Coast.

He hired his father-in-law Bill Chambers to sing a duet and play lap steel.

CLICK HERE for a Bradley CD review in the Diary on February 16, 2010.
DOC WALKER FALLS FROM CANADA
Canadian band Doc Walker debuts this week with the video for If I Fall off its sixth album Go.

The trio hails from the Manitoba prairie and played the third CMC Rocks The Snowys festival at Thredbo in March.

They also toured NSW and Queensland with Texan country star Jack Ingram and Grenfell singer Steve Forde.

Doc Walker returns in January for major gigs in Tamworth, Brisbane and Sydney.

Go debuted at #12 on the ARIA Country Chart early this year.

Another single, I'm Gonna Make You Love Me, topped Canadian video charts and features footage from the trio's Australian trip.

Special guest in Tamworth and Sydney is Peter McWhirter whose debut album, Lucky As A Seven, cut in Nashville, is out on September 10.

Queensland country-folk duo, Busby Marou, performs the Brisbane show.

Further info - www.docwalker.com
WIN TIM MCGRAW TOUR SOUVENIR CD
Award winning Tim McGraw tour promoter Michael Chugg and Rob Potts are promoting Series #14 of Nu Country TV.

Now the superstar and singing actor's record company Sony has given Nu Country viewers a chance to win his souvenir tour CD.

The Southern Voice CD, with bonus tracks, is released here to promote McGraw's debut Australian tour with wife Faith Hill and The Dancehall Doctors in September.

All you have to do is become a member of Nu Country TV or renew your membership.

It costs just $20.

Please send a cheque or money order made out to Nu Country Music to us at P O Box 625 - Northcote - 3070.

Please email us first at music@nucountry.com.au as stocks are limited.
WIN ROSANNE CASH CD
We also have Rosanne Cash's acclaimed new EMI CD The List - new versions of classics from a list given to her by late father Johnny when she was 18 in 1973.

Guests on the Cash collection include Bruce Springsteen, Elvis Costello, Jeff Tweedy and Rufus Wainwright.

Cash's second husband John Leventhal produced the CD for Manhattan Records.

It features songs dating back to the Carter Family, the Hanks - Williams, Snow and Cochran - Harlan Howard, Merle Haggard and Bob Dylan.

We'll reward your new membership or membership renewal with a copy of the CD - please send us a cheque or money order for $20.

Please email us first at music@nucountry.com.au as stocks are limited.
WIN DIERKS BENTLEY CD

EMI Records has provided Nu Country TV with Arizona born Dierks Bentley's fifth chart topping CD Feel The Fire.

Bentley won an enthusiastic following on his debut Australian tour in May with superstars Brooks & Dunn.

Dierks, 33, has scored seven #1 hits since leaving Phoenix for Nashville as a teenager.

The singer has broadened his music by including bluegrass - featuring the famed McCoury family - on albums dating back to his indie debut Danglin' Rope.

He has also recorded duets with prolific Grammy winner Alison Krauss and Texan chanteuse Patty Griffin.

Win Feel The Fire by becoming a member of Nu Country or renewing membership.

It only costs $20 including postage.

Please email us first at music@nucountry.com.au

We will then send you the CD on receipt of your cheque or money order made out to Nu Country Music.
WIN SLIM DUSTY CLASSIC BOX SET
We have more good news for viewers - EMI Records has given us an invaluable collectors' item - a brace of the 4 Box sets by late Australian country legend Slim Dusty.

Sittin' On 80 features a lost, classic track discovered by Slim's widow Joy McKean.

Joy found Give Me Room from a 1997 recording at their home studio Columbia Lane.

It was written by one of Slim's favourite writers John Dohling - outback station hand and good mate who passed away in November last year.

Sadly he never heard the final version of Slim's recording of his classic trucking song.

It has now been released as a single and included on Sittin' On 80.

Slim's legendary Travelling Country Band played on the song that has been digitally re-mastered by Australia's mastering guru Don Bartley.

All you have to do to win Slim's 4 CD Box set is become a member of Nu Country TV or renew your membership.

It only costs $20 and includes postage.

Please email us first at music@nucountry.com.au

We will then send you the CD on receipt of your cheque or money order made out to Nu Country Music.

TAYLOR SWIFT FEARLESS CD OFFER
Universal Music has donated copies of teen sensation Taylor Swift's huge selling second album Fearless to Nu Country TV.

Viewers who become members or renew their membership for just $20 can win the Fearless CD.

Swift, 19, played capacity audiences on her Australian tour in March and returns here in February.

Please email us at music@nucountry.com.au with your pledge.

Important note - please email us first.

Don't send membership cheque until you have been confirmed as the winner.
WIN FELICITY CD
Multiple Golden Guitarist winner Felicity Urquhart returned to Nu Country TV as hosts during Series #12, beginning in June.

You can win autographed copies of Felicity's sixth album Landing Lights, available here in shops on Shock.

All you have to do is become a member of Nu Country TV or renew membership.

It only costs $20 including postage.

Please email us first at music@nucountry.com.au and let us know which CD you would like.

We will then send you the CD on receipt of your cheque or money order made out to Nu Country Music.
WIN CATHERINE BRITT CDS
MIKE BRADY TOO
We have Catherine Britt's third CD Little Wildflower for viewers who wish to become members or renew membership.

Catherine, Adam Brand and Mike Brady were among artists who donated their talent to the Whittlesea Bushfire benefit on Saturday April 4.

Brady donated autographed copies of his Country To Country CD to viewers who become members or current members who renew their membership.

Mike was also a VIP guest host of Nu Country TV during our eighth series.

So for your $20 membership you can win Mike's CD Country To Country or Catherine Britt's Little Wildflower CD.
WIN JASMINE RAE & STEVE FORDE CDS
We also have the following CDS for viewers who email our web page and pledge $20 membership at music@nucountry.com.au

Telstra Road To Tamworth winner Jasmine Rae's debut CD Look It Up.

We also have Steve Forde's fifth album Guns & Guitars.