DAVE'S DIARY - 9 AUGUST 2010 - ZAC BROWN CD REVIEW
2010 CD REVIEW
ZAC BROWN BAND
THE FOUNDATION (ATLANTIC-SHOCK)
CHICKEN FRIED AND BROWN
"I thank god for my life/ and for the stars and stripes/ may freedom forever fly, let it ring/ salute the ones who died/ and the ones that gave their lives so we don`t have to sacrifice/ all the things we love/ like our chicken fried." - Chicken Fried - Zac Brown-Wyatt Durrette.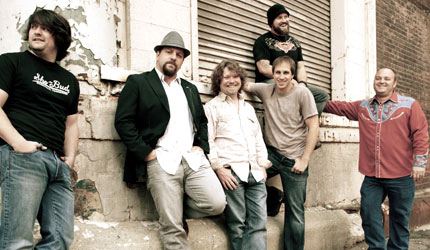 They belatedly broke with a song first recorded by the recently defunct Virginia band Lost Trailers in 2006.

But it was another two years before that southern delicacy Chicken Fried became the first of three #1 country hits on the Zac Brown Band's slow burning eclectic fourth album that has now sold two million copies.

The Georgian quintet delivers a hedonistic hybrid of country and reggae - a formula pioneered by singing sailor Jimmy Buffett and homogenised by Tennessee superstar Kenny Chesney.

But that's not all for a band tipped to tour here next year on the lucrative summer-autumn festival circuit.

So why is the Zac Brown Band one of the few free-range acts to storm across the regimented radio moat?

They toss fried chicken, beer, mama, love, children, freedom and soldiers into a bucolic blender that refines radio roughage.

Sure, there's a freewheeling flavour to their music but, like many Dixie peers, there's a patriotic pistol firing up their brew.

The Chicken Fried video clip extols the laid back culinary delights of the processed poultry but then there's also that highly visible nod to military ancestors and modern warriors for the freedom to enjoy it.

Not quite as blatant as the flag fuelled swagger of Toby Keith, Charlie Daniels and Hank Williams Jr but the message is quite clear.
TOES HOME MOVIE
"I got my toes in the water, ass in the sand/ not a worry in the world, a cold beer in my hand/ life is good today, life is good today/ adios and vaya con Dios/ yeah, I'm leaving Georgia/ gonna lay in the hot sun and roll a big fat one/ and grab my guitar and play." Toes - Zac Brown-Wyatt Durrette-John Hopkins-Shawn Mullins
It's no surprise that tasty freedom dish is re-fried for idyllic bliss in album entrée Toes, replete with references to rolling a big fat one - definitely not one of those fried or grilled hamburgers.

The Toes video is introduced as a home movie to illustrate the male lead yearning to flee the red Georgia clay for the cleansing white sands of The Bahamas and beyond.

Yes, it's a theme pioneered by Buffett and resurrected here to good effect with a sting in the tail of the tale of the video version.

Brown uses salient sequencing.
He follows Toes by delving into the inadequacies of being able to express pure love for a woman in Whatever It Is.

There are no such problems when Brown praises the good old Dixie gal in A Different Kind Of Fine - a "lawyer's queen and a truckers dream."

She has none of the following high rolling city blemishes.

"Cadillacs and caviar, well that ain't how she rolls/ implants and tummy tucks, she sure don't need those."

Brown further exploits the recurring oceanic freedom in Where That Boat Leaves From.

For balance - not ballast - he follows with the harmonic, hook heavy Free smouldering under a harvest moon.
HIGHWAY 20 RIDE
"So I'll drive and I'll think about my life/ and wonder why, that I'll slowly die inside/ every time I turn that truck around, right at the Georgia line/ and I count the days and the miles/ back home to you on that Highway 20 ride." - Highway 20 Ride - Zac Brown-Wyatt Durrette
But the artistic peak of the disc could be tear jerking road song Highway 20 Ride.

It's the flip side of the escapist anthems embroidering this joyous journey.

Brown reaches deep into melancholic mixed emotions in his reading of a letter from a divorced dad to a son.

He contrasts the magnetic pull of home and career priorities as he crosses Georgia state borders.

It's an evocative reflection of guilt and regret of an absentee father torn between the lure and demands of the road.

Sure, it's a theme touched upon in many country songs but the powerful video nails it.

The band also reaches beyond the mainstream with bluegrass in the love lament Mary - the poignant tale of a man chasing after a cautious woman.

This eclectic feel is refreshing.

Bassist John Driskell Hopkins' rollicking summary justice saga It's Not OK features Jerry Reed style chicken-picking guitar.

Zac's vocals here are akin to Asleep At The Wheel singer Ray Benson or maybe Floridian singing satirist Rev Billy C Wirtz.

A battered, bruised beau pleads for penitence in Ray LaMontagne's fiddle fuelled Jolene - only song sourced from outside the quintet.

More off the wall is feathered finale Sic 'Em On A Chicken - a barnyard battle between dog and chook delivered as a monologue.

Such animal kingdom frolics diversify a disc Brown produced with Keith Stegall - studio Svengali for Alan Jackson and John Anderson.

Those sessions were in Atlanta and Compass Point, The Bahamas - far from chart chaff factories.

Guitarist Brent Mason and organist Gary Prim head a small posse of Music City session supremos helping Brown's road band kick open the radio door.

Yes, a tribute to Stegall's insider trading.
DESSERT NOTE
The band scheduled new album, You Get What You Give, for September 21 release on Atlantic Records/Southern Ground Artists Inc.

You Get What You Give includes Colder Weather, Who Knows and As She's Walking Away.

They opened shows for the Dave Matthews Band, The Allman Brothers Lynyrd Skynyrd and B.B. King.