DAVE'S DIARY - 16 AUGUST 2010 - LAURA BELL BUNDY CD REVIEW
2010 CD REVIEW
LAURA BELL BUNDY
ACHIN' AND SHAKIN' (MERCURY-UNIVERSAL)
BUNDY BEATS THE CHEATER
"I've been through your pockets and smelled your shirts/ I don't wear Bath and Body Works/ should seen the signs you were sneakin' around."- Giddy On Up - Laura Bell Bundy-Jeff Cohen-Mike Shimshack.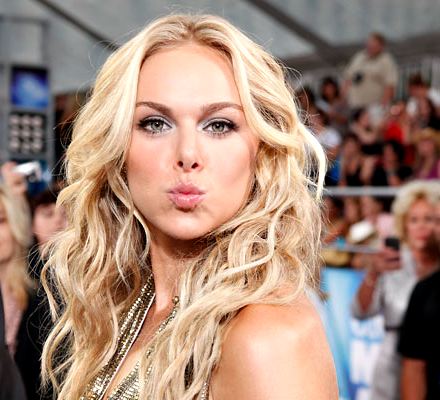 When Kentucky chanteuse Lara Bell Bundy graduated from Broadway in New York to Nashville she maximised marketing.

The Legally Blonde, Hairspray and Wicked star released her video for single Giddy On Up almost two months before the CD.

It was a smart move for Bundy who was nominated for a Tony award for her lead role of Elle Woods in Legally Blonde - The Musical.

Her videogenic spoof of a cheating Lothario - one of 11 songs she wrote on her debut disc - is up there with the Dixie Chicks clip of Dennis Linde penned hit Goodbye Earl.

The vanquished villain doesn't choke on black-eyed peas - instead he is whipped within an inch of his life after being sprung.

This superbly choreographed performance is all fuelled by a clogging-hip hop hybrid with fiddles, mandolin and horns.

The diminutive blonde sells her music with a larger than life extension of her stage persona.
ACHING AND SHAKING

"Should've been drinkin' just to forget/ should've left my lipstick on a cigarette." - Cigarette - Laura Bell Bundy-Nathan Chapman.
Bundy reverts to country staples - cheating and heartache on her creative concept disc.

She splits her 12-tune CD into vinyl style A - for Achin' heartbreak songs and B for Shakin' upbeat flippant tunes.

So what's the heartache like?

Well, sensual entrée waltz Drop On By - recently released second single - exudes optimism.

Bundy's character pleads for her long absent lover to return to her and her warm bottle of red wine.

The spurned spouse ignites a matrimonial romance font in Curse The Bed where she uses a hammer to dismantle and then set fire to the four-poster.

Bundy exploits another bed metaphor in sorrow stained Cigarette - she penned both songs with Taylor Swift's producer Nathan Chapman.

She also exorcises regret of a one-night stand in bluesy Please - written with seasoned songsmiths Brice Long and Tommy Lee James.

Bundy teams with Chapman, also her producer and session guitarist, for that historical romance wrecker - the tyranny of distance - in When It All Goes South.

Bundy also indulges in childhood fantasies and wanderlust, or maybe just lust, in Homecoming Queen.

"So many things to see, never one to settle, if you were a hat I'd try you on."
REBOUND

"If I get all over you, can I get over him?/ I've been feeling so blue, give me back my faith in men/ pick me up and lay me down, won't you be my rebound." - Rebound - Laura Bell Bundy-Jerry Flowers.
The cheating theme recurs as an energised sassy camped up dance driven B Side - right from entrée song Giddy On Up.
Bundy is a charismatic character actor - she casts herself as the vixen in I'm No Good For Ya Baby.

And she borrows from comedienne country singer Kacey Jones as the resurrected lover in Rebound - penned with expat Keith Urban's long time bassist Jerry Flowers.

Bundy drops the name of Beyonce in her ring reference but the fiddle, banjo and dobro ensures that's the only similarity.

Her character also yearns to be recipient of true love without need of a diamond ring or name change in Boyfriend.

Laura is openly derivative, pillaging Parton and Twain in uptempo tunes and Opry orioles in ballads.
So it's no surprise her disc builds to a creative crescendo.

She sets the mood for the strident stomp of If You Want My Love with time tested honky tonk imagery.

"Stepped up to the bar and the band was jamming/ raise my glass, Alabama slammin."

But then it's time for a celebration of love and life in the banjo driven hot gospel finale - Everybody (Needs Somebody.)

Bundy will score flack from purists for well-rehearsed theatrics but her bonus is a broader fan base.

There's a welcome undercurrent of kitschy humour in her entry into the eclectic genre reaching beyond bucolic boundaries.