DAVE'S DIARY - 21 JULY 2012 - PREVIEW OF EPISODE 8 - SERIES 18
OLYMPIAN WITH GAMES AT HOME
Former Olympics middle distance runner Paul Greene headlines Nu Country TV this Wednesday July 25 while his successors compete for gold in London.

Greene represented Australia in the 1996 Atlanta games and lives on the Sapphire Coast in NSW.

West Australian farm boy and reality TV show contestant Jonny Taylor also debuts on the show at 10 pm.

Texan singer John Abbott and his band - who met in Lubbock - debut on a program featuring latter day Texan Ray Wylie Hubbard.

Alabama stone country singer-songwriter Ashton Shepherd also returns with a song written on her farm.

Nu Country TV is repeated Thursday 4.30 pm, Saturday 11.30 p m and Wednesday - 2 am - when you get bored with the Olympics ads.

We have more good news.

The Nu Country TV show has been added to the C 31 streaming list.

Just follow this link on your computer or mobile phone -
http://www.c31.org.au/program/view/program/nu-country-tv
PAUL GREENE - CROSSFIRE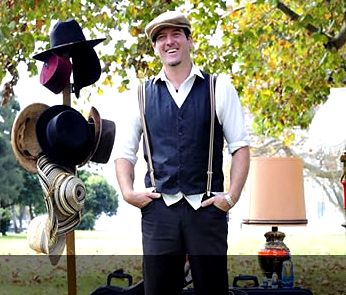 Paul Greene filmed his video for new single Crossfire on a rooftop not far from where Sydney staged its 2000 Olympic Games.

Crossfire is not about the Middle Eastern bikie gang wars being staged in the wild west of sin city.

The video, featuring band members, is a love song from Greene's seventh album Behind The Stars on ABC Music.

Greene produced prolific Golden Guitarist James Blundell's 10th album Woolshed Creek on Blundell's Mt Malakoff family farm at Stanthorpe near Texas in Queensland.

Paul has also been writing songs with a vast cast of artists including Tamworth Starmaker winner and former shearer Luke Dickens, former Mascot Qantas accountant and Golden Guitarist Amber Lawrence and seasoned singer Wendy Matthews.

Greene, wife Kate and their two children hang their hats at Culburra Beach on NSW Sapphire coast.

But when Paul is not on the road here or overseas he travels with family in a bus, albeit modest, compared with Shotgun Willie Nelson's famed Honeysuckle Rose.

CLICK HERE for a previous CD review in our Diary.

JOSH ABBOTT - LUBBOCK OR LEAVE IT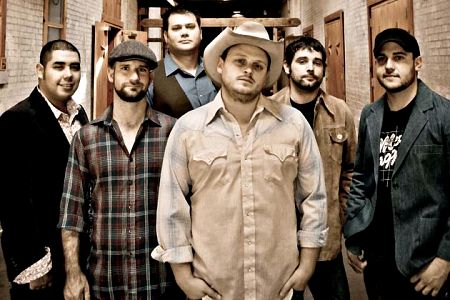 West Texas singer-songwriter Josh Abbott, 31, hails from a fertile font for country icons.

Abbott was born in Idalou on the Lost Highway near Lubbock where Buddy Holly, Waylon Jennings, Terry Allen, The Maines Brothers, The Flatlanders (Butch Hancock, Jimmie Dale Gilmore and Joe Ely) strutted their stuff.

Josh and band perform the cinematic love song She's Like Texas - title track of their second album in 2010 - on our show.

Abbott's band released third album Small Town Family Dream on April 24 on its indie label Pretty Damn Tough.

The band recorded the album in Denton - the north Texas college town that also launched the Eli Young band who toured here in March.

Josh founded the quartet, now a sextet, in Lubbock while attending Texas Tech University.

He quit college a thesis away from his Masters degree to pursue a musical career.

Abbott teamed with banjo-playing fraternity brother Austin Davis in 2004 - 18 months later fiddler Preston Wait and drummer Edward Villanueva helped fleshed out the Josh Abbott Band.

"We didn't record a demo until 2007 - Taste - and then we didn't even get a booking agent and start touring outside of Lubbock until 2008," Abbott revealed.

The band recorded debut album Scapegoat in 2009 with a little help from former Sons of the Desert lead singer Drew Womack.

They also collaborated with Nashville Star season 5 finalist and Universal artist Kacey Musgraves on the single Oh Tonight.

The band also cover Terry Allen songs FFA and Flatland Farmer from his legendary 1979 album Lubbock on Everything on Small Town Family Dream.

Pat Green also guests on Abbott penned single My Texas - Josh's salute to Texas peers who provided the soundtrack to his college days.

The new album features recent Texan bushfires requiem Hell's Gates on Fire and plight of Texas farmers battling drought in timely Rain Finally Coming Down.

It includes ballads Touch and Dallas Love, anthemic Idalou and risqué Hotty Toddy.

Further info - joshabbottband.com
RAY WYLIE HUBBARD - THE MESSENGER
Oklahoma born, latter day Texan Ray Wylie Hubbard's concert series Behind Bars has proved so popular we have another song.

This time Hubbard, 65, performs The Messenger from his ninth album Crusades Of The Restless Knights in 1999.

Ray Wylie proves he doesn't need a band to hold an audience but his son Lucas, now 19, has played in his band since he was 12.

They have been one of the big hits of Shotgun Willie Nelson's July 3 and 4 picnics since 2006.

This year they returned to the picnic at Billy Bob's in Fort Worth - also known as Cowtown.

The singer is a prolific writer - one of his younger Texan collaborators Hayes Carll makes his debut Australian tour in August.

< Lucas Hubbard - photo by Carol Taylor
Carll is a staple on Hubbard's popular radio show, Roots & Branches, on KNBT-92.1 FM in New Braunfels - not far from his home in the Texas hill country at Wimberley.

Frequent Australian tourist Kevin Welch is a neighbour of Ray, wife Judy and Lucas.

So was Billy Joe Shaver and late guitarist son - Fast Eddy.

CLICK HERE for a Ray Wylie Hubbard interview in the Diary on July 7.
JONNY TAYLOR - FROM THE WILD WEST
West Australian singer-songwriter Jonny Taylor has run a high profile campaign to win a brace of TV reality music shows.

Taylor debuts on Nu Country TV this week with Young Man from his first album Insights.

Jonny, a classically trained guitarist, competed on Australian Idol in 2008 and You've Got Talent in 2012.

He also scored a major CCMA songwriting gong in Tamworth this year with fellow West Australian Codee-Lee.

Taylor, just 27, released two EPS as he blazed a trail far from Busselton in the deep south of Western Australia.

But, like the character in the late Jeff Mack's song I've Been Everywhere, he has hung his hat all across the unlucky radio country.

Among the towns to claim him were Bunbury, Harvey, Perth and Pinjara.

But let's not forget Mandurah - the locale from where latter day TV and radio star and retired AFL footballer Brian Taylor - no relation - escaped.

More info - www.jonnytaylormusic.com
ASHTON - THE GOOD SHEPHERD
Ashton Shepherd proves why she is a torchbearer for pure country on her video clips and albums.

She performs the title track of her second album Where Country Grows on this week's show.

Shepherd, now 26 and mother of two, broke in 2008 with debut single Takin' Off This Pain.

Shepherd is acclaimed for her traditional sound that fuels her music.

Her debut album featured a raft of songs she wrote before she turned 21.
Shepherd hails from Coffeeville - population 340 - and wrote most of her new disc in a picking shed on her farm at Leroy.
Shepherd delivered summary justice to a lying, cheating ex lover in the video for previous hit Look It Up.

The singer's character sells the cheater's boat, golf trophies, whiskey and even a bible.
She also uses a dictionary to demean the banished beau.

Look It Up was also on Shepherd's second album Where Country Grows.

She wrote it with Angaleena Presley and Robert Ellis Orrall whose songs are published by expatriate Australasian Barry Coburn and ex wife Jewel Blanch Coburn.

Ironically, Fawkner singer Jasmine Rae also recorded Look It Up during her sojourn in Nashville.

CLICK HERE for an Ashton feature in the Diary on December 23, 2008.
WIN CDS ON MEMBERSHIP PAGE
CLICK HERE for our membership page to win CDS by Tim McGraw, Eric Church, Luke Bryan, Carrie Underwood, Dierks Bentley, Russell Hitchcock, Felicity, Taylor Swift, Slim Dusty, Keith Urban, Miranda Lambert and more.