DAVE'S DIARY - 23 DECEMBER 2008 - ASHTON SHEPHERD
ASHTON SHEPHERD - BAMA BELLE BURIES PAIN
"I've got a cold beer in my right hand/ in my left I've got my wedding band/ I've been wearing it around for far too long/ and I'm more than ready to see it gone." - Takin' Off This Pain - Ashton Shepherd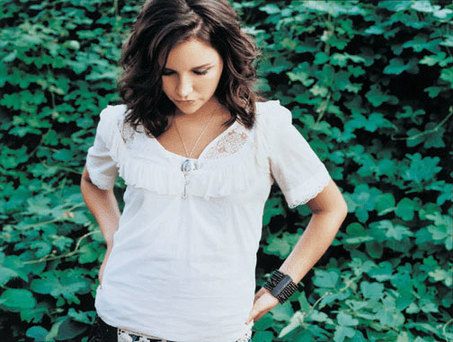 Alabama stone country singer-songwriter Ashton Shepherd is a cool aural oasis in the desert of damsels frolicking in the crossover pop pond of the galloping genre.

The bucolic belle rang a welcome peal back to the days of yore when radio danced to the haunting, lonesome tunes of Cline, Lynn and Wynette.

When Shepherd burst out of the chute she picked up the torch carried by pure country chanteuses diverse as Bobbie Cryner, Matraca Berg, Elizabeth Cook, Mandy Barnett, Catherine Britt and Chalee Tennison.

And, like Cook and Britt, she scored airplay as an adolescent on local radio.

She later played in a band with construction worker husband Roland and brother-in-law, Adam Cunningham.

Shepherd, mother of a three-year-old son, and Roland played guitar - Adam played bass.

She won a talent contest and cut a three-song demo that landed an audition with Luke Lewis, chairman of Universal Music Group in January 2007.

He immediately signed her to MCA Nashville.

Shepherd brought 40 original songs and cut 14 with veteran producer Buddy Cannon for major label debut CD Sounds So Good.

Her single Takin' Off This Pain soared charts and launched the album on the market.

It was a major breakthrough for the singer who wrote seven of the 11 songs to survive the studio cull and co-wrote another three with Cunningham who penned album finale Whiskey Won The Battle.

She penned most her songs as a teenager and debuted on the historic Grand Ole Opry before she turned 21.

"Probably some of the most special moments were at the Opry when I played for the first time," Shepherd revealed as she scored here on ABC and community radio.

She earned wide acclaim from critics yearning to hear roots country - not stir fried country pop - on radio and TV.

"Bill Anderson gave me such praise and pulled me back onstage," the singer added.

"Little Jimmy Dickens said it sounds like I'd never heard a pop song in my life."

Equally enthusiastic is expatriate Australasian superstar Keith Urban who invited her onto his bus.

Keith told Ashton, who performed live on CMT Awards, he felt the same way hearing her album as when he discovered Randy Travis' debut disc.

"That was really unreal to be standing there talking to him about liking my records so much," Ashton says.

"It was a special moment and something I will never forget."
ALABAMA RECORDING DEBUT
"She's 5 foot 3, and Lord, ain't she sweet/ she's got everything a man believes she needs/ but she ain't gonna stay, she don't work that way/ and the man he is, you'd think it'd be somethin' he could take." - The Bigger The Heart - Ashton Shepherd- Adam Cunningham.
It was just six years after first chancing her art when her parents funded an album cut at Alabama group member Jeff Cook's home studio.

"It was 12 songs I had written," Shepherd, 22, and touring partner of multiple CMA Award winner Sugarland and Little Big Town, revealed.

"I was 15 years old when I made the CD. I went to Cook Studios in Fort Payne, Alabama, and put 12 songs that I had written on a CD. We took all the pictures ourselves - me and my mama did."

Her mother took the cover photo of the songbird born in Coffeeville, population 360 and 90 miles north of Mobile, and living in Leroy on the Tombigbee River - which doesn't even list a population.

"We had the minimum of 1,000 copies made of that CD," Shepherd added.
"I sang so many places where people said, 'Oh, we'd love to have a CD. Do you have something?' So we did that so people could have something of mine. We would sell them for $10 or whatever."
NOT RIGHT NOW
"I ain't supposed to wanna do a lot of drinkin'/ at least that's what a lot folks keep thinkin'/ I ain't supposed to stay out late till all hours of the morning/ I'm supposed to be a young lady." - Not Right Now - Ashton Shepherd
One of those songs survived to be revived for her sequel.

"There were maybe four or five local bars in our area that we played," says Ashton. "The audiences always loved the original songs. One of their favourites was Not Right Now because the women dig the not-settling-down thing."

"The local playing was great but I wanted a career. I wanted my music out there but we didn't know what to do. I talked to my husband about it. I would get depressed, because I felt like the good Lord had given me this talent, but I wasn't doing anything with it. Then one day all of this just happened."

Shepherd has plenty of song roughage - she picked peas and sold them from the back of a truck after losing a brother in a car wreck when she was only 13.

Now her career takes her all over the U.S. and maybe Europe and Australia with no desire to live in Music City - industry HQ.

"We still live in Leroy, Alabama, and when we come up to Nashville, we just stay at hotels right now," the singer explained.

"Eventually, we want to try to get us a place up here to come and stay, but I just I think we're going to always stay there at home in Leroy 'cause, that is home. I love Nashville.

It's a fun place, and I respect so much all the history and everything. But you know how that is: Home's home, and I think we'll always stay home.

I've heard about people bad things happening from moving to Nashville too quick. I've watched a lot of biographies and a lot of stuff like that growing up, CMT Inside Fame, because I was always curious about what people do and how do they make it, and I imagine I would probably be the same way. It probably makes you bitter after so long of being somewhere and trying for so long and nobody really believing in you like you believe in yourself. I imagine even once you do make it, you feel a chip on your shoulder, so to speak. And I feel very blessed that things have happened so quick for me. I never had a chance to feel that way, and I'm proud of that, I'm proud that I didn't have to feel that way."
THE PICKIN' SHED
"Hey, hey, now, don't you wanna come down/ bring your guitar, here we play music with our own sound/ a lot of fine friendship and music's been born and bred/ right here in our backyard at the Pickin' Shed." - The Pickin' Shed - Ashton Shepherd.
Shepherd even accentuated her love for her roots on the artwork for Sounds So Good.
It featured a cover photo of her on a pool table at the private Leroy hangout where she and her husband get together with friends and play music.

They call it The Pickin' Shed.

"Growing up, I only pretty much listened to country music," Shepherd says of her aural embryo.
| | |
| --- | --- |
| "Even going to school, everybody at school would make fun of me a little bit, like, "You need to listen to this or that." And I did venture out and, believe it or not, I even ventured out and listened to some rap, because everybody at school was listening to it. Of course I liked some of it - and some of it I didn't. The older I got, the more I started asking myself, 'Why am I listening to this? Because I don't really like it that much. I'm just listening to it because everybody else is.' But I just always loved country music. I used to promote it to everybody at school that didn't listen to it. Because, to me, it was like, how can you not like it? And as a matter of fact my mama's got a tape of me singing There's a Tear in My Beer, when I was three years old, so I just grew up listening to country music." | |
So the genre was not an overnight awakening?
"I don't ever really remember just realising it all of a sudden because it was so slow and gradual and I had done it for so long," Shepherd explained.

"My brothers used to make me sing when I was three and four years old on tapes and stuff, and then I sang in church. And it was just like the grownups were asking me to be in the choir when I was five and six, and I didn't know why. I thought, 'I feel silly up here with all these grownups.' But it was just like everybody saw it as something special, and it made me believe it might be something special. So I've just been doing it since I was about three and four years old."

What about the writing?

"I've got notebooks where I would make up stuff, like about my brother going to war or something, and I would just make it up," Shepherd added.

"Like make-believe books or something. I've got stuff that I wrote when I was six and seven and eight years old. I almost don't remember because I was so little. I don't really remember where it came from. It just came. And that's what I always tell people: I know it's got to be God-given because I don't know how to tell people how I write or how I sing or anything because it just has always been there for so long."
BAMA MAMA

"She sat in her hospital bed drawin' pictures of the sky/ and through the pain she felt she had never asked why/ but when the doctor walked in and said it's time for your meds/ with tears in her eyes she looked at the doctor and said." - How Big Are Angel Wings - Ashton Shepherd-Adam Cunningham.

And it was the maternal influence that ran deep.

"Well, my mama taught me just to be myself, because she was always herself and she was always really a rock for our family," Shepherd added.

"When her mother passed away, she asked me to hold the family together, so my house was where everybody came for holidays and for everything. You know, I grew up watching my mama being such a mother hen to everybody. And, really, it rubbed off on me because I'm that way now. So she taught us a lot of things, not necessarily just beating something in our heads but just by being a loving, kind mama. She taught us a lot of things, and she sang to us all the time. She asked me the other day, she said, "You don't remember, Ashton. I used to record myself singing and play it for you and Tara [Ashton's sister]. I'd put, like, 20 or 30 minutes of me singing on a tape, and I'd put it in the room with ya'll to get ya'll to sleep." And I didn't remember that specifically, but I remember her singing to us, and that's the kind of little stuff she done to show she cared. She always loved music, and she played guitar when she was pregnant with me. That's when she first started trying to play. She still tries to piddle with it, but like mamas do, she didn't ever put herself first. So she never got to exceed with it as I've got to do, but she's really proud of everything."
HANK AND KEITH ON THE WIRELESS
"But I still like a cold beer and a long dirt road/ and listening to some Keith Whitley/ Hank Williams on the radio/ don't mean l ain't a good mama/ don't mean I ain't a good wife." -
I Ain't Dead Yet - Ashton Shepherd
Shepherd draws song sources from Dixie roots in homage to late mentors and live peers.

"Sometimes I walk around with pieces in my mind, and sometimes I come up with an idea and I walk around with it for a few days," the young mother revealed.

"I've written songs pulling my little boy in his wagon around the house, just humming something or coming up with it out of the blue. And sometimes I come up with stuff in the shower. Like with the song I Ain't Dead Yet, I just sat down and wrote it from front to finish, and then I've just got my song.

But I do it all different ways."

Shepherd colour codes her songs.

"I actually have a blue notebook to keep my songs in that I started keeping back in about the year 2000 because I thought about that," she explained.
"I needed somewhere to be keeping them all. A lot of times, I'll just be able to remember them in my head and forget to write them down right then, and then I'll go back later maybe and write them down. But now I've got me a green composition notebook I've been doing the same thing in. Once I filled the blue one up, I got the green one and started with it.

So how does the singer protect her literary treasures from pirates?

"Actually it's not under lock and key, but it's under one of our big sheds outside that's real protected with a big tin roof and all," she confided.

"I'm just always scared about something happening to my home - if it was to burn down or something. I think what would happen, how terrible that would be. So I've got it all out under the shed in some Rubbermaid boxes. I need to get a safe or something, but we'll do that when we can afford it."
DIXIE PRIDE
"I got a baby at home, a to-do list a mile long/ and a husband who comes home each night/ I do the laundry, I cook and clean/ it's my responsibility and I'm usually in bed by nine." - I Ain't Dead Yet - Ashton Shepherd

Shepherd, like predecessors Loretta Lynn and late Tammy Wynette, is renowned for inspirational material, reeking of Dixie and maternal pride.

"I get a lot of e-mails, like on my MySpace and stuff about it the song Takin' Off This Pain being something that uplifts somebody that is in a real bad situation," Shepherd says.

"They hear it and say, "This song makes me want to feel better" or "It makes me want to move on rather than being sad about something," which I'm glad for. I don't want anybody to do the wrong thing because of the song, but I am glad to hear that it uplifts people."

Shepherd, like Cryner and Barnett, also pays homage to the late Patsy Cline who died at 30 on March 5, 1963, in a plane crash that also claimed Hawkshaw Hawkins.

"Sweet Dreams by Patsy Cline means a lot to me because I grew up singing basically nothing but Patsy," Shepherd confessed.

"I sang I Fall to Pieces, Walking After Midnight and Crazy and a song my brother always loved that I think was covered by somebody else first, You Belong to Me. Just something about her voice. I mean, it just was so deep and true sounding and honest, and that's what I grew up singing. The very first competition I ever entered, I sang Patsy Cline so it really does mean a lot to me 'cause she's been such an influence."

So what does Shepherd think about the flattering comment that she is too country for radio, TV and industry power brokers?

"If somebody was to say that I am too country, I don't really think you can be too country," Shepherd said.

"I mean, I think that if you're just being yourself, anybody that's being real can't be too much of something. Because when they're just real about what they are and who they are, I don't really feel like you can be too country. I guess that goes back to loving it so much."
CRAZY A CAPELLA
"Cause there ain't nothin' like the sound/ of a cooler, slushin' on the bed of your truck/ and ain't nothin' like the sound of real country music/ come on now, turn it up." - Sounds So Good - Ashton Shepherd
It's no surprise Shepherd performed Cline songs in talent quests as a tot.

"The very first time I sang in public I sang Crazy and Walkin' After Midnight when I was eight years old just nervous as I could be," Shepherd recalled.

"And I didn't move. My brothers were out there - just holding the camera. And my brothers are going, 'Look at us, girl. Look at us. We can't see you! I held my hand beside me and just held that microphone, and I didn't even look at the audience. I just was so nervous, but luckily I started at that age. Because if I wouldn't have I would probably be that way now on stage.

I'd be nervous and everything, but that was my very first performance."

So what was the reaction?

"It was very, very surprising," she added.
"They loved Walkin' After Midnight. I played it with the backup band behind me. And I had told the band during practice that I didn't want - I told them I wasn't being ugly - but that I didn't want them to play Crazy with me. I wanted to do it by myself. And so I sang Crazy with no music, and the audience didn't let me finish. When I got to the 'crazy for thinking that my love could hold you' and when I said 'I'm crazy for crying' some woman just screamed. You can hear it on the camera and then the whole audience just started screaming, and my brothers were just having a heart attack because the audience just loved it. I ended up winning second place. They told me they didn't let me win because I was too little. I was only eight years old, and they let an older gentleman who had entered win it. But the audience loved it, and I remember that night I got asked to start singing at the Greensboro, Alabama, catfish festival. It's where it started to grow - where people started to go, "Hey, can you come sing this for us or play this place for us?"
HOW IT ALL STARTED
She was born Ashton Delilah Shepherd on August 16, 1986.

Ashton's dad Donnie worked in a paper mill on the Alabama River.

Her mum Denise was a housewife and mother to Ashton, two older brothers and younger sister.

Both parents sang and Denise's guitar playing attempts were emulated by both her sons.

"There's a high school and some peanut fields and that's about it," Ashton says of her hometown.

"You blink and you miss it. My husband's family farms produce, so we stay busy with that.

When the folks in Nashville asked what I'd been doing lately, I told them, 'I've been picking peas in the morning and picking guitars at night.'

But then she won a talent contest in Gilbertown, Alabama, in June 2006 - the chance to open for Grand Ole Opry star Lorrie Morgan.

A Nashville record producer heard Ashton, asked for a copy of her CD and invited her to come to Nashville to record some of her tunes.

She arrived in Guitar Town on August 29, 2006.

An industry insider saw her perform and urged her to record a demo.

By that time she already had about 200 tunes she'd written and figured she needed advice from a contract attorney in Nashville before signing anything.

She called the first place she came across on the Internet and a woman answered. "This lady out of nowhere helped me. She gave me her home number and told me what to do and what not to do. She said it would take a minimum of five years."

The woman was not a lawyer but worked in the attorney's office and knew a lot about the industry and thought Shepherd had a lot of promise. The two became friends and, through a series of contacts, she got the demo to executives at Universal.

"We signed her immediately and sent her in the studio with Buddy Cannon before she could become affected by Nashville or any of the trappings of the business," said Lewis, the label chairman. "She had plenty of material so we didn't have to hunt for songs."

THE ALBUM
"And I can't figure out just what went wrong/ I play it in my head like an old Hank Williams song/ and I can't do this, I can't do this anymore/ the whiskey won the battle but your memory won the war." - Whiskey Won The Battle - Adam Cunningham.
Shepherd's prolific writing is a raw, potent vehicle to ensure longevity beyond fickle fame of radio.

Cunningham has been a perfect foil.

"There are a lot of people who learn to write songs, but she was born to write songs," says Cannon who's worked with Shotgun Willie Nelson, Kenny Chesney and Reba McEntire.

"We didn't change anything about her songs. She didn't come to town and start co-writing with people. She was a breath of fresh air."
Her voice is thick and twangy and her sound is bedrock country.
There are tunes about bad relationships Takin' Off This Pain, remorse Old Memory, Regular Joe, good times Sounds So Good, The Pickin' Shed and domestic life I Ain't Dead Yet.

It's a far cry from the urban teen country of chart-toppers Taylor Swift and Carrie Underwood.

"They come from a different place and that's just fine," Shepherd says.

"I feel like everybody is filling their places perfectly. They're all in their element. But I think there is a void where my element is right now."

And so does Lewis. He says what Shepherd may lack in seasoning she more than makes up for in talent and authenticity.

"Many people have a preconceived idea of what it's like to live in the rural South and raise a family at 21. Ashton's songs tell how it really is."

BORN TO SING
"I've got a pocketful full of money I shouldn't spend/ to drink him away again/ my heart stops cold in my chest/ there he is in the back of the bat lookin' his best/ he's just and old memory that doesn't remember me." - Old Memory - Ashton Shepherd- Adam Cunningham.
Shepherd has no plans to change careers if she hits hurdles.

"This is what I was born to do," she says.

"I've always been singing, but it didn't come from me. I didn't just teach myself to sing. I've always sung. The songwriting is the same. As soon as I was big enough to write on paper, I was coming up with stuff. I've got notebooks where I was writing down songs when I couldn't even spell correctly, from the time I was five, six, seven years old. I've always dreamed of this ride I'm about to take. I feel as blessed as I've ever felt in my life.""

And that resilience dates back to her childhood.

"I remember when Garth Brooks' Shameless was out and I'd sing it with feeling and squint my eyes and my brothers would make fun of me," Shepherd recalled.

"I remember mama calling daddy over and saying 'Donnie, listen to her. She knows every word."'

Shepherd says that when she was a girl she'd tell teachers she wanted to be a country singer and they'd smile and say something like, "No, honey, you don't want to do that. You want to go to college."

"It was stirring around in me all the time," she recalls.

"But I also had scared feelings. What would it be like for my family? How are we going to do this? Is my daddy going to quit his job and go to Nashville? It's not that I didn't want it to happen, I was afraid to make a big step."
http://www.braindumps.com/70-462.htm
http://www.test-king.com/exams/300-206.htm
http://www.springfieldcollege.edu/
http://www.actualtests.com/exam-NS0-156.htm
http://www.certkiller.com/exam-101-01.htm
http://www.hitachi.com/