DAVE'S DIARY - 16/6/12 - PREVIEW OF EPISODE 3 - SERIES 18
CHANTEUSES RULE ON NU COUNTRY TV
Prolific Golden Guitarists Beccy Cole and Amber Lawrence join Kellie Pickler and Sara Evans on Nu Country TV at 10 pm on Wednesday June 20.

Ronnie Dunn, who toured here twice with Brooks & Dunn, and fellow Texan Casey Jones return to the popular C 31 program.

Caroline Springs high school student Chelsea Tupea hosts the show edited by academic Ashley Hall and repeated on Thursday at 4.30 pm, Saturday 11.30 pm and Wednesday - 2 am.

You can also view Nu Country TV in the comfort of your home or on the marvels of your mobile blower.

Just follow this link on your computer or mobile phone -
http://www.c31.org.au/program/view/program/nu-country-tv

BECCY COLE LAUDS WAITRESS
South Australian born singer-multi-instrumentalist Beccy Cole returns with a video tribute to a singing Nashville waitress she met at the Lipstick Lounge.

Beccy met the North Carolina born barmaid who followed her singing dreams to Nashville in the Music City bar.

Instead of becoming a star the southern belle sings for her supper in her 18-year career as a cocktail waitress.

Beccy, now 39, filmed her video at the Nude Lounge in the historic inner Sydney suburb Glebe.

It's on Beccy's seventh album Songs & Pictures.
Beccy is on an east coast tour with Novocastrian Catherine Britt and Lynn Bowtell.

Catherine recorded her fifth album Always Never Enough in Austin, Texas, with producer Bill Chambers and leading musicians including Lloyd Maines, Jimmy LaFave and Eliza Gilkyson.

The 27-year old singer wrote nine of the 13 songs including the title track that we will air later in this series.

CLICK HERE for a Beccy feature in the Diary on October 25, 2011.

AMBER LAWRENCE IN VICTORIA THIS WEEK
Former Qantas accountant Amber Lawrence returns with the humorous video for recent single Everybody's A Mess.

She illustrated her song with her video of a party where the heroine drops the cake, drink and her ex-lover.

Amber, 34, wrote Everybody's A Mess with Suzy Connolly for her third album aptly
titled 3.

The singer wrote the 13 songs with ex-Olympian middle distance runner Paul Greene, Sam Hawksley, Mike Carr, Col Buchanan, Tamara Stewart, Katrina Burgoyne, Drew McAlister and producer Rod McCormack.

She is now touring the east coast with her The Peace I Keep duet partner - Leopold born fellow Golden Guitarist Adam Harvey.

Harvey's AFL team Geelong recently beat Carlton - beloved favourites of the Kernaghan and Chambers clans.
Amber and Adam perform his hometown venue The Gateway, Corio, on Friday and Commercial Hotel, South Morang, on Saturday after their Thursday gig at Gippsland gateway - Hallam Hotel.

Amber has devoted energies to working for the Leukaemia Foundation and performed a series of Light the Night fundraisers and memorial days in Sydney, Newcastle and Canberra.

Further info - www.amberlawrence.com

KELLIE PICKLER TOUGH
North Carolina born American Idol finalist Kellie Pickler returns with the video of a song that draws upon her sad past.

Pickler's song Tough - one of three she wrote with Texan Leslie Satcher - imitates life for her.

Her dad Clyde Bo Pickler was in jail on her eighth birthday - same place he spent much of her childhood.

Bo was also in prison when she made her singing debut and appeared on the TV talent show.

So Pickler includes The Letter (to Daddy) - a song about being proud of your sire despite everything he put a family through with substance abuse problems and criminal past.

Kellie is now 25 but was raised by her grandmother when her mother fled the marital home.

Tough is a highlight of her third album 100 Proof - a more rootsy disc than its predecessors.
Leslie's songs have been recorded by acts diverse as Randy Travis, Willie Nelson, Bonnie Raitt, George Jones, George Strait, Gretchen Wilson, Trisha Yearwood, Patty Loveless, Vince Gill and many more.
Other writers on the new disc - produced by Texan stone country singer Lee Ann Womack's husband Frank Liddell and Luke Wooten - include honky tonker Dean Dillon and Liz Rose.

Pickler, recently wed to fellow songwriter Kyle Jacobs, made it to Top 6 on Season 5 of American Idol with heavy twang and rural charm.

The couple married on New Year's Day, 2011, on a private island in the Caribbean.

The wedding venue revisited a theme that Kyle started when he proposed during a romantic picnic on a Florida beach in June 2010.

But the title track album entrée is not about Jacobs.

"I stay torn between killin' him and lovin' him," she sings on a disc that features social comment tune Where's Tammy Wynette?

She also included the heart-rending, devastating Mother's Day and neo-traditionalist Stop Cheatin' On Me.

Pickler and Satcher also wrote Unlock That Honky Tonk in which the singer forces a bar owner to open up in the middle of the night so she can sing.

More info - www.kelliepickler.com
SARA EVANS - HEART COUNTRY STRONG
Sara Evans joined Dancing With The Stars after a bitter divorce from her first husband.

When Sara, now 41, found her husband of 13 years - politician Craig Schelske cheating on her - she left him.

The Missouri born minstrel performs in the video for recent single My Heart Can't Tell You No on this week's show.

It's from her sixth album Stronger.

That album shares its title with discs by Nu Country TV host and recent Mo Award duel winner Melinda Schneider and Carlene Carter.

It included Evans' hit It's A Little Bit Stronger - also on the soundtrack of Hollywood movie Country Strong starring Tim McGraw and Gwyneth Paltrow.
The movie hit's co-writers include Lady Antebellum singer Hilary Scott who makes her second Australian tour in September.

Tony Brown and Nathan Chapman produced Evans latest album.

She's now married to Alabama radio broadcaster and former quarterback Jay Barker and they share seven children in their extended family.

CLICK HERE for a Evans interview in the Diary on July 18, 2007.
RONNIE DUNN
Ronnie Dunn, who toured here twice with Kix Brooks returns with the video for recent single Let The Cowboy Rock.
The Texan born singer proves rodeo cowboys like a shot glass of whiskey before riding off into the sunset.

The song was the final release from Dunn's self titled solo album that featured the Tex-Mex gem South Of Waco.

But Dunn, now 58, emulated the Let The Cowboy Rock finale by recently walking the plank at his record label Arista.

He made the announcement on Facebook.
"Deal with Sony is over, next chapter, moving on," Dunn tweeted.

His first solo single Bleed Red reached the Top 10 but the superior Cost of Livin and Let the Cowboy Rock failed to sell.

On May 15 Dunn wrote: "Got call from Sony today, said my FB post killed Let The Cowboy Rock. Holy Shit. I didn't know people in music business read this stuff. We just haven't picked the right song. Keep the faith."

Dunn urged fans to support another single Once.
On May 18 her tweeted "Hey, radio will you start playing Once. If FB post can kill a single then maybe it can get one to the top? Maybe we can make CNN! Just sneak it in on your lunch break. My name is Ronnie Dunn and I approve this message."

Cracker Barrel has since re-released Dunn's album with Once reaching #14.

CLICK HERE for a Brooks & Dunn interview in the Diary on March 22, 2009.
CASEY JAMES - WOMAN IN HIS BATH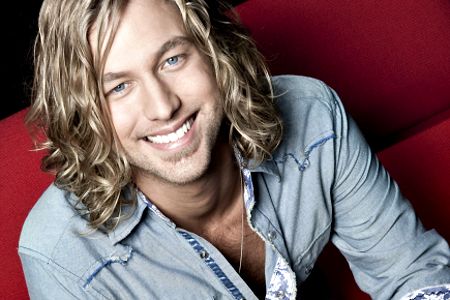 Fellow Texan Casey James was raised in the quaintly named town of Cool so it's no surprise he finds a woman in his bath in the video we feature this week.

Let's Don't Call It A Night is from James self-titled debut album released in March this year.

Casey, 30, was born in Plano and raised in Cool near Fort Worth - once known as Cowtown.

The singer finished third in the ninth series of American Idol and scored a record deal with 19TH Recordings/BNA.

Let's Don't Call It a Night reached #21 on the charts and Crying On A Suitcase is still rising.

James success is karmic - he survived a bad reaction to whooping cough medicine as an infant, a serious motorbike accident when he was 21 and divorce in 2007.

The singer presented an autographed guitar in 2010 to Dr Corey Collinge - the surgeon who saved his life and predicted he would never play guitar again.

Casey had played guitar since 13 with singer mother Debra Bybee James and elder brother Billy Cole.

He recorded his first original song Freezing in 2002 on an indie EP with Billy and his Casey James Band.

Further info - www.caseyjamesofficial.com
WIN CDS ON MEMBERSHIP PAGE
CLICK HERE for our membership page to win CDS by Tim McGraw, Eric Church, Luke Bryan, Carrie Underwood, Dierks Bentley, Russell Hitchcock, Felicity, Taylor Swift, Slim Dusty, Keith Urban, Miranda Lambert and more.