DAVE'S DIARY - 25 OCTOBER 2011 - BECCY COLE INTERVIEW
BECCY COLE - BUSHFIRE TATTOO TRIBUTE
"Australian woman look at you now/putting the pieces together, surviving somehow/ Australian woman, you could have let go/ no-one could blame you surrender to the undertow." - Australian Woman - Beccy Cole-Luke Austen.
It was a tattoo tribute to two young children and their uncle on a grieving mother's arm that caught the eye of Beccy Cole.

The amazing artwork didn't just bring the singer to tears it drove her to write a song about the strength of Bec Buchanan who lost a son, daughter and brother in the 2009 Kinglake bushfires.

And Cole, mother of a 12-year old son Rikki, helped Buchanan deal with grieving by taking her on three tours as a merchandising manager.

Bec and singer-songwriter husband Ross reciprocated by heading north from their Victorian bush home to help Grantham flood victims.
"I had met Bec before the fires at Whittlesea country music festival but we were not close friends," Cole, 38, told Nu Country TV as she toured to promote seventh album Songs & Pictures.
Bec, a volunteer organiser, and pump mechanic singer husband Ross have been active in the festival for more than a decade.

"Bec was the major inspiration for Australian Woman", Cole revealed.

"But this year at the festival I was sparked up by the lovely art work she has on her arm - the tattoo goes right up her arm. I worked out she had an amazing loss and started talking about it and became very close. She has come out now three times on tour with us doing our merchandising and getting away. I think she's amazing - a very strong woman with the crisis she has had to go through. I admired both her and Ross greatly because of the work they did up there in Queensland with Grantham flood victims. They wanted to help. I thought wow, that's a pretty amazing human to go through that yourself and still have a lot of love to give, firstly for your family and others who have gone through another crisis. She's a pretty special woman."

The Buchanans lost son Macca, 15, daughter Neeve, 9, and Bec's brother Danny when they retreated to her mother's home - perceived as a safer shelter from the fire that killed 177 on Saturday February 7, 2009.

But in a cruel twist of fate fire destroyed the shelter but spared the marital home in the bush.
SURVIVAL AND HEALING
"Pain will not stop you believing, courage of 10,000 men/ and you don't need this pity we're feeling/ you want life to mean living again." - Australian Woman - Beccy Cole-Luke Austen.
Cole was so moved by the tragedy she asked fellow singer and writer Luke Austen to finish the song.
"Another son Aiden was able to get out - he's now 15 - the age Macca was but now has this terrible survivor guilt, the poor little fellow," Cole said of the promising cricketer aided by the Shane Warne Foundation.

"Aiden is now learning a lot about getting on with life himself. Bec knew I had written the song - she knew the title. A couple of times I went to play it for her but she wasn't ready. Other times I wasn't sure - I had already recorded the song but I didn't want her to hear it off the record.
<Ross & Bec Buchanan
I wanted to play it for her. On the final night of the latest tour I made her sit near the front of the stage at the Commercial Club in Albury and I sang and played it for her. It was a very emotional moment for both of us - she was very complimentary. She loved it. She's a very unassuming woman - she didn't think she deserved such a sentiment but it was my observation of her. And she writes to me every now and then saying things like when she doesn't feel strong she pops the song on to remind her that she's got an inner strength - someone else has seen it. I think this is lovely if this song is helping her."

Cole confessed the song was a wider tribute to strong women in crisis.

"I wanted to write it in a way that's not too specific to Bec - not every word is about her," said Cole whose tribute also embraced the mother of a young murder victim.

"I have met some amazing women. Denise Morcombe is one of them. I'm an ambassador for the Daniel Morcombe Foundation. She lost her son. There's obviously been movement in that whole case recently. I've met some other amazing women who that applies to also but it is Bec's song."

Cole has also soaked up solace of Ross Buchanan song Salty Tears that appeared on the Vinnie's After The Fire benefit CD with Kevin Welch's Marysville and Shane Howard's Carry On.

"Ross sat and played Salty Tears to me at Whittlesea and when he came back to Grantham to help out we had a little jam session and he played it again," Cole added.

"It's pretty amazing - he has also written a play Paydirt."
GLORIA'S ROSES
"And if nothing else I'll always be/ the favourite daughter of a lady/ and the grandchild of God's best perfection yet/ and I could light the world with the power that they gave me/ I've got it all, I guess sometimes I forget/ there's a garden gate that never really closes on Gloria's roses." - Gloria's Roses - Beccy Cole.
But strong women illustrate the Songs & Pictures tableau - Cole's first solo studio album since Feel This Free in 2005.
She released a Live @ Lizotte's disc in 2007, a 2010 compilation Pre-Loved and Songbirds trio DVD with Gina Jeffreys and Sara Storer.

There's her nonagenarian grandmother in Gloria's Roses, mother Carol Sturtzel in The Singer Sees It All, a Nashville cocktail chanteuse in Waitress and near neighbour and duet partner Kasey Chambers in Here I Go Again and Millionaires.

"I've had many break-ups and all sorts of things happened in life," says Cole who split from fiddler husband Mick Albeck after two years but remains friends and utilises his talents on her records.
"The hustle and bustle of life - you've forgotten you have got this way to navigate through because of where you come from. My grandmother is very strong - she taught me a lot. I'm lucky to have her - I'm 38 and she's 92 and spritely and funny. She and my mother were so instrumental in making me who I am. They are both very musical as well. I want to pay tribute to her but it's also a philosophical song about what I want to do next time I fall in love with someone - how to handle something like that.

She's still living in the Thebarton house she's been living in for 80 years - it's about five minutes from the city. I grew up at Blackwood in the hills."
CHEATING AND DRINKING - NO KNICKERS
"Well, I don't want to seem old fashioned/ and I'm not saying I don't want a drink/ but you should curb your dance floor passion/ and the lack of underwear needs a rethink." - The Singer Sees It All - Beccy Cole.
That was where Beccy joined her mother's band Wild Oats at 14 and watched audiences reap what they sowed.

It was an eye opener for the schoolgirl who watched carousels of carnal conduit from her stage side platform.

"I was doing three four hour shows a week with my mum," says Cole.

"I'm still witness to a lot of crazy stuff from up there - it's a way to get entertained by them. I wanted to have an element of humour on the record - that's part of the show I do.

The song has strange humour and comedy. Without that song the album would have been very serious. Ironically the band was called Wild Oats. That's so true. Mom is fairly conservative but funnily it's one of her favourite songs because she thinks it's so true.

From up there you see them having a fight and he won't get her a drink.

There's some sort of crisis going on - someone with too much to drink.

It can be very humorous."

CHAMBERS MADE AND MASTER
"When it all comes down to the end of the line/ I'll keep your secrets if you keep mine/ and if we lost it all we would not care/ cause if friendship was money/ we'd be millionaires." - Millionaires - Beccy Cole-Kasey Chambers.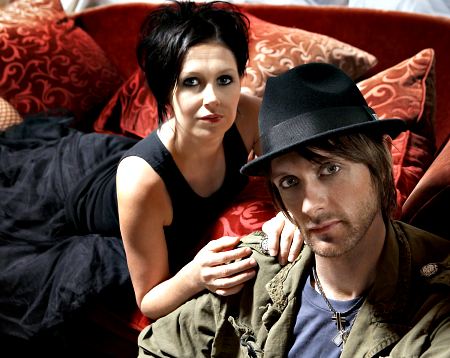 Cole's teen years were also the era when she met fellow South Australian Kasey Chambers when she joined Chambers family Dead Ringer Band.

The band played the same circuit as Wild Oats and triggered a two decade long friendship - a fertile font for collaborative songs.

Millionaires and Here I Go Again appear on the CD produced by Kasey's singing spouse Shane Nicholson on the NSW Central Coast.

"I always wanted to do a duet with Kasey so we tweaked and rewrote the version she put on one of her CDs as a bonus track," Cole explained.

"We recorded it again with different lyrics - it was great. That song is just our friendship completely. It's a great time for an anniversary of 20 years ago in Tamworth. We all busked together in the street as members of the Dead Ringer Band. We're having a big concert in Tamworth in January to commemorate that. We did most of the vocals at her home nearby where Shane has a studio."

The session serfs include road band drummer-manager Mal Lancaster, bassist Sean Rudd, guitarist-video maker Duncan Toombs, guest guitarist Mark Punch, fiddler Albeck, accordionist Tim Wedde and Scott Bird on harmonica.

Nicholson's 12-instrument arsenal includes slide and lap steel, mandolin, banjo, piano and organ.
HISTORY REPEATS
"I wish I was a kid in school, maybe 9 or 10 I guess/ l only had a friend or two, I was never teacher's pet." - Shiny Things- Beccy Cole-Lynn Bowtell.
Cole draws the time travel parallel of her adolescent school days with that of her son Rikki in Shiny Things and sibling song Purple Hills.
Co-writer Lynn Bowtell adds her vocals to Shiny Things, illustrated by a video filmed by Tombs at Gosford.

"Duncan invented all the guitar parts in the video," says Cole, "he's an incredible talent.

The whole concept of the video was his idea. The little girl was the daughter of two local doctors. She loved acting - she was just beautiful. I wanted to make it look all pretty - it's the first film clip I've had out for a while of one of my own songs. We filmed it in Duncan's warehouse in Gosford."

Fast-forward three decades from Cole's primary school days to today for the impetus for Purple Hills.

"I started fiddling around with a guitar riff and liked it," Cole says of the song about son Rikki.
"It evoked the sentiment. I always wanted to write something about my son. He wanted to go to a particular party he hadn't been invited to. It brought back so many memories of when I was a kid. I was a little bit different - didn't fit in. When you're a kid you want to be like everyone else - when you are an adult you realise they are the differences that make you quite cool, I guess. The apple doesn't fall far from the tree is what I'm saying. Rikki is such a great kid - he has taught me a lot. He has also taught me to remember and get in touch with my childhood. He's not a huge fan of country music but he does like that song. He was 10 then - now he is 12. He's a kid and he loves that he has made it into a song. I think it certainly helped. I knew these stories and parts of my childhood from bedtime chats. I used to tell him about the purple hills - that was where I grew up. Those purple hills are now covered in houses. That's how they got rid of Paterson's Curse. In South Australia we called it Salvation Jane. I looked it up when I was writing the song. It was really interesting thing she was a farmer's wife and it was introduced to save livestock in drought. Sheep can survive on it but horses and cows die - it ended up a noxious weed."
But, like rabbits, royalty and punk rock, it was imported from England and can't be eradicated with 1080.
MUSIC CITY WAITRESS
"In a bar on the eastside for wayfaring lonely girls/ I took a table solo and I scanned the other world/ I sat there drinking bourbon and trying to belong/ when somebody at the bar yelled let the waitress sing a song." - The Waitress - Beccy Cole.

When Cole was on one of many Nashville search and destroy missions she sourced a song in the fine tradition of Thom Schuyler penned Lacy J Dalton hit 16th Avenue.

Beccy was having a drink when she struck up a friendship with a North Carolina born singer-songwriter who has already spent 18 years toiling as a waitress chasing her unfulfilled dreams.

Not an uncommon tale in Guitar Town where competition and the school of hard knocks leaves major talents withering on the vine of fashion and passion.
"I went to the Lipstick Lounge - a bar for human beings," Cole recalled.

"Wendy works as a waitress in several bars but that was the one where I met her and stumbled across her when I was near the big stadium. I was at a concert and thought Dierks Bentley was singing out of tune so I went to find a bar."

It was there that Wendy sang on demand for patrons in between slinging drinks and food.

"Only three nights ago I told her she was the reason my album came out early," Cole added.

"It was 3 in the morning and I couldn't sleep. I popped on Facebook and saw her name there and told her. The CD is in the air to her now as we speak - a package on a plane to her.

Obviously the song is very real. I hope it doesn't arrive and she thinks it's pointing at her as someone who didn't get their dream - I hope it's more of a compliment than something that puts her down."
Cole's writing, singing and multi-instrumental prowess has won her seven Golden Guitars and praise for her charity support.

But the singer has no plans to emulate South Australian born peers Jedd Hughes and Kym Warner of The Greencards and Jay O'Shea and chase her dreams to Nashville.

"I have no plans to tour overseas," Cole says.

"I do travel company trips to Nashville and cruises. I just love what I do here."

Cole is not actively pushing her songs to major stars and peers but a new collaborator has revamped a tune from her new album.

"I wrote Woman In Me with Travis Collins," Cole confessed.

"He's recorded another completely different version of the song called It Wouldn't Be Me - his is a ballad with a completely different chorus. I pulled it apart - I did a new version."

She also teamed with unsung Dandenongs foothills raised and latter day Pascoe Vale songbird Cyndi Boste to pen Only Music in Brisbane and Lynn Bowtell for Leave The Light On.

Ironically Cole's best known song Poster Girl - inspired by performing for our troops in Iraq, Kuwait and Afghanistan - wasn't designed to be a big earner.

"It was used in a lot of documentaries," Cole admitted.

"I couldn't keep up with it but I heard from a lot of people when it was on TV. It was used a lot in a Legacy campaign but I didn't charge Legacy as it was an admirable cause."

Yes, a little like going in to bat for the Bec and Ross Buchanan when they needed a long handle to deal with their grief.