DAVE'S DIARY - 9/1/12 - PREVIEW OF EPISODE 6 - SERIES 17
SINGING ACTORS DOMINATE NU COUNTRY TV
A quintet of singing actors headlines Nu Country TV this Wednesday January 11 at 10 pm on C 31.

Dolly Parton, Reba McEntire, Gwyneth Paltrow, Faith Hill and spouse Tim McGraw have long blended their singing and acting careers to gain wider exposure.

Dolly, who toured here in December, shares a duet role on a recent video by bluegrass belle Rhonda Vincent.

Paltrow and McGraw combine with a song from Country Strong movie while Hill reaches back to her Mississippi roots.

Gippsland born and bred bluegrass band The Davidson Brothers return to the show edited by Ashley Hall.

And Illawarra singer Jackie Dee also debuts on the program, repeated on Friday at 1.30 am.

TIM MCGRAW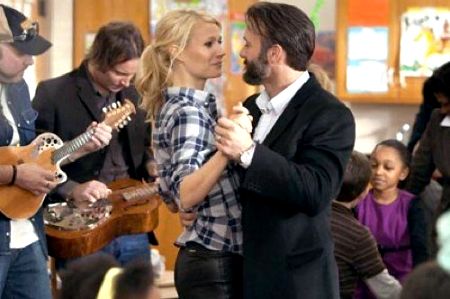 Louisiana born Tim McGraw belatedly released 11th album Emotional Rescue on the eve of his second Australian tour with singing spouse Faith Hill.

It's his final album with Curb Records who launched a brace of greatest hits discs between recent albums.

McGraw, 44, won a court battle late last year to exit Curb.

The label launched three singles from the album that features a duet with fellow singing actor Ne-Yo.

McGraw and the R & B singer previously collaborated as writers and duet partners.

But it's a duet with Gwyneth Paltrow we feature this week.

McGraw plays husband-manager of Paltrow's character - a resurrected singer - in the movie Country Strong.

They perform the video for Me And Tennessee from the film that opened in Nashville in December but went straight to DVD in Australia.

The Tony Martin penned song is in the movie that has Paltrow, spouse of Coldplay singer Chris Martin, doing three tunes - including the title track - and fellow cast members Garrett Hedlund and Leighton Meister.

The soundtrack also features Faith Hill, Ronnie Dunn, Trace Adkins, Lee Ann Womack, Hank Williams Jr, Sara Evans, Patty Loveless and Chris Young.

Acclaimed singer-songwriter and guitarist Jim Lauderdale performs in the house band in the final scene of the movie and video.

Jim joins McGraw, Hill, Eli Young, Dierks Bentley, Tracy Lawrence, Wynonna Judd, Colt Ford, Craig Campbell and expat Australians Sherrie Austin, O'Shea and Jedd Hughes on the second CMC Rocks The Hunter festival from March 16-18.

Tim, Faith and Eli Young Band also play Rod Laver Arena on March 20.

And Bentley and Aussie headliner Lee Kernaghan play St Kilda Palais on March 13.

McGraw has since made another new movie Dirty Girl but pulled out of South African filmed Denzel Washington movie Safe House - because of tour commitments.

CLICK HERE for a McGraw interview from the Diary on May 23, 2010.

FAITH HILL - MISSISSIPPI GIRL
As an actor Faith Hill's Stepford Wives movie role may be in the shadows of co-star Nicole Kidman - spouse of expat Australasian superstar Keith Urban.

But the Mississippi born singer has used her thespian skills in her many video clips.

Hill, 43, reaches back to her southern roots to act out sentiments of her autobiographical hit Mississippi Girl on this week's show.

Faith was born in Ridgeland, raised in Star and left home for Nashville at 19 after being raised by her adoptive parents.

She sang demos for a publishing company before winning acclaim at the famed Bluebird Café performing songs by former Pure Prairie League singer Gary Burr.

The five-time Grammy winner wed music publisher Daniel Hill in 1988 but they divorced in 1994 before she met McGraw.
Hill, who took a six-year break from recording while raising the couple's three daughters, performed her new single Come Home on the 45th CMA Awards in November.

Faith, who scored several hit duets with McGraw, has sold 40 million albums.

She hopes to have a new single from eighth album Illusion, released on February 28, to promote on her tour.

Meanwhile her duet on A Showman's Life with Texan rancher George Strait's 39th album Here For A Good Time is scoring airplay.

CLICK HERE for a Faith Hill interview in the Diary on September 21, 2005.

REBA - SOMEBODY'S CHELSEA
Oklahoma singer, actor and TV host Reba McEntire scored widespread exposure on her two Australian tours.

Reba utilised her acting skills in the video for her new single Somebody's Chelsea.

The song, an evocative slice of time travel is on her 30th album All The Woman I Am.

McEntire, now 56, earned more than 55 million album sales and 63 Top 10 hits in her 35-year career.

Fellow Australian tourist - Texan singer Red Steagall - discovered her at a rodeo in the seventies before his Victorian tour that included the Cross Keys Hotel in Essendon.

Reba hosts her own TV show, aired on Australian TV from 2001-7, and starred in 2001 Broadway hit show Annie Get Your Gun.

The singer is being sounded out for a revival of a show about a plucky heroine, The Unsinkable Molly Brown.

She appeared in movies diverse as Tremors, The Gambler Returns, The Man From Left Field, Secret Of Giving, One Night At McCool's and Buffalo Girls.

McEntire was also the voice of Betsy The Cow in 2006 animated movie Charlotte's Web, starring Beau Bridges and Dakota Fanning, and filmed at diverse locations in Bacchus Marsh, Greendale and Heidelberg West football oval in Melbourne.

Click here for a Reba feature in the Diary on December 9, 2003.


RHONDA VINCENT AND DOLLY
American bluegrass queen Rhonda Vincent enlisted the vocal and video support of singing actor Dolly Parton her video for Heartbreaker's Alibi.

This video highlights pairing of Rhonda and December tourist Dolly on one of many highlights of Vincent's 12th album All American Bluegrass Girl.

The Missouri born banjo-playing mother of two has won a brace of major bluegrass awards since her debut in her family band at the age of five.

Rhonda, 49 and co-producer of her albums, is a long time inspiration for young peers Alison Krauss and Alecia Nugent.
She sang harmonies on three songs on Georgian superstar Alan Jackson's 18th album Freight Train including hit single It's Just That Way.
That song is one of three Top 5 hits co-written by expatriate Port Douglas singer-songwriter and former Starmaker winner Kylie Sackley.

Vincent recently decamped from Rounder Records after releasing latest album Destination Life.

Dolly returned from her third Australian tour in December for the U.S. premiere of new movie Joyful Noise with Kris Kristofferson and Queen Latifah.

It's her first leading role since Straight Talk in 1992.

Dolly plays a wealthy widow of the former choir director played by Kristofferson who is shocked to learn her husband's musical throne will be filled by Queen Latifah.

CLICK HERE for a Rhonda Vincent feature from the Diary on April 20, 2004.
CLICK HERE for a Vincent CD review on September 25, 2006.
DAVIDSON BROTHERS
The Davidson Brothers return to Nu Country TV with the second single from their fourth self-titled album.

Hamish and Lachlan Davidson wrote Long Distance Love Affair about trying to hold a relationship on while travelling on the road.

The duo is back on the local circuit with gigs at Whittlesea, Port Fairy and CMC Rocks The Hunter Festivals.

And fiddling banjo ace Dr Hamish Davidson - a chiropractor - provides running repairs for dancers and divas at his Bendigo clinic.

The good doctor and mandolinist brother Lachlan plunder similar wells as octogenarian mentor Dr Ralph Stanley on trips to Kentucky, Virginia and Tennessee.

They wrote 10 of 11 songs on their turbo charged fifth album Here To Stay, produced in Nashville by Mark Thornton and Larry Marrs.

The brothers hail from Gippsland town Yinnar - population 531 - and the Aboriginal word for Woman.

It was first settled in 1874.

CLICK HERE for a Davidson Brothers feature from the Diary on August 23, 2011.
JACKIE DEE - WOLLONGONG TIDE
Helensburgh singer-songwriter Jackie Dee debuts on Nu Country TV with her video for Tide.

Jackie says the song was inspired by a book titled A New Earth by Eckhart Tolle.

The theme is about being present in the moment of life and not living in the past or the future.

Tide is the second single on her six track EP - A Few Wrong Turns.

Jackie, raised in the gateway to the Illawarra coalmining belt, sang in her first band at 13.

In 2008 she entered an song competition, sponsored by Helensburgh Workmen's Club.

Singer-songwriter judge Colin Buchanan named Jackie's song A Few Wrong Turns - first single from her EP - the winner.
This encouraged her to enter 2008 Telstra Road To Tamworth where she was one of 14 heat finalists for the Sydney region.
She recorded her CD with award winning producer Matt Fell a few years later.

More info - www.jackiedee.net
JACKSON AND LAMBERT PRIZES
There's great news for fans of Georgian born superstar Alan Jackson and quadruple CMA Award winning Texan star Miranda Lambert.

We have their latest CDS as prizes for viewers who renew Nu Country TV memberships or become members.

Sony-BMG promotions chief Emma Smith also gave us Miranda's new DVD - Revolution: Live By Candlelight.

Alan's 34 Number Ones features his biggest hits including his duet with Zac Brown Band - As She's Walking Away.

The bonus tracks also include his cut of the late June Carter Cash-Merle Kilgore written Johnny Cash hit Ring Of Fire and rare track Look At Me.

Emma also donated Miranda's huge selling 4th CD Revolution.

And as a bonus there is Miranda's new DVD featuring rare acoustic cuts of six songs White Liar, The House That Built Me, Love Song, Heart Like Mine, Love Is Looking At You and Rolling Stones country classic Dead Flowers.
WIN KEITH URBAN CDS
Expatriate Australasian superstar Keith Urban is recovering from throat surgery.

To celebrate, Keith's record company EMI-Capitol has great news for Nu Country TV viewers.

Promotions ace Bianca O'Neill donated autographed copies of his huge selling ninth album Closer To You.

She also donated new compilation The Very Best Of Slim Dusty and CMAA Winners - 2011.

All you have to do to win Jackson, Lambert, Urban and Dusty CDS or the Lambert DVD is become a member of Nu Country or renew membership.

It costs just $20.

Please send a cheque or money order made out to Nu Country Music to us at P O Box 625 - Northcote - 3070.

We also now have electronic banking for membership payment and renewal.

But email us first at music@nucountry.com.au as stocks are limited.

Other prizes on offer include -

Eric Church - Chief
Luke Bryan - Tailgates & Tanlines.
Taylor Swift - 2ND CD Fearless.
Tim McGraw Southern Voice Tour CD with 11-bonus video clips.
Felicity - Landing Lights
Air Supply singer Russell Hitchcock - Tennessee - The Nashville Sessions CD and DVD
Slim Dusty Sittin' On 80 Boxed Set
The Very Best Of Slim Dusty
Catherine Britt - Little Wildflowers.
Various compilation CDS.