DAVE'S DIARY - 23/8/11 - DAVIDSON BROTHERS CD REVIEW
CD REVIEW - 2011
DAVIDSON BROTHERS
HERE TO STAY (www.davidsonbrothersband.com)

SHAKING BONES SOUTH OF THE MURRAY
"I pulled into the driveway, walked up to your door/ about to realise things were different from before/ there was no answer to I headed into town/ I saw you on the corner, hand in hand with someone else." - My Heart Can't Believe My Eyes - Hamish & Lachlan Davidson-Jerry Salley.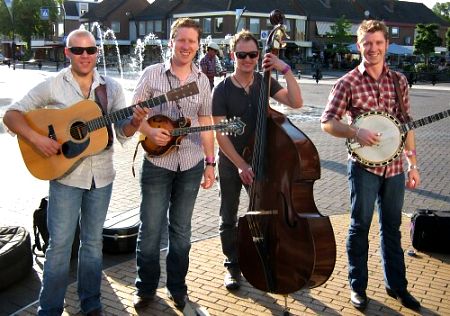 Gippsland born bluegrass aces The Davidson Brothers provide a double dose of solace for their fans after those long hard nights on dance floors.

Or the heavy lifting that goes with the territory for patrons who toil on farms, factories, building sites and way beyond.

The duo reprieve ruptured romances in original high lonesome heartache songs My Heart Can't Believe My Eyes and Find You.

And if fans suffer back injuries after 180 beat a minute banjo instrumental OMFG on this disc there's instant relief at hand.

Fiddling banjo ace Dr Hamish Davidson provides running repairs at his Bendigo chiropractic clinic.

The good doctor and mandolinist brother Lachlan keep the dingoes from the door with off stage careers in this unlucky radio country.

They plunder similar wells as octogenarian mentor Dr Ralph Stanley, the late Bill Monroe and contemporary peers on trips to Kentucky, Virginia and Tennessee.

Regular sojourns to the home of bluegrass - and more recently Europe - have enabled them to soak up the roots of the rich genre and refine their take on it.

It's a far cry from their Nu Country TV Arts Centre lawn concert back on January 30, 2005.

The Yinnar raised duo wrote 10 of 11 songs on their turbo charged fifth album produced at Sidekick Sound Studios at Madison near Nashville by Mark Thornton and Larry Marrs.

Thornton played guitar for 12 years with the late singing actor-guitarist Jerry Reed who went to God at 71 on September 1, 2008.

Kentuckian Marrs was a road dog with artists diverse as Texan born icon George Jones, Randy Travis and former child prodigy Marty Stuart.

This enabled the lads to utilise talents of A team session pickers - fellow fiddler Aubrey Haynie, guitarist Bryan Sutton, upright bassist Mike Bub and Randy Kohrs on dobro and resophonic guitar.

There was another bonus - occasional Australian tourist Jerry Salley - also a prolific co-writer with Australian artists.

Salley harmonised on entrée song My Heart Can't Believe My Eyes - a song he co-wrote with the brothers.

He also mastered romance and weather metaphors in his song Driving Into The Storm - the only cover on an album that deserves the critical acclaim it has already scored.

That delicious song enjoys subliminal theft from the late Keith Whitley hit No Stranger To The Rain and Garth Brooks Let The Thunder Roll.
KELLY GANG RESURRECTION
"Then there were the Kelly boys who never used a shovel/ they just stole from others and their takings more than doubled/ escaped the law for a couple of years, you know that's pretty good goin'/ but it came to a sudden deadly end in a shootout in Glenrowan." - Victoria - Hamish & Lachlan Davidson.
But back to the brothers who launched their CD in Melbourne in August and appropriately showcased it at the Kelly Country bluegrass festival in Beechworth.

Their song is more than just the latest to fertilise the Ned Kelly folklore factory.

They trace their home state's secession - not its settlement - to the 1851 gold rush.

There's a Kelly gang verse but they also indulge in imagery irrigation - not the Mississippi that flows through American songs exploited by pop, gospel and bluegrass artists - but our mighty Murray.

The Davidson boys extol the raging river as their protector until death - a Murray Dixon line of sorts.
"Murray mighty river, won't you guard our northern shore/ I'm not going anywhere til death knocks at my door."

Maybe now the pipeline has been plugged the duo could offer its song to the state tourism marketeers - or at the very least - morticians or private retirement village operators.

Pristine harmonies and slick production ensure the messages are not lost on this soulful journey.
EMAIL FEMALE OR MALE
"Another empty mail box, a silent telephone/ feel's like the world's forgotten me and left me here alone/ nobody knocks upon my door, I'm hanging by a thread/ this ain't what I call livin', it's messin' with my head." - Write Me A Letter - Hamish & Lachlan Davidson.
The duo covers all mood swings in a genre that - unlike mainstream country - is not renowned for positive love songs.
Let's Agree To Disagree - second tune here - finds the song character suggesting to the banished lover it's time to grow up - and apart.

It's a vast contrast to reflective regret about the wasted days and nights and desire to rekindle love in the next song Find You.

By the time the listener reaches the home straight of the album love is on a roll - down hill.

Rather Be Gone finds refuge in another country staple - booze - while the protagonists in Down Time are urged to rise above their sorrow.

"Don't let your down time get you down/ don't let your love run you around/ you better get yourself unwound/ it'll happen again next time around."
The Davidson Brothers also provide some sobering social comment in their finale Write Me A Letter - inspired, they say, by lack of personal interaction in the age of technology.

They sing about the loneliness of family disconnection borne by failure to communicate by mail and phone.

They suggest spiritual uplifting by reverting to the traditional pre twitter twittering.

But, with ever rising snail mail and telephonic costs, their message may be lost on facile face bookers.

Maybe they could borrow from the late English beat poet Adrian Henri who once wrote "I can't communicate with you because the postmen are on strike. Who do I blame when we're together?"