DAVE'S DIARY - 18/12/11 - PREVIEW OF EPISODE 3 - SERIES 17
NU COUNTRY CHRISTMAS SPIRIT
We celebrate an early Christmas Eve with some spirited country from a pair of superstars this Wednesday December 21 at 10 p m on C 31.

Tennessean superstar Kenny Chesney shares billing on a song penned by one of the unsung heroines of country music.

And Georgian born icon Alan Jackson charges his glass with his former duet partner playing a dumb waiter.

Kansas born singer Jerrod Nieman delivers another thirsty anthem in the drinking trilogy.

He is followed by an expat Australian who is a fellow graduate of a Texas country music university.

Former Queenslander Shane Nicholson delivers a satiric tribute to one of the fathers of the country genre.

And Melbourne singer Jordie Lane performs a video for a song recorded on his second U.S. sojourn.

The show, edited by Docklands academic Ashley Hall, is repeated on Tuesday at 2 am.

CHESNEY AND TEQUILA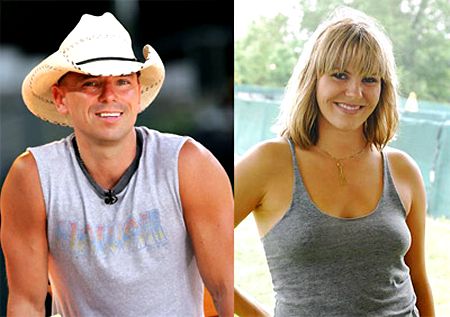 It comes as no surprise Kenny Chesney out grosses most rock stars on his arena tours destined to bring him down under.

But the singer, who hails from the same pocket of Tennessee as the late Chet Atkins, shares his video for You And Tequila with soul singer Grace Potter.

The song that won video of the year at the recent 45th CMA Awards is a highlight of Chesney's 13TH album Hemingway's Whiskey.

Chesney, 43, joins Brad Paisley and Zac Brown Band on local promoters' wish lists.

The singer, on the road next year with Tim McGraw on their Brothers of The Son tour, is one time husband of actress Renee Zellweger.

Chesney and McGraw - singing spouse of Faith Hill - were arrested in Buffalo, New York, in 2000 for horse napping a deputy sheriff's steed.

Matraca Berg and Deana Carter wrote the CMA award winning song that was on Carter's 2003 album - I'm Just a Girl.

Deana, daughter of recently deceased hit writer-session musician Fred Carter Jr, played the 2010 CMC Rocks The Snowys Festival at Thredbo.

She performed her career hit Strawberry Wine - penned by Berg - and Did I Shave My Legs For This.

But prolific writer Berg, wife of Nitty Gritty Dirt Band bassist Jeff Hanna and daughter of late session singer Icie Berg, never made it down under.

Neither has the NGDB - formed in 1966, featured in iconic movie Paint Your Wagon and stars of the annual Willie Nelson July 4 picnics.

Berg, 47, has just released 5TH album The Dreaming Fields - first since her Rising Tide album Sunday Morning to Saturday Night in 1997.

At 18, Berg wrote her first No. 1 hit, Faking Love - a 1982 duet between T.G. Sheppard and Karen Brooks - prelude of sorts to her new song Your Husband's Cheating On Us.

CLICK HERE for a Chesney feature in the Diary on December 15, 2008.
JACKSON ENJOYS LIQUID BUFFETT
Georgian born superstar Alan Jackson once topped charts with Floridian Jimmy Buffett on It's 5 O'Clock Somewhere.

But Jackson, unlike singing sailor and author Buffett, didn't fall off stage on his 2011 tour of the Antipodes.

Instead he plays the dumb waiter in Jackson's video for Long Way To Go from his 20th album - first on his own indie label.

Buffett, who first toured here as spiritual guide for Dennis Connor in the America's Cup in Fremantle, shares his penchant for cigars with fellow 2011 Aussie tourist - Texan singing crime novelist Kinky Friedman.

This time the locale for the video is The Square Grouper Bar in Jupiter, Florida - near one of Jackson's two sunshine state hideaways.
Jackson and his Strayhorns band dispose of bugs in their margaritas in the best possible way on a rainy day in the south.

Jackson, now 53 and father of three daughters, has sold almost 60 million albums since being discovered by expatriate Australasian Barry Coburn in 1987.

Click Here for an exclusive Jackson interview in the Diary on October 24, 2010.
JERROD NIEMANN ONE MORE DRINKING SONG
Jerrod Niemann proves he might prefer Margaritaville to his home state of Kansas in the video for One More Drinking Song from his third album Hung Jury.

Nieman, 33, was raised in a quaint town named Liberal.

He studied at the famed South Plains Music College in Levelland, Texas, before expatriate Australian Jedd Hughes.

The singer, who shares his name with a Texas department store, records for a label owned by West Virginia born star guitarist-singer-songwriter Brad Paisley.

It's a far cry from his debut album that withered on the vine 11 years ago when the label closed before releasing it.

That was after Niemann co-wrote Oklahoma superstar Garth Brooks hit Good Ride Cowboy - a tribute to late rodeo rider and country star Chris LeDoux.

He recorded a pair of independent albums before signing a development deal with a major label.
When that fell through he signed with Category 5 Records and charted with single I Love Women (My Momma Can't Stand).

The label folded after the single release and album hit the cutting room floor.

After a second record deal failed, Niemann broke up with his girlfriend, gained 60 pounds and dealt with a serious bout of depression.

But he bounced back by focusing on Judge Jerrod, cut without a label.

His publisher Sea Gayle Music, founded in 1999 by Paisley, Chris DuBois and Frank Rogers, shopped it to Arista who released it fully intact.

It includes the humorous Jamey Johnson penned ballad They Should Have Named You Cocaine.

Jerrod's mates Johnson and Randy Houser appeared in his video for first hit Lover, Lover - a remake of Sonia Dada's 1992 summertime smash You Don't Treat Me No Good.

Further info - www.jerrodniemannofficial.com
JEDD HUGHES - HIGH LONESOME AND HEADING HOME
Jedd Hughes - guitarist of choice for Texans Rodney Crowell and Jack Ingram and Patty Loveless - returns home in March for his second CMC Rocks The Hunter festival at the Hope Estate.

Jedd hails from Quorn, due north of Adelaide and tours with fellow singer Sarah Buxton.

It's a far cry from that tiny town north of Adelaide and local country HQ Tamworth where he completed his secondary education.

Hughes played guitar with other Kentucky Coalminer's Daughter Patty Loveless after being discovered by Texan Terry McBride.

Hughes wrote 80 songs with McBride from April 2002-March 2003 after studying at the South Plains College at Levelland in the Lone Star state panhandle.

The young gun also had a rare privilege of writing with Texan troubadour Guy Clark who has also toured here twice.
Now Hughes, who also wrote songs for fellow expats Greencards and ABC national radio host Felicity, joined Sarah Buxton in the duo Buxton Hughes.

Buxton wrote smash hit Stupid Girl for expat Australasian superstar Keith Urban and Sweet And Wild for Dierks Bentley who returns in March for his second Australian tour.

Hughes and Buxton collaborated on more than six score songs culled to a baker's dozen for their debut duo CD.

Jedd revives his video this week for embryonic hit High Lonesome from his debut U.S. album Transcontinental on major label Mercury.

CLICK HERE for a Jedd Hughes feature in the Diary on January 20, 2005
SHANE NICHOLSON RESURRECTS JIMMIE RODGERS
It's no surprise Queensland born Shane Nicholson is a headliner at the Coming up after the break a headliner at Whittlesea festival in February.

Nicholson was the unsung hero of the 35th Port Fairy folk festival earlier this year.

Since then he lost to singing spouse Kasey Chambers in the finals of the ARIA awards.

But he might turn the tables in the 40th Australian Country Music Awards in Tamworth in January.

Nicholson, 35, has made the finals in seven categories for his fourth solo CD Bad Machines.

They include the video for Jimmie Rodgers Was A Vampire in which his father-in-law Bill Chambers is cast as a blood sucking beast and a multi talented musician.

Bill Chambers got his fangs into his role and harmonica as a Chad Morgan emulator of sorts.

The vintage car may have been a prop from the latest Underbelly series in the roaring 20's when Jimmie Rodgers reigned in Mississippi.

Nicholson also produced Novocastrian Catherine Britt's fourth CD - a self-titled release on ABC Music.

Click Here for a Shane Nicholson interview in the Diary on March 5, 2011.
JORDIE LANE NOT FROM ROUND HERE
Jet setting Melbourne singer-songwriter Jordie Lane performs the video for recent single Not From Around Here from his second album Blood Thinner.

Lane, 27 and raised in inner northern suburb Thornbury, filmed it near Byron Bay in northern NSW.

The singer followed comedienne mother and TV bon vivant Denise Scott and street performer father John onto the local live circuit as a teenager.

Jordie has two farewell gigs on February 10 at East Brunswick Club and Caravan Club in Oakleigh on February 11 before embarking on his third international tour.

He included an extensive New Zealand November and December tour after winning wide acclaim at the 35th Port Fairy folk festival in March.

Earlier this year, while in California Lane, wrote and recorded songs at the Joshua Tree Motel in Suite 8.

It was the room where legendary country rocker Gram Parsons died at 26 on September 19, 1973, of a booze and dope overdose.
Lane used a 4-track cassette deck for five days of recording - 38 years after Parsons went to God in the same suite.

Maybe the burning guitar in his video was a Jordie metaphor for the cut rate cremation given to Parsons by Phil Kaufman and little Aussie mate Michael Martin.

They stole Gram's body from Van Nuys airport when he was about to be shipped back to his family in Louisiana.

Movie director Arthur Penn was making Night Moves at Kaufman's home at the time
Johnny Knoxville later starred in the other movie - Grand Theft Parsons.

Lane recorded his indie seven track 2006 debut EP at his Jordie's Shed home studio in Thornbury home studio before his two albums Sleeping Patterns and Blood Thinner on Vitamin.

Further info - www.jordielane.com
JACKSON AND LAMBERT PRIZES
There's great news for fans of Georgian born superstar Alan Jackson and quadruple CMA Award winning Texan star Miranda Lambert.

We have their latest CDS as prizes for viewers who renew Nu Country TV memberships or become members.

Sony-BMG promotions chief Emma Smith also gave us Miranda's new DVD - Revolution: Live By Candlelight.

Alan's 34 Number Ones features his biggest hits including his duet with Zac Brown Band - As She's Walking Away.

The bonus tracks also include his cut of the late June Carter Cash-Merle Kilgore written Johnny Cash hit Ring Of Fire and rare track Look At Me.

Emma also donated Miranda's huge selling 4th CD Revolution.

And as a bonus there is Miranda's new DVD featuring rare acoustic cuts of six songs White Liar, The House That Built Me, Love Song, Heart Like Mine, Love Is Looking At You and Rolling Stones country classic Dead Flowers.
WIN KEITH URBAN CDS
Expatriate Australasian superstar Keith Urban is recovering from throat surgery.

To celebrate, Keith's record company EMI-Capitol has great news for Nu Country TV viewers.

Promotions ace Bianca O'Neill donated autographed copies of his huge selling ninth album Closer To You.

She also donated new compilation The Very Best Of Slim Dusty and CMAA Winners - 2011.

All you have to do to win Jackson, Lambert, Urban and Dusty CDS or the Lambert DVD is become a member of Nu Country or renew membership.

It costs just $20.

Please send a cheque or money order made out to Nu Country Music to us at P O Box 625 - Northcote - 3070.

We also now have electronic banking for membership payment and renewal.

But email us first at music@nucountry.com.au as stocks are limited.

Other prizes on offer include -

Eric Church - Chief
Luke Bryan - Tailgates & Tanlines.
Taylor Swift - 2ND CD Fearless.
Tim McGraw Southern Voice Tour CD with 11-bonus video clips.
Felicity - Landing Lights
Air Supply singer Russell Hitchcock - Tennessee - The Nashville Sessions CD and DVD
Slim Dusty Sittin' On 80 Boxed Set
The Very Best Of Slim Dusty
Catherine Britt - Little Wildflowers.
Various compilation CDS.