DAVE'S DIARY - 5 MARCH 2011 - SHANE NICHOLSON INTERVIEW
SHANE NICHOLSON RADIO ACTIVE
"Music is dead, music is dead/ long live the radio." - Music Is Dead - Shane Nicholson.
Metaphors are a dangerous weapon - especially when you sprinkle them through satirical songs with, ah, gay abandon.

Queensland born and latter day NSW Central Coast singer-songwriter Shane Nicholson wants to make one thing quite clear.

His riveting new song Music Is Dead is not biting the hands that feed and bleed him - ABC, community and regional radio.

No, the song - one of three new tunes with radio references - is more a reflection of changes in modern music orchestrated by the commercial corporate chains.

It's a far cry of the days of yore in the fifties and sixties when country and folk music enjoyed nuptials with pop and rock on commercial radio.

That was an era way back in those mists of time when many metropolitan stations boasted individual owners.
Yes, long before the new age shock jocks and faux comedians whose next funny joke will be their first.

Let's let Nicholson explain.

"The song is not about radio in general but more about commercial radio, talkback and comedy breakfast shows," Nicholson told Nu Country TV on the eve of his Victorian tour in March to promote his fourth solo CD Bad Machines (Essence-Liberation.)

"When you turn the radio on you often don't hear music but some fast talking DJ on a breakfast show laugh at his own jokes. I've been doing radio for the past few weeks.

Without radio (like ABC, RRR and PBS) we would be lost. I wouldn't have a career."

That rapidly growing oasis, with community and Pay TV and occasional commercial TV variety show support, is the flame that ignites roots music in the new millennia.

"Mainstream radio doesn't represent the broader cross section any more," says Nicholson.

"Music Is Dead uses radio metaphors. I'm basically trying to hold up a mirror to a lot of things changing, quite often not for the better. It's quite scary, not just the music industry but how music is perceived and what it's become. We're living in different times. It's a song about that. Music to kids now is different to what it was to me when I grew up. It's one of those kicking and screaming songs, wanting the old days. On radio there is so much talking I don't hear any music - that annoys me more than anything else. It gets old pretty fast, depends what you are after. The song deals with how things are changing and how our taste is changing - how the magic of music is definitely changing and the way people view that magic. To me it's still a mysterious magical thing - a lot of people are still fighting to retain it. It's not a complaining song but holding a mirror up to it."
BROKEN THINGS
"Just like that old toy train/ no longer bright shining red/ just like that rusted chain/ sitting on a tyre by the shed." - Broken Things - Shane Nicholson.
Shane joked about his confession at his recent Fitzroy CD launch at the Workers Club, nee the Rob Roy, that his singing spouse Kasey Chambers was second cab off the rank as partner on new song Broken Things.

The singer told the capacity audience he invited Sheryl Crow to guest on the song but she had not responded.

Maybe she was busy promoting her trio video clip with Texan Miranda Lambert and Loretta Lynn on historic Lynn hit Coalminer's Daughter.

"I sent it to Sheryl Crow," Nicholson revealed.

"I don't know if she ever heard it - you don't know how many people are between you and her. I guess we're not as good friends as I thought. I thought if she couldn't do it I would ask my wife. I don't think Kasey minded being second choice - she quite liked the song. I think she minded more if she thought I was telling everybody."

Nicholson also makes it clear it's not a reciprocal present for Chambers writing The Stupid Things I Do when she forgot to buy him a Valentine's Day present last year.

She included the song on her fifth solo album Little Bird in 2010.

"Mind you I earned that," Nicholson joked.

"I gave her a whole bunch of stuff for Valentine's Day - that was her repaying me."

HAMMER AND NAIL
"I bought a hammer at a dead man sale/ never landed straight on a nail/ I think it's guilty of ungodly sin/ I think it's keeping a ghost within." - Hammer And Nail - Shane Nicholson
But Nicholson is indebted to Ohio born touring partner Kim Richey for inspiration for another new tune Hammer And Nail.

Shane and the frequent Australian tourist and hit writer collaborated on a brace of writing sessions during her visits that began in 2002 with Jim Lauderdale and Canadians Fred Eaglesmith and Jason McCoy.

"It felt like a Stephen King story when I wrote it," Nicholson explained.
"The term hammer and nail came from Kim Richey. I was writing with her, we were writing something else, talking and chatting away. She was telling me they have these dead man sales in Nashville - someone passes away and they sell off all the estate on the front lawn, like a yard sale. They call them a dead man's tale apparently. I like that term - I thought it was kind of interesting - if you bought something it was haunted. In this case it was a haunted hammer, used for evil purposes in the past, came with its own free ghosts. That was the idea - then you are haunted by the hammer. It became a funny sort of dark humour - something I've never done before. I don't usually deal that much with humour in my songs but there is much more of it on this album. It's always dark or dry or sarcastic that's tongue in cheek. On the surface sounds very macabre, like a slasher movie. It might make a cool movie or short film."
SLEEPING COLD WITH MAD BASTARDS
"Will you rise or will you fall/ will you walk or will you crawl/ will you dream in black and white/ when you're sleeping cold tonight." - Sleeping Cold - Shane Nicholson-Kasey Chambers.
Nicholson, like Chambers, is no stranger to landing songs in movies and TV shows.

"There's a new Aussie film coming out called Mad Bastards," Nicholson said.
| | |
| --- | --- |
| | "Sleeping Cold from our Rattlin' Bones album is in that movie. There are always things on the boil, we're never quite sure as it's always a long time until they finally come out. You kind of forget by the time the film comes out that you actually have a song in it. I haven't had as much luck as a couple of years ago - there was a real spate of my songs in movies for some reason. It was a lucky time for me. I haven't seen the film or anything yet. I had another in recent Australian movie - Prime Mover. I haven't tried too hard. I don't think about songs in movies all that much - it's not really what we work on day to day." |
Mad Bastards is a David Jowsey-Brendan Fletcher produced movie that was filmed in the Kimberley and also features music by Alex Lloyd and co-producers Alan and Stephen Pigram.

The movie, featuring an indigenous cast, has been screened at the famed Sundance festival and recent Australian festivals.

Prime Mover - a 2009 David Caesar directed truckie comedy movie - starred Ben Mendelsohn, Michael Dorman and Emily Barclay with Gyton Grantley and William McInnes also in the cast.

Although Nicholson is a movie buff he prefers writing and performing to making videos.
BAD MACHINES AND VIDEOS
"Straight up the mountain with a bible and a gun/ a whole generation following the chosen one/ gotta stack the numbers boys, it's damage by design." - Bad Machines - Shane Nicholson.
Fellow NSW Central Coast musician Duncan Tombs has directed his last two video clips Bad Machines and Famous Last Words.

"It took about five hours to shoot the video for Bad Machines but took him five weeks to plan it and set it up," Nicholson confessed.

"The Bad Machines video was shot in Duncan Tombs warehouse near our home on the Central Coast. The set was built for the video - there was animation on two screens behind me. Videos are the least favourite thing I do - the least natural thing to do in the music scene. That's the time I feel most out of my comfort zone. I don't always enjoy that process that is foreign to me - it's not something I feel in control of. You never know what to expect with a video. I don't have that film vision and idea. I have got to wait until you see it - it's an interesting process."

Nicholson prefers the writing and performing process.

"The idea Bad Machines came from reading Midnight Express," Shane revealed.

"There are three specific situations in the modern world where one person can influence a lot of people - not always for the better. It's more a social commentary than anything else.

That's what it's about - it's not about a specific person. It's more a generalisation. One person can organise a social change that can involve massive amounts of people. One of the verses deals with the media in general. It's nothing to do with one specific person - more a social commentary."

Nicholson also filmed the new video clip for Famous Last Words on the NSW Central Coast with Duncan Tombs.

It will feature in Series #16 of Nu Country TV in June.
JIMMIE RODGERS WAS A VAMPIRE
"You were working on a folk tale/you were hanging from the guard rail/ you were building up a backbone/head first along the grindstone." - Jimmie Rodgers Was A Vampire - Shane Nicholson
Nicholson drew on myths surrounding Jimmie Rodgers - the late singing brakeman from Meridian, Mississippi, who died of TB - for another new song.

Rodgers was born on September 8, 1897, and died aged 35 on May 26, 1933, after a short but colourful career as a yodelling pioneer and country singer.

"There was a time when people associated TB sufferers with vampires," Nicholson revealed.

"The symptoms they showed were similar to those of vampires. There was confusion about that, that we know now with medical knowledge was wrong. I joined the two things together and used them as a metaphor for getting things completely wrong, being way off the mark, completely wrong about the situation. The song itself is just a conversation between two people.

Jimmie Rodgers was the metaphor. People thought they knew the situation but had it arse about face. There is kind of a humour in that song but more of accepting you are wrong."
BLUEBERRY PIE
"As she pulls her skirt above her knees/ I'm thinking bad things come in threes." - Whistling Cannonballs - Shane Nicholson.
Nicholson also explores diverse country staples including cheating and temptation in Blueberry Pie and Whistling Cannonballs - a duet with Paul Kelly.

"Blueberry Pie is a character story," Nicholson explained.

"I used three unlikely characters, one's a monkey, one's a crow and one's a human. It's almost a surrealistic song. The characters were chosen for a reason - they represent different things.

It's a basic love triangle I guess - it's also about cannibals. I feel like I didn't write that song. I feel like it arrived, just came to me and I grabbed it from the air. I usually plan a song and write it out but not that song. It kind of wrote itself - it was done in less than an hour, a second draft. It came out steady in a flow until it was finished. It was like that song was already been written and I was grabbing it from the ether - that song did arrive that way."

Whistling Cannonball enjoyed a more explosive incubation.

"If I couldn't get Paul Kelly to sing it with me I probably wouldn't record it," Nicholson confessed.

"I had my heart set on it - luckily he did agree."
LIVE ON THE SHIPWRECK COAST
"Play it on the radio, paint it on the walls/ I don't want to go until the curtain falls." - Famous Last Words - Shane Nicholson.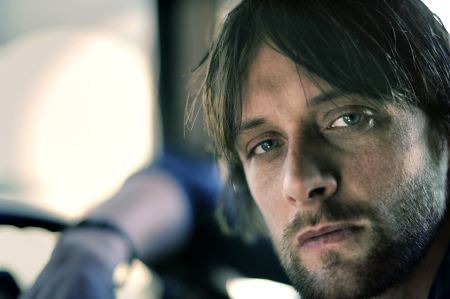 Nicholson produced the album with brother-in-law studio veteran Nash Chambers at diverse Central Coast locales with vocal cameos by Kelly, Chambers and Nashville singer-songwriter Matthew Ryan

Guitarist Mark Punch, bassist James Gillard, drummer John Watson and multi-instrumentalist Bill Chambers headed the session serfs.

Nicholson wrote all songs except Fish And Whistle by former Chicago born singing postie John Prine whose Australian tour highlight was an historic concert at picturesque Hanging Rock Racecourse.

But Shane will be in full control over those bad machines and haunted ghosts when he plays in Victoria this month with a stripped down band.

"I play the drums with my feet rather than having a drummer bashing away behind us who drinks all the rider," Shane joked about his band that features father-in-law Bill.

"Bill and I did a show at Port Fairy last year as well as the previous year with Kasey. It's such a great festival I just wanted to get back there. I don't get there with a full band and crank it up to 11. I'll be doing a trio with three or four players. We do the folk version of the album at Port Fairy - Bill and Jeff McCormack and Ashley Dallas a young fiddle player from Tamworth who plays in Kasey's band. She'll be playing in the same band as Kasey as we're playing consecutively on the Saturday night. We will pretty much be doing one long set I'd say. Kasey plays after me. In Brunswick it will be similar but I'm doing the show in so many different ways.

It's an easy record in do in any sort of format. I'm enjoying that. It will be a full band at the Bluesfest in Byron. I like handpicking shows to do differently. The Melbourne shows will be stripped back - a whole different take on the record. It gives me three or four different ways to do the songs - stops it from ever turning into a routine. It keeps it interesting and exciting."

Nicholson's tour to promote fourth solo CD Bad Machines (Essence - Liberation) starts at Moomba on Friday March 11, the 35th Port Fairy folk festival March 12-14, East Brunswick Club March 24 & Williamstown Substation - March 25.

CLICK HERE for Tonkgirl's Gig Guide for all details of tours by Shane and Kasey.