DAVE'S DIARY - 2/12/11 - PREVIEW OF EPISODE 1 - SERIES 17
PISTOL ANNIES FIRE UP SERIES #17
Super trio the Pistol Annies headline the premiere of Series #17 of Nu Country TV at 10 p m on Wednesday December 7 on C 31.|

The trio, fronted by Texan Miranda Lambert, segue into the new hit by Miranda's singing spouse and TV host Blake Shelton.
|
Fellow Texan born Ronnie Dunn and Floridian Jake Owen return to the show.

Northern Territory-born Markus Meier - headliner of Red Hill Country Festival on Sunday January 8 - also returns.

And South Australian twins Candice and Nadine debut on the show that is repeated on Tuesdays at 2 am.
MIRANDA'S TRIO HELL ON HEELS

Miranda Lambert enlisted songwriting soul mates Angaleena Presley and Ashley Monroe to form the Pistol Annies between her solo albums.

They recorded an album Hell On Heels, toured to promote it and made the video for the title track that we feature this week.

Lambert has since released huge selling album Four The Record - her fourth major label album after an indie debut disc, now a collectors' item.

That 14-track disc features Top 5 single, Baggage Claim, Mama's Broken Heart and a collaboration with Presley on Fastest Girl in Town.
Presley, who released 2009 solo album All I Ever Wanted, wrote six tunes on the Pistol Annies disc that topped charts on debut.|

She is also well known here as writer of Jasmine Rae album title track Look It Up, previously cut by Ashton Shepherd.

Kirsty Lee Akers recorded Presley song Knocked Up originally cut by former Trick Pony singer Heidi Newfield.

Akers also recorded Presley songs She Ain't Getting Any, Which One Of You Boys, The Territory and the title track of her debut CD Little Things and Let The Baby Sleep Through This and the title track on second album Better Days.

Kentucky born Presley also landed her song Baby You Drive Me in the St John Of Las Vegas movie and wrote Ladylike for South Australian singer Talia Wittman.

And Tennessean Monroe - a descendant of the Carter Family - wrote two songs, Me and Your Cigarettes and Heart Like Mine with Lambert for her previous album, Revolution.

Monroe recorded an ill-fated album for Sony and was regular writer with Novocastrian Catherine Britt during her six-year sojourn in Nashville.

They collaborated on vitriolic Music Row parody Call You Back Town, Down and Anywhere Your Are on Britt's fourth album before Monroe wrote the Jason Aldean #1 hit The Truth.

Monroe landed her song Swingin Door on Britt album Too Far Gone and I Don't Know What Love Is on Akers album Better Days.

CLICK HERE for a Miranda Lambert CD Review in the Diary on January 11, 2010
CLICK HERE for a Miranda feature in the Diary on May 5, 2007.

GOD GAVE BLAKE MIRANDA
Oklahoma star Blake Shelton is indebted to a higher being for his singing spouse Miranda Lambert whom he wed on May 14, 2010.
Miranda became the second wife of Shelton - a judge on The Voice TV show.
Lambert introduces Shelton, 35, in the video for God Gave Me You from his eighth album Red River Blue that topped all genre Billboard Top 200 chart on its debut.

Shelton's album sold 116,402 units, his second #1 album - the 2010 six-pack EP All About You was his first.

In the video for previous #1 hit Honey Bee - his fourth consecutive chart topper - Blake enjoyed Tupelo Honey with sweet-toothed Bosnian model and CSI actress Amra Silajdzic.

Amra shared billing with a dog before the duo escaped in a pick-up truck.

Shelton has earned major feature stories in New York Times and the New Yorker and lives on his ranch at Tishomingo with wife Lambert. Shelton has earned major feature stories in New York Times and the New Yorker and lives on his ranch at Tishomingo with wife Lambert.
They served homegrown venison and catfish at their wedding reception deep in the heart of Texas.

Miranda also posted photos of bass caught on their honeymoon on her Twitter page.

Blake divorced first wife Kaynette after a three-year marriage but made the proposal to Lambert, 27, on bended knee with diamond and platinum engagement ring.

That epic event took place in the woods near their ranches in Johnston County in southern Oklahoma.

Tishomingo was named after Chief Tishomingo of the Chickasaw Nation who lived on the Trail Of Tears after Chickasaws had been removed from their original homelands, located in and around Tishomingo, Mississippi.

Click Here for a Blake Shelton feature in the Diary on February 21, 2011.
RONNIE DUNN - COST OF LIVING
Ronnie Dunn exploits strident social comment in Cost Of Living - the second video from his self titled debut solo disc.

The singer filmed his video at Goodyear tyres in Union City, Tennessee, where 1900 workers lost their jobs.

Dunn, son of a Texan oil field rigger, enlisted a bunch of blue collar work victims, to illustrate his message - industries closing because of cheaper labour in third world countries.

It's equally relevant here where Ronnie enjoyed two major tours with Kix Brooks as Brooks & Dunn before they split after two decades in 2010.

On their final Australian tour they brought chart-topping Arizona born bluegrass and country star Dierks Bentley who returns in March for a tour with Lee Kernaghan.

Dunn, 58 and happily wed to wife Janine, says the split with Brooks was not a drama.
Brooks has a small role in upcoming movie, Thrift Store Cowboy and is filming The Last Ride where he will play the leading man.

Dunn began as a solo artist on Churchill indie label when he scored two chart singles - It's Written All Over Your Face in 1983 and She Put the Sad in All His Songs in 1984.

Both songs, neither of which he wrote, peaked at No. 59 on Billboard.

CLICK HERE for a Brooks & Dunn feature interview in the Diary on March 22, 2009.
JAKE OWEN BLUE JEANS - AND TWINS
Floridian Jake Owen returns to Nu Country TV with the video for Blue Jean Saturday Night - title track of his third album.

The former golfer toured the U.S. with expatriate Australasian superstar Keith Urban.

Owen planned to be a professional golfer on the Florida State University team before suffering a career-ending water skiing injury.

"Since I was 12 years old, my plan was to play professional golf," Jake, now 30, revealed.

"I was determined that golf was going to be my life. I couldn't wait to get out there and start playing with Tiger Woods and the guys on tour.

Jake was born 15 minutes after fraternal twin Jarrod - they were raised in Vero Beach, Florida.
After high school graduation the twins drove to Tallahassee where Jarrod played tennis.

A water skiing accident altered Jake's course. ||

"I had to have reconstructive surgery," Owen recalled.

"I was so depressed. I didn't have a Plan B."

Well, music was surrogate solace for the singer who has had a string of hits since changing careers and moving to Nashville.

"I was sitting in the apartment getting more and more down," Owen says.

"As it turned out, my neighbour had a guitar, so I asked if I could borrow it. To pass the time I just started teaching myself to play. I had always loved music. I grew up listening to classic country, Waylon Jennings, Merle Haggard."

The rest is history.

Owen had five solo hits and reached Top 30 with Sugarland and Little Big Town on Life In a Northern Town.

Jake wrote eight songs on second album, Easy Does It, recorded in the home studio of his producer.

More info - www.jakeowen.net
MORE TWINS CLOSER TO HOME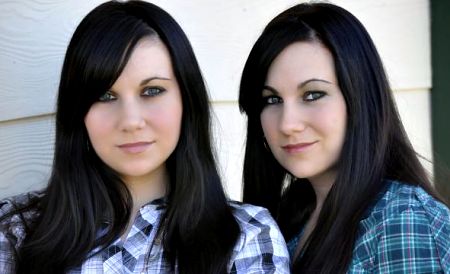 Adelaide identical twins Candice and Nadine debut on Nu Country with the video for their eviction song Not No - But Hell No.

The song is on second disc Breaking It Down - follow-up to Nashville produced debut 2004 album Just Another Day.

The sisters, born in Victoria, worked in South Australia as Double Vision - the name they used for their debut.

They began performing together, aged eight, moved to Adelaide at nine, wrote songs from 12 and toured South Australia at 16.

The duo play the famed Lake Charlegrark Country Festival at Minimay in the West Wimmera on February 18 and 19 with James Blundell, Jayne Denham, Amber Lawrence, Paul Costa, The Hoffmans and Wildcard.

Saltbush pedal steel guitarist Mark Moffatt, who moved to Nashville in 1996 as a producer for expatriate Australasian publishers Barry and Jewel Coburn, also helmed this album.

Moffatt, born in Bundaberg, has clients diverse as Keith Urban & The Ranch and Stacey Earle- sister of Steve.

His Australian artists include Fawkner singer Jasmine Rae, Novocastrian Morgan Evans and Sydney young gun Peter McWhirter.

Moffatt also produced international acts Deana Carter, Rachael Warwick and Tony Joe White.

Further info - www.candiceandnadinne.com

MARKUS MEIER - A PERFECT NIGHT AT RED HILL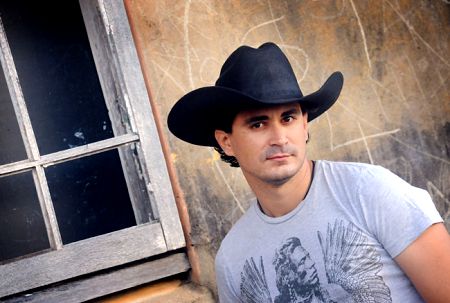 Northern Territory born singer guitarist Markus Meier returns with the video of his single A Perfect Night.

The father of two, who now calls Queensland home, shares top billing with Jayne Denham at Red Hill Country Music Festival on Sunday January 8.

Meier won three indie awards at Mildura Country Festival in October.

Former Australian of The Year Lee Kernaghan hired him for his band after Black Saturday bushfires.

Meier also pays homage to his wife and two children on his second album A Different Land, produced by Garth Porter.

"It's been an interesting few years. I got married, we've had two children, we've taken over the management of my career after a pretty tough time, I've signed to a new agent and I've had to find a way to earn a living and still build my music career," says Markus who was raised at Halls Creek in the Kimberleys.

Meier now lives in Mackay - hometown of prolific Golden Guitar winner Graeme Connors.

"I live in Mackay, and there are a lot of people in this town who will relate to my songs. I wanted to tell their story, as well as my own," he said.

"I spend the part of my life when I'm not on stage underneath the big trucks they use at the mines - with two kids, I have a really good reason to be earning a living."

Further Info - www.markusmeier.com.au
WIN KEITH URBAN CDS
Expatriate Australasian superstar Keith Urban is recovering from throat surgery.

To celebrate Keith's record company EMI-Capitol has great news for Nu Country TV viewers.

Promotions ace Bianca O'Neill donated autographed copies of his huge selling ninth album Get Closer to you.|

She also donated new compilation The Very Best Of Slim Dusty and CMAA Winners - 2011.

All you have to do to win Jackson, Lambert, Urban and Dusty CDS or the Lambert DVD is become a member of Nu Country or renew membership.

It costs just $20.

Please send a cheque or money order made out to Nu Country Music to us at P O Box 625 - Northcote - 3070.

We also now have electronic banking for membership payment and renewal.

But email us first at music@nucountry.com.au as stocks are limited.

Other prizes on offer include -
Eric Church - Chief
Luke Bryan - Tailgates & Tanlines.
Taylor Swift - 2ND CD Fearless.
Tim McGraw Southern Voice Tour CD with 11-bonus video clips.
Felicity - Landing Lights
Air Supply singer Russell Hitchcock - Tennessee - The Nashville Sessions CD and DVD
Slim Dusty Sittin' On 80 Boxed Set
The Very Best Of Slim Dusty
Catherine Britt - Little Wildflowers.
CMAA Winners 2011 and other compilation CDS.