DAVE'S DIARY - 27/2/12 - PREVIEW OF EPISODE 13 - SERIES 17
LITTLE WILLIES HAVE FAITH IN NU COUNTRY TV
Texan Norah Jones country band The Little Willies headline the finale of Series #17 of Nu Country TV on Wednesday 29 February at 10 p m on C 31.

Mississippi born star Faith Hill also returns on the eve of her national tour with Tim McGraw and the Texan Eli Young Band.

Harmony James, raised in bayside suburb Sandringham, showcases her new video on the eve of her home state tour with Troy Cassar-Daley.

And Dianna Corcoran, born in western NSW town Parkes and living in Nashville, performs with the Field Brothers.

Novocastrian Morgan Evans also debuts on the show edited by Ashley Hall and repeated Friday at 1.30 a.m.

Melbourne retro country band Bona Fide Travellers also return with a train song.
NORAH JONES, DOLLY AND JOLENE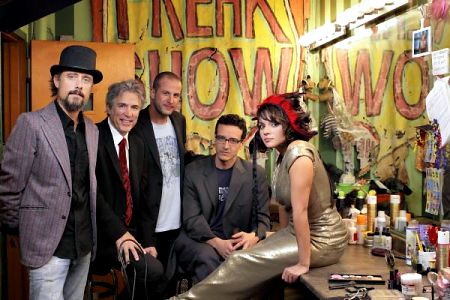 Norah Jones and her country combo The Little Willies perform a mellow version of historic Dolly Parton hit Jolene.

It may not earn the singing actor the same royalties as the late Whitney Houston version of Dolly's huge hit I Will Always Love You.

But it's the focus of the Little Willies second album For The Good Times named after a Kris Kristofferson song - a smash for Texan octogenarian Ray Price.

Norah, whose debut solo CD was a smash in 2002, followed Dolly and Kris into movies.

The nine-time Grammy winner starred with Jude Law in the movie My Blueberry Nights.

"It's totally weird, I agree," the Dallas native revealed before roles in Life Support Music and Wah Do Dem.

"I have this self-consciously shy side where I'm incredibly terrified of being in the limelight.

But I also have this inner ham that's starting to come out."

Before Hong Kong director Wong Kar Wai cast her in My Blueberry Nights, her only acting experience was in a high school play a decade ago.

But Wong didn't care - he was so entranced by her sultry singing voice he decided she had to star in his first English-language film.

At first Jones declined but changed her mind after renting his 2000 art-house film In the Mood for Love.

"He comes at filmmaking in a way that's so loose and spontaneous, which is kind of the music background I come from, you know?" she says.

"There's no script, and he allows improvisation. The film grew as I grew - he saw what I was good at, and what I wasn't, and he adjusted it as we went on."

My Blueberry Nights stars Jones, 32, as heartbroken drifter who wanders the U.S. and meets offbeat characters played by Natalie Portman, Rachel Weisz and Law.

Jones has sold more than 35 million albums - mostly as a solo artist - with Come Away With Me, Feels Like Home, Not Too Late, The Fall and Little Broken Hearts.

Norah, daughter of sitar ace Ravi Shankar, also cut a duet with Dolly on Creepin In' on Feels Like Home.

CLICK HERE for CD reviews in The Diary.
FAITH HILL - A WILD ONE
Faith Hill returns with her video for breakthrough 1993 #1 hit Wild One from her debut album Take Me As I Am.

Faith, born Audrey Faith Perry, tours here in March with singing spouse actor Tim McGraw and their three daughters.

Hill, who now has a second Melbourne concert on March 21 with Tim, is promoting new single Come Home.

She was born in Ridgeland, raised in Star and left home for Nashville at 19 after being raised by her adoptive parents.

Faith sang demos for a publishing company before winning acclaim at the famed Bluebird Café performing songs by former Pure Prairie League singer Gary Burr.
The five-time Grammy winner wed music publisher Daniel Hill in 1988 but they divorced in 1994 before she met McGraw.

Hill took a six-year break from recording while raising her daughters and scored several hit duets with McGraw and has sold 40 million albums.

She hopes to have a new single from eighth album Illusion, released on February 28, to promote here.

Meanwhile her duet on A Showman's Life with Texan rancher George Strait's 39th album Here For A Good Time is scoring airplay.

CLICK HERE for a Faith Hill interview in the Diary on September 21, 2005.
HARMONY JAMES BEACHED
Harmony James returns with the video for Don't Say It - second single from new album Handfuls Of Sky.

The lighthouse was the guiding light for two young lovers with picnic basket at a beach on Sydney's north shore.

"There is an actor playing the significant other," James, 34, said of the video.

"Even though I'm not an actor I played the other. It was filmed on a northern beach, parklands and old house. Rusty Gate is director."

Harmony is touring her home state with Troy Cassar-Daley in March and plays locales diverse as Warrnambool, Warragul, Wonthaggi, Hamilton and Hallam.

CLICK HERE for a Harmony feature in The Diary on February 5, 2012.
DIANNA CORCORAN - PARKES TO NASHVILLE
Parkes born singer-songwriter Dianna Corcoran also chose a beach locale for her video for new single We Don't Talk About Love.
Dianna joins the Field Brothers on the boardwalk and the snow for their collaboration.

The song is from Field Brothers album 1964, released last year.

The duo previously recorded as pop group The Cockroaches.

Dianna is living in Nashville where she has a publishing deal with Silent Gate Music.

She has written with Kristian Bush of Sugarland and Jeff Cohen - writer of hits for Big & Rich, Sugarland, The Band Perry and Evan & Jaron.

Dianna is writing for projects in Europe and the U.S. and will record a new album for global release produced by Kristian.

She also signed to Global Records of Germany who re-released her third album Keep Breathing, produced by hit singer-songwriter Rebecca Lynn Howard in Nashville, throughout Europe.
Dianna returned to Australia for live performances and R & R in Sydney, Canberra and Parkes.

Her album featured Thank You For Cheating On Me, accompanied by a video clip.

But the album had limited success here when the distributor went under and Dianna split with her partner of three years.

Dianna's soldier beau Tom rescued her from a cheater after his tour of duty in Afghanistan.

She met Tom when she performed in the Solomon Islands where he was on a peacekeeping mission.

Dianna also wrote another new song Come Back Home for Tom.

Corcoran recorded it after winning the Tamworth Golden Guitar for best female vocal in 2008.

Further info - www.diannacorcoran.com

BONA FIDE TRAVELLERS - OLD RIVER LINE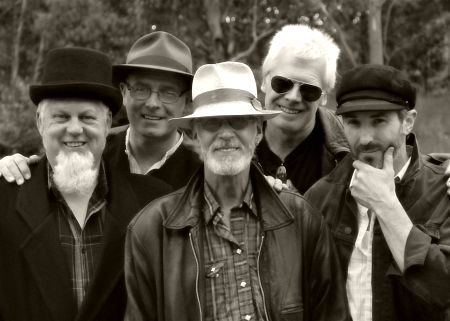 Veteran retro Melbourne band Bona Fide Travellers return to the show with their video for The Old River Line.

The group also chose a railway track when there were no trains due.

There was a lonesome whistle and a slow flowing river when Don Farrell joined the band on guitar.

"The story of the song came about when Snowy Townsend was living up at Neerim South and over imbibing on gin whilst sitting on the veranda strumming his guitar," drummer Shane Fitchet revealed.

"Life's pressures were getting to him and as his mind wandered in and out of lucidity, he thought he heard a train, which brought visions of boxcar hopping and travelling like the swaggies of yore. Of course there was no train, just too much gin! The Tarago River is nearby. The clip was shot on part of the old South Gippsland railway line at the quaint little hamlet of Clyde southeast of Melbourne. The interiors were shot at our bassist's Mike "The Colonel" Parker's garage! It features Don Farrell, former guitar slinger with Monique Brumby, Neil Murray, Dead Livers and Sons Of The Outback. The track is notable for the addition of pedal steel guitar by former Nu Country TV audio technician and Dead Livers guitarist Rodger Delfos."

The song is from their second album Sunday Morning Showdown.

Bona Fide Travellers, fronted by former One Armed Bandit singer Snowy, are no strangers to Nu Country.

They opened for Californian born country comedienne Kacey Jones and Oklahoma stone country singer Becky Hobbs when they played a Nu Country TV live concert at the Noise Bar at Railway Hotel in Brunswick.

Further info - www.myspace.com/thebonafidetravellers

MORGAN EVANS
Novocastrian Morgan Evans made the most of a railway tunnel with no trains in the video for the title track of his new EP Live Each Day.

Morgan has toured here with Brooks & Dunn, Gary Allan and Taylor Swift who is back here this month.

Evans won the Commercial Radio Australia Country Music Scholarship that included a trip to Nashville to play CMA Global Artist Showcase at the CMA Music Fest, in June 2012.

Morgan, also a Telstra Road To Tamworth winner, made his debut at the festival in 2007.

Previous scholarship winners are The McClymonts and McAlister Kemp.

His EP, recorded in Sydney with Golden Guitar winning producer, Matt Fell, is his first through Warner Music Australia.

Morgan's debut single Big Skies won him two Golden Guitar nominations including best new talent.
Big Skies, was written by Morgan and Mark Wells, recorded in Nashville and co-produced by Mark Moffatt and Rod McCormack.

Further info - www.myspace.com/morgev
WIN DIERKS BENTLEY NEW CD
We have even more exciting news - Dierks Bentley's eighth album Home on the eve of his second Australian tour.

EMI promotions ace Bianca O'Neill gave us copies of his huge selling album shortly after its U.S. release.

The album features the Bentley hit Am I The Only One, Gonna Die Young and his duet with Karen Fairchild of Little Big Town on When You Gonna Come Around.

Bentley, 36, wrote the title song with Brett Beavers and Dan Wilson and it's being used by U.S. President Barack Obama in his new campaign.

The Arizona born singer arrived in Nashville at 19 and had big hits before releasing his acclaimed bluegrass album Up On The Ridge.

All you have to do to win Home is become a member of Nu Country TV or renew your membership.

It costs just $20.

Please send a cheque or money order made out to Nu Country Music to us at P O Box 625 - Northcote - 3070.

We also now have electronic banking for membership payment and renewal.
TIM MCGRAW NEW PRIZES

We have more great news - Sony Music has donated copies of singing actor Tim McGraw's 11th CD Emotional Traffic on the eve of his second Australian tour in March.

The album debuted at #1 on the U.S. charts and Sony promotions chief Natalie Dillon has given us copies.

Tim and singing spouse Faith Hill perform at Rod Laver Arena with the Texan Eli Young Band on March 20 and March 21.

The trio also headline the second CMC Rocks The Hunter festival from March 16-18.

Emotional Traffic sold 67,000 units on debut and features Tim's latest hits Better Than I Used To Be and Felt Good On My Lips.

There's also a duet on Only Human with singing actor Ne-Yo - an R & B star.

McGraw has released a new single Halo - penned by expatriate Adelaide singer-guitarist Jedd Hughes, who plays CMC Rocks The Hunter, and Luke Laird.
MIRANDA LAMBERT PRIZES
Grammy award winning Texan star Miranda Lambert cancelled her 2010 tour at the 11th hour - because of a respiratory ailment.

But we have good news for Lambert fans - we have her award winning fourth album Revolution as a prize for viewers who renew Nu Country TV memberships or become members.

Sony has also given us multiple CMA Award winner Miranda's DVD - Revolution: Live By Candlelight.

The DVD features rare acoustic performances of six songs White Liar, The House That Built Me, Love Song, Heart Like Mine, Love Is Looking At You and Rolling Stones country classic Dead Flowers.
WIN KEITH URBAN CDS
Expatriate Australasian superstar Keith Urban is recovering from throat surgery.

To celebrate Keith's record company EMI-Capitol has great news for Nu Country TV viewers.

Promotions ace Bianca O'Neill donated autographed copies of his huge selling ninth album Get Closer.

She also donated new compilation Very Best Of Slim Dusty.

All you have to do to win Bentley, McGraw, Lambert, Urban and Dusty CDS or the Lambert DVD is become a member of Nu Country or renew membership.

But email us first at music@nucountry.com.au as stocks are limited.
Other prizes on offer include -
Eric Church - Chief
Luke Bryan - Tailgates & Tanlines.
Taylor Swift - 2ND CD Fearless.
Tim McGraw Southern Voice Tour CD with 11-bonus video clips.
Felicity - Landing Lights
Air Supply singer Russell Hitchcock - Tennessee - The Nashville Sessions CD and DVD
Slim Dusty Sittin' On 80 Boxed Set
The Very Best Of Slim Dusty
Catherine Britt - Little Wildflowers.
Compilation CDS.