DAVE'S DIARY - 5 FEBRUARY 2012 - HARMONY JAMES INTERVIEW
HARMONY JAMES - FROM BAY TO THE CAPE
"I take a bitter pill to swallow/ and I chase it with a glass empty every night/ and the tears I don't let fall/ well they burn around the inside edges of my eyes/they're daring me to let them go/ but I cannot while I have my pride." - Pride - Harmony James.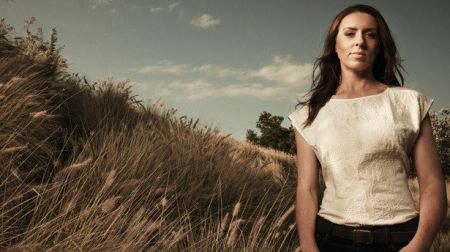 It's a long journey - from the balmy bayside breezes of Sandringham to the steamy tropics of Cairns and the Cape.

And way beyond to the equally vast Queensland channel country and the Barkly Tablelands of the Northern Territory.

Harmony James was frequently bucked and dismounted as she rode high in the saddle as a jillaroo in the macho culture of the outback.

But the Port Phillip Bay born Baptist preacher's daughter - fifth of 12 children - harvested hay from broken bones and ruptured romances in the badlands.

Now, the acclaimed singer-songwriter, born Susannah, has fuelled an EP and two albums with the fruits of her labour.

It's no surprise she was subject of a Landline documentary and made a brace of video clips to illustrate her magical ascent.

Harmony, now 34 and living in oft flooded Queensland capital Brisbane, is back on the road with prolific globe trotting Golden Guitar winner Troy Cassar-Daley to showcase her music in her home state and beyond.

It's a vast contrast to her first career choice after being home schooled with her 11 siblings by her mother.

"I went Jillarooing, my first stint was up in The Cape," James told Nu Country TV.

"It was very hot. I had a small crew working cattle and horses on the station would have been nearly a million acres. In that work you try to cover the whole paddock of the station twice in a year. To get that done it takes you the entire season. I took my Jillarooing work to far southwest Queensland in the channel country. That's where I accumulated my skills and ended up running the team. I was pretty much the team boss - the foreman."
FALLING FROM GRACE
"I have been broken, I have been shattered/ there were times that I was convinced that nothing mattered/ I have been bitter, I have been weary/ I lost sight of life till living it would scare me." - Roll With It - Harmony James.
James learned her career was character building the hard way - and she has a vast cast to thank for still being alive to pursue her career.

First there was the Flying Doctor who rescued her after her first brush with death as a jillaroo when bucked from a horse in outback Queensland.

The singer also credited her family for standing by her as she suffered protracted post-operative health crises.

Those dramas may have been a blessing in disguise - she quit the saddle and spread her wings with an agricultural science degree from Gatton University west of Brisbane.

As a beef cattle soil researcher in the Northern Territory, James ploughed the animal and human kingdom for fertile song sources.
"I had a horse that bucked better than I rode," James revealed as she tours to promote second album Handfuls Of Sky.

"I broke my collarbone. I had a real buster and still have a big scar. The nearest town with a decent hospital was Charleville so the Flying Doctor came to the rescue. I waited five hours for them to mobilise it. The flight itself was another three hours. It was just a broken collarbone but led to a sequence of events. Just after I went back to work, I got charged by two cows. That re-opened the break. It stayed broken for the next two years. I ended up having an operation with a bone graft, a steel plate and seven screws to fix it. That broken collarbone was painful but real pain came later because what happened with that injury - it never healed. I was walking around with a broken wing for a few years. When I finally had surgery to fix it all the muscles had shifted - it was actually a huge deal when we finally fixed it. I had to have a bone graft and a steel plate."
FLYING TOO CLOSE TO THE SUN
"Round and round without a sound/ moving in perfect circles/ winter night, all is white/ skating on thin ice." - Flying Too Close To The Sun - Harmony James.
James found solace in writing songs about her journey when hired by the Department of Primary Industry in the Barkly Tablelands in the Northern Territory.

James consulted graziers on their pastures, soil, fodder, climate and their beef cattle herds.

"I took a break from Jillarooing and while I was in town at University I found out how bad the injury was," James recalled.

"I was doing research on beef cattle, grazing of and use of beef cattle. I was still having trouble with the injury - especially on cold days if I was riding motor bikes."

Despite that painful daily legacy she was still flirting with danger.

But she ignited her first record deal from the Territory after winning the Nashville International Song writing Competition with Tailwind from her indie EP.

Tailwind was also title track of her 16-song debut Shock disc featuring her originals Somebody Stole My Horse and Painted Pony.

"When I was still in the territory and the music started looking very promising I was committing a lot to it," James revealed of Flying Too Close To The Sun that also features The McClymonts on backing vocals.

"I spent three years saving money to fund a record. I was writing songs as I had a lot of spare time. I was still working my day job and I was a long way from the airport. The only gigs I had been between six and ten hour drives. I had work cut out for me trying to meet commitments. There were a few times I had to pull over on the side of the road. I was worried I would miss a gig and a flight - that I didn't want to do. I was too tired and it was too dangerous. It's amazing what you will do to something you're passionate about. I was acknowledging in anyone's life the lengths they will go to and the dangers they'll encounter to do it."
EMMYLOU'S GUITAR
"She's been singing on the corner/ loud against the buses and trains/ sweetest sound the city ever heard/ while they were rushing to get in and out again." - Emmylou's Guitar - Harmony James.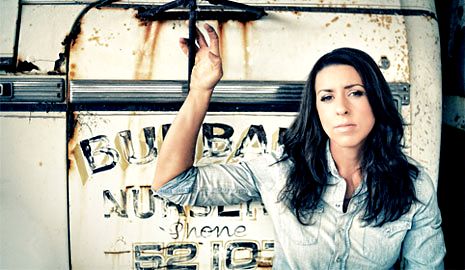 It's a far cry from her first journey north from Sandringham aged just nine with her parents and growing family.

"We travelled to Cairns in a Ford transit van at first," James recalled.

"But the brood kept growing so we then had a 14-seater Hiace. Mum home schooled all of us from Grade 1. Music was a big thing in church - we all sang in church but I chose to join the choir as an alto. It was fun for me - we did a lot of singing in the van because dad did a lot of driving from church to church in the country as relief preacher. We'd all sing in the bus. We travelled from Cairns to Robinya and whatever town in the region the preacher was on leave. They were mostly small churches with tiny little congregations."

So it was easy for James reached back to adolescence in Cairns for her new tune Emmylou's Guitar.

"I did a lot of busking in my teens," James recalled.

"My sister played guitar quite well. We would have jams, wander around town with guitars on our backs like little hippies. She dumped our bags outside Woolworths and said we're busking. I could identify with people doing it now as I had done it myself. The song is not about me. I moved to Brisbane because of my career and walked past buskers in the subway while trying to catch the train. I wrote it about someone I walked past and wondered what their story is. What are they going to do with their songs? I drew on my experiences."

It may be a descendant of the Matraca Berg song Emma Jean's Guitar- a 1997 hit for Chely Wright.

So did Harmony, home schooled with her siblings by their mother, busk to pay for her first guitar?

"No, but when I was a kid I taped on my wall an ad for a Maton guitar played by Keith Urban," she confessed.

"I wanted one of them at the time."
HAULING CANE
"He was from the southern side/ he wore a farmer's tan/ he'd drop by the feed store every now and then/ I was kinda partial to his awkward smile/ and he was kinda partial to mine." - Hauling Cane - Harmony James.
Not all James songs are autobiographical - especially wistful romance narrative Hauling Cane.

The song depicts a girl meeting a boy in a feed store and fleeing to drill for oil.

"I referenced my own experiences," James revealed of the song featuring Cassar-Daley on banjo, harmonica and vocals.

"It's fiction as well - it's just a fusion. When I'm writing I'll have an idea then I'll draw on my own experiences to give me an honesty to be able to sing the song and believe the song myself. There were lovely boys back in Cairns in the cane fields. I worked in the oil fields but I was a jillaroo.

I'm not trying to tell a story about me - just using my life experiences."

Troy Cassar-Daley plays banjo and harmonica and sings on the tune.

"Troy is good friends with my producer Herm Kovac so he was easy to convince," she joked.
GREAT GREY CLOUD
"No-one comes to see me here/ they put a Bible by my bed/ the rusty water runs incessantly/ feels like it's running through my head." - Great Grey Cloud - Harmony James.
But she admitted Great Grey Cloud - replete with a Gideon bible - was rooted in personal reality.

"That arose from the night I was in an Ultimo motel in Sydney doing the launch of my Tailwind album," she recalled.

"I got accommodation quite close to the studio. I was sitting up there for a couple of hours between airport and studio in this dodgy old motel. I had this moment. I was about to go on air to sound all excited and upbeat about this album but I'm sitting in this absolutely awful place. I thought it was fascinating to acknowledge the truth behind the smoke and mirrors. I was excited - people would hear that. But what they wouldn't see is the tough yards behind it."

Those tough yards are detailed explicitly in her rich song catalogue.
THE GIRL YOU SEE
"Trouble comes around again/ I try so hard to not let it in/ I have truly tried/ to be a better person than the girl you see." - The Girl You See - Harmony James.
Equally realistic is The Girl You See.

"It's kind of a letter to my family," Harmony confided.

"I'm grateful that my family have been there for me. I had some health issues for a while and things got hard for me. I don't think I was the happiest person at the time. I don't think I was a lot of fun to be around. I don't remember anyone every saying 'you're hard work - can you lighten up?' I really appreciated that my family was always there for me. I could stand back and let me deal with that so I could be in a place I could deal with it. I was dealing with an illness throughout that period - it was really hard for me. It was a physical illness that hung on long enough to make me feel depressed. I was acknowledging I needed them but not wanting to rely on them."
FIRES OF HELL
"Took that Holy Bible right to the bottom of the lake/ where I'm going I will not be carrying that kind of weight/ pure as the driven snow but now all set to be defiled/ the sins of the father once again passed onto the child." - Fires Of Hell - Harmony James.
James frequently utilises biblical and family references in her songs but Fires of Hell was not literal.

"I briefed my parents and said I need you to know before you hear this song it's not about me or you guys," said James whose father was a rock musician before becoming a preacher.

"There is a biblical reference in it. But it's not literal. I was sitting around in my kitchen with the capo up around the neck of my guitar, doing a Dolly Partonish type of thing. I was mucking around with this kind of style and coming up with stuff. I was thinking about my life.
I was brought up quite strict and towed the line. I did what I was told - it wasn't an issue. I thought imagine if I had been rebellious -what would it have looked like? I was painting a story of someone a lot of years ago who did rebel and chose to flout absolutely everything. It wasn't me. I was a goody two shoes
SHANE NICHOLSON
"If I were a miner then you are the diamond/ that I hoped to find all my life/ you're right there in front of me/ close but so out of reach/ you always leave me behind" - Reach For You - Harmony James.
Her evocative Reach For You duet with Shane Nicholson - was inspired by Louisiana born Grammy winner Lucinda Williams.

"I had a conversation with another songwriter but the song I was writing was a little risqué," James revealed.

"I was missing someone. I was a bit overt about how you go about it. I wanted to write something with more decorum - you meet someone and you want it to work but you're miserable because it's just not working."

James now has a song publisher Alberts pitching her originals including previous single Pride.
Her albums featuring 28 original songs have reflected all extremities of her fast growing career.
She made her video for latest single Don't Say It in Sydney.

"There is an actor playing the significant other," James said.

"Even though I'm not an actor I played the other. It was filmed on a northern beach, parklands and old house. Rusty Gate is director."

James says some of her new love songs are more general than earlier tunes.

"In So Long the character has to say goodbye and outcome might be bad,"

"Roll With It is different. On my previous album Good Enough was very literal but I haven't had my heart broken for a while."

Bill Chambers played electric and lap steel and harmonised on So Long that also featured Michel Rose on mandolin.

"Bill wanted to play on one of my more country songs," Harmony said.

Rose also plays dobro on a disc featuring Sydney A team Rod McCormack on banjo, Tim Crouch on fiddle, cello and mandolin, pianist Bill Risby, bassist James Gillard, drummer Glen Wilson and a team of guitarists - Mark Punch, Stuart French and Glen Hannah.

Handfuls Of Sky, produced by one time Ted Mulry Gang member Herm Kovac, is out on Warner Music.