DAVE'S DIARY - 26 FEBRUARY 2012 - LITTLE WILLIES CD REVIEW
2006 CD REVIEW
THE LITTLE WILLIES
MILKING BULL (EMI)
THE LITTLE WILLIES - LOU REED GO BOVINE
"And we don't mean to sound like we're trippin'/ but we swear to God
We saw Lou Reed cow tippin'/ Cow tippin'/ I got cops on the cell/ I said I got a little story to tell/ Lou Reed is in the cow pen/ They said, Oh no! Not again!" - Lou Reed - Norah Jones-Lee Alexander-Richard Julian.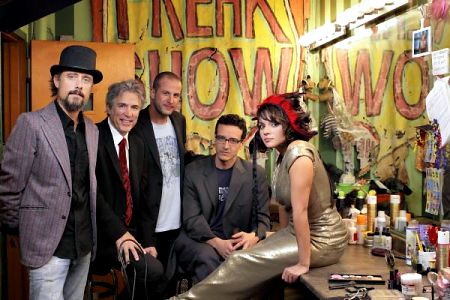 The Little Willies closed their debut disc with a song on Lou Reed having a bovine encounter of an indelicate kind in a Texas cow pen.

Living in the concrete canyons of New York and yearning for wide-open plains can do that to you - even if you're not Texan crime novelist Kinky Friedman.

The quintet, named after singing Texan actor Willie Nelson, are more like Dan Hicks & The Hot Licks than Asleep At The Wheel.

But most of their rollicking humour is far more subdued than that jolly finale tune penned by Norah Jones, bassist pardner Lee Alexander and guitarist Richard Julian.

Let's check out their intro again.

"We were drivin' through West Texas/ the land of beef and pork/ where they tend the hides of leather/ we wear back in New York/ in a pasture, along a roadside/ behind a broke-down shack/ on a dusky side of evening
We saw a figure dressed in black."

Yo, it was that iconic old bloke who walked on the wild side of the not so mythical Velvet Underground.

The Little Willies, living in country radio free Manhattan, are city dudes and a damsel with roots country music passion.

They cut this at New York studios from October 5-8, 2005, after working in the Living Room between tours.

So it's not surprising they covered stone country and western swing staples with four originals the icing on their cow pie.
NEW YORK TO DALLAS
Jones, born in New York and raised in Dallas suburb Grapevine, is lead vocalist on Fred Rose entrée Roly Poly, also cut by Dixie Chicks singer Natalie Maines.

And Julian sings I'll Never Get Out Of This World Alive - the final tune Hank Williams cut before he went to God at 29 in 1953.

They punctuate Jones' torchy treatment of the Leiber-Stoller Presley hit Love Me and Julian's whimsical reading of Kristofferson's Best Of All Possible Worlds, with Norah igniting original Julian honky tonker It's Not You, It's Me.
It's an accessible mix - Townes Van Zandt classic No Place To Fall and Shotgun Willie pair I Gotta Get Drunk and Night Life.

Then there's Jimmy Driftwood's Tennessee Stud and Harlan Howard-Tompall Glaser hit Streets Of Baltimore.
Don't expect the quintet to clone original versions - Julian gives the latter Bobby Bare hit an equally radio friendly but vastly different vocal.

Norah soars on Alexander's Roll On and duets with Julian on his co-write with fellow guitarist Jim Campilongo on tear jerking Easy As The Rain.

OK, not every bar band gets attention for labour of love projects but The Little Willies are as big on talent as hype on a joyous jaunt with wide appeal.
2007 CD REVIEW
NORAH JONES
NOT TOO LATE (BLUE NOTE)
NORAH JONES - BEATING BUSH
"Who knows maybe it's all a dream, who knows if I'll wake up and scream." - My Dear Country - Norah Jones.
Texan troubadour Norah Jones chanced her somnolence soundscape by cutting lovers' goodbye Wake Me Up as track 9 on her third album.

Those who dubbed her Snorer should wait to sharpen wit and knives on a disc with 13 originals that belies her tag.

Blame an Australian tour as source of the aquatic lull of Rosie's Lullabye that segues into the fellow road penned title track finale.

But let's not digress on a disc likely to augment her nine Grammies.
Jones, now 32, belatedly enters the Bush bashing with her powerful anti-war plea My Dear Country.

It's a defiant deluge penned in the aftermath - a day after an election won by George Dubya Bush.

And a salient signpost to her confidence that finds entrée Wish I Could - ode to a slain soldier that examines eternal conflicts between love and war.

That's followed by Sinkin' Soon that compares captain of a rudderless ship to a political leader with New Orleans metaphor.

"We drifted from the shore with a captain who's too proud to say that he dropped the oar."

M. Ward and Daru Oda harmonise with Jesse Harris on guitjo.
"Got blood on his shoes and mud on his brim/ did he do it to himself or was it done to him." - Broken - Norah Jones.
With long time writing partner and bassist Lee Alexander replacing late Arif Mardin as producer, Jones is at the helm on this disc that had its incubation in 2005.

Recording was punctuated by her role in My Blueberry Nights with Jude Law, Natalie Portman and Rachel Weisz, as a young woman on a cross-country journey.

Jones journey finds her enjoying a soulful strut on 1999 penned Thinking About You while optimism and empathy fuel Not Too Late.

And her former Greenwich Village digs inspired Little Room.

She energises the strident The Sun Doesn't Like You - penned on a Brazil tour - "we can build a fire in the open field/ past the razor wire/ sneak by the dogs when they go to sleep."

Broken, a baroque blues waltz replete with cello and Jones on electric guitar, may be a nod to late Texan idol Townes Van Zandt.

Equally memorable is the jazzy organ fuelled Be My Somebody and Not My Friend, daubed with marimba, that was inspired by watching a movie in bed.

No jokes about snoring - Jones is an idyllic oasis in a fad driven jungle and deserves to be heard.