DAVE'S DIARY - 24/7/07 - PREVIEW OF EPISODE 8 - SERIES 8
MIKE BRADY HOSTS NU COUNTRY TV
Internationally acclaimed singer-songwriter Mike Brady joins a celebrity cast when he hosts Nu Country TV - this Saturday July 28 - at 8 p m on C 31.

Mike, altruistic benefactor of many worthy causes, volunteered to helm the show that is repeated at 6.30 a m on Monday and 2 am on Thursday.

Brady's dynamic episode also features an exclusive interview about recording third album Country To Country in Nashville with expatriate Australian producer Mark Moffatt.

Moffatt, former pedal steel guitarist for pioneer progressive Victorian country band Saltbush and member of pop chart toppers The Monitors - hired a Music City A-team cast to play on the Brady sessions.
Expatriate Australasian publisher Barry Coburn - former manager of Saltbush - lured Moffatt to Nashville more than a decade ago as a house producer for artists diverse as fellow expat and latter day superstar Keith Urban and seven times wed country rocker Steve Earle's sister Stacey.

Brady revealed all about making of the album in interview after his celebrity launch at a swish retreat on the 89th floor of the Eureka Tower.

The singer also performed cameos of live tunes to preview video clips of new singles Friendly Fire and Two Or Three For Me.

Expatriate Australasian superstar Keith Urban, Lee Kernaghan, Steve Forde, Adam Brand & chart topping U.S duo The Wreckers star in the Brady hosted episode.

Mike also donated autographed copies of Country To Country to viewers who become members or exiting members who renew their membership.

CLICK HERE to learn how you can support Mike and us by becoming a Nu Country member.
URBAN SOARS CHARTS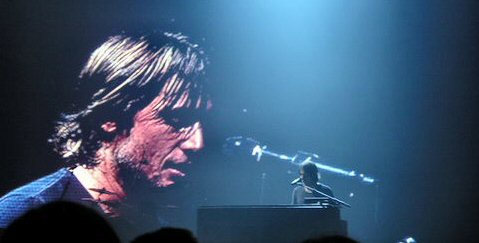 Keith Urban - photo by Linda Di Nola
Brady introduces Keith Urban's video for his latest Top 3 Billboard hit I Told You So - third single from sixth album Love, Pain & The Whole Crazy Thing.

The singer details the massive success of Urban whose early Music City demos were produced by Moffatt.

Urban has sold more than 10 million albums since fleeing the unlucky radio country in 1993 to pursue his art in Nashville.

The new disc has sold 1.7 million copies despite a slow start when the singer booked himself into rehab at Betty Ford Centre in California on October 19, 2006.

Urban, 39, also took a break from U.S. touring with a triumphant Australian sojourn and European concerts but recently pumped up his profile on the Live Earth concert.

He has also punctuated touring with frequent visits to Australia to see spouse Nicole Kidman, now making the Baz Luhrman movie Australia with Hugh Jackman.

Since 2001, Urban has notched seven #1 Billboard Country singles, but the first two singles from his new album haven't topped charts.

Less than two weeks after rehab, Keith Urban sang and played guitar for a song on Martina McBride's new album, Waking Up Laughing.

"This is the first thing he's done since he's been out," said McBride who also features soon on Nu Country TV.

"I saved this song for him. His was the only voice for it."

Urban has mysteriously postponed a European tour scheduled for October because of "international commitments."

But Keith soared to #5 on the BRW Magazine biggest Australian earners list at $26 million behind spouse Nicole at #3 with $35 million.

Imagine the wealth surge if he received airplay here on commercial corporate chains.

CLICK HERE for an Urban review from our Concert Reviews page on May 18.
THE WRECKERS
Brady also reveals details of the huge success of chart topping duo The Wreckers who are touring the U.S. as Urban's support act.

The Wreckers are promoting their video of My Oh My from huge selling debut disc Stand Still, Look Pretty.

Jessica Harp, 25, and Michelle Branch, 24, penned the rollicking tune with Wayne Kirkpatrick and Josh Leo in Nashville.

"That is our favourite song for sure," Branch says of the video friendly song.

The duo wrote 10 of 12 tunes - The Good Kind debuted on TV series One Tree Hill - but neither woman lives down to their Maverick record label name.
Arizona born Branch has three solo albums in her slipstream and Kansas City born Harp also released a 2002 indie CD.

Branch produced their first hit - a cover of Jennifer Hanson-Billy Austin tune Leave The Pieces - with John Shanks.

John Leventhal - second husband of Rosanne Cash - cut most of the disc in New York in 2004.

It sold more than 420,000 copies after Leave the Pieces hit #1 on Billboard's country airplay chart - a rarity.

Branch was miffed to learn a pop version of Leave The Pieces was released here.

"They took out all the fiddle, mandolin, banjo, it lost its life," Branch said.

Grammy-winning Branch and Harp made the finals of both the CMA and Academy of Country Music Awards.

Branch won her Grammy with Santana.

Aside from a brief chat at a CMT party last year, Branch says she and Harp had their first formal encounter with Urban just before the tour started.

"He called each of us and said, 'Thank you for waiting for me to get my life together,''
Branch said.

"It was really sweet and totally unnecessary."

Branch takes her 1-year-old daughter, Owen, on tour.

Husband Teddy Landau, 42, is The Wreckers' bass guitarist.

"It's not easy being on the tour with Owen, but fortunately, we get to be together more than most families," says the singer, who adds that they have a nanny to help out.

CLICK HERE for the Wreckers CD review from the Diary on January 3, 2007.
SPIRIT OF THE BUSH
Brady also introduces the video for Spirit Of The Bush - the new hit single for Lee Kernaghan, Steve Forde and Adam Brand.

Despite hitting #36 on debut on the ARIA pop charts it was banned by the corporate commercial radio chains.

A chappie, hosting a Top 40 show on Nova, advised listeners to protest the chain's programmer if they wanted to hear the song.

The anthemic song pays tribute to long suffering people of regional Australia plagued by the drought, bushfire and now floods.


< photo by Carol Taylor
Kernaghan, Brand and Forde have a star-studded cast in the chorus.

Unsung heroes and heroines Tania Kernaghan, McClymonts, Travis Collins, Dianna Corcoran, Davidson Brothers, Sunny Cowgirls, Shea Fisher, Nick Kingswell, Aleyce Simmonds, Kirsty Lee Akers and Jake Nickolai are among the cast.

Spirit Of The Bush is title track and first single off Kernaghan's ninth album that was released on July 14 through ABC Music/Warner Music.

The single was launched at the Spirit Of The Bush concert for locals suffering from drought on June 30 in Grenfell, NSW.

Artists, publishers and labels are donating all profits from the song to Aussie Helpers - the charity helping drought victims in regional Australia.

CLICK HERE for a Kernaghan interview in the Diary on June 6, 2006.
CLICK HERE for a concert review from our Concert Reviews section.