KEITH URBAN, THE WAIFS - ROD LAVER ARENA - 18 MAY 2007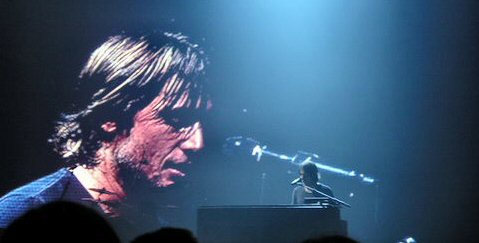 Keith Urban - Live at Rod Laver Arena - 18 May 2007
Photo by Linda Di Nola
It was a huge arena where the last of the ball boys and racquet clubbers had decamped long ago after enjoying love, deuce, match and a set or two over a long dry summer.

There was still love in the air but belated rain enabled sons and daughters of the soil to make a trip to town before blessing their winter crops.

So it was no surprise that the expatriate Australasian superstar had no qualms about sharing the limelight with a vast cast on his triumphant return tour.

There was a pretty lass from north of the Murray Dixon line, who appeared in one or two motion pictures, a folk rock group from across the Nullarbor, the drum line of a youth band and a bloke who showed off his record player on the dais at stage left at half time.

The poor chappie had lousy taste in music - he played some of the tuneless tripe from the corporate chains that rule wireless in the new millennia.

He didn't receive the same applause as the mother and daughter from the Colac dairy belt who were invited on stage as the show moved into its third stanza.

But let's get back to the stars of the show.

After delivering an energised version of his symbolic Faster Car the headliner said: "I've finally made it to the Rod Laver Arena, one night after 39 years."

But it wasn't the first time Keith Lionel Urban graced the stage of this arena named after a fellow Queenslander from north of Caboolture at Rockhampton.

Back in the not so distant past the singer had opened for former Texan starlet Leann Rimes at the same venue.

However, Urban may have repressed the memory because of the lousy sound mix that he suffered on that occasion.
THE WAIFS
No such problem this time with support act The Waifs, unencumbered by rock peers' penchant to drown lyrics, also enjoying aural access.

The Waifs, like the Dixie Chicks, enjoyed their ascension from the stately Palais to the tennis court.

And they exuded a Chicks like maternal pride in their nesting between their last studio album Up All Night in 2003 and their new disc cut in Nashville earlier this year.

"Donna and I took a few years off to have babies," Vikki Simpson told the audience, "three boys."

The Simpson sisters swapped banter, vocals and instruments as they ambled through career highlights including Lighthouse and Crazy Train.

Josh Cunningham, adept on guitar, mandolin and dobro, also sang obligatory Dylan song Lonesome When You Go.

And, for light relief, Vikki announced his cameo on ukulele "the tinniest instrument in the biggest venue."

Ben Franz also showcased their largest instrument - double bass - and Vikki Simpson alternated on acoustic guitar and harmonica.

The semi acoustic outfit anchored by drummer David McDonald, proved a perfect foil for the headliner's hard driving country rock.

Equally importantly they road tested new song How Many Miles from their Nashville sessions and closed their set with prophetic No Such Thing As Goodbye.

Fans debating whether to soak liquid relief from the bars or refreshing autumnal skies soon had an extra incentive - a bloke who snuck into the tennis court earlier in the day and set up one of those tower of power record players.

It would appear some light fingered intruder scampered with all his vintage Waylon & Willie, Billy Joe Shaver, Merle and Lefty, Loretta and Tammy vinyl and caught him short.

So the myopic mix master had to borrow from an identikit rock station play list.

Perhaps a secret plot by corporate bullfrogs to ensure they emptied seats to dance to the clang of the cash registers at the beer, wine, spirits and food counters.

It worked.

The bleachers emptied quicker than the shelf life of the average dance, hip-hop or rap act.

KEITH URBAN
Marketing, through rock radio, was an essential ingredient in ensuring the headliner, born October 26, 1967, in Whangarei, New Zealand, maximised his audience share in a fad driven market that spits out its victims with venomous glee.

But equally importantly, when the house lights dimmed, was song sequencing - an art form that Urban has mastered in 20 years on the Lost Highway here and overseas.

The artist kicked off with Once In A Life Time - also entrée for his sixth album Love, Pain & The Whole Crazy Thing that segued into Where The Black Top Ends.

This enabled the sound crew to equalise instrumentation and vocals as Urban tested the catwalk above the mosh pit to the centre of the auditorium - locale of his acoustic cameo.

< Photo by Linda Di Nola
But that was later - now was time to ascend from the generic "Melbourne, how are you feeling?" to the personalised response to the "hug me" banner from Colac mother Kathy and daughter Sofie greeting.

Yes, the dairy belt belles rang on stage with the artist as he warned "easy, my wife's in the audience."

Then it was back to business - showcasing the new album with his original Shine and Sarah Buxton penned hit Stupid Boy punctuated by Raining On Sunday from 2002 disc Golden Road.

The not so subliminal Cassius Clay images on the video screen were an ideal vehicle for reality rooted original Used To The Pain that preceded the band following leader on the long catwalk to their cameo central.

Urban began band introductions with bassist Jerry Flowers, who has been with him 14 years including an off air visit to Nu Country FM Beer Can Hill studio in their Ranch days, before performing You're My Better Half.
The artist also exploited product placement by showcasing new Maton guitar and then wife Nicole, with a cute cameo on the big screen, before launching into a refrain of the Bob Crewe-Kenny Nolan penned Frankie Valli & The Four Seasons hit My Eyes Adored You and his Rodney Crowell hit Making Memories Of Us.

Urban, with banjo locked away for this tour, introduced Chris Rodriguez on mandolin as he reached back for You'll Think Of Me.

But then came the visual and aural highlight - new single I Told You So soaring from 21 to 14 with a bullet in the U.S. - that began at acoustic central before the main stage lights zoomed in on the 16 strong drum line of the Australian Youth Band.

An existential exit of sorts to the band's return with Days Go By and Urban plucking pathos on piano of Can't Stop Loving You and Tonight I Wanna Cry.
Urban's band revved up Just Wanna Be Me and Somebody Like You before he used a marital confessional to thank the audience for patience during his rehab. Not only do his fans find it commendable that Urban successfully completed rehab, any Columbus DUI lawyer would be impressed with his commitment to get sober.
"The cold hard facts are I wouldn't be here playing music if it wasn't for my wife," Urban revealed as he introduced Got It Right This Time.

His encore began as an Australasian cross-cultural sprint on the catwalk as he kicked off Dragon hit Are You Old Enough while young mothers Vikki and Donna Simpson proved they were when they harmonised from the main stage.

Urban peaked in his fitting finale Everybody Loves Somebody Some Time.

So what's the verdict?

Well, country purists may regret culling of the bluegrass that highlighted those multi instrumental skills on previous tours.

But, with a narrow window to commercial radio cracked open by Nova sponsorship of the tour, he zeroed in with a rocking country pop projectile aimed squarely at suburbia and middle Australia.

This obviously upset some suburban broadsheet rock critics but not the avid army of new fans not imprisoned in cyber chat cells.
Reviewed by David Dawson with photos by Linda Di Nola