LEE & TANIA KERNAGHAN, THE MCCLYMONTS, LASH 78 COSTA HALL, GEELONG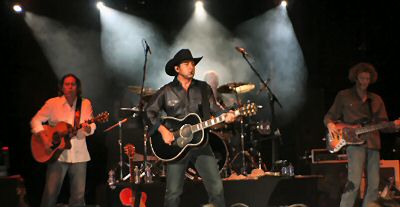 Lee Kernaghan at Geelong - photo by Carol Taylor
It was the night the sisters reigned in Sleepy Hollow and competed for sonic exposure with unsung sirens of song - faulty fire alarms.

As the brocade curtains parted for this sold out Kernaghan clan concert at Costa Hall - deep in the waterfront wonderland - two micro-boppers strode into the spotlight.

Lauren Harvey, 9, and little sister Sheridan, 8, accompanied by young male guitarist, opened their trilogy with Kasey Chambers tune If I Had A Pony.

And they closed with a song about spending the night together - maybe with Milo and a biscuit or two.

With the practiced air of seasoned show biz troopers the likely lasses, discovered by headliner Lee in Tamworth, gave their web page address - www.lash78 - before they headed backstage.

It was such an impassioned performance Lee later booked the lasses - known as Lash 78 - to open for him at the 2007 Tamworth festival.
TANIA LASSO FROM EL PASO
Tania Kernaghan - photo by Carol Taylor

Then out of the wings another sister, Tania, emerged and showcased 30 Something and Harley McTaggart - penned by her younger sister Fiona - from her fourth album Higher Ground.

Tania punctuated Boys In Boots and Nine Mile Run that she wrote with Fiona, with a comedic cameo with an older man to illustrate Lasso You - a song Fiona penned with INXS guitarist and producer Andrew Farris.

The Riverina raised jillaroo of all trades raised the stage bar by roping her prey with a steady hand.
But the older man, one of three volunteers to offer body for this rural bondage routine, departed from the script by shedding his jumper, shirt, singlet and spectacles with an impromptu and failed attempt to drop his trousers.

Somewhere in the set Tania also performed her canine caper - The Mongrel - penned with Fiona, drummer brother Greg and Farris.

But that was just the beginning for sisters in song.
THE MCLYMONTS KNEES UP
Grafton trio The McClymonts - Brooke, Samantha and little sister Brooke - fanned the sibling flame with spirited performances of tunes from their self-titled five track EP for multi-national label Universal.

They opened with their debut single Something That My Heart Does - written by elder sister Brooke and Eric Nova but unlikely to score airplay on the radio chain that bears the name of the second writer.
< The Mcclymonts - photo by Carol Taylor
Then it was the Brooke-Molly McClymont tune Baby's Gone Home and a rollicking rendition of Brooke-Samantha composition Love You Like That.

They also revamped oft covered Alex Harvey tune Delta Dawn - debut hit for Texan temptress Tanya Tucker at 14 in 1972.

But they explained it was reprised from their recent tribute to the expatriate Australian legend Helen Reddy at her 2006 ARIA Hall of Fame induction.

The McClymonts performance is an unusual visual act - Brooke and Samantha, armed with guitars, flanking younger sister Mollie on mandolin.

Mollie wore the pants with Brooke and Samantha frocked up in shorts and dress that may have distracted attention from their crisp harmonies and accessible songs to two pairs of exposed knees.

But that was not the reason the crowd was evacuated from the theatre as Tania and the sisters were embroiled in a frenetic merchandise signing session.
THE EVACUATION STROLL

It was the donkey like braying of the fire alarms at Costa Hall and James Reyne gig at the nearby Waterfront Café that caused the impromptu exit.

There was never any danger of the 2,000 strong herd being trampled in the stampede.

Fans, many clad in R M Williams moleskins, western shirts and Akubra chapeau of the headliner and clutching their drinks of choice, moved with bovine ambience of prize Herefords and Friesians to diverse departure lounges.

Frantic firemen, searching high and low for flames with no success, gave the all clear to return and fans wandered back into the foyer to be greeted by a braying reprise of the alarms.

All was captured graphically in Carol Taylor's pictures in the footy deprived Monday edition of the Geelong Advertiser.

It was not a Monty Python sketch but gave fertile fodder to the headliner whose stage entry was greeted by more smoke and less mirrors.
THE NEW BUSH
Kernaghan opened with the title track of his huge selling eighth album The New Bush and Something In The Water with credit to Nu Country TV for making the show such a hot ticket with repeat fire alarm evacuations.

The artist ensures his shows are equally visual and audio experiences by working the crowd with theatrical flair and perfect pacing.

His twin guitar line-up - Jake Lardot on lead and Brendan Radford on rhythm - was fleshed out by multi-instrumentalist Lawrie Minson.

< Lee Kernaghan - photo by Carol Taylor
Minson also added pedal steel to his repertoire with departure of Michel Rose from the all-star band featuring bassist James Gillard and drummer Mitch Farmer.

The anthemic Boys From The Bush segued into evocative new single Listen To The Radio, The Way It Is and vintage ballad Goondiwindi Moon.

Kernaghan extolled his roots in Living In Australia and homage to deceased hero and bush balladeer Slim Dusty with Leave Him In The Longyard and Missing Slim.
Minson added banjo to the mix when The McClymonts joined the country music king for an inspired bluegrass romp on Will The Circle Be Unbroken.

Kernaghan broke up rural rump requiems Love Shack, Baptise The Ute, High Country and She's My Ute with an acoustic interlude with Tania on stools in the mosh pit.

Lee Kernaghan & The McClymonts
photo by Carol Taylor>

Well, the left aisle to be exact for A Bushman Can Survive also featuring Gillard and a not so coy choir.

Audience participation is a major plank of Kernaghan shows.

The artist switched gears to piano for the Jerry Lee Lewis classic Great Balls Of Fire,
accompanied by a large, but not so soft inflatable ball, propelled skywards by fans at whim.

Then, like a seasoned stallion the star sprinted down the home straight with Hat Town, Texas Qld 4385, The Outback Club, tempo change for nostalgia primed I'll Remember You, When Country Comes To Town and the fiery finale Electric Rodeo.

Kernaghan returns for concerts at the Crown Casino Palms room in Melbourne on December 8 and 9.

CLICK HERE to learn how to win autographed copies of Tania Kernaghan's new CD Higher Ground on our membership page.
Review by David Dawson