DAVE'S DIARY - 23/8/13 - PREVIEW OF EPISODE 12 - SERIES 20
TEXAN TROUBADOUR BLOWS SMOKE
Texan singer-songwriter Kacey Musgraves shares top billing with former boxing champ Paul Thorn on the Series #20 finale of Nu Country TV this Saturday August 31 at 9.30 pm on Channel 31.

The duo perform videos for their latest singles on the show filmed by Laith Graham and edited by Blaize Warden.

Oklahoma stone country singer Joe Diffie debuts on the program with a hick hop star in our Behind Bars segment that also hosts the return of Todd Snider.

And Novocastrian Morgan Evans, touring nationally with Sara Evans - no relation - and Georgian superstar Alan Jackson, also returns with his new video.

We also feature sneak previews of our 21st series in summer with cameos by Melbourne bands Mustered Courage and Wilful Damage and expat North Queenslander 8 Ball Aitken.

Click Here to watch Nu Country on Catch-Up TV on the Channel 31 web page.
KASEY MUSGRAVES AND GOOD OLD GALS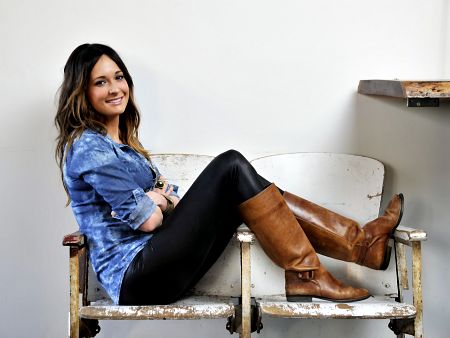 Kacey Musgraves found some gorgeous gal pals to join her in the vibrant video for her new single Blowin' Smoke from her chart topping album Same Trailer Different Park.

The girls, clad as waitresses on a meal break, were a perfect for the 24 year old Texan now blazing a trail in Nashville.

Although Kacey hasn't been a waitress like the one she plays in the video she knows a thing or two about exhaustion after shooting the piece.

Besides taking all day to film, Kacey took a side trip to tape an appearance on The Ellen DeGeneres Show that day.

"I got to set at 6 a.m. and shot until about noon," she confessed.

"Then I went over to Ellen, sang Blowin' Smoke on Ellen. I actually went to Ellen in my waitress uniform. And then I left after that and came right back to the video set and shot until about 9 at night. It was such a long day, I was so worn out I couldn't even think straight. I'm so happy with how it turned out!"

The folk-rock track samples John Prine and early Loretta Lynn and tells the tale of the blue collar elite trapped in their dead-end jobs.

Set in a Nashville diner Musgraves plays the part of the wise narrator well.

"Well, we all say that we'll quit someday. When our ship comes in, we'll just sail away," she sings on the chorus.

CLICK HERE for a Kacey Musgraves feature in the Diary on July 9.
PAUL THORN BOXES ON
Former Mississippi boxing champion Paul Thorn returns with the video for the title track of his seventh album What The Hell Is Going On from 2012.

Thorn, 49, wowed crowds on Beer Can Hill in Northcote and the Hallam Hotel in June and wants to return here for a sequel tour in 2014.

Thorn first made international TV when he fought world middleweight boxing champion Roberto Duran at Atlantic City casino in New Jersey in 1988.

But the singer harvested hay from Duran's hay makers when he recorded his 1997 album title track Hammer & Nail about the bout.

It preceded the Tom Russell tune The Eyes Of Robert Duran - also recorded by the late Chris Gaffney - and a favourite on Nu Country FM.

Thorn, father of two daughters, re-released his 2010 album Pimps & Preachers on his Australian tour.

"Well, the album title isn't just a title, it has meaning for me," says Thorn who shares his Tupelo roots with both the late Elvis Presley and Tammy Wynette.

"My dad was a Pentecostal minister with a congregation but my uncle was a real pimp, and I don't mean someone who dresses flashy, I mean a man who had a stable of women that he dropped off on the corner in the morning, picked them up in the evening, and they gave him money. He's not proud of that and that's not something he looks back on and is proud of doing, but as a child he and my daddy were my mentors so I was literally schooled by Pimps and Preachers so I understand about the dark and the light of life because of that."

CLICK HERE for our exclusive interview with Thorn in the Diary on June 10.
JOE DIFFIE AND A D THRASH HICK HOP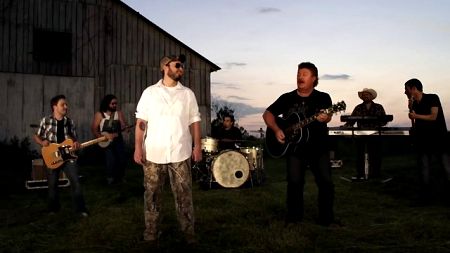 Traditional Tulsa country and bluegrass maestro Joe Diffie chose a different vehicle for his latest video Riding Shotgun in our popular Behind Bars segment.

Thrice wed Diffie, now 54, hooked with Georgian hick hopper D Thrash - a Jawga Boy - for a trip in trucks, tractors and four wheel bikes in Greensburg in old Kentucky.

It was a reply song to mainstream star Jason Aldean's Diffie tribute hit 1994.

The song, written by Diffie, Phil O'Donnell and Derek Thrasher of The Jawga Boyz, is an up-tempo song released for the U.S. summer.

The performance features D. Thrash (Derek Thrasher) of The Jawga Boyz complementing Diffie's signature vocals.

Directed by Blake Judd and produced by Judd and Cory B. Clay, it features Joe driving a sporty orange convertible with his wife and daughters, along for the ride.

"We had a good time writing and recording this song and now making this video. I've been writing with a lot of new artists and I never thought that collaboration with one of them would lead to this, but I'm really glad that it has. It's a different sound for me and I'm having so much fun with," says Diffie.

Diffie smash hit John Deere Green preceded Aldean's Big Green Tractor.

Joe was signed by Epic after working as a demo singer for three years in Nashville - since then he had 35 Billboard chart singles - 17 Top 10 hits including five #1 smashes.

His chart toppers were debut release Home, If the Devil Danced (In Empty Pockets), Third Rock from the Sun, Pickup Man - his longest-lasting #1 at four weeks - and Bigger Than the Beatles.

He released nine studio albums and wrote songs that were hits for Tim McGraw, Jo Dee Messina, Holly Dunn, Mary Chapin Carpenter, George Jones and Marty Stuart.

His 1993 album Honky Tonk Attitude and Third Rock from the Sun in 1994 were certified platinum, 1992's Regular Joe and 1996's Life's So Funny are both certified gold.

In December, 2009, Diffie released his first live recording, called Joe Diffie: Live At Billy Bob's Texas - and cut a bluegrass album for Rounder Records.

Further info - www.joediffie.com
TODD SNIDER SPOOFS NASHVILLE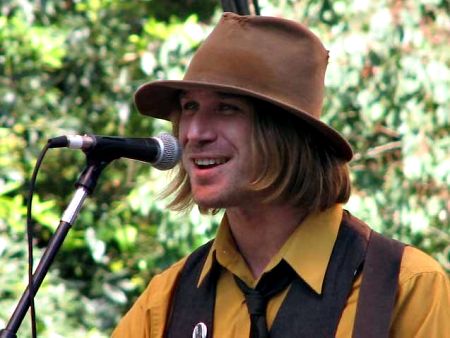 Oregon born Todd Snider returns with a humorous homily about recording in Music City.

Americana guitarist Buddy Miller, who toured here with Steve Earle and Emmylou Harris, helped Todd out on his live cut of Nashville.

Snider, 46 and a 16 album veteran, shot the video in Guitar Town - he was discovered by fellow singer-songwriter Kent Finlay at the famed Cheatham St Warehouse in San Marcos.

Floridian singing sailor and frequent Australian tourist Jimmy Buffett signed Snider to his Margaritaville Records label after a Keith Sykes concert in Memphis.

Todd broke here with Seattle Grunge Rock Blues, now lives in East Nashville, and wants to tour here with Will Hoge or frequent Texan tourist Jack Ingram.

Ingram, father of three and wed to wife Amy for 13 years, wrote his hit Barbie Dolls with Snider.

It was a subliminal sister of Kent Finlay's Blow Up Plastic Girl that flew over radio for Mel McDaniel.

The late Oklahoma singer McDaniel scored widespread exposure for the song in Queensland when it scored airplay on 4KQ - then a country station.

Music director Rod Stone, a former Nu Country FM DJ, was involved in a humorous on air fracas with morals maverick Vilma Ward when he played the song from Mel's 1978 album Gentle To Your Senses.

Snider updated They Ain't Makin' Jews Like Jesus Anymore on tribute disc Why The Hell Not - the Songs Of Kinky Friedman on Texas indie label Sustain.

Snider refers to The Kinkster's 2006 Gubernatorial campaign - featured in Australian magazine Men's Style.

CLICK HERE for a Snider interview in The Diary on July 23.
MORGAN EVANS CARRIES ON
Newcastle singer Morgan Evans performs his new video Carry On as a preview for his national spring tour with Georgian superstar Alan Jackson and Missouri born minstrel Sara Evans.
Evans released While We're Young on August 24 - follow up EP to his debut EP Live Each Day on Warner.

Expat Adelaide guitarist-singer-songwriter Jedd Hughes produced While We're Young in Nashville - Evans wrote all five tracks.

He co-wrote the title track with Jedd & Sarah Buxton, who also co-wrote Keith Urban hit Put You In A Song.

Sarah's writing credits include another Urban smash, Stupid Boy and Big & Rich's single That's Why I Pray.

"I played Jedd and Sarah this chorus that I'd written a few months earlier and we all had a great vibe about it. We all related to it, so the verses came really naturally," says Morgan.

"It's about letting go, living in the moment and making memories now that we can look back on with a smile, have a laugh and reminisce. You know? The kind of memories that make us who we are. We got so excited about the songs, that soon Jedd had pulled together some of my favourite musicians in the world and we were recording. Their talent and unique approach inspired me to work even harder to get the best out of my voice and my guitar playing. Working with those guys really was a dream come true."
The EP features road song Sweet Home to You, heartbreaker Learn to Lose You, swamp-rock laced Made For Loving You and the balladic finale Carry On.
SERIES #21 PREVIEW
We also preview Series #21 in summer with snippets of Melbourne bands Mustered Courage's Cruel Alibis, Wilful Damage's Crossroads Again and expat Queenslander 8 Ball Aitken's The Other Side.
HOW TO KEEP NU COUNTRY ON AIR
We need your support to return to air in December on Channel 31 to celebrate our 21st series of Nu Country TV.

Australian record companies and artists have joined forces to ensure our survival.

We have new CDS by major artists you can win by becoming a Nu Country member or renewing your membership.

They include singing actors Willie Nelson and Tim McGraw, Voice judge Blake Shelton and singing spouse Miranda Lambert, Ashley Monroe, Brad Paisley, Gary Allan, Keith Urban, Toby Keith, Dierks Bentley, Eric Church, Carrie Underwood, Charley Pride, Slim Dusty, Felicity and more.

We also have the latest John Fogerty and John Denver all-star tribute albums and DVDS by Miranda and fellow chart topper Lady Antebellum.

CLICK HERE for our Membership Page for full details.