DAVE'S DIARY - 1/6/08 - PREVIEW EPISODE 1 - SERIES 10
STARS SURFEIT IN NU COUNTRY SERIES #10 PREMIERE
American country stars Alan Jackson and Steve Earle share top billing with Kacey Chambers in the premiere of Series #10 of Nu Country TV on Saturday June 7 at 8.30 p m.

Australian country princess Kasey Chambers and her singing spouse also make their joint debut on the show with a video of the title track of their new ARIA chart topping CD Rattlin' Bones.

Also on the show are veteran Victorian country chanteuse Leslie Avril and Ute Chick Jayne Denham.

Mid Pacific Bob Olson hosts the gala premiere that features one of his hot new winter recipes - Chilli Relleno (stuffed chilli).

Olson, a mathematics lecturer, also delivers a personal eulogy to the late Headbelly Buzzard slide guitarist Michael Cameron who died suddenly earlier this year.

Olson attended Cameron's wake at the Railway Hotel, North Fitzroy - a venue that hosted many Nu Country FM functions in the nineties.

Nu Country also welcomes new editor and videographer Sean Tierney who picks up the reins from Kris Walker who edited Series #9.

Sean and Tim Cole filmed the concert by international country stars Kacey Jones and Becky Hobbs at the Noise Bar at another Railway Hotel in Brunswick, on February 1.

We will feature selected songs by Kacey and Becky in future episodes as a preview to the concert special later in this series.
ALAN JACKSON - SMALL TOWN SOUTHERN MAN
Georgian superstar Jackson and Virginia born but Texas raised Earle burst onto the scene in the late eighties as the genre enjoyed a creative rebirth.

Jackson, 49, was born in Newnan - the same town where celebrated singer-songwriter Steve Young first drew breath.

The two Steves - Earle and Young - have developed a hard core following on their collective eight tours of Australia.

But Jackson, launched to international fame by expatriate Australasian Barry Coburn, rarely ventures from his home country.

His high profile enabled him to release acoustic disc Like Red On A Rose, produced by Alison Krauss, and gospel album Precious Memories, that both enjoyed healthy sales.
This time Jackson returns to Nu Country TV with the autobiographical Small Town Southern Man from his 17th album Good Time.

Jackson wrote 17 songs, culled from 22 he recorded, for the Keith Stegall produced disc that debuted at #1 on the charts and pushed his career sales beyond 45 million.

Meanwhile former airhostess Denise - his wife of 30 years and mother of their three children, has written a best selling book and follow-up.

CLICK HERE for a Jackson feature from the Diary on May 28.
STEVE EARLE CELEBRATES CITY OF IMMIGRANTS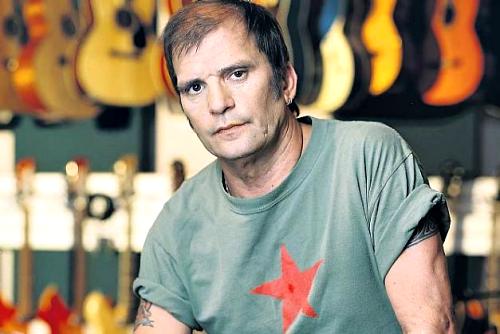 With seven marriages and a controversy littered public life Steve Earle is a complete contrast with Jackson.

The much-travelled troubadour performs an evocative video for new single City Of Immigrants - a song that celebrates his new hometown New York City.

"There are three or four languages spoken on my street every day, and I think that's really important," he says.

"You can't forget that great nations are always built by immigrants."

Earle, 53, and singing spouse Allison Moorer - who has a cameo in the video - moved to Greenwich Village from Nashville after sprinting to the altar in 2005.

They live on famed Bleeker St where the cover photo of Bob Dylan's Freewheelin' vinyl album was shot.

The song is one of many highlights of Earle's eclectic 19th album Washington Square Serenade, released here by Shock Records.

Alabama born Moorer, younger sister of Shelby Lynne, toured here with Earle in 2005.

Moorer, 35, inspired several love songs on Washington Square Serenade, which won Earle a Grammy in February for best contemporary folk-Americana album.

"New York's addictive. I've always loved it here," says Earle, who grew up in San Antonio.

"I was in Nashville for 32 years, and it's a great place. But Allison and I both had exes and debris in Tennessee. We wanted a fresh start."

Earle's rehab from heroin addiction in the nineties enabled him to rebuild his finances but, like Shotgun Willie Nelson, he was ambushed by divorce duties and IRS debts.

His IRS debt grew so big he agreed to license a song for a commercial - something he said he'd never do.

In 2005, The Revolution Starts Now was inked for a TV ad for Chevy pickups.

But as karma collided with the singer who first crashed country charts in 1986 with Guitar Town.

Chevy inexplicably killed the ad days after it began airing - Earle hadn't signed a contract, he only got a fraction of the money he'd been promised.

"It just goes to show you," he says, "when you finally get ready to sell out, nobody's buying."

Meanwhile Steve's singer-songwriter son Justin Townes Earle - who once played in a The Swindlers with Kevin Welch's son Dustin, has released second album The Good Life in Australia.

CLICK HERE for a Steve Earle CD review from the Diary on May 28.
KASEY CHAMBERS & SHANE NICHOLSON
Kasey Chambers and Shane Nicholson ignited the ARIA charts when they debuted at #1 with their debut duet disc Rattlin' Bones.

It was sweet solace for the duo that outsold pop and rock acts with automatic access to mainstream radio.

Their triumph followed showcase launches in Melbourne, Sydney and Brisbane after a sneak preview at the 36th Port Fairy folk festival.

Kasey and Shane, supported by her dad Bill, are enjoying a return to their rural roots on a regional tour that has primed the sales pump.

The duo also enjoyed mainstream and street press print media exposure.

CLICK HERE for Anne Sydenham's live review of their Rattlin' Bones CD launch
on April 9.
CLICK HERE for their Port Fairy folk festival review.
LESLIE AVRIL - 50 AND FRYING
Veteran Victorian vamp Leslie Avril celebrated her 50th birthday in summer with a lavish party featuring Daddy Cool, Bobby Bright, Marcie Jones and many more.

Now the singer, fresh from a cameo at a wedding in Airlie Beach, returns to Nu Country with a live version of the late Kirsty MacColl song - There's A Guy Works Down The Fish Shop Swears He's Elvis.

Kirsty - daughter of veteran folkie Ewan MacColl - drowned at 40 in 2000.

Nu Country TV editor Sean Tierney filmed Avril and her hot band at our lavish 2007 Christmas Party at Hotel Kew.

Leslie also joined international stars Kacey Jones and Becky Hobbs on stage at our concert at the Noise Bar at the Railway Hotel, Brunswick, after performing with the duo in Tamworth.
The latter day Smiths Creek chanteuse was the host of Leslie's Liquid Lunch Box during her Nu Country FM stint during the previous millennia at Beer Can Hill.

She has performed with international artists diverse as Joe Sun, Billy Joe Shaver and The Ozark Mountain Daredevils.

CLICK HERE for a Diary feature on Leslie on June 14, 2004.
JAYNE DENHAM AND COUSIN JUDE
Blue mountains belle Jayne Denham returns to Nu Country with the story of a famous Tamworth mother trucker - Cousin Jude.

"Cousin Jude is a female truck driver from Tamworth who's always immaculately made up and dressed," Denham revealed.

"I'd heard about her, and did my research before I wrote the song. Then during a show in Tamworth she came up and introduced herself - and as the stories all claimed, she really does look like Sandra Bullock. She thinks the song is just great!"

Cousin Jude, a companion song of sorts of debut single Ute Chick, is on her first CD Sudden Change In Weather, produced by John Kane and Mark Walmsley.

The Cousin Jude video was shot at Somerton - 35 kilometres west of Tamworth - at the Moo Cow Inn.

"We first came up with the idea after I had heard of a female truck driver who looked like Sandra Bullock and drove a 22-wheel Kenworth," Jayne recalled.
"I took it with a grain of salt of course until one day of course I met the real Cousin Jude herself! Cousin Jude was everything I'd hoped and she is the only truck driver I know who has lip gloss on the dash board and drives in high heels! Cousin Jude drove us all around town in her Kenworth and the locals kept wondering what we were doing."

Denham's career began with Boy From Blackhill - a song inspired by a poem penned by her father Don Carter.

Further info - WWW.JAYNEDENHAM.COM
WWW.MYSPACE.COM/JAYNEDENHAM


WIN KACEY JONES CDS AND TEE SHIRTS
We'll feature highlights of the Kacey Jones-Becky Hobbs concert at the Noise Bar as a preview for our special later in this series.

Kacey Jones has donated autographed copies of her acclaimed tribute CD to the late, legendary Texan singer-songwriter Mickey Newbury to Nu Country.

Nu Country has featured the CD video clips San Francisco Mabel Joy and Lie To Me Darlin' featuring Texan singer-songwriters Kris Kristofferson and Waylon Payne.

The CD - to be released here in July - is one of many rewards for viewers to become members or renew their much-appreciated memberships.

Kacey has also autographed tee shirts and posters for Nu Country members.

For your $22 membership and postage you can take your pick of Kacey memorabilia. We have limited supplies so please email us at music@nucountry.com.au first.
WILLIE NELSON BOOK PRIZES
We also celebrated Shotgun Willie Nelson's 75th birthday on April 30 with a special giveaway of his collectors' book.

We have limited stock of Willie Nelson - The Collected Writings Of A Living Legend - The Facts Of Life And Other Dirty Jokes.

The book, featuring yarns, jokes and Willie Nelson song lyrics, is the latest addition to out prize treasure trove.

It's available for viewers wanting to become members or current members wishing to renew their membership.

Please email us at music@nucountry.com.au for a chance to win a copy of this book with your membership.

We also have autographed copies of Mike Brady's new album Country To Country and others by Troy Cassar-Daley, Tania Kernaghan and Arizona singer Billy Wyatt.

CLICK HERE for our Membership Page.