DAVE'S DIARY - 28 MAY 2008 - STEVE EARLE CD REVIEW
STEVE EARLE CD REVIEW - 2008
STEVE EARLE
WASHINGTON SQUARE SERENADE (NEW WEST-SHOCK.)
"Sunset in my mirror, pedal on the floor/ bound for New York City and I won't be back no more/ won't be back no more, boys won't see me around/ goodbye town." - Tennessee Blues - Steve Earle.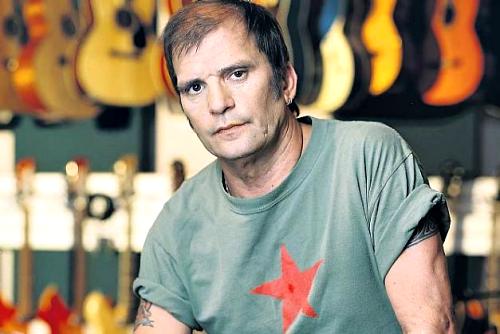 Art imitated life when Steve Earle played a recovering redneck in HBO TV series The Wire.

Not quite on the same page or spelling as My Name Is Earl on Seven here but part of colourful re-invention of a Virginian whose birth was celebrated with Texas soil neath his cot to make him a Lone Star State native.

Well, that was 53 years ago and Earle did a role reversal of Jerry Jeff Walker who left New York for Texas in the sixties.

Earle celebrates 2005 relocation from Nashville to Greenwich Village in Tennessee Blues - entrée tune on his 19th album.

If you missed that news flash the singer reprises his new digs - just down Bleeker St from where Dylan sang for his supper in the sixties - in Down Here Below and City Of Immigrants.

Borrowing from Dylan ain't a crime - in Red Is The Color - or even older mentor Pete Seeger in Steve's Hammer (For Pete.)

Earle is merely carrying on a tradition - albeit more melodically than his recent refried rock aberration - where the song comes first and the frock later.
COAL MINER'S SON
"Well my daddy worked in the coal mine/ till the company shut it down/ then he sat down and drank himself blind/ till we put him back underground." - Oxycontin Blues - Steve Earle.
So it's no surprise biblical, family parable Jericho Road and coalminer's son eulogy Oxycontin Blues have raw elements of good country folk songs.

The latter could be the bastard son of Copperhead Road - speed and ice replace weed as the solace of choice and the son of an air traffic controller is convincing in his role as a miner's offspring.

But let's not forget marriage the seventh time around resurrected Earle as incurable romantic in Sparkle And Shine, Come Home To Me and a collaboration with singing spouse Allison Moorer on the delicious Days Aren't Long Enough.
Earle may never be flavour of the month again on commercial radio but this irritant free capsule will find a home on the range here on ABC and community radio.

And, if you don't tune into Americana stations on the net, the singer paints a salient signpost to the new wireless bunkhouse for him, Dylan and many more on Satellite Radio.

There's no feedback or static when he sings "at the galaxy's end where the stars burn bright are you tunin' in and turnin' on?"

Instead there's a long goodbye from Earle on guitar, mandolin, banjo, harmonica and harmonium.

Hey, was that Seeger channelling his belated Stalin parody, The Big Joe Blues, to his protégé for a new dawn on the satellite?

Earle's serenade and musical rebirth are complete.

Even his acting - his role as a prison teacher recently surfaced on Law & Order: SVU - here on the Ten Network.

Just a month or two before Shooter Jennings, fresh from his cameo in Walk The Line, played with his band the 357s in a barroom scene in a rodeo fuelled episode of CSI on the Nine Network.