DAVE'S DIARY - 9 /11/2020 - JASMINE RAE CD FEATURE REVIEW
JASMINE RAE 2020 CD FEATURE
LION SIDE (ABC-UNIVERSAL)
JASMINE RAE RETURNS FIRE ON HATERS
"But I don't do it for the haters/ all the broken heart breakers/ always running their mouth/ bringing me down/ I ain't hating on 'em/cause it ain't my problem/ I don't do it for the haters/ it's the love that does it for me/ it's the love baby." - Don't Do It For The Haters - Jasmine Rae-Summer Overstreet-Nick Boyd.
When award winning singer-songwriter Jasmine Rae was trolled by cyber cowards after she opted out of a copyright lawsuit over one of her original hits she didn't shut down her computer.
Instead the feisty Fawkner born belle returned fire in Don't Do It For The Haters - a highlight of fifth album Lion Side, produced by Lindsey Jackson in Nashville and Sydney.
It began when the theme of one of her original songs When I Found You recurred on a song recorded by singer-songwriter-actor Tim McGraw and singing spouse Faith Hill.
Jasmine was one of three writers of When I Found You but not in the copyright lawsuit with her Australian co-writers Sean Carey and Beau Golden.
But she suffered an avalanche of negative emails, phone calls and social media commentary that left her reeling.
The lawsuit targeted the writers of The Rest Of Our Life - Tim's 15th album and the couple's debut duet disc.
McGraw's song was credited to Ed Sheeran, Amy Wadge, Johnny McDaid and Steve Mac.
Carey and Golden claimed it was an "almost a note-for-note copy" of When I Found You they wrote with Jasmine.
Rae was not named amongst plaintiffs for the song that topped local charts in 2016 after she recorded it in 2014.
Carey, former guitarist with Thirsty Merc , and Golden , pianist for Guy Sebastian, Samantha Jade and others, filed a lawsuit in New York accusing Sheeran and his co-writers of "wilful copyright infringement" including copying melodies, chords and lyrical themes from their song.
Their complaint says during a December studio writing session, Rae mentioned to Carey and Golden a fan tweeted her about similarities between the two songs.
The pair suggest Sheeran would have known about Rae's song as he was touring Australia during its chart success and radio airplay in 2016.
The complaint says that based on downloads, Spotify and YouTube streams, TV broadcasts and live performances, Sheeran and his co-writers profited in excess of $US 5 million from The Rest of Our Life .
They sought damages and royalties at trial.
"Because I was the face of our song, I copped an enormous amount of hate anyway, from all directions," Jasmine 33, revealed of the source of her single that was accompanied by a video clip.
"It was a really confronting and confusing time for me," Rae recalled.
"For a while, I didn't want to co-write with anyone, didn't want to put myself out there or be vulnerable and I was questioning everything. People around me actually thought that I would give up.
"But later that year I did a short tour with US country artist Granger Smith and that experience was a wonderful reminder for me about why I love doing what I do. I was reminded of how the love of music brings people together, the love I get from people who support my music and the love I get from performing my songs with my friends.
"I realised that I don't do it for the haters. It's the love that does it for me. I wanted to write something about that whole experience. I initially wrote some very angry songs but this one feels truer. This song is the one that sums up the real lessons learned by that experience and puts a full stop on it for me. It gives me closure.
"There are times when we face all sorts of roadblocks and setbacks. A lot of people are experiencing soul destroying challenges right now. So I guess this song is a testament that sometimes it can take just one good moment to remind us why we do what we're supposed to do."
JASMINE ROARS ON HER LION SIDE
"I've got a lion side, a fire inside/ no need to protect me/ got a lion side, a fight inside/ just let me set it free." - Lion Side - Jasmine Rae.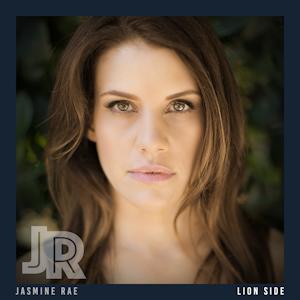 Jasmine recorded chart-topping songs with U.S. stars Joe Nichols and Kellie Pickler and opened national arena tours for Grammy winners Brooks & Dunn and Alan Jackson.
But she had five-year hiatus between albums - her fourth Heartbeat was released in 2015.
"I took a long time to make this album, but ultimately I simply had to do it," Rae revealed.
"Music has always been my way of thinking out loud and figuring things out. Writing and performing allows me to express those feelings to be dramatic, be loud or be fragile, be emotional and be real."
She plays piano, guitar and harmonica and wrote all 10 songs including dynamic solo title track.
"I wrote this during the time that I was writing on my own with beats, which is something I didn't usually do," Jasmine recalled.
"But usually I'd come up with some ideas and sometimes I'd write just on my own with a keyboard or a guitar but I really enjoyed taking my ideas to somebody. But I closed my heart for a year and a bit there and didn't write with anyone. But I wanted some kind of inspiration so I was playing around with loops and stuff on Garage Band and Logic. And Lion Side is like realising the truth is the lion and so I'm not frightened because I'm going to set it free. I've got a lion inside of me. I just wanted to be honest because I felt like people didn't understand. People weren't hearing what was actually happening and if people knew what was actually happening at least they could have their opinion but I would be able to breathe. Just let me set it free and stop. I wanted to just be completely honest about all things that I've ever done. This whole album felt a little bit like a journaling session."
She wrote Party On The Couch with Anna Vaus and Jason Gant.
It was accompanied by a video with gal pals Rachael Fahim and Missy Lancaster.
"This was the last song we wrote for the new album and was the one that felt the easiest and quickest," Jasmine revealed.
"I was in the mood to celebrate the end of writing a whole album. But I'm a home body at heart and how I truly like to celebrate most of the time is with some couch time."
Party On The Couch was Jasmine's first video in nearly three years.
"I was so lucky to have two gorgeous, fun and talented friends on set," Jasmine added.
"A couch party is brought to a new level when you add in some good mates. Missy and Rachael made the whole day super funny and relaxed. They brought the good vibes and some goose bumpy ghost stories that almost had me convinced oh and delicious wine that we disguised as hot chocolate."
LYN BOWTELL AND SINEAD BURGESS
"Jessica, you know I always kept a light on for you/ through darker days, minimum wage/ the reckless promise of something new/ and you loved me and oh I loved you, wasn't easy/ but somehow we struggled through." - Jessica - Jasmine Rae-Lyn Bowtell.
Rae's co-writers include prolific Golden Guitarist Lyn Bowtell on Jessica and expat Sinead Burgess on Fraudulent .

" Jessica is a song I wrote with Lyn Bowtell," Jasmine explained.

"We had never written together before, she's an incredible singer, song writer, vocalist and human. She connects people together. It was actually her idea. She wanted to write a story about a husband losing his wife. And I've never really written from that point of view before. I've lost people in my life, but I'd never lost someone in a car accident but I fear it constantly. I wanted to dive in as a songwriter with her to this place that's not my story to tell - but to tell it. It was a really interesting thing. We have played it live in our piano show, and we're going to do a couple of piano shows coming up, a very Covid safe sit-down audience, and when I sing it, it feels like I have to carry it very gently. I wrote this song with Lyn but it's not my story to tell."
GREEN LIGHT ANXIETY RELEASE
"Did I close that door, did I say too much/ was I too abrupt, did I make that call/ did we have that talk, did I switch it off/ is it just the rat race, blowing up in my face." - Green Light - Jasmine Rae-Joe Delahoyde-Justine Eltakchi.
mine wrote another single Green Light , accompanied by a video, that reflected her battles with anxiety and indecision.
"There are always opportunities, the opportunity to take action, or to purposefully let something go; to make a call or leave things unsaid; to change or try again or try differently," Jasmine confessed.
"No decision is a decision in itself. This song is the inner dialogue of one of those experiences. These are some of the circling thoughts of doubt and indecision that drive me crazy.
"The track was written to the beat so the beat that is happening is my feet because I wear high heels. Or I was this day that the idea came to me. It was me on the footpath and that's where the idea came to me. I don't know if it was a purposeful thing but I think anxiety can come disguised as many things, so it's nice that anxiety was disguised as a pop sing/ Oh this is so carefree' no it's not. It snuck right up on you."
Jasmine's recent single, accompanied by a video, is Gentle Man .
" Gentle Man reaches through the tough exterior that people (especially some men I know) often put around themselves, and gets to heart of who they truly are," Rae revealed.
"Sometimes they can be misunderstood. But they are understood by somebody and that's what I wanted to let them know by writing and singing this song."
Jasmine filmed her video for Gentle Man at FOX Studios during the Lion Side album release week.
She also wrote Love Is solo and Carrying The Flame with Robert Lee Draper.
The song is a tribute to Jasmine's greatest mentor, and the friend who is now carrying on his legacy, while creating his own.
"Being real is a superpower. It's what heals us together."
Jasmine is on Country Roadshow 2021 Tour with Adam Brand, Wolfe Brothers, Travis Collins, The Buckleys and Lee Kernaghan next February.
CLICK HERE for our gig guide for details.