RYAN ADAMS & THE CARDINALS - PALAIS ST KILDA - 20 AUGUST 2007

Ryan Adams & The Cardinals - Palais Theatre - 20 August 2007
There was no hesitation on my part, this time round, in booking tickets to what promised to be one of the concerts of the year, that being the return of Ryan Adams to the Antipodes. He and his band The Cardinals have been touring extensively to promote Adams' latest CD, Easy Tiger, which has been described by music critics as his strongest album since Gold and Heartbreaker. I don't agree with the critics, as I think his trio of recordings in 2005 are just as good, if not better than Easy Tiger.
The Cardinals on this tour were in a slightly different configuration than that of 2005. Including Ryan it was a six-piece band, comprised of Neal Casal (lead guitar, vocals) Chris Feinstein (Bass, vocals), Jon Graboff (pedal steel, vocals), Brad Pemberton (drums) and an unknown keyboard player.
Since Ryan Adams' last tour here, he has gone through a personal makeover, foreswearing drugs and alcohol. I was curious to see how this would affect his performance as an artist. If anything, this transformation has really made him into the seriously good artist he always had the potential to become and his voice has never sounded better.
On to the concert…
Young, up and coming local singer songwriter Krista Pulvere was the opening act. Accompanied by a lone guitarist she performed an engaging set of her own songs from a yet to be released album.
Krista recently spent time in New York and cut her forthcoming record there, with the help of Ryan Adams, among others. She readily admits that Adams is one of her inspirations and her music has that alt country feel about it. Her voice is warm and soulful and she struck me as an artist to watch out for in future.
Shortly after 9.00 pm Ryan Adams and The Cardinals took the stage, starting the set with the opening track from Easy Tiger, Goodnight Rose, ending the song with an extended jam that delighted the audience. Goodnight Rose was one of only two songs from Easy Tiger performed on the night.
The bulk of the show featured songs from Cold Roses and Jacksonville City Nights, which was fine by me, as I love both those 2005 releases. Mockingbird from Cold Roses was the second song to be performed, and it segued into a beautiful rendition of Dear Chicago from the Demolition disc, though arranged in a completely different way to the original version.
One of my favourite songs from the Jacksonville City Nights CD, Peaceful Valley came next. It was simply beautiful with wonderful four part harmonies between Ryan, Neal Casal, Chris Feinstein and Jon Graboff in the chorus line "trying to find a peaceful song/to sing when everything goes wrong".
Throughout the show Neal Casal provided harmony vocals to Ryan's lead. He has a truly lovely voice that blends with Adams' in a natural, made-for-each-other way, which was spine tinglingly demonstrated in the song Oh John. Norah Jones provided the harmonies on the original version of the song, but having heard Neal Casal perform in her role, I prefer his. Neal Casal is a fine singer songwriter in his own right and he performed one of his own compositions, Freeway to the Canyon, during the second set. It was one of the highlights of the show.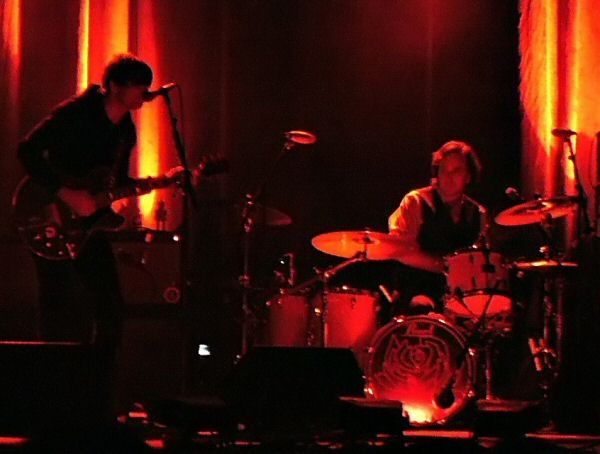 Ryan Adams with Brad Pemberton
The entire concert was performed in tenebrous lighting which led to cries for the lights to be turned on and certainly prevented me getting photos of any quality. Ironically, the stage was hung about with variously shaped lanterns and I spotted an illuminated Halloween head grinning maniacally at the back of the stage. Despite the usual calls for songs the band had no intention of playing, Ryan Adams handled unruly members of the audience with wit and good humour. His between song chitchat was funny and clever, if a smidgeon eccentric. He appeared to be in a good mood throughout, and the audience, notwithstanding the disgruntlement about the lighting, was well disposed towards him. It was chilly, as well, that night in the Palais and even Ryan commented on it, saying his hands were so cold that playing the guitar was "like a dead person touching me". The dry ice, imparting a sfumato effect as part of the stage atmospherics, may have had something to with the physical chill in the air.
Ryan Adams called a break after playing for 40 minutes, claiming he needed to warm his hands, but probably to go out for a smoke. It was only a short break of 10 minutes, hardly enough time for the smokers in the audience to get outside, have a puff or two, and get back to their seats.
During the second set the band really rocked and gave a memorable performance, demonstrating just how great a band they are. Tight and well integrated they made a splendid sound. Rarely has country rock sounded so good.

Blue Hotel, a song Ryan wrote for the Willie Nelson CD, Songbird, was the first song of the second set. It was a short set, but included great live versions of Let It Ride - another song from Cold Roses - and the sole song from Gold, Wild Flowers, which part of the audience greeted with a cheer.
The set and show was wound up with an amazing performance of Easy Plateau, which extended into a wild, sonic youth type jam at the end and went on for quite some time.
Abruptly, the show was over, Ryan pausing only to thank the audience before leaving the stage. The rest of the band bowed and waved and faded off the stage shortly afterwards. There were no encores.
Personally, I thought the show was fabulous. A great many people complained afterwards about the gloomy lighting, about not being able to see the artists, but I thought it was a small price to pay for what was a truly good show in the musical sense. Ryan Adams is recognised as one of the best songwriters around these days and he always seems to gather great musicians together for the various incarnations of his band The Cardinals. The present Cardinals have it together and it seems that Ryan Adams is pleased to be a part of them. He has said that he no longer wishes to be regarded as a solo performer, but as one of the band. Perhaps the message to be gleaned from the obscure lighting is that it's the music that counts for him over everything else.
Review and photos by Anne Sydenham

Click here for a review of the 2005 Ryan Adams concert

SET LIST
Set 1 - 9.10pm
Goodnight Rose
Mockingbird
Dear Chicago
Peaceful Valley
Please Do Not Let Me Go
Cold Roses
Dear John
Magnolia Mountain
break - 9.58pm
Set 2 - 10.10pm
Blue Hotel
Freeway To The Canyon (Neal Casal)
Off Broadway
Let It Ride
The End
Wild Flowers
Easy Plateau