RYAN ADAMS & THE CARDINALS - THE PALACE - 27 JULY 2005
RYAN ADAMS & THE CARDINALS
THE PALACE - ST KILDA - 27 JULY 2005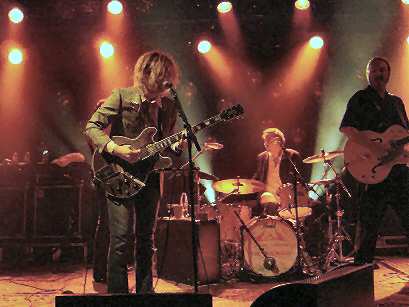 Ryan Adams & The Cardinals - The Palace - 27 July 2005
Photo by Shelley
It was with some trepidation that I booked for Ryan Adams concert this time round. I remembered my disappointment from three and half years ago when I was less than impressed with his performance for reasons I can't clearly recall today. I still loved his music however, and thought I would give him a second chance. I am glad I did!
Being almost exactly three and a half years since his last show in Melbourne, Ryan Adams took the stage at The Palace in St Kilda on Wednesday night and played an evening of superlative music to a full house of enthusiastic fans.
The mercurial alt country singer/songwriter boasts a voluminous back catalogue of songs and appears to produce new songs at the drop of a hat. The music throughout the night was a mix of old and new, Ryan covering songs from past albums, Heartbreaker, Gold, Demolition, Love is Hell, and Cold Roses along with songs from two upcoming CDs to be released later this year.
Prior to the show, in lieu of a support act, music from unreleased Ryan Adams material was played through the speakers. I thought, "it couldn't be…" but it was. Unusual as this was, it sounded really good and only served to sharpen interest in the forthcoming albums.
Ryan Adams is touring to promote the latest double CD, Cold Roses, a masterful collection of country rock and bittersweet ballads. The record was made in collaboration with Adams' current band The Cardinals who are on tour with him. They comprise Catherine Popper (electric bass) J P Bowersock (electric guitar), Brad Pemberton (drums) and Jon Graboff (pedal steel).
On to the show...
As there was no support act Ryan Adams with the Cardinals kicked off the night at approximately 9.15pm, beginning with "Mockingbird" which segued into "Beautiful Sorta", both of which are drawn from Cold Roses. An as yet unreleased song followed, called, I believe, "The End". Heartbreaker opener "To Be Young" came up next followed by "Dear Chicago", "Magnolia Mountain" and a very weird version of "New York, New York". "Shakedown on 9th Street" rounded off the first set.

Ryan was uncommunicative during this set, playing the above sequence of songs in close succession. Somewhat dishevelled, his now orange/blond hair falling into his bespectacled eyes, he looked like an eccentric modern Romantic poet or an idealised, young, absent-minded professor.
His clothing, during the second set was a quaint mix of tweed and denim further adorned with a floral tie and topped off by cowboy boots. He'd changed costume during the interval as he originally was garbed as shown above.
The stage was simply but effectively decorated with helium filled balloons and the lighting effects gave them an ethereal spacey look.
After a twenty-minute break, Ryan returned to the stage alone, sat at the piano, and played two new tunes, one of them called "Oh Charles". He was in fine voice, his vocals pure and crystal clear. Both songs were exceedingly beautiful and sad - a particular brand of music at which Ryan Adams excels.
The second set lasted for approximately two hours during which time Ryan Adams was amusing, chatty and responsive to the audience, and the audience in turn was cheerful and wildly appreciative of the music. It was a happy set and covered approximately 15 songs.
| | |
| --- | --- |
| Highlights included a sensational rendering of "Love is Hell", an audience sing-along in "Rescue Blues" and the heartrending "My Sweet Carolina. There was a sweet mix of spirited rock and tender balladry. A request from the audience for "Tennessee Sucks" was surprisingly granted, though calls for "Come Pick Me Up" were ignored. While playing "Sweet Illusions" Ryan suddenly stopped playing and collapsed into giggles. Did he forget the words or play a bung note? Who knows? The song was resumed and brought to a satisfactory conclusion. | |
Chain smoking cigarettes and swigging champagne from the bottle, Ryan had the audience in total thrall. He demonstrated an interesting way to place a cigarette in an ashtray no-hands-style, which drew a ripple of applause from those who witnessed it. He argued with himself on the subject of cocaine, spoke of his own volatility, while the Cardinals indulgently humoured the hiatus in proceedings. Ryan, with the band, graciously applauded the Melbourne audience in appreciation of the reception they had received. According to Ryan, the Sydney and Melbourne shows, audience wise, have been the best. This is good news, as it will surely draw the artist back to these shores. I, for one can't wait to see him again.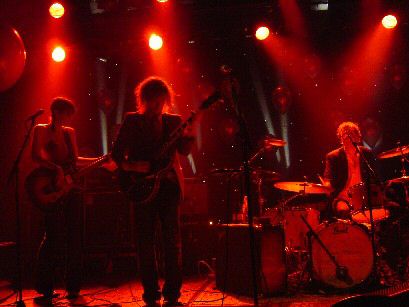 Photo by Shelley
The concert ended at about 12.20pm with a hodgepodge start/stop of a melange of songs. A wall of noise jam with lighting effects and feedback ala Neil Young that lasted for at least 15 minutes signalled the night was over. There were no encores.
Even though I could see little of the band, they did sound wonderful. Full credit is due to them all for contributing to an evening of marvellous music. And finally, I was impressed, immensely impressed by Ryan Adams live in concert.
SETLIST
Set 1 - 9.15 - 10.00
Mockingbird
Beautiful Sorta
The End (unreleased)
To Be Young
Dear Chicago
Magnolia Mountain
New York, New York
Shakedown on 9th Street
Set 2 - 10.20 - 12.20
Silver Bullets - Piano solo (unreleased song)
Oh Charles (solo piano - unreleased song)
Kiss Before I Go
Love Is Hell
Please Do Not Let Me Go
Don't Fail Me Now
When Will You Come Back Home
Now That You're Gone
Tennessee Sucks
Let It Ride
Why Do They Leave
Sweet Illusion
Rescue Blues
Nightbirds (piano - unreleased)
The Hardest Part
Oh My Sweet Carolina
Don't Even Know Her Name (Aborted)
Cold Roses (Aborted)
What Sin Replaces Love
Expressway To Yr. Skull (Sonic Youth Cover)
Review and one photo by Anne Sydenham
Thanks to Shelley for allowing me to use her photos and to all at the Ryan Adams Org Message Board for all the news and gossip.