Paul Hicks CD Launch at Northcote Social Club 14 June 2007
OK, this review is a bit late, but I have been encouraged to write it nevertheless and Paul Hicks, an up and coming young singer songwriter, deserves a bit of publicity to help his career along.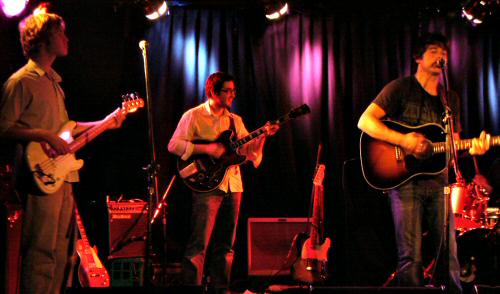 Paul Hicks and Band - Northcote Social Club - 14 June 2007
Devotees of Nu Country TV and those who tuned in to the radio station when it was on air will be familiar with Paul as a presenter on the first series of the TV show and as a disk jockey on Nu Country radio. He is also a very fine musician and singer as I discovered at his CD launch at the Northcote Social Club.
Paul's new CD Food For The Journey is his follow up to the critically acclaimed Kettle of Fish. More introspective than the rocking Kettle of Fish, Food For The Journey is a fine album of classic singer-songwriter roots compositions.
The support act for the night was Dave Steel, master instrumentalist and well-known singer- songwriter. He played a short set drawing on songs from his latest CD Blues & Ballads including Horse Trading Blues and Colour of the Wind, a song written with his young daughter.
Paul was accompanied by a small band which included a drummer, bass player and a guitarist. Though only recently gathered together, they provided solid backing to Paul's lead.
Starting with the opening track from Food For The Journey, a song called Give Me Love First and segueing into Carnival the second track on the album, Paul instantly won over the small audience. A song from Kettle of Fish, The Only One upped the tempo before winding down to Carpenter's Son, one of the gospel songs from the latest recording. Another, inspired by Thomas Merton, The Secret of His Face, was performed later.

Paul gave generously of his time and sang a fine selection of songs, new and old. He has very appealing voice, warm and soulful and his song writing is of a high calibre and has a local flavour. Several, like Buffalo River Road and Making Wine reflect the landscape of North Eastern Victoria which where Paul lives these days.

It was a good night of quality entertainment at Northcote Social Club as the small but respectful audience acknowledged with enthusiasm.
Paul will be doing more shows at the 'BEAT THE WINTER BLUES' MUSIC FESTIVAL at Milawa over the weekend of 14 and 15 July (See Gig guide for more details). If you are in the neighbourhood, I would recommend you catch this very talented performer.
Review and photos by Anne Sydenham