Patty Griffin
Northcote Social Club /Athenaeum Theatre 14 & 16 November 2007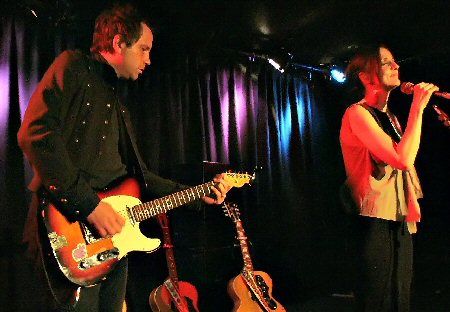 Patty Griffin with Doug Lancio - Northcote Social Club 14/11/07
In Australia even acclaimed singer songwriters take second place to cricket. When Patty Griffin was scheduled to appear on Keri-Anne Kennerly's show on Channel 9 on 11 November, instead of performing live, her appearance was taped due to the cricket being broadcast at the time.
Patty was understandably puzzled by cricket, as are all those not intimately acquainted with its rules and game play. She commented on it during her Athenaeum concert figuring that it was too complicated for her to pursue any further.
Her numerous fans in this country would have willingly forgone the cricket for the rare chance to see Patty perform live for the first time ever.
It was quite a night at the Wednesday sold out show in Northcote Social Club, as full of wonderful music and it was of people in attendance The more civilised accommodation at the Athenaeum Theatre on Friday night, undoubtedly more comfortable, was witness to a similar concert, each occasion containing a variation of songs from across her repertoire, inclusive of the albums Living With Ghosts, Flaming Red, 1000 Kisses, Impossible Dream and of course Children Running Through.
This is Patty Griffin's first tour of Australia, long awaited by those of us who have been fans of her music for years. It was a special occasion for this fan at least, where I couldn't just see her once. Needless to say, I was enormously impressed by both shows.
Karl Broadie was her Australian support act and he opened both shows with a short and engaging set, mostly playing songs from his recently released CD, One Million Emeralds. At the Northcote Social Club he performed solo and at the Athenaeum, John Kendall shared the vocals and provided wonderful violin accompaniment. Karl, an accomplished artist himself, was thrilled to be the support act for an artist of Patty Griffin's calibre and intimated that we were in for a real treat.
How right he was, not that anyone in the audience had any doubts about the quality of the performance they were there to witness.
Patty Griffin was superb. Her powerful and affecting voice was wondrous to hear in a live setting. Doug Lancio, her long-time musical associate is touring with her, playing lead guitar to her rhythm guitar. He provided solid guitar backing and also lent his voice in harmony vocals. Between the two of them, they made a rich full sound. At the Athenaeum show Doug Lancio provided percussive effects on a plastic chair for the rocker "No Bad News". It is a noisy almost abrasive song, in line with the bitterness of the lyrics, so Doug's chair bashing was appropriate for the occasion.

Though Patty's own songs naturally predominated, both Melbourne concerts included some beautiful covers, in particular Patty's version of the Bessie Smith song "Back Water Blues" and "Live Forever" a song penned by Billy Joe Shaver. Other covers were "Get Yourself Another Fool", made famous by Sam Cooke, and a wonderful French lullaby "J'irai La Voir Un Jour" which Patty confessed to learning from her grandmother.
Patty Griffin hails from a musically rich family, with both her mother and grandmother possessing naturally beautiful voices.
She sang the gorgeous "Trapeze" - a song from her latest album Children Running Through at both concerts. Patty described it as a song about a suicidal trapeze artist, inspired by the memory of a visit to the circus as a child. "Top of the World" a song regarded as one of the great songs of the modern age and one of my favourites, was a hit for the Dixie Chicks. It was performed at the Northcote show but not at the Athenaeum, which made me glad I attended both shows.
Other highlights included "Stay on the Ride", "Useless Desires" "When it Don't Come Easy", "Long Ride Home", "Poor Man's House" from her debut disc, Living with Ghosts and "Let Him Fly" another song made famous by the Dixie Chicks who have long lauded Patty's song writing talents. She introduced the song, "Heavenly Day" as being her first love song, written at the age of 41. It is in fact, she explained, about her dog. "Truth #2" another Griffin song recorded by the Dixie Chicks on their Home album, and on Patty Griffin's unreleased album Silver Bell, was a welcome addition to the songs performed at the Athenaeum.
Truth to tell all the songs performed were highlights for me. Patty's voice is perfect and so expressive it is hard to describe how it can tug at the heartstrings one moment, and then send chills down the spine at the next, and then rock one's soul to the core.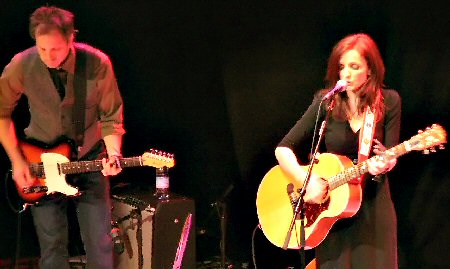 Patty Griffin with Doug Lancio - Athenaeum Theatre 16/11/07
Patty Griffin's on stage presence was endearingly natural and she came across as friendly and engaging. At the Northcote show she quickly developed a rapport with the audience and engaged in a lively discussion on Melbourne's history. She couldn't believe that the city was founded by Batman. "He's one of ours", she responded, until it was made clear that our Batman was the surname of Melbourne's founder. When introducing "Making Pies" at the Northcote show she remarked that she had been told that pies figured highly in Australian cuisine. The audience demurred at this statement, but Patty went on to explain the inspiration for the song "Making Pies" was drawn from Massachusetts where at a drunken 3.00am in the morning these particular pies were the snack of choice. They have been manufactured for over a century and are still very popular.
The couple of hours Patty was on stage flashed by at the speed of light. She limited the sets at both Melbourne shows to 13 songs with a further 3 for the encore.
Perhaps we won't have to wait too long for Patty Griffin to return to these shores. There was a solid rumour going around that she would be back, with her band, early next year.
Australian audiences, those that I was part of at least, made her extremely welcome. Patty was astounded by how polite we were, as apparently it's a different set of circumstances in the USA.
Review and photos by Anne Sydenham
Set List
Northcote Social Club - 14 November 2007
1. Get Yourself Another Fool (Sam Cooke cover)
2. Stay On The Ride
3. Making Pies
4. Useless Desires
5. Heavenly Day
6. Trapeze
7. Long Ride Home
8. Live Forever (Billy Joe Shaver cover)
9. Love Throw a Line
10. When It Don't Come Easy
11. No Bad News
12. Top of the World
13. Up To The Mountain (MLK song)
Encore:
1. You Never Get What You Want
2. Let Him Fly
3. Mary
Athenaeum Theatre - 16 November 2007
1. Icicles
2. Stay on the Ride
3. Trapeze
4. Useless Desires
5. Back Water Blues (Bessie Smith Cover)
6. Poor Man's House
7. Long Ride Home
8. Heavenly Day
9. Love Throw A Line
10. When It Don't Come Easy
11. No Bad News
12. Be Careful
13. Up To The Mountain (MLK song)
Encore
1. J'irai La Voir Un Jour (French song - cover)
2. Let Him Fly
3. Truth #2
See also:
Dave Dawson's Interview with Patty Griffin - 3 October 2007