DAVE'S DIARY - 3 OCTOBER 2007 - PATTY GRIFFIN INTERVIEW
PATTY FINDS KELLY NEATH MOSH PIT MOUNTAIN
"I went up to the mountain because you asked me to/ up over the clouds/ to where the sky was blue/ I could see all around me everywhere." - Up To The Mountain - Patty Griffin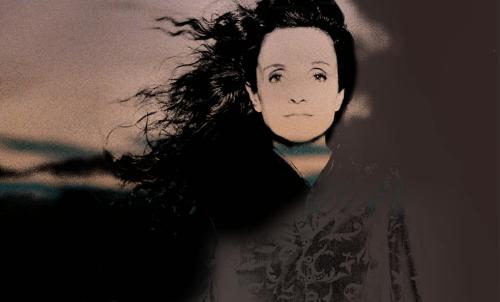 Patty Griffin was performing in Dallas when she had a vision as she sang her Martin Luther King tribute Up To The Mountain.

"There was this girl in the audience with a cowboy hat singing along to it," Griffin, 43, told Nu Country TV.

"I thought what a cute kid. After the show a friend of mine - guitarist Jimmy - brought her backstage. The girl said she really liked the song and wanted to record it. She was a little ahead on that one."

The girl was Texan pop star Kelly Clarkson - an American Idol winner - and one of the most lucrative coins in the Griffin song-publishing fountain.

Clarkson had a huge international hit with Up To The Mountain and performed it on her recent Australian tour - and sang Patty's praises in concert.

The songstress, born in Fort Worth (Cowtown), resurrected the song with legendary rock guitarist Jeff Beck on a huge rating American Idol special.

Clarkson also revamped the career of veteran singing Oklahoma born actress Reba McEntire by recording a hit duet with her on Because Of You.

This is all manna from heaven for Griffin on the eve of her belated Australian tour to promote her seventh album Children Running Through (ATO-SHOCK).

Griffin, born in the Old Town (8,000 population) in Maine and a latter day resident of Texas capital Austin, has soared from cult writer to revered icon.

She is also pushing her new DVD recorded at the Artist Den in New York City on February 6, 2007 - day of release of Children Running Through.

"The Artist Den is a beautiful old converted synagogue with neo Gothic arches and is run by the Angel Orensanz Foundation for the Arts," Griffin added.

"It was very cold but we lit it up by candlelight. It was magical night but so cold. We recorded 14 songs for the DVD."

Griffin performed guitar and piano with a special guest - legendary keyboardist and latter day Austin resident Ian McLagan of Small Faces and Rolling Stones fame.

But she's touring here with her guitarist Doug Lancio - they co-produced a previous album 1000 Kisses in his Nashville basement home studio.

ON TOP OF THE WORLD AND DOWN UNDER

"I wished I was smarter/ I wished I was stronger/ I'd wished I'd loves Jesus the way my wife does." - Top Of The World - Patty Griffin
Patty's publishing empire has become a hydra headed monster since The Dixie Chicks led a posse of major artists to cover her songs.

The Texan trio created a royalties' Tsunami when they recorded Truth No. 2, Let Him Fly & Top of the World and performed them on tours - here and overseas.

Others on the bandwagon include young Texan fireball Miranda Lambert who cut Getting Ready - also on Children Running Through.

"Miranda did her own thing with Getting Ready," says Griffin - the youngest of seven children - who once worked as a telephonist at Harvard before pursuing her muse.
"It worked really well for her."
The vast covers cast also includes Mary Chapin Carpenter, Reba, Martina McBride, Joan Osborne, Maura O'Connell, The Wreckers and Jessica Simpson.

Australian country chanteuse and frequent Texas tourist Kasey Chambers cut a live version of Top Of The World in a live Pay TV concert at Sydney Opera House.

"I wasn't aware of that," Griffin said in our previous interview.

"I met Kasey through her tour manager Greg Wilkinson. She's always coming over here. I was floored when I saw her perform - she's great. I was thrilled - I didn't know she covered one of my songs."

And Geelong Grammar educated pop princess Missy Higgins and comedienne Bette Midler, whose finishing school was the gay bathhouses of Manhattan, both covered Griffin song Moses.
EMMYLOU HARRIS
"Away beyond the blue/ away beyond the blue/ one star belongs to you/ one star belongs to you." - Beyond The Blue - Beth Nielsen Chapman-Gary Nicholson.
Emmylou Harris has also cut Griffin songs but the duetted on a cover of Beyond The Blue in the movie Where The Heart Is.

"We recorded that in the other century," Griffin revealed.

"We were in Nashville and it was written for a movie. It wasn't a very good movie but we had a great time recording Beyond The Blue."

Where The Heart Is was a 2000 movie, filmed in Austin.

The Matt Williams directed movie starred Natalie Portman, Ashley Judd (sister of country star Wynonna), Stockard Channing and Joan Cusack.

Photo by Ron Baker >
Mississippi born Beth Nielsen Chapman and Texan Gary Nicholson wrote the song that also appeared on the Australian Raven compilation Singing With Emmylou 2 and Harris's new boxed set.

Griffin's best-known credits include the Cameron Crow movie Elizabethtown, Susan Sarandon film Anywhere But Here and We Were Solders, but she's equally enthused about her acting and singing role in cult film Cremaster 2.

"It was a Matthew Barney creation," Griffin enthused.

"I performed The Executioners Steps and The Ballad Of Gary Gilmore. But I also had an acting role - I'm upside down in the movie. I didn't originally appear that way. They just turned me upside down. People love Matthew's work."
NO BAD NEWS
"Don't bring no bad news, no bad news/ I don't need none of your bad news today/ you're a sad little boy, anyone can see/ just a sad little boy/ that's why you're carrying on that way/ why don't you burn it all down/ burn your own house down, burn your own house down." - No Bad News - Patty Griffin.
Griffin's hefty touring schedule since her new CD debuted at #34 on Billboard charts has taken a toll on her songwriting.

"It's been so hectic I haven't had a chance to finish many new songs," Griffin added.
"I'm aware I need to write more for the next album but I don't have nearly enough. How's that for vague? I have maybe one or two songs but I have been doing a lot of playing this year."

So what about new social comment songs to accompany lauded gems such as I Don't Never Give Up and No Bad News?

"There is a little more positive action in America now on the political and social front but I haven't finished anything on that subject."

So did failure of singing Texan crime novelist and comedian Kinky Friedman in the Texas Gubernatorial campaign impact?

"Poor Kinky, he tried so hard," Griffin empathised.

And, so far, her CD sales have been so healthy she hasn't emulated Kinky's spiritual adviser Billy Joe Shaver whose a summary justice gunfight has been a fiery sales tool for his new gospel album Everybody's Brother.

"No, I have done nothing like that," she joked.

"I've got to work on that. I like to kid about those things."
WILLIE TSUNAMI BENEFIT CD
"Let's write a story of a tidal wave/ we run out of luck, we run out of days/ we run out of gas, a hundred miles away from a station/ there's a war and a plague, smoke and disaster." - Throw A Line - Patty Griffin
Although Griffin has lost track of the fate of her songs in movies and the vast galaxy of artists recording them she vividly recalls her pro-active social conscience.

She recorded the Willie Nelson song Angel Flying Too Close To The Ground for his Tsunami benefit CD.

"That was a great experience," she added.

"We recorded it here in Austin."

Although Patty records demos in her Austin home studio she has produced her most recent albums in other studios with co-producers Mike McCarthy and Craig Ross.

"Craig has recently produced expatriate Australian Angie Hart of Frente," Griffin said.

The Australian connection has accelerated her tour plans.

"It's going to be worth the trip, everyone raves about it," Patty enthused.
"I have talked to Gillian Welch and David Rawlings about it, also Buddy Miller and Emmylou. I want to visit the Botanical Gardens in Melbourne. I have heard so much about them. I never thought I would be lucky enough to go to Australia so I had better study up on it."
DISCOGRAPHY
CDS
Living With Ghosts (A & M) - 1996
Flaming Red - (A & M) - 1998
Silver Bell - 2000 - A&M refused to release it and ended her contract.
1,000 Kisses - (ATO) - 2002
A Kiss In Time - Live At The Ryman (ATO) - 2003
Impossible Dream - (ATO) - 2004
Children Running Through (ATO) - 2007
DVD-CD
Live At The Artist Den - (ATO) - 2007
CLICK HERE for Patty Griffin tour dates in TonkGirl's Gig Guide.
CLICK HERE for our previous interview with Patty in the Diary on March 1, 2006