MATT JOE GOW & THE DEAD LEAVES - BRUNSWICK BALLROOM 11/7/2021
JULY 11 – 2021
Matt Joe Gow & Dead Leaves
Ben Mastwyk
Weeping Willows
Kerryn Fields
Brunswick Ballroom
WEEPING WILLOWS RIVER OF GOLD
"Whatcha gonna do now your wheels won't roll/ driving too hard made you lose control/ through those miles and miles of pain/ you still dream to hit the road again/ whatcha gonna do now your wheels won't roll.?" - Wheels Won't Roll - Andrew Wrigglesworth-Laura Coates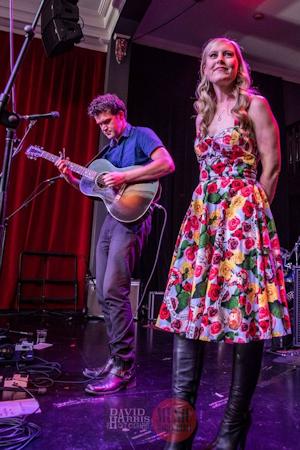 It was a chilly Sabbath on the mean streets of Brunswick but revered Highett bluegrass roots duo the Weeping Willows made the trip to the historic suburb where the Dawson clan settled at Phoenix Park after arriving on the Orient in 1840.
It was fitting I passed Dawson Street en route north to the two-story venue that lived up to its name as the Brunswick Ballroom.
This septuagenarian found a safe parking spot near where he visited long defunct Bombay Rock in the late host Michael Gudinski's halcyon years.
Today I climbed the steep stairs to the chairs beneath stained glass light filters in the roof.
My first two-steppers near the ballroom dance floor were Dead Livers co-founder and liver recipient Brendan Mitchell and sweet spouse and photographer Mary.
The Highett neighbours of The Weeping Willows arrived early as Brendan, who played on headliner Matt Joe Gow's albums and in his band in days of yore, also had his name on the door.
Expat Kiwi singer-songwriter Kerryn Fields opened the show with a selection of songs from her debut disc Rascal and second album Water, released on July 9.
The tall troubadour won wide applause for her new songs Atlantis, Queenie and Mamma and promised she would return later in the show.
Equally accessible were Weeping Willows with guitarist Andrew Wrigglesworth the butt, so to speak, of singing spouse Laura Coates humour.
But she also detailed the impact of the pandemic on touring, including a gig in Proserpine before the borders closed while introducing entrée song House Of Sin and Singing The Blues.
"Andrew and I have been married for three years but we write a lot of murder songs," was her take on the latter song and Black Crow - a song of doom and gloom - from the duo's EP Southern Gothic, released on June 4.
It followed their 2021 Tamworth Golden Guitar for Instrumental of the Year.
"We often argue over our song list but this next song is about some of our friends going through a painful separation," Laura revealed as she evoked pathos in her vocal delivery of Lonesome Now I'm Gone.
The duo exorcised their pandemic pain as Wrigglesworth upped his guitar tempo on the riveting Wheels Won't Roll.
"This next song is about skinny-dipping way back before the C word hit," Laura explained as they swam through River Of Gold.
"We did a covers album during lockdown as we both had jobs at schools," she explained as her Bentleigh music teacher maestro exhibited his guitar skills.
The duo dug deep for Walt Aldridge tune Ain't No Ash Will Burn, Pale Rider
from their second album Before Darkness Comes A-Callin', released in 2016, and the family left behind while the artist is on the road in Travelling Man.
"I hadn't been aware of Canadian duo Ian and Sylvia until recently," Laura said before they followed with their cover of Blind Lemon Jefferson staple One Kind Favour (See That My Grave Is Kept Clean .)
Ian and Sylvia may a hard act to follow but this dynamic duo hit all the high notes as Laura's falsetto peaked.
They finished their set with an uplifting version of Gertrude Ma Rainey classic C.C. Rider - also cut by artists diverse as Elvis and Old Crow Medicine Show .
It was an inspirational set that augurs well for their belated third album tracked, engineered and mixed by Roger Bergodaz, that may earn another Golden Guitar.
BEN MASTWYK MAGPIES TRIO TRIUMPH
It seemed apt that Ben Mastwyk eulogised his Collingwood roots on his entrée Gold Street - inspired by the Magpies suburb.
His mandolinist Craig Kelly shared the famous name of the former Collingwood champion and sire of two current AFL players.
Ben's bucolic belle on vocals - Brooke Russell - only recently decamped Mick Thomas's Roving Commission where she sang lead on his new single and video Captain Collingwood that featured on Nu Country TV .
Ben became a pinball wizard in his recent Nu Country TV debut with Chicken and the Egg - fourth single on his third album Livin' On Gold Street out on March 26 on Social Family Records.
But the only chickens tonight were those staying at home to watch Collingwood beat Richmond in the AFL on TV and missing his second tune Trouble's What I Found from the same album.
"I have no set list but my grandfather who worked for the SEC thought this song was about him," Ben quipped as his trio revisited the 1968 Glen Campbell classic Wichita Lineman.
His next tune One of Those Things - also on his new album - enabled mandolinist Kelly to cut loose as Brooke bubbled.
Opening act Kerryn Fields returned to stage to guest on If I Needed You - the late Texan Townes Van Zandt 1972 tune popularised by Emmylou Harris.
It brought back memories of the night I was chauffeur for Townes on his trip to the nearby Madigan's venue run by latter day French Island refugee Paul.
Townes had a penchant for drinking doubles while he was acting single and the petulant promoter blamed me for his merriment before he hit the stage at the old Druids lodge.
No sign of Druids as Ben's trio revived his version of Adelaide born chanteuse
Angie Hart's Happiness duet from his second album Winning Streak.
The singer then reached back to cover octogenarian Texan Rhodes Scholar Kris Kristofferson's Help Me Make It Through The Night as a duet with Brooke and a 2018 original inspired by his marriage break up.
The trio also cut loose on John Lennon classic Watching The Wheels Go Round
that appeared on Double Fantasy - his fifth album with Yoko Ono.
It was released on November 17, 1980, three weeks before he was assassinated on December 8 outside his Dakota Apartment in New York City.
I remember the date well.
I was the music writer for the Sydney Daily Mirror and the assassination occurred after the first of the four daily editions of the newspaper and I was assigned to write his obituary for the next three editions.
Ben's fitting finale was Cowboy Jack Clement penned 1962 tune Just Someone I Used To Know.
It was best known here for the late George Jones and Tammy Wynette, Porter Wagoner and very much alive singing actress Dolly Parton.
Cowboy Jack - one of the first Sun records producers in Memphis in 1956 - died at 82 on August 8, 2013.
But his music lived on in Brunswick.
Perhaps this ballroom would have been an apt locale for scenes when he produced 1975 horror film Dear Dead Delilah - the last film performance by actress Agnes Moorehead.
MATT JOE GOW REVIVES DEAD LEAVES NOT LIVERS
"I have been travelling down these streets alone/ like a river flowing to the sea/ like a child scorned though duly loved/ or a gypsy born of no belief/ every town that I lay my head/ before I sleep there's a moment's peace/ when she comes to me singing low and sweet I shall be released/ take me home sweet Georgia Rose, take me home let me live again." - Georgia Rose - Matt Joe Gow.
Ben Mastwyk returned to stage to announce arrival of another expat Kiwi Matt Joe Gow and his quintet now touring nationally.
Gow introduced his band - drummer Daniel Brates, fellow Dunedin expat bassist Robin Murphy, co-writer guitarist Andy Pollock - and singer Katya Harrop.
Matt Joe explained he had been stranded in his homeland with 35 gigs to help him survive during the pandemic.
But tonight his quintet was wired and inspired from their entrée cover before his original Bridge Over Concrete.
"It all started for me when I arrived here and recorded for Liberation and played the Retreat ," revealed Gow, now 42, who was born in Dunedin to Pharmaceutical professor Paul who still sings in choirs and retired lawyer mother Maria.
Gow led his band through another original Steady Life from his 2009 album The Messenger.
"I was living in St Kilda and the nearby trains destroyed my recording gear so I wrote this train song Steady Life ," Gow explained before following with At The Seams from the same album.
"I recorded Flowers In Your Hair with Bill Chambers on harmonica but didn't want to have to look into his eyes in the video so I cut him out of that," Matt gagged as he looked into Katya's eyes in their duet from his 2016 album Seven Years.
Gow's Dead Leaves injected a bluesy feel into his fourth album title track Break, Rattle & Roll before he recalled a trip to Bali before the pandemic.
"I played this next song I'm Your Man acoustic to my former partner and asked her what she thought," Gow recalled.
"She said 'it sounded better with your band.' We're not together now."
It may have also been a fitting intro to Down River that Gow wrote in his lounge in Yarraville after listening to a Tom Petty song based on a letter from Johnny Cash.
Gow thanked guitarist Pollack for his AC-DC roof rattler Running On Time that preceded his reality rooted original At The Bar.
"I was working at the Cherry Bar behind the bar and thought drinking was part of my job before the Occupational Health And Safety kicked in," Gow joked in his intro.
"I was fired."
Might have to check with mine host Jim Bob Young about that.
The quintet followed with their evocative original Light My Way and another duet with Katya on Ransom from Break, Rattle And Roll.
Gow also credited his mother for his acoustic song Between And Tomorrow set for his new album.
"I have a European passport from her and a Chinese passport from my dad," he joked before calling the Weeping Willows back on stage for collaboration Too Far To Go - one of their many videos on Nu Country TV.
Salient sequencing has long been a strong suit for Gow so he finished with family sourced Georgia Rose with all artists joining in for a rousing exit anthem inspired by his late Grandfather Jim for his second album Seven Years .
"I dedicate this to my mother, she's very sick and it's hard to talk about it," Gow revealed after caring for her over eight months in New Zealand.
"I owed her everything, she is the best mother anyone could have. She basically instilled all my music passion and taste from an early age and started me on piano at 7."
Kerryn and Katya shared lead female vocals.
It gave true meaning to the word Sabbath after a long sabbatical for all artists now stuck south of the Murray Dixon line.
CHECK our gig guide for all gigs by Matt, Ben and their merry women and men.
CLICK HERE for our Matt Joe Gow pre-pandemic interview in The Diary on September 26, 2018.
Review by David Dawson
Matt Joe Live Photo by Mary Mitchell