KIERAN KANE AND KEVIN WELCH
THE BASEMENT DISCS - 3 MARCH 2004
CLIFTON HILL HOTEL - 4 MARCH 2004

Kieran Kane and Kevin Welch started off their 2004 Australian tour with a bang. Literally!
Kieran Kane & Kevin Welch

at Basement Discs - 3 March 2004

The sound system at the Basement Discs took a dislike to Kevin Welch's Gibson guitar and emitted a loud blast of static that made everyone in the room jump, and forced the boys to stop mid-song.


Being the troupers that they are they decided to forgo amplification and continue in acoustic mode. After a quick transfer of chairs off the stage and into a space amidst the crowd, they launched into the interrupted piece again, the title song from their new album "You Can't Save Everybody".


They mostly performed songs from the new CD which was released first in Australia to coincide with the tour.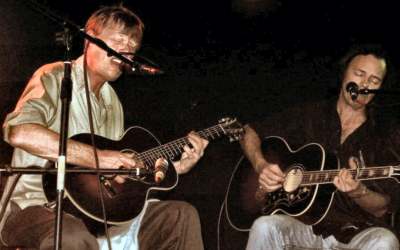 Kieran & Kevin Live at The Clifton Hill Hotel - 4 March 2004
In the Clifton Hill Hotel, Emerald Room the same problems were evident, though less dramatic. An ominous crackling was issuing from the speakers while the guys were tuning up causing Kevin to remark that they "would get back to that sensitive little number in a few minutes".
Kevin's guitar was obviously the culprit again, so Kieran started off the night with his song "Somewhere in the Middle", and as Kevin was still struggling with his avowedly cursed guitar, Kieran gave us a banjo instrumental "Cecil's Lament". The tune, as Kieran explained, was a consolation prize for his daughter, as he had originally bought the banjo for her and appropriated it for himself.

Having finally got his guitar under control Kevin treated the crowd to the Ron Davies song "Dark Eyed Gal" a tribute to Davies who died during Kevin's last tour in Australia in October/November last year.

The performance went smoothly for the next few songs, the partners swapping numbers while accompanying each other, Kieran singing "In a Town This Size" and Kevin doing "Something 'Bout You".

Kieran Kane with banjo
An audience request was granted when Kieran performed "Four Questions" much to crowd's satisfaction, closely followed by Kevin's song "While I was Loving You".
Kieran performed the title track to his 2002 Album "Shadows on the Ground", before trouble struck once more.
While Kevin wrestled with the baleful guitar, Kieran was reduced to telling jokes, the one about the frog and another about potatoes.
"Killing Myself" was Kevin's next contribution with Kieran accompanying on mandolin.
They performed two more songs, "Hillbilly Blue" (Kieran) and "Jersey Devil" (Kevin) before claiming a break to sort out the various problems with sound and guitar.
As promised before the break, Kieran and Kevin, played late into the night, performing another 14 songs, plus 2 encores, before calling it quits. (see the song list below). These included a "weird story" song from Kevin, "Witness", OPS (other persons songs) Jesse Winchester's "Love is Fair " (Kieran), Train to Birmingham by John Hiatt (Kevin) and Hank Williams' "Ramblin' Man" (Kieran).
Overall, they played for a very generous three hours.
THE GUITAR behaved itself, Kevin claiming that he had given it a stern "Come To Jesus" talking to during the break.

The show was most entertaining, Kieran and Kevin, both being in fine form. Kieran, who experienced no problems with any of his instruments, varied between mandolin, banjo and guitar, playing them all most skilfully though Kevin stuck doggedly to the problematic guitar, a J200 Gibson. He had earlier explained that this guitar was not his preferred instrument, that being his 185 which he is reluctant to travel with owing to a propensity on the part of Airlines to damage it.

The atmosphere was relaxed and friendly, with good rapport between artists and audience. A few noisy customers were effectively silenced (or drowned out) by the quality of the entertainment.

Kevin Welch with THE GUITAR
As it has been some years since we have seen the two Dead Reckoners performing together in Australia, it was wonderful to re-experience that special magic that seems to happen at their concerts.
Fine performers though they are individually, in tandem the pleasure is enhanced.
Kieran Kane and Kevin Welch will be returning to Melbourne later this month for more shows. Check out the Gig Guide for when and where.

Text and Photos by Anne Sydenham 2004
1. Somewhere in the Middle - KK
2. Cecil's Lament (instrumental) - KK
3. Dark Eyed Gal - KW
4. In a Town this Size - KK
5. Something 'Bout You - KW
6. Four Questions - KK
7. While I Was Loving You - KW
8. Shadows on the Ground - KK
9. Killing Myself - KW
10. Hillbilly Blue - KK
11. Jersey Devil - KW

Break
1. Callin' Me - KK
2. Anna Lise Please - KW
3. Just Like That - KK
4. Flycatcher Jack and The Whippoorwill's Song - KW
5. Honeymoon Wine - KK
6. Everybody's Working for the Man Again.... - KW
7. Eight More Miles - KK
8. Witness - KW
9. Love Is Fair - KK
10. Train to Birmingham - KW
11. Ramblin' Man - KK
12. Till I'm Too Old To Die Young - KW
13. You Can't Save Everybody - KK
14. Kicking Back In Amsterdam - KW

Encore
1. When We're Gone, Long Gone - KK
2. Life Down Here On Earth - KW

Frog Joke (as near as I can remember)
An old man is walking in the woods one day and he comes across a talking frog.
The frog addresses the man saying that a kiss will turn it into a beautiful princess.
The old man thinks about this for a while, then says, "At my age I'd prefer a talking frog"