DAVE'S DIARY - 2 SEPTEMBER 2016 - KACEY JONES OBITUARY
KACEY JONES DEPARTURE – FIRST DAY OF SPRING
"You got to me like a nasty habit, baby/ I was really hooked on you/ but now I see my chance and I'm gonna grab it/ tell you what I'm gonna do/ I'm gonna call on all my willpower/ it might take a year, it might take an hour/ gonna quit you cold turkey/ quit you cold turkey, quit you cold." - Cold Turkey - Kacey Jones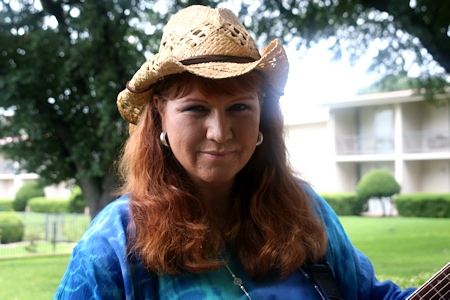 Photo by Carol Taylor
Acclaimed singer-songwriter, comedienne, producer, Nu Country TV host and showcase headliner Kacey Jones has died at 66 on the first day of spring in Nashville.
In 2014 Kacey was diagnosed with Stage 3 colorectal cancer - instead of chemo, radiation and surgery, she opted for alternative, holistic therapies.
She launched a Go-Fund-Me account to pay for these and entered hospice care early in August.
Despite chronic pain, she was well enough in 2015 to compete on TV's America's Got Talent where she performed her timely parody Donald Trump's Hair - title track of her 2009 album - that we also featured on Nu Country TV .
y chauffeurial duties including Kacey and fellow singer-songwriter Becky Hobbs transport when they performed our showcase at the Noise Bar at the historic Railway Hotel , in Brunswick on February 1, 2008, with local artists the Bona Fide Travellers .
Their concert was featured on Nu Country TV just two years after she hosted our TV show from Austin, Texas, in July, 2006, while performing the annual Mickey Newbury festival with singing actor Waylon Payne.
Camperdown born journalist-photographer Carol Taylor filmed and recorded the hosting role and interview.
That same year she recorded tribute disc Kacey Jones Sings Mickey Newbury - a celebration of the songs penned by the Texan legend who died of pulmonary fibrosis at 62 in 2002, leaving behind a rich 550-song treasure trove that fuelled artists diverse as Elvis, Jerry Lee Lewis and seven times wed former convict star David Allan Coe.
Kacey met Newbury 36 years ago after a session at the Acuff Rose studios in Nashville where he was recording solo tracks.
Newbury toured Australia in 1983 - seven years before singing Texan crime novelist Kinky Friedman whose first multi-star tribute album Pearls In The Snow was produced by Kacey in 1996.
It feature a diverse cast including Shotgun Willie Nelson, Asleep at the Wheel , Delbert McClinton, Lyle Lovett, Dwight Yoakam, Lee Roy Parnell, Guy Clark, Tompall Glaser, Marty Stuart, Chuck E Weiss and Tom Waits and hit No. 1 on the Americana charts in 1999.
It evolved from a weird cosmic connection when Kacey's embryonic comedic country trio Ethel & The Shameless Hussies opened for The Kinkster in 1988 in Washington D.C.
When I first interviewed Kacey in Nashville on October 12, 1988 she performed acoustic songs for 3RRR-FM radio show High In The Saddle with The Shameless Hussies .
It began a long joyous journey that ended too soon and far from Kacey's birth as Gayle Zeller in Gilroy - the garlic capital of California.
HOW KACEY LAID WAYLON ON THE LOST HIGHWAY
"It was a quarter past eleven, I was just out for a ride/ when I saw those blue lights flashing/ so I pulled off to the side and out stepped the cutest law enforcement officer I ever saw/ last night I really laid down the law." - Last Night I Really Laid Down The Law - Mark Sameth .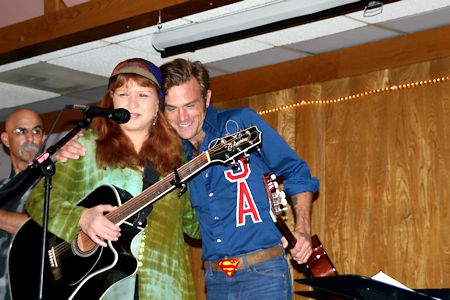 Kacey Jones & Waylon Payne - photo by Carol Taylor
Kacey's career began when she recorded for an independent label in San Francisco.
She co-wrote 1985 Mickey Gilley top-10 hit I'm the One Mama Warned You About - the same year David Allan Coe also recorded her song Cold Turkey.
When she moved to Nashville in 1986 she initially hoped to be recorded as a serious singer-songwriter.
But then she formed Ethel & The Shameless Hussies with Becki Fogle (Bunny O'Hare) and Valerie Hunt (Blanche Hickey).
Her character in the group was called Ethel Beaverton.
They took their name from the Ray Stevens lyric in his hit The Streak , signed with MCA Records and issued debut album Born to Burn in 1988 .
They made the charts with the singles One Nite Stan in 1988 and It's Just the Whiskey Talkin' in 1989.
Ethel's lead vocal in Last Night I Really Laid Down the Law was reinforced in the memorable guest cameo by the late Waylon Jennings playing the role of a highway cop whose badge was detached in the lusty roadside surrogacy enforcement in lieu of a fine or court penalty.
Other memorable tunes include Smokin' in Bed and Up Against Your Love.
The group was nominated as Comedy Act of the Year at the Music City News Awards and remained together for four years.
KACEY'S FAVOURITE PEOPLE INCLUDED OLIVIA NEWTON-JOHN
"He's got a Sears And Roebuck polyester suit/ he wear nineteen dollar imitation lizard Walmart boots/ he took me out to lunch today/ he's a real spam gourmet." - 1-900-Bubba - Kacey Jones-Wynn Varble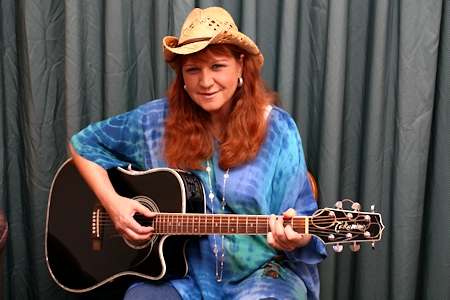 Photo by Carol Taylor
ater in the 1990s Jones kicked off her solo career with 1997 CD, Men Are Some of My Favourite People , on Curb Records .
Kacey promoted it with two music videos, 1-900-Bubba and I Hate Your Lousy, Rotten, Stinking Guts But I'm Not Bitter.
She also appeared several times on NPR radio and TV show A Prairie Home Companion and all major music magazines and newspapers.
Kacey landed her songs on diverse movie and TV show soundtracks including Beau Bridges cult favourite Sordid Lives starring Olivia Newton-John, Delta Burke, Bonnie Bedalla and Leslie Jordan.
The movie won the Grand Jury Prize at the New York Independent Film & Video Festival.
Kacey met Olivia, who played a former Texan convict and latter day lesbian country singer, at a Hollywood party for the Del Shores directed movie.
Kacey and late movie co-producer Sharyn Lane - her long time writing partner penned three songs for the "black comedy about white trash."
Sordid Lives parodies the funeral of a matriarchal Texan grandmother who dies after tripping on one of the two wooden legs of her two timing lover, played by Bridges.
The year was 2001 and Olivia suggested Kacey belatedly tour Australia - a dream she had since her 1988 debut with Ethel & The Shameless Hussies .
That tour suggestion followed a lengthy conversation about romance, death, music and Australian Rugby stars.
"Olivia was cast as a former Texan convict and lesbian country singer," Jones told Nu Country TV on the eve of her debut with Becky Hobbs at The Noise Bar at the Railway Hotel , Brunswick on Friday February 1, 2008.
"It was a tad different to Grease and Xanadu so we had a broad palate to work with."
The resulting Jones-Lane songs - Someone to Grow Young With, No Fault Love and Get Off the Cross, We Need the Wood - resonated with Newton-John.
I met Olivia at the party at Sharyn's house," Jones added.
"Olivia is a lovely person. She suggested I tour Australia - a dream I'm fulfilling."
"I also shared with Olivia that I had nearly married a professional rugby player from Sydney back in the late seventies," Jones confessed.
"I met him while I was playing at a resort in Alberta, Canada. She asked me why the nuptials never came to pass. I told her it was because after a few months of dating, I discovered his favourite thing to do at night was to stand at the end of the bed, butt-naked, and sing rugby songs, with a beer in each hand. To which she replied, "I'll bet he was still wearing his socks." She was correct - wonder how she knew? Do all professional Australian rugby players sing naked at the end of the bed with their socks on?"
EVERY MAN I LOVE IS EITHER MARRIED, GAY OR DEAD
"Every man I love is either married, gay or dead/ I can't find a single man to share my double bed/ there's a ring on their finger or they're light on their feet/ or there's a tombstone on their head." - Every Man I Love Is Either Married, Gay or Dead . - Rich Fagan-Sharyn Lane.
Other recipients of Kacey songs included Cledus T. Judd, Richard Fagan, Ray Stevens and Marshall Chapman who played Gwyneth Paltrow's roadie in the Tim McGraw-Paltrow movie Country Strong .
She also formed her own label IGO - Irritating Gentile Optimist Records - and publishing companies Zamalama Music (BMI) and Mamalama Music (ASCAP).
Kacey signed country traditionalist Leland Martin to IGO, and he charted with If I Had Long Legs (Like Alan Jackson) in 2002 and Hey Love, No Fair in 2003.
Her own recording career featured Every Man I Love Is Either Married, Gay or Dead (2000), Never Wear Panties to a Party (2001) and The Sweet Potato Queens' Big-Ass Box of Music (2003).
Her 2000 duet with Delbert McClinton on You're the Reason Our Kids Are Ugly - originally a hit for the late Conway Twitty and Loretta Lynn, now 84 - was a big hit in Europe.
In 2001 Jones became a regular on the nationally-syndicated ABC morning radio show, Charlie & Darcy.
She was dubbed The Royal Minstrel to the Sweet Potato Queens' Court .
This was a network of fans of Mississippi author Jill Connor Browne's series of Sothern-belle Sweet Potato Queen books. Their anthem was Jones's tune Be Particular.
RICHARD FAGAN PRE-DECEASED KACEY IN AUGUST
"I miss my man but my aim's getting better/ he turned into a pig and left em for a big old sow/ gonna drop him a bomb in a tear stained letter/ if I'd shot him when I first met him I'd be outa jail by now." - I Miss My Man But My Aim's Getting Better - Kacey Jones-Richard Fagan.
Other Kacey classics included Christmas In Rehab, Whatever Happened to Kenny Rogers' Face, Show Up Naked - Bring Beer, I Wanna Be Up Front Like Dolly, Dressing Up for the Pizza Man, I Can Always Get Skinny But You'll Never Be Tall , Put the Seat Back Down and I Miss My Man (But My Aim's Getting Better) and I Could Get Over Him If I Could Get Under You.

Her more recent albums included Nipples to the Wind with Deborah Liv Johnson in in 2007, Kaceyoke in 2008 and Donald Trump's Hair in 2009 .

Her most recent album was 2014's Amen for Old Friends that combined comedic and serious tunes and resurrected original hits I'm The One Mama Warned You About and Cold Turkey .

In recent years she did a series of in the round shows with Becky Hobbs and Benita Hill.

They were billed as A Cowgirl, a Diva and a Shameless Hussy and wrote together.
Her other songwriting/performing trio was Phillybilly with Richard Fagan who died at 69 on August 5 - just three weeks before Kacey - and Joe Collins.
In February a vast cast of her peers staged a benefit show for her at the famed Douglas Corner Café in Nashville.
They included Rafe Van Hoy, Alan Rhody, Kent Blazy, Roger Cook, Wood Newton and Jonmark Stone.
"I haven't gone public till now because I still felt strong enough to tour and perform (yes, this means I was aware of my diagnosis during all those months I was on America's Got Talent )," Kacey revealed late last year.
"The truth is, I need to stay off the road so I can stay home and focus on complete recovery. I absolutely expect to prevail in this battle if I can just stay on this wellness path.
"I first announced this news at the November 23 show I did with Kinky Friedman on The Woodsongs Old Time Radio Hour , hosted by Michael Johnathon.
"It was one of the hardest things I've ever done, but it was also a major relief to finally be able to talk about it. After my announcement, I closed the night with a song called Amen for Old Friends written by Mickey Newbury."
CLICK HERE for an interview with Kacey in the Diary on September 10, 2006
CLICK HERE for the Kacey-Becky Hobbs road trip in The Diary on February 11, 2008.
CLICK HERE for the Kacey-Becky concert review in The Diary on February 1, 2008.
CLICK HERE for an interview with Kacey about Olivia in The Diary on January 20, 2008.
CLICK HERE for a 2014 Kacey CD review in the Diary on August 18, 2014.