DAVE'S DIARY - 11 FEBRUARY 2008 - BRUNSWICK OR BUST
ON THE ROAD WITH THE SHAMELESS HUSSY & THE COWGIRL
ON THE ROAD TOO LONG

WITH A SHAMELESS HUSSY AND A COWGIRL

BRUNSWICK OR BUST

"Every man I love is either married, gay or dead/ I can't find a single man to share my double bed/ there's a ring on their finger or they're light on their feet/ or there's a tombstone on their head." - Every Man I Love Is Either Married, Gay or Dead. - Rich Fagan-Sharyn Lane.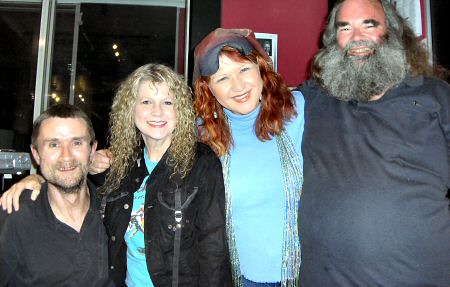 David Heard, Becky Hobbs, Kacey Jones & David Dawson
It was a spiritual homecoming of sorts - returning to the ancestral home for a concert with a Shameless Hussy and a Cowgirl.

And it happened just 157 years after the Dawson clan arrived in Victoria on the Orient on December 12, 1840, and farmed the rolling plains of Phoenix Park in Brunswick.

It was perhaps fitting there were no livestock grazing in the Dawson Street hinterland as Nashville comedienne Kacey Jones and stone country singer Becky Hobbs arrived for their sound check at the Noise Bar at the Railway Hotel.

Jones, born near Gilroy, California - garlic capital of the world - and Hobbs from the tiny Oklahoma town Bartlesville - were beaten to the bucolic bar.

Instead, first cab of the rank was Becky's benefactor Rodger Delfos of Dead Livers fame who purloined his daughter Connie's Kurzweil piano for the Hobbs-Jones Nu Country TV debut.

Delfos, multi-instrumentalist in support act Snowy Townsend's Bona Fide Travellers was one of the first to arrive and last to leave.

Well, he wasn't exactly on site when sheep and cattle roamed far and wide at Phoenix Park as the brickworks dominated the skyline in the 1850s.

Or when clan tributaries set up shops in bustling Bourke St when patriarch Michael Dawson bought the farm in 1841 - and also died there at 63 on June 1, 1875.

But Delfos gave the duo essential audio relief on an odyssey of sorts that kicked off on January 17 in the wild west of Geelong - greatest team of all.
NASHVILLE TO GEELONG
"Gold is not as golden as his golden hair/ when his blue eyes sparkle even starlight can't compare/ he stole my heart but it was grand theft/ I thought he was Mr Right but he left." - Kacey Jones-Barbara Cloyd.

So let's jump a century and a half and backtrack to the seeds of Jones tour - October 12, 1988.

That was when I first interviewed Kacey in Nashville when she was leader of MCA recording trio Ethel & The Shameless Hussies who were launching their debut CD Born To Burn.

The interview, replete with live performance on my sturdy Marantz recorder, was the catalyst for Australian airplay on High In The Saddle on RRR and PBS, Nu Country and way beyond.

Kacey activated her dream to tour here by ensuring diverse distributors released her albums in Australia.

Becky was reliant on import stores and community radio and TV fanning the flames.

But, ironically, it was Hobbs who activated plans for the belated tour in the summer of 2008.

Becky and fellow honky tonkers - Texan Sunny Sweeney and Missouri born Dallas Wayne - were originally booked as a triple-header tour with Bill Chambers.

But late in spring the wheels fell off and Hobbs was left riding solo until she shared a car trip home with Jones to Nashville from a gig.

Becky revealed she was booked to perform on the Tamworth Country Music Train - stopping all stations from Geelong to the Peel River plains on January 19.

So, with a name like Kacey Jones, it was a classic case of Hey Porter - Hold On I'm Coming - and Jones convinced the Catland loco promoter Arthur Smith to give her a belated berth.

It was not a Hollyweird chapter like Jones soundtrack triple shot on 2000 Del Shores movie Sordid Lives - but a caboose cameo as Jones, Hobbs and Nashville singer Julie Taylor and a local posse sang for their supper.

Although the Tamworth Train didn't leave Geelong until dawn on January 19 the trio flew into Tullamarine on January 17 before heading west on Highway 1 to Geelong.

Their nest was not a Frank Costa hideaway at stately Eastern Beach but the home of promoter Arthur's partner's mother - a spritely 82 year-old.

So what do you do in Geelong if Costa's cats are not on the prowl or displaying the Premiership silverware at various venues?

Well, when the Internet cafes douse the lights why not tread the boards and have a flutter with other sleepy hollow habitués in the surrealistic surrounds of the stately Sphinx en route to where the buses don't run.
THE KINKSTER AND THE SPHINCTER
Arthur's mother-in-law was a dab hand at pulling pokies levers so the trio set to work exploring the bowels of The Sphinx.

Yes, The Sphinx at the Vegas end of Geelong West - the Taj Mahal for the Pharaohs and Pharisees seeking shelter from the desert storms of life.

Little did the artists know that when this direction challenged driver became lost as chauffeur for Kacey's chums - singing Texan crime novelist Kinky Friedman, Little Jewford and Billy Joe Shaver - in February 2002 his first port of call for compass chat was The Sphinx.

"This will become Australian HQ for Sphincter Records," Jewford jabbered as The Kinkster shook his cigar in the shadows of The Sphinx while his pianist explored why his Houston based record label needed Australian digs.

And, like a dingo in the desert, we remounted our Tarago and found the Bell Post Hill Sports Club at Batesford where that memorable, mirthful show shook the shite out of all present.

But that was then and this was now - long after Jones graduated from producing The Kinkster Tribute disc Pearls In The Snow to recording her own tribute disc to the late Texan legend Mickey Newbury.

Arthur's mother-in-law had long decamped The Sphinx with the Nashville trio by the time Nu Country membership officer Peter O'Keefe, fighting Friday night road works on Highway 1, arrived with flyers for the Noise Bar gig.

The flyers, a marketing tool, were designed to provide stimulation for train travellers and patrons of the Family Hotel in Tamworth where Kacey and Becky performed on January 23 and 24 - the latter being Becky's 58th birthday party.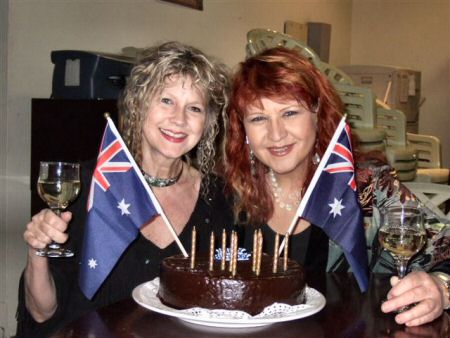 Becky Hobbs & Kacey Jones with birthday cake
Photo by Anna Rose
But, alas, we'll never know if mama won a mint or suffered the Sphinx jinx.
MERLE AND THE GIRLS
"Mama was a green eyed city girl/ a perfect lady in her lace an pearls/ daddy was a wild haired country boy/ and I was their little bitty bundle of joy." - Mama's Green Eyes (And Daddy's Wild Hair) - Becky Hobbs- Don Goodman-Jerry Hawkins
Kacey, Becky and Julie were eager to sing for their supper on the Tamworth Train so it was lights out and silence for the early birds to catch the dawn worm at the Geelong station.

But on arrival at the Southern Cross colossus - replete with a roof that may have made a Sphinx blush - the passengers decamped and mounted a bus to travel on Highway 31 to Albury to catch the border town loco to the country music capital.

Now, it's many moons since I have ridden in the swank sleeping cars of the Spirit Of Progress so I can't comment on the, ah, progress.

But I suspect it's not like Billy Joe's Amtrak (And I Ain't Coming Back) or sibling of the interstate train that Californian former convict-country legend Merle Haggard rode on his 1996 Australian tour.

On that occasion Boxcar Merle requested and received an extra private smoking car to travel to the cultural hot spot of Adelaide.

There were no such smoker requests by Kacey or Becky or indeed for a coterie of cats to swing in their sparse sleepers.

This was a character building adventure - with no ablution facilities or aqua activities at stations - that has already produced Jones song I Was Caught On The Crapper At Cootamundra.

Suffice to say the combatants survived and fellow passengers were ably resurrected to attend the Noise Bar concerts.
BALD FACED STAG
"Aged to perfection in her prime/ years since she was on the vine/ and she knows just what to do/ yeah, it took a lot of livin' just to get here." - Woman Getting Older - Becky Hobbs.
Kacey and Becky dismounted the loco at the West Tamworth station and found solace in the arms and warm showers of the Family Hotel hosts Joan and Bevan Douglas and popular publicist Anna Rose.

Their Tamworth concerts, aided by a half page feature in the Northern Daily Leader, resulted in crowds of 300 each night with 300 fashionably late patrons turned away. Dead Livers bassist Michael Schack, on a two-week music sabbatical with one of his six alternate bands Rusty Buckets, arrived early enough to find a vertical visionary position at the men's room door of Dom's Honky Tonk in the Family.

The librarian, from the Koroit satellite suburb of Yarpturk, was one of the chosen few to catch the Shameless Hussy and the Cowgirl before another of his Shipwreck Coast bands Lost In Suburbia performed on the Sabbath at the Hotel Warrnambool while he was in absentia.

Meanwhile Kacey and Becky enlisted services of 2RRR-FM DJ Eddie White to score a gig at the Bald Faced Stag in the inner western suburb Leichhardt - named after the Prussian scientist and explorer Friedrich Wilhelm Ludwig Leichhardt.

The suburb, not the bar, took its name from the explorer who fronted in 1842 and led an expedition from Dalby in the Darling Downs in Queensland to Port Essington.

Luckily for the lasses their train didn't take the same route - Friedrich went to God at 35 in 1848 after a short but eventful life.

Instead it was Eddie, not quite asleep at the wheel as chauffeur, who drove the divas up and down the mean streets of sin city after picking them up from their decidedly upmarket digs - the Douglas family Darling Harbour apartment with a multi-million dollar view of trains, planes, boats, yachts, limos and everything.

There was no need to worry about being caught short on the throne at stations.

This enabled them to strut their stuff for a celebrity-studded audience - few of whom had decamped from the train way south of the Murray Dixon line two days earlier.

Fast Eddie also ensured his charges and luggage reached the Mascot tarmac on time for their Virgin Blue flight to Tullamarine where the baton change took place with aplomb in a Subaru Outback hired for the occasion.

FROM MELROSE DRIVE TO EASEY STREET
"And if you're back in Oklahoma and you're very feeling lonesome / lookin the yellow pages under blue / I'll be in the yellow pages under blue." - Yellow Pages Under Blue - Becky Hobbs.
It wasn't hard to find Jones and Hobbs at terminal 6 - the devil had already been down to Geelong.

Now, with just a guitar, a laptop or two and phalanx of suitcases it was time for some Hollywood touring.

The passengers suggested a short spin on Melrose Drive - maybe a glimpse of Paris, Britney, Nicole & Keith or a peeping Tom and Katie.
< Becky's boots - photo by Anna Rose
But this was Melrose Drive, Tullamarine, where they shared digs three nights before with a roach or two.

Not with the latter day Noosa scribe J J McRoach - the 1977 Honourable Marijuana Party Senate candidate who scored 18,000 first votes just 31 years earlier - but with those little black critters who become banal baggage.

This excess baggage pick-up from the storage castle at the Best Western was the only pit stop before arriving at yet another Best Western at Princes Hill with a leafy view of the Carlton footy club colosseum.

Aided by Con - the motel useful - we airlifted guitars, bags and everything to Level 1 where the artists freshened up in their apartment, replete with kitchen, for the trip to Easey St for an afternoon rendezvous.

Easey Street may be light years away for country and comedy artists seeking airplay on mainstream radio but in every cultural desert there is an oasis.

David Heard, celebrating 30 years in the saddle at PBS - 106.7 FM - provided one in the studio of his Thursday temple - Acid Country.

The duo, whose radio hosts down under ranged from syndicated veteran Nick Erby to the avid volunteer Armies of community radio, were soon at home on Easey Street.

Heard, oft invaded by a motley crew of country, folk and roots battlers with gigs and CDS to flog, had fond memories of his encounter with singing Texan crime novelist Kinky Friedman in 2002 and other literate lads and lasses.

So, with Heard's impeccable research, this proved to be the creative radio pinnacle of the tour.

The host, unlike some community radio riff raff, did not try to upstage his guests - he dug into their colourful past and let them regale listeners with highlights of their rich careers dating back even further than his own radio birth.

With the interview interspersed with live renditions of comedy and stone country, this was riveting radio - a trusty template for chappies and chappettes learning the ropes.

It was no surprise their appearance, feeling like a short 10 minute cameo, lasted more than an hour - with host Heard mixing the live performance without losing a beat.

And, unlike the two young women murdered at nearby 147 Easey Street in January 1977, there was no blood on the tracks in studio 1.
FROM K-FAT AND K-PIG TO KRML
"I miss my man but my aim's getting better/ he turned into a pig and left em for a big old sow/ gonna drop him a bomb in a tear stained letter/ if I'd shot him when I first met him I'd be outa jail by now." - Kacey Jones-Richard Fagan.

Jones likened it to the pioneer seventies alternate Californian free form station KFAT-FM that long ago morphed into K-PIG-FM.

Those stations blazed a trail in the geographical environs of Clint Eastwood's Carmel based KRML-FM - locale for his 1971 movie Play Misty For Me - where he became mayor in 1986.

Jones and Hobbs were so impressed with host Heard they requested and received a CD of their appearance for posterity and family.

Radio is thirsty and hungry work but Heard passed on doing a Lygon Street limbo and dinner in Carlton for a prior commitment with Billy Bragg.

The hunger of the divas was such they resisted running the gauntlet of street spruikers and settled on the first offer of a three free glasses of vino as a bribe to dine.

Becky Hobbs & David Dawson

Then it was back to the motel for Hobbs and work for Jones as she entertained Derek Guille and his many 774-AM listeners in another hour song special.

It was there that Jones revealed she was so fascinated by Australian town and suburb names she had begun writing a song on the subject with such exotic locales becoming body parts.

She repeated the story of being caught short on the Tamworth Train at some stations and writing I Got Caught On The Crapper At Cootamundra.
It was laugh a line radio as the phones and Internet ran hot with listener suggestions including Poowong, Koo-wee-rup and Nar-Nar-Goon, to compliment Dandenong, and, of course, Pakenham Upper from a Gippsland gal.

Rapport between musician host Guille of Ugly Uncles fame and country comedienne and songwriter-producer was warm enough to suggest a repeat on future tours.

Although the night was still young the chauffeur, suffering from Hopkins River fever and Port Fairy surf hearing defects, was feeling decidedly old and left his charges at her motel.
FRIDAY ON THEIR MIND
"He's got a Sears And Roebuck polyester suit/ he wear nineteen dollar imitation lizard Walmart boots/ he took me out to lunch today/ he's a real spam gourmet." - 1-900-Bubba - Kacey Jones-Wynn Varble
The chauffeur arose at dawn to drive his valuable cargo to even more salubrious digs at the suggestion of roots promoter Rob Hall.

The two-bedroom apartment at The Quest in Walpole St, Kew, was befitting of divas of the calibre of Jones and Hobbs.

It was also dues east on the Lost Highway to their cerebral Saturday gig at the Bayleaf Restaurant in downtown Dandenong.
But this was Friday and Jones saved the chauffeur's back by persuading mine host to move their digs from upstairs to the ground floor - a short drop kick from the pool.

After having sacrificed an interview with Richard Stubbs on 774 AM by replying too late this was a rest day in preparation for a hectic night.

So when the convoy arrived at the Noise Bar for a 5.30 p m sound check there was a crowd milling.

First cab off the rank was Barry Wass - former owner of long defunct CBD record store Honky Tonk Heaven and host of Friday night INR-FM show Honky Tonks & Heartaches in Warringal Mall in Heidelberg.

Wass, who has played both artists from the embryo of their careers on his show, was rewarded with a backstage interview.

The veteran DJ, victim of a pair of major strokes and eight seizures after being pistol-whipped in the second of two armed robberies at a north of the Yarra inconvenience store, was set to be on air when the stars were on stage.

Also waiting were Delfos who had already set up daughter Connie's piano for Becky.

And, of course, Kip Karpik - photographer to the stars and CD slicks who was aiding and abetting recording of the show from sound engineer Ray Moon's desk.

Other early birds, from as far afield as Colac, flew through the doors to secure their squatting rights - not on the former farmland but the chairs and tables dusted down for the concert from backstage storage.

This was a mature age audience - not the rabid rodents, poncing punks and ecstasy bunnies that roamed the CBD and inner suburbs after dark.

Membership officer Peter O'Keefe arrived early with baggage - a suitcase for Jones - and two hats (merchandising and door bitch.)

The former Nu Country FM Lubbock Or Leave It host also doubled as fruiterer for the artists and interior decorator for the Texas flag, Jones tee shirts and concert flyers.

Another early bird was former Eltham egret Leslie Avril, fresh from Tamworth cameo with Hobbs on Cowgirl's Heart, and eager to reprise the role.

The before dusk denizens enjoyed a sound check by Jones and Hobbs and support act Snowy Townsend's Bona Fide Travellers who performed Danny O'Keefe epic Good Time Charlie's Got The Blues as a teaser on the latest episode of Nu Country TV.

No need for a music review here - suffice to say it's in our review section.
CLICK HERE for the review.
IF THE PHONE DOESN'T RING IT'S ME
"I know the headlines/ don't have to read the news/ I can't feel read bad/ without singin' the blues/ I'm looking down and it's a long hard fall/ I got the message when you didn't call." - Kacey Jones-Sharyn Lane.
Becky Hobbs & Kacey Jones - Noisebar
Photo by Kip Karpik
The artists, blending Hobbs anthemic honky tonk hurting songs and Jones' comedic gems and Mickey Newbury classics, should not have had sonic static.

But they did - not from the hi-tech sound desk but midst the fans perched on dusted down chairs and tables retrieved from storage at dusk.

This was indeed the Lubbock Or Leave It hit pick of the night.

The jingle jangle that rent the night air was not the cash register but the shrill ring of Indian promoter Bradford Newbound's mobile mid-way through one of Jones' tender ballads.

"If that's Warner Brothers tell them I'm busy," Jones jibed as Bradford blushed with candour - unlike former Aussie cricket hero Shane Warne when often caught out with his errant mobile as horizontal as his partners in slips and gullies.

It was not clear if Nu Country volunteer videographers Sean Tierney and Tim Cole and the three-camera flotilla captured this momentous moment but they preserved all the other on and off-stage action.

But they captured the Pythonesque skit when Jones and Hobbs took a merchandise signing and selling break after 90 minutes before a planned stage return.

It was the exact moment a previously famished Delfos returned from a late supper and began loading out daughter Connie's Kurzweil.

A horrified Hobbs and Jones hit the panic button as the keyboard colossus was tucked up for a snooze in Delfos's departing wagon.

The miffed multi-instrumentalist, suffering support act's back, two-stepped aside as soundman Moon and Noise Bar mine host Dan unloaded Connie's pride and joy and the show went back on.

Jones and Hobbs finished the show with their customary marathon merchandise sales and signings.

Then it was time to retreat from the Brunswick plains to their Kew heights hideaway where solace was a bottle of wine but no Patsy Cline.

It was a quiet replace to reflect on the next day's meeting with a princess reigning due east of Dandenong.
SEARCHING FOR A PRINCESS IN HALLAM
"I remember when I saw them I was just seventeen/ the finest work of leather I had ever seen/ I laid down my last dollar, wore em out the door with pride/ they were the boots I came to town in every Friday night." - The Boots I Came To Town In - Becky Hobbs-Candy Parton
Dawn on the Saturday was a salient signpost to another magical mystery journey - to Hallam, gateway to the Gippsland dairy belt and an existential exit from suburbia.

It was also where Jones, Hobbs and Taylor were the mains on the Bayleaf Restaurant menu that also advertised Prairie Oysters as an entrée.

Perhaps a sub continental delicacy carved from the nether areas of Australian cricket fans and served with tasty relish and spices on the odd occasion the visiting cricket team enjoyed the fruits of victory.

But that was downtown Dandenong and we were headed further east to Hallam where promoter Clifton Burnett had hired digs for the lasses to rest their weary bones before interviews with the local radio station - SER-FM.

Photo opportunities were a major priority on the road but time restrictions precluded this obvious headline grabber - a Shameless Hussy and A Cowgirl in name stitched boots under the exit sign with the delicious description - Stud Road, Dandenong.

Clifton's directions were specific - Kacey was staying at a motel that shared her name if not spelling.

Princess On Casey - directly opposite the salubrious Hallam Hotel - on what was once Highway 1 before the by-pass.

The artist didn't appear to have dreamed of sleeping under a princess but maybe sang a small refrain of I Could Get Over You If I Could Get Under Him.

With customary restraint we exited the off ramp and scanned the skyline for glitter of a princess in all her glory.

Straight ahead the huge banner for rural NSW country singer Steve Forde, support for Brooks & Dunn, was prominent on the front façade of the Hallam Hotel.

So we circled - and then, like a locale from a Coen Brothers West Texas movie - the Princess waved her wand.

There, directly opposite the Hallam pokies palace she beckoned erect, more a block of cinders than Cinderella, as she lay baking in the morning sun.

Once the nocturnal, but not always final resting place for many a truckie on the road too long, she was now a bygone by-pass for chanteuses and chaps strutting their stuff on the cabaret circuit.

Mine host Clifton waved us in so we unloaded and the stars prepared for interviews to swell his already full house at the Bayleaf.

With a flourish of his wand Clinton revealed to the artists that he had 13 disc jockeys in the audience that night - but not all the bakers' dozen would be doing their dough and simultaneously interviewing the lasses on the wireless.

It seemed an apt time for a refreshing nap for chauffeur who headed west to his digs in preparation for the finale - not the world cup - but the concert tour.
AT HOME WITH THE BAYLEAFS
"I was 30-something when my big break came/ ready for my five minutes of fame/ I heard my song on the radio on the all night truckers show/ then I lost my bullet and the label sank/ I was all dressed up and riding a tank/ It was a case of rotten luck, yeah the music business sucks." Kiss My Ashes - Becky Hobbs
The return trip from the leafy valley of Glen Iris to the music mecca was punctuated by road works but cushioned by Hobbs and Jones on the jukebox in the Outback van.

Searching for a Bayleaf in Dandenong was made easier by driving with window down - not just to read street signs but to savour the aromatic ardour of mine chef, known to diners as one in a billion.

Parking, like seating, was scarce as hussies' teeth in teeming Thomas St - scene of the rhyme.

But, aided by a flotilla of Indians on the footpath but not the warpath, it was a salient signpost to nirvana and a wide lens on action in this Kumaresque made for TV sitcom.

Unlike the previous night there was one camera - not three - but far more Kumars than you could poke a pappadam at.

I missed the entrée - Prairie Oysters from pristine paddocks of the garden state and not to be mistaken for Texan Cornell Hurd's Genitalia Of A Fool, also cut by Geelong born Adam Harvey.

So I arrived in time for the nutritious main course.

Jones and Hobbs picked and grinned while the capacity audience picked and grazed on the wide galaxy of tandoori fuelled Samosas, pakoris, pappadams, curries diverse as fishies, chook, mutton, rogan josh, vindaloos, beefalos, beckaroos and many more delicacies destined to dispatch diners to a crowded loo.

There was magic in the air with two internationally acclaimed artists performing with a rarefied radiance unlikely to be repeated in Dandenong on a Saturday night.

Mine host Clifton surveyed the audience where Indians outnumbered the cowboys 10 to 1 and reflected in the twilight of a beatific beam that could have lit up the MCG for the duration of a test, one day game or even a 20-20 spectacular.

But, with those odds buried deep in the psyche of the cowboys, it was just not cricket to discuss the results of recent bouts with bats and balls between flannelled fools.

Jones and Hobbs, trapped in the spotlights like moths in menopause, sat their ground on piano and guitar.

With the Kumar clan chomping down on their chow with an appetite as voracious as some historic chaps across the ocean with loaves and fishes it soon became a case of a shameless hussy and cowgirl being thrown to the hillbilly Hindus.
PRAIRIES OYSTERS AND PRINCESSES IN DANDENONG
"Now those good ol' boys are tellin' me I'm too old to sell CDs/ but in my mind I'm still seventeen/ and I still want to set the world on fire/ just call me a little old fashioned/ and if I die tryin'/ well they can kiss my ashes." - Kiss My Ashes - Becky Hobbs.
But this was life in the crowded lane and the fans were as hungry for music and tucker as agrarians in the front row at Farm Aid or a Willie Nelson July 4 Picnic.

Mine host's economic use of ergonomically challenged seating at family filled tables meant no Indian was more than a googly from the cowgirls.

Not even those spinning Warnie leg breaks in standing room in the Bay 13 bar of the Bayleaf.

This also meant the frocked up artists received a potpourri whiff of curry and cologne without having to lean forward to separate the milk from the cream or the wheat from the chaff.

Definitely, nothing to be sniffed at - no matter what mixed messages and metaphors were on the menu.

It was no surprise to observe that merchandise sales, conducted from a stage side table seating Tamworth Train captain Arthur Smith, were akin to that of the Geelong footy club in the post premiership weeks and months.

There was still copious cologne in the breeze as the Indian braves and squaws hugged their idols and decamped with autographed CDS and photos.

Hugging, noticeably absent from the public arena since the departure of former Prime Minister Boy Howardy, was now back in style like Merle's manly footwear treading the broads in Okie From Muscogee.
FLUSHED FROM THE BATHROOM OF HER HEART
Smith's artful dodging enabled the artists to invite chauffeur into their dressing room - the door was adorned with the words Ladies.

Was this an ambush?

No, there backstage, were two chairs for Jones and Hobbs and a flushable throne for the chauffeur, now relegated to prince in waiting.

It was indeed fortuitous that chauffeur had not dined on site and required the services of award winning movie star Kev - also a Nashville plumbing visitor of note.

Promoter Clifton politely knocked on the backstage door before expanding the trio to a quartet and announcing dessert - more Prairie Oysters.

The Prairie Oysters, not to mistaken for revered Canadian Prairie Oyster Band, were born from the ashes of leader Yorkie's Rough Cut Band who boot scooted to fame in a previous life.

Yorkie's quartet impressed Nashville peers by showcasing tunes from their six-track EP You Have A Ball - That's No Bull recorded at Oysterland Studios in the Victorian capital.

It was fitting they provided the music outro from this cable cabal in the making in the suburb that time forgot.

The Prairie Oysters were perfectly cast as the longest leaving act in town as Indians whooped for more as The Shameless Hussy and The Cowgirl ducked and weaved as they ensured they curried favour and flavour with their hosts.

But the midnight hour was approaching fast on the dark side of town and the carriage lay in wait as the Cinderellas exited in the boots they came to town in just before the ticking of the clock.

It was a perfect fit, fitting departure and existential escape of sorts.