DAVE'S DIARY - 25/4/2023 - PREVIEW OF EPISODE 7 - SERIES 55
BILLY STRINGS HEADLINES NU COUNTRY TV
Michigan born bluegrass Grammy winner Billy Strings headlines Nu Country TV on Saturday April 29 at 7 pm.
Fellow bluegrass artists The Grascals also return live to Behind Bars on the show repeated Thursday at 1 am.
Expat Australians Troy Kemp and Katrina Burgoyne boomerang to the program filmed and edited by our multi-talented lockdown producer Laith Graham.
James Stewart Keene and Steve McNaughton perform live in an Australian movie and Tamworth singer-songwriter Ashleigh Dallas and Sydney septet Big Sky Mountain also return this week.
Nu Country TV is a highlight of C 31 streaming list on Digital 44.
Further info - https://www.c31.org.au/
GRAMMY WINNER TRAIN JOURNEY
Billy Strings takes viewers on a long train journey to illustrate his social comment in his Watch It Fall video from his fourth album Home.
The bluegrass singer-songwriter parodies greed and other sins in his powerful paean.
Billy, 30, also appeared on Nu Country with his In The Morning Light from his 5th album Renewal released on September 24, 2021.
He proved his altruism as he donated 208 guitars to Twin Rivers Elementary School in Muir, Michigan, from his tour bus and U-Haul truck.
All 208 students received a Fender guitar.
Billy, aka William Apostol, attended Twin Rivers Elementary where his music teacher Mrs. Mercer still works.
"I went to this school when I was your age. I started playing guitar, and the guitar has always been a really cool friend of mine," Billy told the students.
"Even when times were really sad a guitar was my friend. So I wanted to give you guys some guitars that you can take home with you. Everybody gets one. The guitar has taken me places that I could only dream of. My hope is that one of these guitars does the same thing for one of these kids. I look forward to coming back and seeing how these future musicians progress for years to come."
Billy has a new duet The Great Divide with North Carolina nouveau outlaw chart topper, 2021 CMA Entertainer Of The Year and August tourist Luke Combs.
Further info - https://www.billystrings.com/
THE GRASCALS LIVE AT LARRY'S DINER
Award winning bluegrass band The Grascals return to Behind Bars with Up This Hill And Down in a live show at famed Larry's Diner in Nashville .
The sextet formed in 2004 and often backed singing septuagenarian actor Dolly Parton and Dierks Bentley live and in the studio.
Banjo player Kristin Scott Benson was 2018 recipient of Steve Martin Prize for Excellence in Banjo and Bluegrass with a $50,000 reward.
The Grascals won many major bluegrass awards and three Grammy nominations for their 12 albums.
Further info - https://grascals.com/
EXPATS TROY AND KATRINA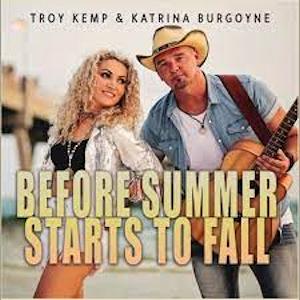 Gunnedah born Katrina Burgoyne and Kempsey export Troy Kemp take us to the beach on their Before Summer Starts To Fall video.
The duo, who both call Nashville and Australia home, released it on September 24, 2021.
Before Summer Starts To Fall title is aimed at the American market where both artists live and depicts enjoying hot days of summer before the cool autumn.
That includes cruising top down, feet on dashboard, skinny dipping, margaritas, hitting dance floors, jumping off piers, summer flings, beach bonfires, pearly white sand, cool breezes blowing through palm trees and waves rolling in.
The video is directed by Katrina's American partner-producer-videographer Steve Kinney.
Both Burgoyne and Kemp scored major country hits and awards in Australia.
Katrina, now 34, moved to Nashville in 2017 and recovered after sinus surgery to write songs and tour with partner Kinney.
Kemp, 33, and his wife Aleesha also moved to Music City in 2020.
Troy recorded four albums with McAlister Kemp and 2017 solo album Against The Grain.
He co-wrote the title track of Blue Mountains belle Jayne Denham's fifth album Wanted after a duet with her on Hung Up On You .
Before Summer Starts To Fall will be on the duo's new albums.
Click Here for a Katrina story in The Diary on January 16, 2012.
Further info - https://katrinaburgoyne.com/
CLICK HERE for a McAlister Kemp interview in the Diary on May 9, 201l.
Further info - https://www.troykempofficial.com/
ASHLEIGH DALLAS LOTTERY
Tamworth singer Ashleigh Dallas punts on a lottery on her return.
Ashleigh and husband Chris shared joy with their daughter Harriet in their video filmed over three days near their home.
She wrote Lottery as a wish to Chris for her fifth album In The Moment .
It follows Reflection and was produced by her dad Brett.
The five time Golden Guitarist, now 29, won the 2023 Golden Guitar award for traditional album of the year for In The Moment.
"I've been extremely fortunate to still be able to create and release music in the past 12 months during these uncertain times and still connect with fans across the country with my songs which blows my mind," the third generation Golden Guitar winner revealed.
Ashleigh, who began her career at 17 as the fiddler in Kasey Chambers band, and Luke O'Shea also made the 2023 finals for their video Long Way Round.
CLICK HERE for an Ashleigh CD feature in The Diary on December 7, 2013.
JAMES AND STEVE MOVIE CAMEO
Wollongong singer-actor James Stewart Keene and Steve McNaughton take viewers on a scenic stroll on their Start Again video.
It's closing theme of award winning 2021 Australian western film - Sherbrooke Down: The Road to Cataract.
The movie featured Patrick O'Connor, Sophie Dillman and Tim Robards.
Keene also appeared on Nu Country with his romp on Gambling While You're Drinking live at Soul Trap bar in Sydney suburb Surry Hills.
He wrote the bluegrass song with latter day Gold Coast singer and prolific Golden Guitarist Allan Caswell
It was also inspired by Sherbrooke Down - a cautionary tale about our traditional two-up - that Keene scripted and produced.
Sherbrooke Down is a personal story about Keene 's family and forgotten place where they once lived.
Set in early 20th century Australia the movie features folk, bluegrass and Celtic folk.
James collaborated with country legends The Bushwackers on 2019 Top 10 radio hit Stroke Of The Governments' Pen.
CLICK HERE for a Keene interview in The Diary on December 27, 2021.
Further info - https://www.jamesstewartkeene.com/
BIG SKY MOUNTAIN BED OF ROSES
All female Sydney septet Big Sky Mountain enjoy a trip back in time on their Bed Of Roses video.
They dipped into the Leffler family archives in Quirindi near Tamworth in the Liverpool Plains and mustered sheep, horses and children.
Bed of Roses follows their 2019 album All Our Minutes produced by ARIA award winner Paul McKercher that scored healthy sales in Europe, South America and Asia .
The band played major festivals including the 2020 National Folk Festival in Canberra.
During COVID they returned to the studio with producer Jackson Barclay and released Bed of Roses on September 24, 2021.
Their latest single is The Great Escape .
Further info - https://www.bigskymountain.com.au/
WIN WAYLON, GEORGE JONES AND MERLE HAGGARD
Stay tuned and help us celebrate being Nu Country TV members and win albums by the late Waylon Jennings, Merle Haggard, George Jones and Highwaymen by becoming a Nu Country member or renewing your membership.
George, Waylon, Merle and Willie Nelson were among country historian Barbara Dowling's favourite Texans.
The Waylon, Highwaymen , Merle and George discs were donated by Barbara who died at 77 in December, 2020.
She co-hosted Long In The Saddle in our Nu Country FM era and was pioneer Australian and Victorian country music awards judge.
Barbara was admired for rising above losing her sight as a young woman and her country passion with annual trips to Waylon's birthplace in Littlefield, West Texas.
Waylon died at 64 on February 13, 2002, and is survived by singing spouse Jessi, now 78, and son Shooter, 42.
WIN KEITH URBAN CDS ALSO
We have expatriate Australasian superstar Keith Urban's chart topping 12th album The Speed Of Now - Part 1.
Also BR5-49 CD Big Backyard Beat Show and Billy Ray Cyrus's historic 1992 album Some Gave All that features Achy Breaky Heart.
We have other CDS by major artists you can win by becoming a Nu Country TV member or renewing your membership.
They include Brad Paisley, Carrie Underwood, Eric Church, Kip Moore and late larrikin legend A.P. Johnson.
CLICK HERE for our Membership Page for details.