DAVE'S DIARY - 27 /12/2021 - JAMES STEWART KEENE FEATURE
THE KEENES BUSHWACKED BY THE GOVERNMENT
"It's the story of Matthew and Evangeline/ and an anger unfaded by the passing of time/ hard working people and the victims of crime/ with the stroke of the Government's pen boys/ well you should have seen Sherbrooke in 1903/ a Garden of Eden full of flowers and tree/ hard working people who were brought to their knees." - Stroke Of The Government's Pen - James Stewart Keene-Allan Caswell.
When Wollongong singer-songwriter and screenwriter James Stewart Keene needed sources for his new movie he ploughed family history.
Keene's movie and short film preview vividly depicted how NSW Government seized his great grandparents farm to build the Cataract dam at Bulli to supply the reservoirs of drought-stricken Federation Sydney.
Stroke Of The Government Pen - a song he wrote with award winning fellow songwriter Allan Caswell - was a perfect dam busting anthem for Sherbrooke Down: The Road to Cataract.
The song, also recorded by The Bushwackers , is one of 10 James penned with peers for the movie, set in 1901-2, and soundtrack that was preceded by his short film starring three major Australian TV actors.
Sophie Dillman and Patrick O'Connor from Home And Away and Tim Robards from Neighbours appear in the 25 minute short film that features Keene in a cameo role.
It debuted in film festivals as a showcase and teaser for movie investors.
"We filmed it at the Wilberforce Australian Pioneer Park ," Keene told Nu Country TV.
"That set was there for us to use, they set up a small pioneer village with buildings from the 1850s to the early 1900s. We spent $150,000 on a three-day shoot."
O'Connor plays the lead role of Matthew Keane, Dillman is cast as his wife Evangeline, and Tim plays a character named Mace.
"Evangeline and brick maker Matthew were recovering from bankruptcy and were able to rebuild their lives," Keene explained.
"They moved from Wollongong up to Sherbrooke where they and their neighbours had their homes possessed by the government. They were on two or three acres with cattle, fruit, vegetables and flowers to make a living. In 1877 Evangeline lost her brother in the 1887 Bulli mine explosion and Matthew became bankrupt. She was a very strong woman - this is her story of loss, grief and resilience. They worked hard and got their farm at Sherbrooke but then faced losing it all when the government resumed their land. This film is a full dramatic story written to tell the lives of my great grandparents - it's an Australian period drama.
"History can sometimes be looked at through romantic eyes. We tell Sherbrooke not just as a tragedy but as a real place. There was a real human cost to what happened because of the resumptions but it's also a real story of people who built their lives around agriculture and the Cataract River was their lifeblood."
Keene says the saga has many modern parallels.
"The point of interest to me was the injustice what the government did," James revealed.
"They were going through the big Federation drought of 1901-02. The water level was so low in Sydney they had to pump water from the Cataract River to top up the reservoirs to feed the water into Sydney. They acquired it by an act of parliament with minimal consultation with the residents. The more things change the more they stay the same. In NSW you see what happened with West Connect and Sydney light rail - they're still taking people's houses for car parks with no consultation."
Keene's co-writers on the soundtrack include Caswell on Gambling While You're Drinking, Graeme Connors and frequent collaborator Steve McNaughton.
The Gambling While You're Drinking video was filmed in the Soul Trap bar in Surry Hills with 12 actors in period costumes
James, his cousin Janssen and McNaughton also wrote Start Again for the movie that Keene says has a $5-10 million-dollar budget.
"It's a real melancholy song about having regrets and starting over again," Keene explained.
"The soundtrack will feature traditional Celtic folk Australiana style music. The proof-of-concept short film's goal is to introduce the characters Evangeline and Matthew in the feature film and to build interest in the investors. My background is a videographer, writing screen plays and getting into cinemas a whole different thing."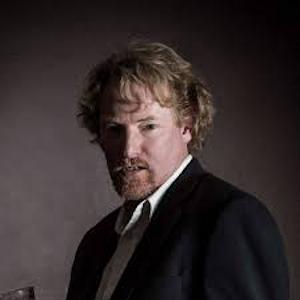 Keene has directed six music videos and recorded two previous albums The Navigator and Charm Offensive that appeared on Australian country charts.
The movie will also be solace for Keene on a deeply personal modern level - when his father was diagnosed with cancer a few words from a stranger spurred him along.
"I was having a moment of reflection, my dad had just been diagnosed with lymphoma and I had a chance encounter with a fellow who worked with the Adelaide Theatre Company," Keene said.
He was telling me 'oh you can get grants, and you can do this', and I kind of went, gees, yeah I could," he said.
"With my dad passing, the message I got from his life was don't die wondering."
Sherbrooke Down: The Road to Cataract premiered at the Dendy Cinema in Sydney suburb Newtown on April 1, 2021, and screens in the Tamworth Forum 6 Cinema on Sunday January 23, 2022.