DAVE'S DIARY - 14/10/2022 - PREVIEW OF EPISODE 7 - SERIES 53
KEITH URBAN AND CHRIS JANSON HEADLINE NU COUNTRY TV
Expat Kiwi superstar Keith Urban and Missouri minstrel Chris Janson headline N u Country TV Wednesday October 19 at 8 pm with a joint entree.
Arkansas star Blane Howard and Texan Aaron Watson follow with a Behind Bars boots double shot on the show repeated Saturdays at 11.30 pm.
Fellow Texans Sarah Hobbs and Brendyn Kyle appear on the program filmed and edited by our multi-talented lockdown producer-host Laith Graham.
Williamstown duo The Long & Short Of It boomerang with their seventh album title track Midnight Choir.
Nu Country TV is a highlight of C 31 streaming list on Digital 44.
Further info - https://www.c31.org.au/
KEITH AND CHRIS REVIVE AN ANCIENT AUCTION LIVE
ith Urban and Chris Janson reach back to a country classic live on The Grand Ole Opry.
They celebrate an auction with a happy ending when they perform Sold - a 1995 hit for Kentucky star John Michael Montgomery.
John is the brother of Eddie of the duo Montgomery Gentry.
Richard Fagan and Robert Royer wrote Sold that was recorded by a vast cast of country stars.
Urban, now 54, soared from his debut CD launch to 14 fans at Prince Patrick Hotel, Collingwood, to international stardom in Nashville with his band The Ranch who morphed from his Ayers Rockettes.
Keith's ascent to superstar was a long journey aided by fellow expatriate Kiwi Barry Coburn - his publisher on arrival in Nashville in 1992.
Urban's then manager Greg Shaw mowed lawns while Keith wrote songs and sang for his supper in Music City.
The quadruple Grammy winner and five time ARIA awards ace has written hits for many peers and toured the world to promote 12 albums.
His 15 track 12th album The Speed Of Now - Part 1 features five of his originals and collaborations with guests including Eric Church, Pink, Breland and Nile Rogers.
Urban's innovative videos filled the vast void of live concerts postponed in the Covid-19 pandemic.
There was one worthy exception - a ground-breaking Nashville drive in theatre concert Keith staged for medics, nurses and other emergency first responders.
The singer scored here with his judge and mentor role on The Voice and celebrates his postponed national tour in December.
CLICK HERE for feature on Keith's 12 th album The Speed Of Now - Part 1 in the diary on October 19, 2020.
CLICK HERE to win The Speed Of Now - Part 1 on our membership page.
JANSON FLAG ON THE WALL
Chris Janson opens our show live at the Opry with his hot band as he exposes his views on modern society.
Janson, now 36 and father of four, dug deep into perils of peers and the price of petrol and other necessities.
But Chris had serious saviours - his ancient bible on his dresser and national flag on the wall.
Flag On The Wall is on Chris's fourth album All In.
Janson took his band to an idyllic locale when he headlined Nu Country with his Keys To The Country video - also on All In that features a duet with North Carolina outlaw Eric Church.
He fronted Nu Country with Church on You, Me And The River after appearing with previous videos including Bye Mum, Good Vibes, Drunk Girl and Buy Me A Boat .
CLICK HERE for a Janson CD feature in The Diary on November 16, 2015.
BLANE HOWARD BOOTS RALLY
Arkansas star Blane Howard leads a boot rally in the first of our footwear double shot in Behind Bars.
Howard performs an energised live song for fans who get bucked and fight back against suppression.
Boot n Rally is on his fourth album Looking For Nothing To Do .
Blane also wrote Run It Back - the NFL Kansas City Chiefs anthem.
Howard debuted on Behind Bars with his Rock On Her Window video directed and produced by Jenny Gill for a song he wrote with Doug Johnson.
It follows biggest success Promise To Love Her, written with Jordan Reynolds, as a wedding gift to his wife Megan.
Further info - https://blanehoward.com/
AARON WATSON BOOTS SEQUEL
Texan Aaron Watson boomerangs live to Behind Bars en route to cloud 9 in the second of our boots double shot.
The Amarillo born Abilene singer couldn't keep feet grounded with his young guitarist son on stage with him.
Aaron, 44, was alive and kicking his Boots video on his 15th album American Soul.
Watson recalled sneaking out of his bedroom as a child to watch his mum and dad dancing to the Grand Ole Opry on the wireless when he fronted Nu Country with his video for Country Radio - one of 20 songs he wrote for his 14th album Red Bandana .
The opening noise of a radio scanning on County Radio is a tribute to his father.
"My dad is a disabled veteran and he had a cleaning business," Watson confessed.
"Growing up, he had this dolly with a trashcan wired to it. It was southern ingenuity at its finest. And he would hang the cleaning bottles around the rim of the trashcan. And then he had a hangar with a little AM/FM battery-powered radio wired to the handle of this dolly. As we cleaned toilets and classrooms at churches, we were listening to music, and he'd not only tell me who sang the song, he'd tell me what year it came out, the writers and some of the players on the songs. So I learned a lot about music like that, and I took that old radio and recorded the fuzz of the AM signal."
CLICK HERE for Aaron's Red Bandana feature in The Diary on July 15, 2019.
SARAH HOBBS AND BRENDYN KYLE REGRET
Texans Sarah Hobbs and Brendyn Kyle show how to overcome regret as they perform live with their hot band at Hackberry Hall in Lindale, Texas.
Brendyn hails from Sweetwater and Sarah is from Longview .
Sarah also fronted Nu Country with fellow Texan James Cook and returned with her Black Bayou video that followed debut EP Texas Made .
Longview born Hobbs hails from Jefferson in north-east Texas and comes from a family of musicians dating back to the early 1900s.
She released debut album Back Porch Country in 2016 and was voted best female Texas vocalist in 2019.
This time Sarah and Brendyn combine on his single Regret.
Kyle was also born into a family of musicians whose live shows included the outlaw country of Merle Haggard in honky-tonks to Christian hymns in the church.
As a little boy Kyle sang for the family using a broomstick for a guitar and hairbrush for microphone.
His debut single Satisfaction led to his sixth single Regret.
Further info - https://www.sarahhobbsmusic.com/
Further info - www.brendynkylemusic.com
THE LONG AND SHORT OF IT MIDNIGHT CHOIR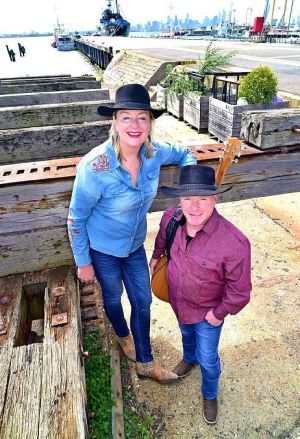 Williamstown duo The Long And Short Of It front a midnight choir on their return to the dock of the bay.
Patsy & Dave who perform and record as The Long And Short Of It had good reason to lead their midnight choir.
The duo found the Pirates Tavern at Steamworks where their two-stepping canine Sunny Maxwell was welcome on the dance floor.
Williamstown lawyer Patsy Toop OAM and Yarraville singer-signwriter David Baird formed the duo in 2007.
Midnight Choir is title track of their seventh album released on August 5.
The duo also fronted our show with Just Give It All You Got, Jesus Money, Gypsy White Moon, 50 Bucks And A Case Of Beer, 2,000 Years From Now and Kangaroo Rodeo.
Patsy was inducted onto Victorian Honour Roll of Women in recognition of her trailblazing litigation work and volunteering.
She was honoured for 34 years' legal work representing workers' human rights in cases of asbestos-related, chemical-induced illnesses and was founding board member and passionate volunteer for Seaworks Foundation's restoration and preservation of Williamstown's maritime precinct.
CLICK HERE for a Long & Short Of It CD review in the Diary on August 28, 2017.
WIN WAYLON, GEORGE JONES AND MERLE HAGGARD
Help us celebrate being Nu Country TV members and win albums by late Waylon Jennings, Merle Haggard, George Jones and Highwaymen by becoming a Nu Country member or renewing your membership.
George, Waylon, Merle and Willie Nelson were among country historian Barbara Dowling's favourite Texans.
The Waylon, Highwaymen , Merle and George discs were donated by Barbara who died at 77 in December 2020.
She co-hosted Long In The Saddle in our Nu Country FM era and was pioneer Australian and Victorian country music awards judge.
Barbara was admired for rising above losing her sight as a young woman and her country passion with annual trips to Waylon's birthplace in Littlefield, West Texas.
Waylon died at 64 on February 13, 2002, and is survived by singing spouse Jessi, now 79, and son Shooter, 43.
WIN KEITH URBAN CDS ALSO
We have expatriate Australasian superstar Keith Urban's chart topping 12th album The Speed Of Now - Part 1.
Also BR5-49 CD Big Backyard Beat Show and Billy Ray Cyrus's historic 1992 album Some Gave All featuring Achy Breaky Heart.
We have other CDS by major artists you can win by becoming a Nu Country TV member or renewing memberships.
They include Brad Paisley, Eric Church, Kip Moore and late larrikin legend A.P. Johnson.
CLICK HERE for our Membership Page for details.