DAVE'S DIARY - 19 OCTOBER 2020 - KEITH URBAN CD FEATURE
KEITH URBAN CD FEATURE - 2020
KEITH URBAN
THE SPEED OF NOW – PART 1 – (CAPITOL-EMI)
"When I was with you, baby, I was Superman/ yeah, we were sky high, there was nothing better when I was with you, grabbing that live wire/ we were Johnny and June in a Ring of Fire / now you're caught up in my head like a melody/ of the sweetest summer song that we used to sing/ Ooh, ooh, ooh-ooh, ooh-ooh, ooh/ when I was with you." - Superman - Keith Urban-Craig Wiseman-Benjamin Berger-Ryan McMahon-Ryan Rabin.
URBAN SUPERMAN SOARS CHARTS – NO KEITH KRYPTONITE
Expatriate Australasian superstar Keith Urban has soared international charts and colosseums with delicious dexterity since his embryonic 1990 debut CD launch at the Prince Patrick Hotel in inner Melbourne suburb Collingwood.
It was an intimate concert for 14 paying fans so we all gathered on the street afterwards for a post mortem.
That was after he graduated from Caboolture in Queensland as a solo artist and with the Ayers Rockettes who morphed into The Ranch.
Urban, 53 on October 26, invaded Nashville with The Ranch who once climbed a balcony from the Northcote Leader car park into the Nu Country FM Beer Can Hill studio for an interview.
Keith's ascent to superstar was a long journey catalysed by fellow expatriate Kiwi manager Barry Coburn who was his publisher on his arrival in Nashville in 1992.
Urban's then manager Greg Shaw mowed lawns while Keith wrote songs and sang for his supper in Music City.
The singer also worked as a road guitarist for Brooks & Dunn, the then Dixie Chicks and Coburn managed Georgian superstar Alan Jackson.
Urban appeared in the music video for Jackson's 1993 hit Mercury Blues but his first solo hit was not until 1999 - seven years after he moved to Music City.
But that was then and now Keith is the hottest export to invade the biggest music market in the world with his 15 track 12th album that features five Urban originals and collaborations with artists diverse as Eric Church, Pink, Breland and Nile Rogers.
This eclectic Australian chart-topping album, also his ninth U.S. and sixth Canada #1 disc, has been promoted by colourful videos filmed in isolation and featured on Nu Country TV.
Urban's innovative videos have filled the vast void of live concerts postponed in the Covid-19 pandemic.
There was one worthy exception - a ground-breaking Nashville drive in theatre concert that Keith staged for medics, nurses and other emergency first responders.
That was before escaping to Australia in spring with Oscar winning actor-spouse Nicole Kidman, whom he wed in June 2006, and their two daughters.
The quadruple Grammy and five-time ARIA award winner elevated his international profile by his remote hosting of the 55 th Academy Of Country Music Awards in Nashville on September 16 and also live Australian TV interviews.
It was a relief for Urban who suffered during his transition period from the shut- down to the drive-in concert.
"That period in between was a bit of a creative paralysis time to me because I was just thrown. I mean, I was touring, we were playing shows in Vegas, we were playing festivals" Urban recalled.
"I was zipping around different studios working on my album, I was writing with people - I was busy, I was doing stuff, you know - and suddenly it was just, stop, stop where you are, stay at home, don't leave."
OK that's a little history - what about the new CD?
Read on below.
FROM ISOLATION TO CHART DOMINATION
"Don't know just how long but I've/ been trapped in here quite a while/ wonder if I'll make it out, ahh, ahh/ I miss my friends, I miss the sky/ feel like I just live to die/ but that can't be what life's about, ah, ah/ I think they just lock me up to taunt me, taunt me/ I won't ever let nobody own me, own me/ I don't let these thoughts of freedom haunt me, haunt me/ what you gonna do when they learn the truth?" - Out The Cage - Keith Urban-Sam Sumser-Sean Small-Daniel Breland.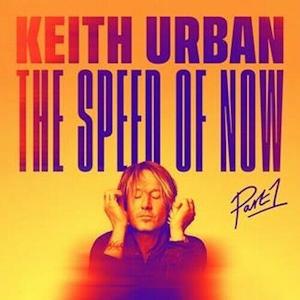 It seems ironic Keith's latest CD was belatedly released 30 years after his solo debut because his isolation delayed recording but enriched his writing.
Urban's entrée to country was a Johnny Cash show in Queensland as a teenager so he name-checks the late star and singing spouse June Carter Cash in new tune Superman .
Keith left school at 15 and his solo TV career was ignited at the age of 16 when he appeared on Bert Newton's New Faces talent show.
Urban is the younger of two brothers so his nickname growing up was Suburban.
But there is nothing pedestrian about Keith whose creative juices began pouring again after a conversation with a friend when he felt trapped and drained.
It's no surprise that Urban's album is autobiographical from his iso inspired entrée Out The Cage featuring Breland and Nile Rogers with the singer on ganjo and guitars.
It segues into hedonistic One Too Many duet with Pink that also crosses the great music divide.
They filmed their video for the song that features the female lead being marooned on an island - at remote locations.
Pink filmed her sequences in California and Keith was also in isolation.
Salient song sequencing means the chance taking Live With leads into Superman before chasing an elusive lover in Change Your Mind and return to the alcohol and moonshine memories of Forever .
Mood swings enable Urban to ignite his originals Say Something - a maternal and paternal song of optimism - and Soul Food that milks a food metaphor for a love starved romantic.
Equally evocative are the joyous love songs Ain't It Like A Woman and With You , replete with a storms of life survival first aid kit.
Urban resurrects childhood heroes to emulate Billy The Kid as he chases a saloon temptress in Tumbleweed and a biblical salvation in God Whispered Your Name.
But there are celluloid weekend memories in Polaroid and trying to erase past true-life traumas in his original Better Than I Am, penned with Eg White.
Urban released his Polaroid video, illustrated by a backyard pool party, in advance of his album.
"I really connected with the song," Urban revealed.
"I used to have this house that I lived in with a few guys in my band and at some point, someone gave us this Polaroid camera. We used it to take pictures of everybody and everything - crazy stuff that happened. We had all of them posted on a big board, and I so clearly saw that the minute I heard the song."
URBAN ROAD NO LONGER SUBURBAN
"The road I took to get here/ is one I never wanna take again/ oh, I'm gonna keep believing/ and pushing up to the light/ the light that pulls me in/ I will open my arms, I will fall at your feet/ and I'll let you in to where you can so damage me/ and I will stand in the light, least as best I can/ and I'll live like I'm better, better than I am, oh yeah." - Better Than I Am - Keith Urban-Francis Anthony White.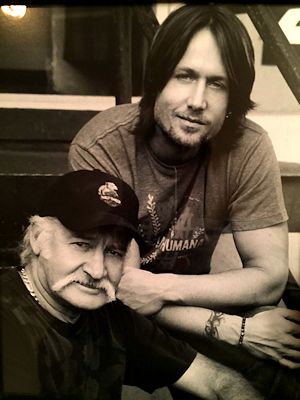 The fitting finale is bonus track We Were - originally a hit for Keith and North Carolina outlaw Eric Church.
"It got sent to me, not by Eric, but by someone who finds songs for me," Urban explained.
"I didn't know he was a writer, which was really cool, because it wasn't until we recorded the song, it was all done, and I found out after the fact.
"I found out and I called Eric, and I was like, 'Dude, I just cut this song.' He was thrilled. I said, 'I had no idea that you were a writer on it.' He said, 'Well that's even better, because it means you really loved the song.' I do. I really love the song."
Urban and Church also collaborated on their 2013 song Raise 'Em Up .
Keith confesses his autobiographical album enabled him to exploit the power of words.
His life lessons enable him to live to the fullest and express his truth.
"My dad didn't really live his truth to the fullest extent that I know he wished he could have - a product of his own raising. And I didn't want to be like that," Urban revealed.
"And I'm learning a lot about that in my family now."
The Urban family now includes a male cat rescued from an RSPCA shelter.
Keith expands on the family altruism with his support of Music Makes Us - a program that works to raise funds to make music a larger part of the curriculum in public schools by providing instruments and other resources.
Although Urban revamped songs by peers for his album he has enough originals for a sequel disc.
"There was a lot of songs that I had to leave off this record, which probably most likely we'll find a way to Part 2," Urban explained.
"For me, I've never really - it doesn't really matter who wrote a song, whether it's me or someone else, or a collaboration, or a solo write, or a song that's been sitting around for a long time. In the case of Better Than I Am , we wrote that song a few years ago, and I was just waiting for the right album to put it on. So, it's just a feeling of the right song at the right time and trying to shape and create a record that feels like the one I hear in my head."
Urban wrote Better Than I Am with Eg White, a British musician, songwriter and producer who co-wrote Adele's Chasing Pavements .
"And so, his name always stayed with me, and I ended up in London a few years ago, and I had the opportunity to write with him, and so we met in his tiny little studio, and we just started talking about soul records that we love: Bill Withers and a whole bunch of things," Urban recalled.
"And he was like, "well, so tell me a bit about, you know, your life. What's going on?" and I don't know why I started getting so confessional with him, but he just brings it out in you.
"And I said, "you know, sometimes I'm not sure if I'm running to something or running from something. It's a bit of a blur. I feel like I'm sort of swimming to keep from drowning."
"And he went, 'well, there's the opening lines."
"We wrote that down, and then we just started going from there, just speaking about my journey and my past, which was behind me but still not as far as I wished it was, and trying to - just trying to be better than I am."
Urban's sequel CD will be autobiographical like The Speed Of Now - Part 1.
"My past is always right behind me, no matter how far away it is," Urban revealed.
"I have not one but three rehabs in my history. Although the last one was in 2006 it's still there – my past is what it is. I just keep moving forward."
Urban has a spiritual and inspirational song saviour in his Oscar winning wife Nicole who not only guided him through rehab but also sound checks his songs when at home or on the road that goes on forever.
That lost highway had led them to Byron Bay where Nicole is producing and filming a TV adaptation of Big Little Lies writer Liane Moriarty's famed novel Nine Perfect Strangers.
CLICK HERE for details of how to win Keith's CD on our membership page.