DAVE'S DIARY - 7/10/2022 - PREVIEW OF EPISODE 6 - SERIES 53
WILLIE NELSON AND SON MICAH HEADLINE NU COUNTRY TV
Singing actor Willie Nelson and son Micah headline N u Country TV Wednesday October 12 at 8 pm with one of their favorite luxuries.
Georgian Kip Moore boomerangs with a double shot on a similar subject on the show repeated Saturdays - 11.30 pm.
Gippsland band Jetty Road , Dead Livers bassist Michael Schack and Queensland trio The Ten Ton Tinnies also appear on the program filmed and edited by our multi-talented lockdown producer-host Laith Graham.
Nu Country TV is a highlight of C 31 streaming list on Digital 44.
Further info - https://www.c31.org.au/
WILLIE DUETS WITH HIS PARTICLE KID MICAH
Willie Nelson and Micah - one of his two singer sons who tours and records as The Particle Kid - team on their praise of the herb superb.
They perform Micah's jocular tune about his dad - Die When I'm High, Halfway To Heaven.
They sing of being born in a barn with the door wide open - a good omen.
Willie, now 89, jokes about how his liver outlives his trusty guitar Trigger that he takes on the road again in the U.S. and his Australian tours.
Micah played bass, drums and shared guitars with Willie with Mickey Raphael on harmonica and pianist Gordon Zacharias on the new single.
Willie contracted COVID-19 in early May - the week after his 89th birthday and nearly died from the disease.
On May 7 Willie's family cancelled his headline set at annual New Orleans Jazz Fest on Sunday May 8 with other shows.
Willie was sleeping on his tour bus when he woke up in middle of the night struggling to breathe and tested positive.
His family activated a nebulizer they already had on the bus for his breathing problems, monoclonal antibodies and steroids.
After returning home to his ranch in Spicewood just outside of Austin, they brought a mobile medical unit to his home.
We turned the house into a hospital," Willie's fourth wife Annie revealed.
"There were a couple of times when I wasn't sure he was going to make it."
But Willie boomeranged and two weeks later played back-to-back shows at Whitewater in New Braunfels on May 27 and 28.
"I had a pretty rough time with it," Willie says. "COVID ain't nothing to laugh at, that's for sure."
Willie resumed his Outlaw Festival tour on September 9 in Georgia.
Willie also published new book Me and Paul: Untold Tales of a Fabled Friendship with his late drummer Paul English on September 20.
CLICK HERE for a recent Willie feature in The Diary on August 5, 2019.
CLICK HERE for our membership page and how to win Willie CDS - not guitars.
KIP MOORE ENJOYS A DIFFERENT HIGH IN SPRING
Georgian Kip Moore kicks up his spring heels in a double shot as he boomerangs to our show.
Moore, now aged 42, flies high with an older woman who drives him crazy.
Kip joined his band in the studio with his plea to a dreamy diva.
She may have been lady who frocked up in wigs, red balloons and fancy dress and had a swig or two on her day on the town when she danced to her own beat on the street.
We didn't see her on Moore 's Australian tours before the pandemic but he serenaded her in his How High video on the deluxe version of his 4th album Wild World.
He also revamped Crazy One More Time from debut album Up All Night.
Kip played 2018 CMC Rocks Queensland festival and Melbourne Forum with Lee Brice and Charlie Worsham.
Moore, one of six children, debuted at Snowy Mountains country festival in Thredbo and CMC Rocks Queensland in 2016.
He also produced 33 minute documentary The Journey To Slowheart .
Kip and Ashley McBryde fronted our show live on stage at the famed Ryman in Nashville for Jani Blue after fronting Nu Country with previous videos including Fire On Wheels, In The Wild, Don't Go Changing, More Girls Like You, How High and Last Shot.
CLICK HERE for a Kip Moore feature in The Diary on April 16, 2018.
DEAD LIVERS BASSIST MICHAEL SCHACK RETURNS TO HIS HOMETOWN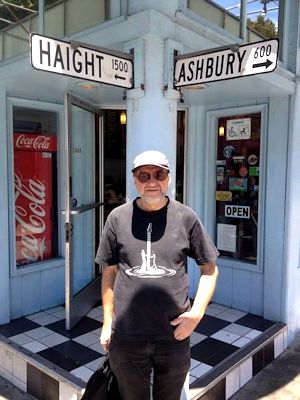 Dead Livers bassist and co-founder Michael Schack lived up to his band's name by being one of the two members of the pioneer outlaw band's name to have a liver transplant.
The other was pedal steel guitarist Brendan Mitchell who wrote the band's signature song Ballad Of A Dead Liver.
Schack, now 72, formed the band with fellow Monivae College singer-songwriter Marty Atchison - son of a wool classer - who now hangs his hat in Portland.
Schack and Atchison , who are celebrating 44 years on the lost highway, wrote many of the band's best known tunes.
Michael takes us on a trip back to his hometown Glenthompson where his sire Jimmy - a soldier settler - and his wife raised the four Schack children on an Upson Downs farm.
Schack illustrates the journey from his former home near the Grampians to his latter day farm block at Yarpturk near Koroit in his Those Mountains video featuring his banjo playing, dobro, guitar and bass.
CLICK HERE for Dead Livers 43rd anniversary feature in our Concerts page in March, 2021.
CLICK HERE for the Dead Livers 40th anniversary feature in our Concerts page in the Diary on May 12, 2018.
CLICK HERE to buy their CDS in our Nu Country Records page.
JETTY ROAD GIPPSLAND DREAMS
Gippsland trio Jetty Road return to Nu Country with their trip down memory lane video I'm A Dreamer from fourth album Far Away Places recorded in Vancouver, Canada, in 2011.
The dual Golden Guitarists - Gippsland Lakes born twins Paula and Lee Bowman and Julian Sammut - front Jetty Road who have released seven albums in an 18 year career.
Jay Seeney directed their 24th video Here We Go at Little River near Geelong and Vaucluse in Sydney.
The trio enjoyed tours of Canada , America and Europe and fronted our show with Bumps And Bruises from sixth album Because We Can .
Paula and Lee left Nungurner in the Gippsland lakes more than 17 years ago for Melbourne and beyond after starting as Tamworth street buskers.
They performed concerts and festivals in Canada , Switzerland , Germany , Belgium , Norway , France , Denmark , Austria and honky-tonks of Lower Broadway in Nashville .
Their 25 video clips on Nu Country include No Heartbreaks, Because We Can, You Need To Run and Shakedown.
CLICK HERE for a Jetty Road CD review in The Diary on December 13, 2010
TEN TON TINNIES CELEBATE COUNTRY TOWNS
Queensland band The Ten Ton Tinnies take to the water, paddocks and pubs in celebrating life in the bush in their Nu Country debut.
The band formed in 2018 with members Steve Thompson, Dave Bowden, Luke Turley and Ben Beatttie.
Country Towns is their latest single that follows at a safe distance from previous Bad Gas Travels Fast In A Small Town on their 2020 debut album, Tons of Tins.
Another single Country Bar released in 2022 hit Top 10 of Australian Country charts for three weeks and was followed by Simple Life in July.
Further info - https://linktr.ee/Thetentontinnies
WIN WAYLON, GEORGE JONES AND MERLE HAGGARD
Help us celebrate being Nu Country TV members and win albums by late Waylon Jennings, Merle Haggard, George Jones and Highwaymen by becoming a Nu Country member or renewing your membership.
George, Waylon, Merle and Willie Nelson were among country historian Barbara Dowling's favourite Texans.
The Waylon, Highwaymen , Merle and George discs were donated by Barbara who died at 77 in December, 2020.
She co-hosted Long In The Saddle in our Nu Country FM era and was pioneer Australian and Victorian country music awards judge.
Barbara was admired for rising above losing her sight as a young woman and her country passion with annual trips to Waylon's birthplace in Littlefield, West Texas.
Waylon died at 64 on February 13, 2002, and is survived by singing spouse Jessi, now 79, and son Shooter, 43.
WIN KEITH URBAN CDS ALSO
We have expatriate Australasian superstar Keith Urban's chart topping 12th album The Speed Of Now - Part 1.
Also BR5-49 CD Big Backyard Beat Show and Billy Ray Cyrus's historic 1992 album Some Gave All featuring Achy Breaky Heart.
We have other CDS by major artists you can win by becoming a Nu Country TV member or renewing memberships.
They include Brad Paisley, Eric Church, Kip Moore and late larrikin legend A.P. Johnson.
CLICK HERE for our Membership Page for details.