DEAD LIVERS 43RD ANNIVERSARY
MICKEY BOURKE'S HOTEL – KOROIT
LOST IN SUBURBIA – HOTEL WARRNAMBOOL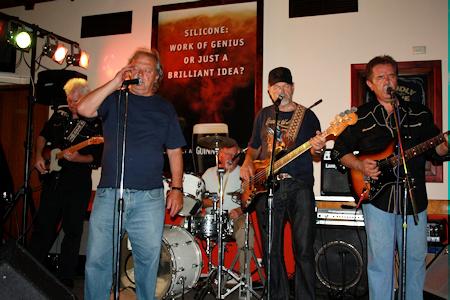 Photo credit - Huang Farrell
There were no furry felines in the harvest moon on the Shipwreck coast after Geelong repelled the Bris Vegas invaders late the night before at The Cattery.
But inland at historic Mickey Bourke's hotel in Koroit there was rumbling in the air and it was not a new eruption from the adjacent and reputedly dormant Tower Hill volcano.
The Dead Livers were celebrating their 43rd anniversary in this neck of the woods that co-founder bassist Michael Schack has long called home at nearby Yarpturk.
The Schack clan was hosting long time guitarist Rodger Delfos and spouse and drumming magistrate Richard O'Keefe and extended family.
Regular lead guitarist John Berto had moved north to Bateman's Bay - a locale in one of the Livers hits and misses - and was replaced by local axeman Don Farrell.
O'Keefe shares his day career dispensing justice from the bench with another magistrate Tim Hoare who plays with country band Honk that features former National Party upper house member David O'Brien who played this venue with Schack in diverse local bands.
O'Brien, whose Honk band filmed videos at the nearby Penshurst courthouse in the shadows of his farm, shared chambers with former Geelong footballer and Fremantle coach Damian Drum who once sang country songs on the Geelong team bus en route to games.
Drum is now the Federal National Party member for Nicholls and sings from a different hymnal.
That may enough history for a band whose Saturday night home was even older - having opened in 1853 - and survived famine, wars and a colourful late publican Mickey who had a penchant for sending his pet cockatoo in the men's room to speed up patrons return to the bar.
The culinary delights on offer from the Dead Livers menu poster included beef and Guinness pie, tempura battered whiting, chicken parmigiana, red chicken curry, slow cooked lamb shoulder, vegetable lasagne and braised rabbit pie.
Tonight, there was no sign of errant cockatoos but rampant rabbits made the most of autumnal growth in fertile nearby paddocks.
There was also plenty of past and present members of the Dead Livers including guitarist Peter Thorne and Lost In Suburbia and Nevada co-founder Trevor McKenzie who was having a night off before his Sabbath reincarnation.
The band was playing to a full house who lived up to their name in loquacious liquidity in four sets that rivalled the Davis Cup in duration.
Lead singer and retired school-teacher Marty Atchison, who calls Portland home, and bassist Schack met at Monivae College in Hamilton where they formed The Dogs band almost six decades ago.
The group, once dubbed a Catholic & Western Band, were pioneer country outlaws in the same era as Saltbush and Hit & Run featuring former Warrnambool dentist's son Dan Robinson who graduated from the Wild Cherries rock band that also boasted Lobby Lloyd.
It was no surprise the band ignited "hits" such as Atchison penned Holy Mary that name checked south west coast locales and Nu Country TV theme Up And Down The Line.
So did Schack's Star of The West on the famed Port Fairy pub during ownership by former Collingwood stars including Ronnie Wearmouth and Ricky Barham and silent partners.
Vocal duties were shared by Atchison, Schack - one of the band's two liver transplant recipients - Delfos and drumming comedian-magistrate O'Keefe who had returned from a busy week on the bench in Gippsland.
Bassist Michael, son of a late soldier settler Jimmy Schack, honoured his nearby hometown Glenthompson with his local pub paean Old Man On A Barstool.
Other vintage originals included The Ballad Of A Dead Liver, penned by absentee Dead Livers pedal steel ace and original liver transplant recipient Brendan Mitchell.
Atchison's Hard Doing Ken explored characters at the famed Station Hotel in Prahran and Sunshine recreated train trips from St Kilda to one of Marty's former western suburbs secondary schools.
Other crowd-pleasing originals included Telegraphs And Data Man, Grandpa Take Me To The Cricket, Stud Like Me and Rosemary.
With four long sets there was plenty of room for the addition of Fast Eddy Boyle on harmonica and jokes by Atchison, Schack and O'Keefe that obviated the need for reprising this reviewer's 1981 hit I'd Love To Have A Joint With Willie.
It was a long joyous night with singer Atchison and many patrons trying to find their sleeping quarters upstairs as the Sabbath slipped in like a ghost.
Not spending the early hours with the Bourke ghosts was Fast Eddy who packed harmonicas for the Sabbath gig with Lost In Suburbia at the Hotel Warrnambool.
LOST IN SUBURBIA FOUND IN WARRNAMBOOL
The Hotel Warrnambool - Highway One HQ of roots music well before and after lockdown - has long been a benefactor of freedom and free music.
No city cover charges or Covid clusters ensured it was again a fertile font as the Dandemic dissipated in the big smoke.
The coastal music mecca - once home to the late legend Smoky Dawson and many icons boomeranged - with a bang.
Leading the charge on this sunny Sabbath was former T-Bones drummer and latter-day Cobden Technical innovator and principal Rohan Keert whose meeting with singing Texan crime novelist Kinky Friedman flowed from my memory bank long after I introduced them on one of his early down under tours.
"Keert, that's a funny name," The Kinkster proffered to Rohan whose Estonian ancestry was proud and proper.
"Yes, it is, isn't it Kinky," drummer Keert quipped without losing a beat.
It was an electrifying entrée to the headmaster's humour that was revving up from the first bounce after the Geelong footy fan booted the audience into action. "Last night it was a Catholic and Western show at Koroit with the Dead Livers , 43 rd anniversary" Keert dead-panned, "today we welcome you to an Atheist celebration at the best venue in town."
The band opted not to open with Steve Martin's classic Atheists Don't Have No Songs.
Instead, they resurrected Lowell George Little Feat hit Willin' - one of the last songs performed the night before by the Dead Livers.
Keert welcomed fans from as far afield as "Barongarook, Brunswick and Glen Iris" before lead singer and former Nevada co-founder Trevor McKenzie revived Eilen Jewell's Rich Man's World and the late Justin Townes Earle's Good Life.
"I have been told by a reliable source that not all Brisbane supporters left the Cattery when requested last night," Keert revealed in his intro to Bob Dylan's I'll Be Your Baby Tonight."
"This song comes from 1965 - the year my source played for Warrnambool against Cobden," Rohan explained.
On return home I discovered that muddy memory earned me a best on the ground vote - one of my treasured teenage trophies.
It was apt that Lost In Suburbia singer Melissa McKenzie joined husband Trevor as duet partner.
They celebrated their true love story by marrying at the 11th hour the day before lockdown in an open-air ceremony in nearby Port Fairy.
Melissa later revealed Trevor's band also performed at her first wedding.
They revamped Paul Kelly tune I'm On Your Side before Keert previewed Johnny Cash's Big River.
"I live in the Merri River delta and others here tonight the Hopkins but this song is for all those flood victims near the Hastings River in Port Macquarie and other NSW towns," explained Keert whose tertiary teaching was a handy weapon as he took over vocal duties on Big River that preceded another Cash hit Long Black Veil and the anthemic Midnight Special.
"Trevor learned the danger of how things look bigger on the Internet when he ordered his full-size Ovation guitar," Keert gagged as the singer switched to a much smaller mandolin while Melissa brandished a large acoustic guitar for her delivery of Billy Bragg-Joe Henry tune Cindy-Cindy.
Singing sailor and pilot Jimmy Buffett's Come Monday needed no introduction.
Pedal steel guitarist Murray McDowell - a former milk tanker driver and Nevada graduate - and harmonica ace Fast Eddy Boyle ignited Lucinda Williams tune Metal Firecracker.
"For all the maths teachers in the audience what time is this song played in?" drummer Keert quipped before a bluegrass laced romp on They Killed John Henry - one of many tunes by the late Justin Townes Earle in their repertoire.
It was time for the band's first break and a chance to read this reviewer's notes that resembled a septuagenarian writing exam.
NOT SO PRIVATE CONVERSATION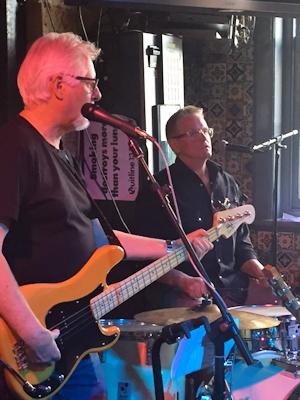 This was a sultry Sabbath soiree with the band reviving songs from its own CDS and abroad.
Bassist-producer Peter Bird - another Nevada graduate - added to the locale's ambience as they revived The Weight from The Band before Dylan classic You Ain't Going Nowhere.
Teddy Thompson tune Don't Know What I Was Thinking , also recorded by Dori Freeman, followed.
Melissa McKenzie's revival of Patsy Cline classic Crazy, with McDowell's pedal steel, added to her dynamic delivery.
Keert then honoured former Nu Country FM DJ and Nu Country TV host Paul Hicks in his introduction to The Only One .
"Paul hails from Wangaratta and recorded this for his Kettle Of Fish album in 2005," the drummer revealed of the song-writer who also performed at the Dead Livers 40 th anniversary show at the Thornbury Theatre .
Trevor McKenzie returned to lead vocals for singing actor Lyle Lovett's Private Conversation before singing spouse Melissa adopted another tourist Mary Chapin Carpenter's He Thinks He'll Keep Her introduced by Keert as " The Anthem ."
Keert name-checked local musicians Lee Morgan and John Hudson as evidence of Warrnambool being long renowned as the Australian sibling of Texas music mecca Austin.
When Fast Eddy returned to add harmonic fuel to upbeat dance floor magnets - The Mavericks hit Dance The Night Away and 1929 Albert Brumley gem I'll Fly Away.
Before they finished their set with Dylan-Ketch Secor penned Old Crow Medicine Show -Darius Rucker hit Wagon Wheel drummer Keert described Fast Eddy as a "graduate of the Marty Atchison school of stage presence."
It was that sort of gig and time for another break.
HARVEST MOON
The combo cruised into their third set with the McKenzie duo swapping vocals and harmonies in Neil Young's Harvest Moon.
They also teamed for singing actor Dwight Yoakam hit It Only Hurts When I Cry and You're Still Standing There from the Steve Earle-Lucinda Williams song book.
Lost In Suburbia honoured the Justin Townes Earle legacy by reviving his Ain't Waiting and One More Night In Brooklyn,
They punctuated those evocative requiems with classic Keep On The Sunnyside, When I Die, Steven Stills-Neil Young hit Long May You Run and Mike Nesmith penned Stone Poneys -Linda Ronstadt hit Different Drum.
Their fitting finale was The Eagles crowd pleaser The Best Of My Love.
The music could have gone late into a Harvest Moon but drummer Keert had classes awaiting his return to Cobden Technical College Come Monday.
This show was more than just a Shipwreck Coast celebration - it was a true testament to the appeal of dynamic combo with an evangelical zeal way beyond any genre.
With the band performing the last Sunday of each month at this music oasis - Hotel Warrnambool - it's well worth a trip from anywhere on the lost highway.
And, like Mickey Bourke's Hotel in Koroit and the Star Of The West in Port Fairy there are beds upstairs for lonesome travellers.
Review by David Dawson
Lost In Suburbia photos by Carol Taylor