DAVE'S DIARY - 25/11/2022 - PREVIEW OF EPISODE 13 - SERIES 53
SUNNY SWEENEY HEADLINES NU COUNTRY TV
Texan singer-songwriter Sunny Sweeney headlines N u Country TV Wednesday November 30 at 8 pm.
Wynonna Judd and new duet diva Waxahatchee also appear on the show repeated Saturdays at 11.30 pm.
Californian surfing cowboy Gary Allan, Carolina singer-songwriter Tim Elliott and Nashville singer Conner Smith boomerang to the program filmed and edited by our multi-talented lockdown producer-host Laith Graham.
Five time Sydney Golden Guitarist Amber Lawrence also reappears this week with Melbourne band Darlinghurst .
Nu Country TV is a highlight of C 31 streaming list on Digital 44.
Further info - https://www.c31.org.au/
SUNNY RETURNS TO LOST HIGHWAY IN DESERT
Sunny Sweeney frocks up for her long trip on a lost highway in the desert in her Nu Country return.
Sunny, 45, found it hard to say goodbye to a former lover in Easy As Hello she wrote with prolific Massachusetts minstrel-hit writer Lori McKenna - now 53 and mother of five children - for her sixth album Married Alone.
That was before twice divorced Sunny met her Austin police sergeant husband Sgt Jeff Hellmer.
Sunny is joined on her album by Vince Gill - son of a late judge - and duet partner Paul Cauthen on another desert video A Song Can't Fix Everything also penned with McKenna.
Married Alone , produced by Cauthen and Beau Beauford of The Texas Gentlemen , was released on September 23 via Thirty Tigers.
Sunny also hosts her new morning radio show Sunny Side Up on Sirius XM's Willie's Roadhouse.
Her previous albums had collaborations with McKenna who wrote Grammy winning Little Big Town hit Girl Crush and singing actor Tim McGraw's smash Humble And Kind.
Lori's hit The Bird & The Rifle was also title of her Dave Cobb produced 11th album.
CLICK HERE for a Sunny Sweeney feature in The Diary on March 27, 2011.
WYNONNA AND WAXAHATCHEE ON THE OTHER SIDE
Wynonna Judd, now 58, and her new duet diva Waxahatchee team for their new video Other Side that follows 12 Judd solo albums and eight with her late mother Naomi.
The drum propelled video was produced by twice divorced Wynonna and third singing spouse Cactus Moser, now 65, of Highway 101 fame.
Cactus and Kentuckian Wynonna joined Katie Crutchfield, alias Waxahatchee now 32, as co-writers.
Katie has released six albums including one I Walked With You A Ways as The Plains with Jess Williamson.
CLICK HERE for a Wynonna CD feature in The Diary on June 11, 2016.
TIM ELLIOTT HOME IN CAROLINA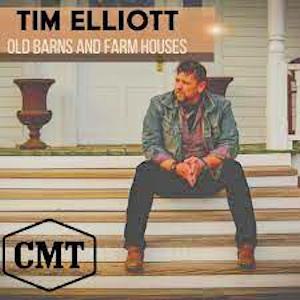 North Carolina blue collar king singer-songwriter Tim Elliott takes viewers inside his fifth generation family farm in his Nu Country debut.
Tim gathered ancestors to depict his harvest message and drove his John Deere tractor and played with his band in his video for Old Barns And Farmhouses.
The singer roped in relatives as he sang and rode his machinery in his break from a 200 concerts a year schedule that includes driving his tour bus he also repairs on the road.
Elliott also opened restaurants in his home state before expanding into Nashville with the purchase of Pick's Bar - a popular songwriter's venue formerly known as the Hall of Fame Lounge .
It was at Pick's his musical ambitions were re-ignited a few years later.
Old Barns And Farmhouses is title track of his latest album.
Further info - https://www.timelliottlive.com/
CONNER SMITH HATES ALABAMA
Nashville born singer-songwriter Conner Smith explores a sporting metaphor for lost love in his Nu Country return.
Conner, just 22, released I Hate Alabama just before the Alabama NBL team broke its winning streak.
I Hate Alabama is on his debut EP Didn't Go Too Far.
Smith wrote his first song at six, signed BMI publishing deal at nine and wrote songs with Ashley Gorley and Zach Crowell at high school.
They encouraged Conner to finish school as he spent his teenage years leading a double life - student in the morning, a working songwriter from noon
Conner debuted on Nu Country with Learn From It that joins Tennessee on his EP.
"I'm so excited to finally get to start this journey with these two songs," Conner revealed.
"Both Tennessee and Learn From It show so much of who I am as a person and artist and are the perfect songs to get this started. Been working for this moment since I was 9 years old, and it truly feels like God's aligned all the right pieces for this moment. Couldn't be more grateful for every person that's helping get this music out to the world. We're just getting started."
Conner's Nashville mother interviewed songwriters in her work when he was a small child.
His dream turned into real life - his songs show maturity and insight of an old soul discovered early.
Further info - https://www.connersmithmusic.com/
GARY ALLAN RUTHLESS
Californian singing surfer Gary Allan returns to our show alive and acoustic on stage with his band to promote new video Ruthless - title track of his 10th album.
Thrice wed Gary, now 54 and father of six, toured here twice - he played Geelong and St Kilda Palais on his 2005 and 2014 tours.
Allan fronted Nu Country with songs diverse as Waste Of A Whiskey Drink, It Ain't The Whiskey and Don't Tell Mama.
Gary used his whiskey metaphors after third wife Angela Herzberg committed suicide with a single gunshot wound just after midnight on October 25, 2004.
Texan born Angela pulled the fatal trigger but the ricochet fuelled morose songs by latter day Nashville widower Gary, now 46 and father of six children.
CLICK HERE for a Gary Allan CD Review in the Diary on February 8, 2013.
AMBER LAWRENCE AND DARLINGHURST
Five-time Golden guitarist Amber Lawrence and Melbourne band Darlinghurst were back on the road again in their Nu Country TV return.
The former Qantas accountant's bus was perfect vehicle for her trip to the country in Living For The Highlights - title track of her seventh solo album out on ABC music.
She fronted Nu Country with Making Up For Lost Wine and I'm Coming Home penned with Gunnedah born Katrina Burgoyne who now lives in Nashville.
Lawrence , 44, also released children's albums and hosted ABC Saturday Night country radio show.
Amber, Fanny Lumsden and Catherine Britt teamed for previous video Cheers To The Girls from her fifth album Happy Ever After in 2017.
She won best female vocalist Golden Guitar at 43rd Australian Country Music Awards in 2015.
Her song The Lifesaver was based on her parents - the video and song tell the story of her life saver dad who died at 52 of leukemia in 2008.
He was orphaned at 10, left home at 15 and homeless before he met her mum - Miss Maroubra Beach - at the famous surfing locale.
The Lifesaver is on her 2014 album Superheroes.
CLICK HERE for a review of Superheroes in The Diary on November 10, 2014.
WIN WAYLON, GEORGE JONES AND MERLE HAGGARD
Help us celebrate being Nu Country TV members and win albums by late Waylon Jennings, Merle Haggard, George Jones and Highwaymen by becoming a Nu Country member or renewing your membership.
George, Waylon, Merle and Willie Nelson were among country historian Barbara Dowling's favourite Texans.
The Waylon, Highwaymen , Merle and George discs were donated by Barbara who died at 77 in December, 2020.
She co-hosted Long In The Saddle in our Nu Country FM era and was pioneer Australian and Victorian country music awards judge.
Barbara was admired for rising above losing her sight as a young woman and her country passion with annual trips to Waylon's birthplace in Littlefield, West Texas.
Waylon died at 64 on February 13, 2002, and is survived by singing spouse Jessi, now 79, and son Shooter, 43.
WIN KEITH URBAN CDS ALSO
We have expatriate Australasian superstar Keith Urban's chart topping 12th album The Speed Of Now - Part 1.
Also BR5-49 CD Big Backyard Beat Show and Billy Ray Cyrus's historic 1992 album Some Gave All featuring Achy Breaky Heart.
We have other CDS by major artists you can win by becoming a Nu Country TV member or renewing memberships.
They include Brad Paisley, Eric Church, Kip Moore and late larrikin legend A.P. Johnson.
CLICK HERE for our Membership Page fo r details.