DAVE'S DIARY - 27 MARCH 2011 - SUNNY SWEENEY INTERVIEW
SUNNY SWEENEY - FROM A TABLE AWAY
"Bet you'd never guess who I saw tonight/ guess you didn't see me in those low dim lights/ I knew who she was/ by the ring still on her hand/ sure looked like you still wanted to be her man." - From A Table Away - Sunny Sweeney-Karen Rochelle-Bob DiPiero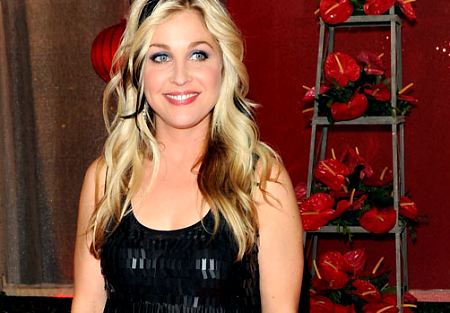 When Sunny Sweeney split with her husband she suffered more than a broken heart.

The Texan honky tonker also separated from one of her dogs Merle but kept two others - Dolly and Nash - all named after country icons.

"I lost one in the divorce, Merle," Sweeney, 34, told Nu Country TV by phone from Austin, Texas.

"My ex-husband has Merle. I still have Dolly and Nash. No, he's not a musician - he took Merle because she really does love him"

So Merle, named after Sweeney's septuagenarian mentor Merle Haggard, is a female?

"She's a small dog," the singer explained, "her real name is Merlene but we called her Merle."

Rest assured Sweeney sees a memento of Merle daily - her tattoo of the Haggard classic Mama Tried on her inner wrist.

She also has the former convict country star's autograph next to those of Hank Williams Jr, Loretta Lynn, Little Jimmy Dickens and new duet partner Jessi Colter on her guitar case.

Sunny obtained the latter when she cut Good Hearted Woman with late fellow Texan Waylon Jennings' widow Jessi for the first of a trilogy of Jennings tribute discs released this year.

Sweeney has worn her heart on her sleeve, skin and guitar long before she released her debut disc Heartbreaker's Hall Of Fame in 2006.

Although Sunny is still reeling from ruptured romance she is doing what her mentors have perfected for decades - she wrote a brace of new songs about her pain.

They're scattered through her new five-track EP From A Table Away that morphed into a belated second album scheduled for release in our winter.
EAST TEXAS PINES
"Had a cup of coffee in a café/ Hoping it's a way to clear my mind/ Set out for Abilene and I made it half way/ now I'm stuck in these east Texas Pines." - East Texas Pines - Libbi Bosworth-Gary Griffin.
Sweeney is proof the East Texas pines around Longview also nurture country and artistic talent.

She shared her birthplace with country comedian Rodney Carrington before attending university in San Marcos, south of Austin, with recent touring partner Randy Rogers.

But what about Grammy and CMA award winning star Miranda Lambert who also cancelled an Australian tour at the eleventh hour?

"No, she's from Lindale, the next town over," joked Sweeney.

"Rodney Carrington is from Longview, so is Matthew McConaughey (who has Trace Adkins playing a bikie gang leader in his latest movie The Lincoln Lawyer.)

But the singer shared fond memories of San Marcos with recent touring partner Randy Rogers.

"It's been like I'm living out a dream," Sweeney said. "I was hanging out in Nashville with Randy Rogers one day and we thought back to our days in college at Texas State University in San Marcos and we were going, 'How did this all happen?' When I was in college, I had aspirations to sing, but it's worked out a lot better than I could've hoped for."

Although Sunny was set to tour here with fellow stone country singer Becky Hobbs and Dallas Wayne in 2009, she'll try again next summer after her album release and U.S. tour with Brad Paisley in May.
AULD LANG SONG
"I'm gonna be the next big nothing/ you won't see my name on MTV/ I'm gonna be the next big nothing/ no-one knows my name in Tennessee" - Next Big Nothing - Audrey Auld Mezera.
But she nurtured her links with Australian country artists long before cutting expat Van Diemen's Land diva Audrey Auld's song The Next Big Nothing on her debut disc.
"I became friends with Bill Chambers about seven or eight years ago because I was a huge Kasey Chambers fan and Dead Ringer Band family band fan," Sweeney explained.

"I was at Kasey's shows when she was playing Austin. Bill's such a great guitar player. We were talking - he came back to Austin and had Audrey with him. I started listening to her songs - I thought 'oh my God - she's so awesome.' I would get every record of hers and then I heard Next Big Nothing.

I heard that and got to hear more of her stuff. When I made that record I thought I don't care what else goes on record but that one has to go on."
The song appeared in 2001 on Audrey's second solo disc Losing Faith.

What about song by Tim Carroll - singing spouse of Elizabeth Cook - that produced a video featured on Nu Country TV.

"I didn't know If I Could was a Tim Carroll song when I first heard it," Sweeney confessed.

"I first heard that song when Kasey sang it - I heard Kasey's version. I didn't even know Tim Carroll wrote it. I heard Kasey sing it on an import that I had which also had her singing True Colours, the Cyndi Lauper song. I thought wow what was that?"

THE OTHER WOMAN

"I thought she was pretty/ she's nothing like the things you said/ the woman you described/ couldn't even turn your head/ the two of you look lost inside a world all your own/ like you couldn't wait to get her alone." - From A Table Away - Sunny Sweeney-Karen Rochelle-Bob DiPiero.
But that was then and this is now as Sweeney follows in the footsteps of Sugarland hit Stay - looking at that famed eternal triangle from the other woman's perspective.

"I wrote From A Table Away in December 2009," Sweeney recalled of the song that has been on charts for more than 30 weeks.

"I co-wrote all five songs on the EP and co-wrote seven of the ten on the album, there's only three I didn't write. I wrote Drink Myself Single - I was thinking of a good song title - that one's hilarious. It's OK for a girl to sing about that. I wrote it with Monty Holmes.

He's from Texas but now lives in Nashville.

He wrote Troubadour for George Strait and wrote Never Ever Again for Texan Lee Ann Womack. He's one of my favourite writers."
Holmes is also a frequent collaborator with expat Australian superstar Keith Urban, touring here with Lady Antebellum in April.

So how much did the recent divorce influence the songwriting?

"A couple of the songs are very personal," Sweeney confessed.

"I went through a divorce recently and a lot of the songs are about the sadness of a relationship going downhill and kind of going like a snowball. When it gets going, you can't stop it sometimes. And it's sad. Yes, it's hard to sing those songs. But I had a show recently and a girl came up to me afterwards and said, "Girl, I am in the same spot." Tears were in her eyes. And here I am just singing songs about my life and this girl is this affected by it. For me, that is humongous flattery. There really isn't anything better. Well, except if my mom says she likes my songs. If mama don't like them, nobody is going to like them."
AMY - NOT BACK IN AUSTIN
"I'll let him go for good, if you just love him like you should/ but if you don't love him, Amy, let him leave." - Amy - Sunny Sweeney-Brennen Leigh.
So was Amy one of them?

"Amy is a love song where the person in it doesn't win," Sunny says.

"Country music is story songs - that's what I love about Merle Haggard's music, Johnny Cash's music. They tell stories - they evoke emotion. That for me as a listener is what I want. I'm a music fan first and foremost. I like to write what I would listen to. I relate to listening to Merle talking about his happenings and Loretta talking about her happenings.

You can't make that shit up. It is just a good story, basically. A good story set to music."'

So how influential top Sunny are Merle, Dolly Parton and Loretta Lynn?

"Merle Haggard is pretty much my hero," Sunny confessed.

"He's been that way my whole life. He's just so cool. When I was a kid, I would sit down with my dad and he would listen to him when I was very little. I was probably seven or eight sitting Indian-style in front of the record player one day. I was watching the record going around on the needle and I was listening to the intro to one of his songs. It was a Merle song. And granted I was little, but I was saying to myself the equivalent of thinking, "Man, that's worth a shit." I didn't say that, but I remember having that thought. That was just so cool. And it was so different. I was probably seven when it happened. Any kind of music I listen to now isn't quite the same. But whenever I'm needing inspiration, I listen to Merle or even Loretta. Loretta is one of the best songwriters on the planet. Dolly Parton is another. There are so many."
STAYING'S WORSE THAN LEAVING

"Both our hearts let go a long time ago/ Words leave scars and Lord knows they heal slow/ Our love died, but somehow we are both still breathin' /I just hope someday we'll look back on this grievin'/ And say - Staying's Worse Than Leaving - Sunny Sweeney-Brennen Leigh.
What about the next single?

"Staying's Worse Than Leaving, that's not a divorce song," Sunny added.
"That's just a song me and my friend Brennen Leigh wrote. I enjoy writing in Texas and Nashville - there's no method to my madness. Brennen has a couple of my songs on her new record. I really only write for myself, what I would cut. We write well together, we wrote Travelling On that's on her record. I don't really do it in my shows - it's more her type of song. It sounds better being done with her band as they have a mandolin and a fiddle - it sounds really awesome."

So what about the album featuring the production of Brett Beavers - also the studio chief for Catherine Britt's third album Little Wildflower?

"On my new record we have some great old guitar work and lots of space musically," Sweeney explained.

"You just don't hear much of that anymore. My producers allowed me to have tons of input on this record - it made me feel so good because I know with every ounce of my being that I can go to bed with my musical integrity every night. I'm really proud of that. Not many people can say that."

<Brennen Leigh
So has Sweeny emulated kindred spirit Kasey Chambers with her songs in movies and TV shows?

"Not so far," Sweeney confided.

"I wanted to have songs in True Blood like Natalie Maines - she's one of the best singers that walked on the planet."
HEARTBREAKERS BY THE NUMBER
"I know my old high school boyfriend has his name on the wall/ well, he was even nominated for this favourite new jerk of all/ I know it was gruelling for him to try and not get elected by me/ now he's in the notable club as the master of ceremonies/ well, once he got inducted there was no way out/ even if he wanted to leave/ he's in the heartbreakers hall of fame now baby as tonight's main honoree." - Heartbreaker's Hall Of Fame - Sunny Sweeney.
Sweeney supplemented her song influences with autographs on her guitar.

"Yes, there's Hank Jr, Merle and Jessi but don't you forget Little Jimmy Dickens, he's amazing," Sweeney said.

"I can't believe when I get to play at the Opry and I'm walking down the hall and he says 'hey Miss Sweeney.' I can't believe he just said hello to me."

What about touring with Jessi Colter to promote their duet on Good Hearted Woman from The Music Inside: A Collaboration Dedicated to Waylon Jennings?

"There's no tour but I think we're gonna do one show together to promote the CD," Sweeney said.

"I don't know when. I would do an entire tour with her if I could. I'm going on tour with Brad Paisley in May."

So how were the sessions with Colter?
"There are three records and I happen to be on the first one," Sweeney enthused.
"I just got to go back to Nashville to shoot this live acoustic performance for Yahoo with Jessi. I got to sing live with Jessi. Awesome. Oh my God. I was so freaking out. I was sitting there singing a song with Jessi Colter that her husband sang about her. It was just nuts. She is amazing. Without sounding tree-huggery and all granola, she has this energy about her. She walks in the room and you know Jessi is there. She's beautiful inside and out. She's just so inspirational. She's one of my huge influences growing up. The fact that I'm friends with her is crazy. She text messages me. Is that the weirdest thing ever? I used to listen to I'm Not Lisa as a kid. I've always listened to things differently than my friends.

They would always say, "Why are you always analysing everything so much?" But that's a deep song. And now I'm sitting next to her and she's playing piano and I'm playing guitar to Waylon. Reggie Young, who made all those sounds, is sitting right next to me. It's just a life experience that's crazy."
AUSTRALIAN TOUR
So I guess that means that things are better/must not be so bad at home/
I thought it looked like you were leavin' /but it don't, and I heard you tell her you still love her/so it doesn't matter what you say/I saw it all." From A Table Away - Sunny Sweeney-Karen Rochelle-Bob DiPiero
Although Sweeney resisted her stepfather's attempts to steer her towards playing country music at school she is now indebted to him despite a rare route to stardom.

She trod the boards in stand-up comedy in New York with a Dolly Parton routine after graduating from university in 2001.

"I didn't start playing until after college," Sweeney said.

"I have only been doing this for six and a half years. He tried to teach me guitar at school but I didn't want anything to do with it. When I got out of college I said to my Dad 'will you buy me a guitar?' He said 'I told you so.'"

He taught her guitar in a 13-hour car trip to Colorado and she clocked up 200 gigs in her first year from September 24, 2004.

So what about revenging plans to tour here over our summer and autumn of 2012?
"I truly want to come there so bad," Sweeney enthused.

"I want to see the Nullarbor Plain from Kasey songs. I want to go where they have this underground shows where it's really hot. I saw it on the Travel Channel - the whole town (Cooper Pedy) is underground. I want to play in Tamworth, Sydney, Melbourne and other places. I have so much stuff I want to do. I definitely will come there.
"
Sweeney's band features Cole Lee guitar, Bruce Alford on drums, Geoff Queen on steel and Cody Martin on bass.

Big Machine-Republic Records releases Sweeney's music here through Universal.

"It's like a fairy tale," Sweeney says of her original signing by Big Machine chief Scott Borchetta.

"He got my CD in a blank envelope, and he doesn't know how he got it."

Although Sweeney is proud of her stone country influences she has one dark secret.

"When I work out I listen to artists like Britney Spears but I'm not listening to that to provoke thought," she joked.

"I'm just listening to that for something to sweat to."