DAVE'S DIARY - 8 JULY 2022 - PREVIEW OF EPISODE 6 - SERIES 52
WILLIE NELSON AND RAY WYLIE HUBBARD HEADLINE NU COUNTRY TV
Veteran Texan outlaws Shotgun Willie Nelson and Ray Wylie Hubbard headline Nu Country TV on Wednesday July 13 at 8 pm with videos filmed at Willie's movie town Luck.
Nashville singer-songwriter Jenny Tolman returns to the show repeated Tuesday at 8 am and Saturdays - 11.30 pm - with her wedding song at the Million Dollar Cowboy Bar in Jackson , Wyoming .
Blue Mountains trucking queen Jayne Denham and Melbourne singer Rich Webb return to the program filmed and edited by our multi-talented lockdown producer-host Laith Graham.
Nu Country TV is a highlight of C 31 streaming list on Digital 44.
Further info - https://www.c31.org.au/
WILLIE CELEBRATES WEDDINGS
Singing actor Willie Nelson proves why he still performs live at the ripe young age of 89 on his Nu Country return.
That's despite mourning the death of his band pianist sister Bobbie who died at 91 on March 10.
Four times wed Willie repeated his wedding wishes in his I'll Love You Till The Day I Die video from his 146th album A Beautiful Time released on his birthday - April 29.
Fellow Texan singer-songwriter Rodney Crowell and Kentucky coal-miner's son Chris Stapleton wrote the song.
Willie celebrated his 49TH July 4 picnic and other major festivals by releasing his nine-album vinyl epic to celebrate his 60 years of recording and Me Please Anthology that features seven CDS.
Willie is joined on many shows by sons Lukas and Micah who streamed his 48th July 4 picnic in iso last year with historic footage from diverse locales including Luck saloon and chapel in his western movie town.
Guests include fellow Texans Asleep At The Wheel , Kinky Friedman, Ray Wylie Hubbard, Randy Rogers, Wade Bowen, Robert Earl Keen, Steve Earle, Lyle Lovett, Charley Crockett, Lukas Nelson and Promise Of The Real , Ashley McBryde, Margo Price, Nathaniel Rateliff, Jamey Johnson, Sheryl Crow, McCrary Sisters and Ziggy Marley.
Willie returned live to his Outlaw festivals that began June 24 in St. Louis and end September 23 in Philadelphia.
Brothers Osborne, Nathaniel Rateliff & The Night Sweats, ZZ Top, Gov't Mule , Zach Bryan, Steve Earle & The Dukes , Allison Russell, Charley Crockett, Larkin Poe, The War and Treaty , Brittney Spencer, Particle Kid are on his 20-plus date tour.
"The Outlaw Music Festival Tour has always been about family and friends coming together for a great day of music and fun, and with the amazing group of artists joining us, this year promises to be our most special Outlaw Tour to date. I just can't wait to get back on the road again," Nelson revealed.
CLICK HERE for a Willie Nelson CD feature in the Diary on August 17, 2020.
CLICK HERE for a Willie Nelson CD feature in The Diary on August 5, 2019.
RAY WYLIE HUBBARD BEHIND BARS DOUBLE SHOT
Willie returns with a double shot in Behind Bars with Ray Wylie Hubbard.
Ray Wylie, now 75, and Willie filmed their Stone Blind Horses video at Nelson's Luck western movie town near Austin.
The town is also a rescue ranch for stray wild horses, dogs and abandoned animals.
Stone Blind Horses is one of two songs Ray Wylie features from his second Co-Starring album - his 19 th in his 47 year recording career.
Heavy metal guitarist Lizzy (Elizabeth Mae Hale) and John 5 join Ray Wylie on Naturally Wild also on the album.
Hubbard and Ashley McBryde, 38, also appeared in Behind Bars with their Outlaw Blood video also on Co-Starring that features Beatles drummer Ringo Starr, Eagles guitarist Joe Walsh, Don Was and Chris Robinson of the Black Crowes.
The album, released on July 10, 2020, on Big Machine Records , also features bluegrass/folk legend Peter Rowan on Hummingbird , Paula Nelson and Elizabeth Cook on Drink Till I See Double and Aaron Lee Tasjan on Rock Gods.
"Co-Starring has got grit, groove, tone and taste and is so righteously cool that small demons will drool, and little angels will want to line dance," Ray Wylie revealed.
Cadillac Three , Pam Tillis, Ronnie Dunn, Tyler Bryant and the Shakedown and Larkin Poe guest on the album.
Hubbard was born in Hugo , Oklahoma , and moved to Austin , Texas , and lives in the hill country at Wimberley - former home of Kevin Welch who resides on the NSW south coast with his Australian wife.
CLICK HERE for a Ray Wylie Hubbard feature in The Diary on July 7, 2012.
JENNY TOLMAN MARRIED IN A HONKY TONK
Nashville singer songwriter Jenny Tolman extended Willie's marital theme when she chose the Million Dollar Cowboy Bar in Jackson, Wyoming, for her wedding video.
All the cast were Jackson residents and Wyoming Whiskey gave Jenny, 26, the classic Longhorn Lincoln in the video.
Married In A Honky Tonk is Jenny's second album title track.
It follows 2018 debut album Jennyville that featured fiddles, horns and steel guitar on songs diverse as Ain't Mary Jane, So Pretty, High Class White Trash and Used To My Cooking.
Jenny debuted on Nu Country in 2018 with Something To Complain About after her dad sang in barber shop quartet Indian River Boys and became a talent buyer in Music City .
"I love country music, and I love humans, and to me, using computers to make sounds that humans make feels like you're stealing in some way," Tolman revealed.
"I like to compare it to the food industry, because I'm also very passionate about eating organic and eating healthy, non-processed food. It feels like music is becoming a processed-food company because it's quick, easy and cheap. But it's not necessarily good for you."
Tolman released a self-titled EP at 18 and toured with Cole Swindell, Michael Ray and Alabama .
Further info - https://www.jennytolman.com/#band-section
JAYNE DENHAM A HIGHWAY VAGABOND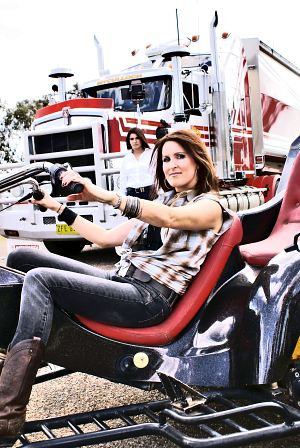 Blue Mountains mother trucker Jayne Denham emulates Willie Nelson when she is on the road again in her animated video.
Jayne, 40, proves why she's queen of the highways here and on overseas tours.
She strode mean streets and way beyond in her Highway Vagabond video from fifth album Wanted after she pitched the title to songwriter mates Troy Kemp and Matt Scullion.
Wanted hails back to the wild west inspired by old western movie soundtracks blending with country rock.
Jayne teamed with Brian White and Grammy nominated multi-instrumentalist songwriter Brian Bunn as her Nashville producers.
The three-time Golden Guitar nominee shared bills with expat superstar Keith Urban and played major music-truck festivals and rodeos in Canada and U.S. before lockdown.
She also played CMC Rocks, Deni Ute Muster, Gympie Music Muster and Tamworth Festivals.
Jayne previously fronted Nu Country with Wanted, Better Make It a Double and Better Settle Up videos.
CLICK HERE for a Jayne Denham feature in the Diary on April 30, 2018.
RICH WEBB FIGHTS FOR REFUGEES
Expatriate Scotsman and Melbourne roots country veteran Rich Webb highlights the plight of refugees in our country and way beyond in his Nu Country return.
Rich highlights unjust jailing of refugees seeking solace in our once lucky country in his evocative animated video for Love Someone - his sixth solo album title track.
Rich is a popular artist in his adoptive home country with peers diverse as the T-Bones, Warner Brothers and many local bands.
Webb fronted Nu Country last year with saxophonist son Henry, another son Alfred and wife Emma in If You Were To Go from 1998 album The Girl Who Laughed Too Much that was remastered and re-released in 2019.
Rich was born near Glasgow , grew up in England 's Scunthorpe with pit-stops in Sheffield and London before landing in Melbourne .
Webb's band also appeared on Nu Country in 2014 with their equestrian metaphor in an old style gambling den on their Stray Horse Canyon video.
Further info - https://rich-webb.com/
WIN WAYLON, GEORGE JONES AND MERLE HAGGARD
Help us celebrate being Nu Country TV members and win albums by late Waylon Jennings, Merle Haggard, George Jones and Highwaymen by becoming a Nu Country member or renewing your membership.
George, Waylon, Merle and Willie Nelson were among country historian Barbara Dowling's favourite Texans.
The Waylon, Highwaymen , Merle and George discs were donated by Barbara who died at 77 in December, 2020.
She co-hosted Long In The Saddle in our Nu Country FM era and was pioneer Australian and Victorian country music awards judge.
Barbara was admired for rising above losing her sight as a young woman and her country passion with annual trips to Waylon's birthplace in Littlefield, West Texas.
Waylon died at 64 on February 13, 2002, and is survived by singing spouse Jessi, now 79, and son Shooter, 43.
WIN KEITH URBAN CDS ALSO
We have expatriate Australasian superstar Keith Urban's chart topping 12th album The Speed Of Now - Part 1.
Also BR5-49 CD Big Backyard Beat Show and Billy Ray Cyrus's historic 1992 album Some Gave All that features Achy Breaky Heart.
We have other CDS by major artists you can win by becoming a Nu Country TV member or renewing memberships.
They include Brad Paisley, Eric Church, Kip Moore and late larrikin legend A.P. Johnson.
CLICK HERE for our Membership Pa ge for details.