DAVE'S DIARY - 24 MAY 2021 - PREVIEW OF EPISODE 1 - SERIES 48
ALAN JACKSON HEADLINES NU COUNTRY TV
Georgian born singer-songwriter Alan Jackson headlines the Nu Country TV Series #48 premiere on Saturday May 29 at 9.30 pm on Channel 31/Digital 44.
Texan nouveau outlaw Koe Wetzel debuts on the show repeated Wednesday at 11.30 pm.
Scotch College media teacher and cyclist Michael Waugh, prolific Golden Guitarist Felicity Urquhart and Waifs singer Josh Cunningham return to the program edited by multi-talented lockdown producer Laith Graham.
Blue Mountains singer-songwriter Jayne Denham and Appalachian mountains refugee Morgan Wade also appear in a show that ends with octogenarian Texan Willie Nelson and the late Waylon Jennings choosing between heaven and hell.
Nu Country TV is a highlight of C 31 streaming list on Digital 44.
Further info - https://www.c31.org.au/
JACKSON TRIBUTE TO FAMILY AND PEERS
Alan Jackson headlines Nu Country with an evocative singalong video for the title track of his 22nd album Where Have You Gone that topped charts on release on May 14.
Jackson , 62, mourned his mother Ruth who died at 86 on January 7, 2017 in her home of 70 years, in another new song Where Her Heart Has Always Been.
Ruth and Alan's late dad Gene inspired several of his 15 originals on his 21-track album.
The title track video illustrates Alan's love of traditional country music.
Jackson exuded passion for true country when I first interviewed him on a 1988 bus trip to a Vern Gosdin concert in civil war town Franklin, south of Nashville.
He updated that in a recent interview explaining the source of Where Have You Gone.
"Merle and George and Hank," Jackson explained.
"A lot of young people liked that music when I was growing up but it felt like nobody was making it. Somebody had to go to Nashville to make that kind of country. Randy Travis did and was great. But real country music is gone. It feels like 1985 again and somebody has to bring it back. Because it's not just 50-year-old people, it's 20- and 25-year-olds. They have a real ear for country music because it is real and genuine. They know the difference, and you can't fake those things.
"When I write, I visualize back home and growing up. It's a little harder country than even I've done in the past. And it's funny I was driving and listening to the final mixes producer Keith Stegall sent me and I started to tear up. I was surprised to get so overly emotional, but I just love this kind of music.
"Real country songs are life and love and heartache, drinking and Mama and having a good time but it's the sounds of the instruments, too. The steel and acoustic guitar, the fiddle - those things have a sound and a tone and getting that right, the way those things make you feel, that's country, too."
Jackson 's album resonated with country heroine Loretta Lynn, now 89, and still recording.
"Just when I thought country music was near gone, Alan Jackson brings it back to life!" Lynn commented.
"What an album, he's given us. Y'all go listen to it right now. Alan, thank you honey for keeping it country!"
CLICK HERE for an Alan Jackson CD feature in the Diary on August 25, 2012.
CLICK HERE for another Jackson interview in The Diary on October 24, 2010.
KOE WETZEL GOOD DIE YOUNG
Texan nouveau outlaw Koe Wetzel debuts with a vivid video that depicts choices he makes.
Wetzel, 31, was born in Pittsburg - not Pennsylvania - but Camp County in Texas.
He acts out his penchant for loving, hunting, fishing, flesh fetishes and board games but his limo chauffeur gives him a stark choice - Mexico or state prison.
Koe chose to head south of the border in his video for Good Die Young - a highlight of his fifth album Kuntry & Wistern.
His 2015 debut album Out On Parole was followed by others including Noise Complaint in 2016 and 2019 album Harold Saul High .
Further info - https://koewetzelmusic.com/
FELICITY AND JOSH CUNNINGHAM
Prolific Golden Guitarist Felicity Urquhart returns with new recording partner Josh Cunningham.
Josh co-founded award winning West Australian trio The Waifs with Vikki Thorn and Donna Simpson in 1992.
The new duo performs in their video for Spare Parts from their debut duets disc The Song Club, released on May 7.
Felicity, now 45 and mother of two daughters, rebounded from the suicide of singing spouse Glen Hannah on May 28, 2019, to win six Golden Guitars in 2020 for her seventh solo album Frozen Rabbit.
The revered former host of ABC Radio show Saturday Night Country , Sydney Weekender presenter on Seven Network and one time Nu Country TV host, is a revered songwriter.
She met Cunningham through online Song Club where artists share songwriting and recording by email.
Josh suffered divorce from his former wife in 2019 and met Felicity at her Avoca Beach home on the NSW Central Coast over a cup of tea.
The cuppa led to a coupling on their album that features eight Cunningham originals, two co-writes and one Felicity solo original Hopeless And Good.
Josh and Felicity are on a 17 date national tour that included Gippsland Country Music Festival at Mossvale Park on April 24.
CLICK HERE for Felicity's Frozen Rabbit CD feature in the Diary on April 29, 2019.
CLICK HERE for an historic Waifs interview in the Diary on March 31, 2004
CLICK HERE for a Waifs Forum concert review on October 2, 2007
MICHAEL WAUGH DINES ON YARRA MUD
Gippsland dairy farmer's son Michael Waugh takes viewers on a scenic trip on his return.
Waugh, now 50 and a media, English and arts teacher, left his Scotch College boarding house in Hawthorn on an educational journey.
He visited the murky Yarra River, famed South Yarra Tan, trendy bars and cafes on Brunswick Street , Flinders Street Station, St Kilda Beach and a Melbourne tram.
Dirty River celebrates Waugh's latter day home city and traditional custodians of the land and is on his fourth album, produced by multi award winning artist Shane Nicholson and due for release in August on Compass Bros Records.
Waugh wrote the song through Melbourne 's long 2020 COVID-19 lockdown.
"When you're stuck within a 5k radius of your own home, you start to newly appreciate the beauty of your city", Waugh revealed.
"I'm lucky enough to live within walking distance of the Yarra, and on those precious masked walks, I became conscious of the importance of the river in the identity and history of my city. The river is so central to my home and yet I'd taken it for granted for the 30 odd years that I've lived here. I suppose that was the gift of Covid. I got to see my city through new eyes. This place holds my personal history as well as that of my community. And we live at a time when we all have opportunity to learn more about the story predating European invasion and the spiritual significance of the Yarra runs through the heart of that story, too."
The video was directed by Melbourne based photographer and videographer Sean Kirkwood - one of his former students.
Sadly, Weir's father John died of a lung disease at 76 in January, 2020, and mum Eileen died later at 69 in March.
CLICK HERE for Waugh Weir CD feature in the Diary on September 30, 2019.
BLUE MOUNTAINS BELLE JAYNE DENHAM STILL TRUCKING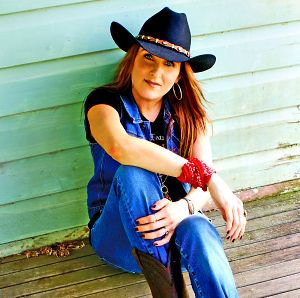 Trucking troubadour Jayne Denham travelled the world recording and performing career before the pandemic.
The triple Golden Guitar nominee returned home and filmed her Better Settle Up video in Camden in NSW with Camden Limo Hire providing her wheels.
The song is on her fifth album Wanted, recorded in Nashville with multiple-award winning songwriter-producer Brian White and Grammy nominated musician, song-writer & producer Brian Bunn.
It will be released on August 13 and launched at Rock n Country Festival in Mackay on August 20 before an East Coast tour with fellow Blue Mountains Golden Guitar nominee Cass Hopetoun.
Jayne describes her music as "Bad Ass Country with a big serve of Spaghetti Western on the side.
"It's definitely country with a little bit of Western thrown in and the new live show will represent that and is going to be like nothing else," Jayne revealed.
"I had the idea that I wanted to do something with a country Rock & Western theme in mind in mid-March last year, just as the COVID pandemic was starting to take hold. After writing the title track with Troy Kemp and Matt Scullion the concept of doing a whole record & show in this direction came about".
Jayne also helped her sister open fashion gifts and homewares shop Sista Styling in hometown Springwood in the Blue Mountains .
"I work there a few days a week when I am not on the road," Jayne explained.
"It has been so successful we have employed extra staff. A successful business opened during Covid LOL. People wanted to shop local so we jumped at the chance to give it a go and it worked. Our town loves it. I live here in the lower Blue Mountains again. No more beach life for now."
CLICK HERE for a Jayne CD feature in the Diary on April 30, 2018.
APPALACHIANS HEROINE MORGAN WADE
Virginian mountains minstrel Morgan Wade follows Blue Mountains belle Jayne Denham down under on our show.
Morgan hails from Roanoke in Virginia and, like fellow female outlaw Ashley McBryde, she prefers tatts to hats.
Wade, now 26, began performing in public seven years ago at 19, and put her band the Stepbrothers together via Craiglist and discovered she loved the stage.
The Appalachian heroine performed Don't Cry from her debut album Reckless produced by Jason Isbell's guitarist Sadler Vaden.
It came out on March 19 on Thirty Tigers/Cooking Vinyl and features singles Take Me Away and Wilder Days.
Further info - https://www.morganwademusic.com/
WAYLON & WILLIE CHOOSE BETWEEN HEAVEN AND HELL
Pioneer Texan outlaws Willie Nelson, who turned 88 or April 29, and the late Waylon Jennings follow Koe Wetzel south of the border in their return.
The duo reached back to 1976 for their historic Heaven Or Hell video.
It was filmed long before Waylon died at 64 on February 13, 2002.
WIN WAYLON, GEORGE JONES AND HIGHWAYMEN
Waylon and Willie were among country historian Barbara Dowling's favourite Texans.
You can win Waylon Jennings, Highwaymen , Merle Haggard and George Jones discs donated by Barbara who died at 77 in December by becoming a Nu Country TV member or renewing your membership.
She co-hosted Long In The Saddle in our Nu Country FM era and was pioneer Australian and Victorian country music awards judge.
Barbara was admired for rising above losing her sight as a young woman and her country music passion with regular trips to Waylon's birthplace in Littlefield, West Texas .
Waylon is survived by singing spouse Jessi, now 77, and son Shooter, 41.
WIN KEITH URBAN CDS ALSO
We have expatriate Australasian superstar Keith Urban's chart topping 12th album The Speed Of Now - Part 1.
Also BR5-49 CD Big Backyard Beat Show and Billy Ray Cyrus's historic 1992 album Some Gave All that features his Achy Breaky Heart hit.
Join Watling & Bates as members and win their 13 track CD Small Town Tales.
We have other CDS by major artists you can win by becoming a Nu Country TV member or renewing your membership.
They include Brad Paisley, Carrie Underwood, Eric Church, Kip Moore and late larrikin legend A.P. Johnson.
CLICK HERE for our Membership Page for details.