DAVE'S DIARY - 31 MARCH 2004 - THE WAIFS
WAIFS WHISTLE FOR A BRIDAL TRAIN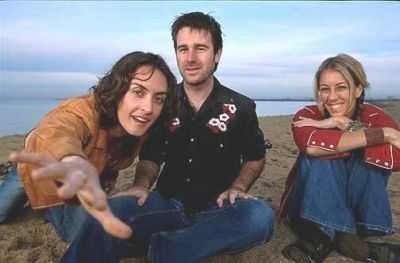 The Waifs
"A telegram arrived today/ it's time to catch the Monterey/ coz the man I wed, he waits for me/ and the daughter that's he yet to see." - Bridal Train - Vicki Simpson.

When The Waifs tour they have a cool way of keeping in touch at crowded locales - the Waif Whistle.

It also comes in handy at supermarkets and shopping malls.

But it failed Waifs diva Donna Simpson four years ago when she lugged suitcases down a crowded New York street to famed Penn Station and missed a train to Boston.

"Donna didn't get lost, she decided to go for a little wander three minutes before our train was called," little sister Vikki told Nu Country on the eve of their St Kilda Palais concert on Friday April 2.

"We thought she was going to turn up so we took all her luggage and boarded the train. The doors shut and we realised she wasn't on the train We had her passport, ID and all that and she was running around blowing her Waif whistle but it was too late."

A black woman named Phyllis gave Donna money for the fare but she was stranded for another day and separated from Vikki and multi-instrumentalist Joshua Cunningham
But it was a different train trip in a distant century that inspired The Waifs new single Bridal Train.


The Albany sisters are touring to promote the evocative story of an emotional journey by their grandmother Betty and her baby daughter - their mother - 58 years earlier.

Vikki wrote Bridal Train about the trans Nullarbor train trip and sea cruise by Betty to be with her husband Bob - a Chief Petty Officer she met during World War 11.

The U.S. Navy paid for the reunion of the Simpson sisters' grandmother and many other war brides in February 1946.

Betty - a W.A. wheat belt war bride and baby daughter - rode the bridal train from Perth to Sydney before catching a slow boat to San Francisco to join her husband.
FROM WAGIN TO GRAND JUNCTION

"During the war she was boarding with a lady in Perth," Vikki, 29, revealed.

"She was from Wagin - a very small town in the wheat and sheep producing town in southern central W.A. It was about a four-hour train trip to Perth. The Perth people were encouraged to invite sailors to their homes and give them a home cooked meal. That's how they met."

The couple wed in 1944 and became parents of a daughter but were separated as Vikki's grandfather returned home after peace broke out.

"She took the journey in 1946 to Sydney on the Bridal Train and caught the Monterey to San Francisco. The ship was carrying a thousand women to San Francisco. He lived in Colorado and organised her transport to Denver."

The record, adorned with the bridal pictures and a telegram announcing the trip and child indemnity, has been released here during their farewell Australian tour.

The U.S. Navy paid for the passage but not the sequel last year when the Simpson sisters, raised in the shadows of the Albany whaling station, returned to Colorado.

ASHES ON A TELLURIDE MOUNTAIN
"My grandfather died about five years ago and last year we took his ashes and climbed up the mountains at Telluride and took his ashes up there," Simpson revealed.

"He grew up in a small town called Grand Junction but he lived most of his adult life in Denver. We were reconnecting with that part of our history on that side of our family. We went to Grand Junction but it just a big sprawling town. We couldn't find anywhere nice to put him so we waited until we got to Telluride when we played at the festival."

The serendipity was not lost on The Waifs who met their record label bosses - Grammy award winning banjo playing MBA Alison Brown and bassist husband Garry West for the first time at the Telluride festival.

The Waifs, whose records are released here by Jarrah, signed with Compass before they met their distributors.

Another compass may have been handy for the Simpsons for the travelling dramas that inspired Three Down from their ARIA winning fourth album Up All Night.
KERRVILLE TO JACKSON
"We had driven back from the Kerrville folk festival in the Texas hill country and it was stinking hot and we were staying at this motel near the airport where trucks rumbled by and we couldn't sleep," Simpson confessed.

"Then we got to Nashville and finished a gig after midnight and we hit the road to make a radio interview at 9 am. We were so tired we took the wrong freeway, got lost and added two hours to the trip to Jackson. I was half asleep and pulled over at this servo up in the mountains somewhere and this guy in a pair of denim overalls told us we had taken the wrong turn."

The Waifs, formed in 1992 after the Simpson sisters met Josh Cunningham when they were performing separately in Broome.

Multi-instrumentalist Cunningham, whose family have a farm in southern NSW, teamed up with acoustic guitarists Vikki and Donna.

Vikki also plays harmonica and Donna is hoping for banjo tutelage from Brown.

They moved to Collingwood and used Melbourne as a launch pad for a career that began with their self-titled debut disc in 1996 and Shelter Me in 1998.


By the time the band released Sink Or Swim in 2000 they had toured internationally with Bob Dylan and artists diverse as Michelle Shocked and Ani DiFranco.

Despite their huge crossover success they reverted to a more organic, rootsy feel for their latest studio album.
"It feels more like the early days than it has for a long time," says Josh of Up All Night.

"We're sharing the big adventure together again. It feels like a return to the spirit of the old days. That's something that's depicted on the album. It's more a return to our original sound."

The disc featured radio friendly songs London Still, Flesh And Blood, Fisherman's Daughter and Lighthouse Man.

"After 10 years we're just more open to staying true to ourselves," adds Vikki. "I feel this album is the closest we've come to making a sound that we're all really happy with."

STRINGS STEEL
The Bridal Train single also includes new Cunningham song Strings Steel and a live cut of the Donna penned tune Sweetness from Up All Night.

"Josh probably wrote Strings Steel in a dark room on his own one night,' Vikki revealed,
"I know the song has been around for at least three years and one of the favourite songs he has written. Some times our songs get tucked away and kept until later."

So what about that great gold mine in the sky - other artists recording Waifs songs?

"There was a Canadian woman who recorded When I Die and a woman from New York recorded People Who Think They Can," Vikki added.

"They're all independent acts. We don't have a publishing deal - we have a few talks with publishing companies. Josh has a huge back catalogue of country songs. It's one of his dreams to have his songs covered by someone like the Dixie Chicks. He really writes classic country stuff. Some of it's real Nashville slick and some of it's real old style. We had this side project with Jen Anderson going of getting a country band together. We had a couple of rehearsals and made a little CD but never got out there. It's just another idea that we have tucked away."

ALISON BROWN AND COMPASS
So how were The Waifs signed to Compass Records in the U.S?

"Alison or her husband Garry saw us at one of the festivals," says Vikki, "they run the company and are also playing at a lot of the festivals. The first time we met them was at Telluride last year. They had already signed us to their label. It's all very friendly, one on one because it's made up of musicians. Donna has asked her for some banjo lessons. I'm not sure if they ever got around to it. Donna saw her perform at Telluride and was blown away."

And it's the U S and Canada festival circuit that has helped The Waifs earn international acclaim.

"We were booked for four or five Canadian festivals," Vikki added, "that really launched our international career. They're festivals attended by 25,000 people a day. We have sold more in the U.S. than Canada but not as much as in Australia. We sell more at gigs over there than through stores."

WILL WAIFS WHISTLE ON RECORD
The Waifs release a live double album in May their tour of the U.S. but it's not clear if they will debut the Waif Whistle.
"No we should, that's a good idea, get the melody of it," Vikki confided, "we could introduce it. I started using it on my fiance but he doesn't like it at all. Some times in malls there are so many whistles it gets very confusing."

But there's no confusion about the success of The Waifs whose country folk hybrid has won them widespread airplay on Americana and AAA radio in the U.S. and discerning radio outlets in Canada, Europe and Australia.

"KFOG in San Francisco gave us high rotation for Lighthouse for months," says Vikki, "Seattle picked up London Still. We would like to tour Austin and other Texas venues far more often. Last time we were in Austin was with Dylan."

They have already begun sourcing their fifth studio album.

The Waifs
"We have a lot of songs, some of it's back catalogue stuff," Vikki added, "Donna was playing me songs she wrote about five years ago. I didn't really like them at the time but now they sound fantastic. The idea of the music has changed. A few years ago we were exploring a more poppy music but the reaction at these festivals overseas we have got more comfortable with a more roots based acoustic sound. We went out on a limb with Up All Night - especially that song - and putting on mellow rootsy ballads. And having that album has given us more confidence to go down the path we really want to go. We tend to write more on our own when we get a spare hour."

But there is a demand on their time now with their U.S tour starting in Seattle on April 13 and heading south into theatres in the Mid West.

"We're doing all the gigs we've never done before and then we do this really big gig in New York at Irving Plaza," says Vikki, "we have these theatre gigs in Boulder, Colorado, and a really big festival in San Francisco which is run by KFOG. They get about 300,000 there. We're doing Merlefest in North Carolina."

The Waifs and Tim Rogers perform The Palais on Friday. Bookings - Palais Box office and Ticketmaster7.