DAVE'S DIARY - 8 MARCH 2021 - PREVIEW OF EPISODE 3 -SERIES 47
CHRIS STAPLETON HEADLINES NU COUNTRY TV
Kentucky coal-miner's son Chris Stapleton and singing spouse Morgane headline Nu Country TV Saturday March 13 at 9.30 pm on Channel 31/Digital 44.
Alabama singer-songwriters Jamey Johnson and Tyler Braden return to the show hosted by Mid-Pacific Bob Olson and repeated Wednesday at 11.30 pm.
Floridian Easton Corbin and Missouri minstrel Jessie Ritter appear on our program edited by our multi-talented lockdown producer Laith Graham.
West Australian Emily Barker debuts as we celebrate the legacy of Waylon Jennings and his widow Jessi Colter as they perform a classic duet.
Nu Country TV is a highlight of C 31 streaming list on Digital 44.
Further info - https://www.c31.org.au/
CHRIS AND MORGANE DANCE
Chris and Morgane Stapleton prove equally productive off stage and on.
Chris, aged 42, and Morgane produce cool country music and five children including twins.
This week they perform a live version of I Hope You Dance - title track of Texan Lee Ann Womack's 2000 album - for a radiothon in Behind Bars.
Producer Dave Cobb guested on previous video Starting Over - title track of his fourth solo album, released on November 13.
Chris wrote 11 of 14 songs on his new album and appeared on Nu Country with Missouri born singing actor Sheryl Crow on historic hit Tell Me When It's Over.
His previous Nu Country videos included I Was Wrong and Midnight Train To Georgia live after a brace of Billboard Music Awards, Grammys, CMA, ACM and American Music Awards.
Midnight Train To Georgia is on Chris's huge selling third album From A Room Volume 2.
He filmed Broken Halo, Fire Away and Tennessee Whiskey videos after writing many hits for a vast cast diverse as Adele, Tim McGraw, Brad Paisley, Dierks Bentley, Vince Gill and Peter Frampton during and after a career with bluegrass band The Steel Drivers.
Novocastrian Catherine Britt and Stapleton co-wrote Lonely - a highlight of her 2010 self-titled album that featured three collaborations with Tennessean Ashley Monroe.
CLICK HERE for Chris's huge selling debut solo album Traveller feature in The Diary on December 21, 2015.
JAMEY JOHNSON IN NEW ORLEANS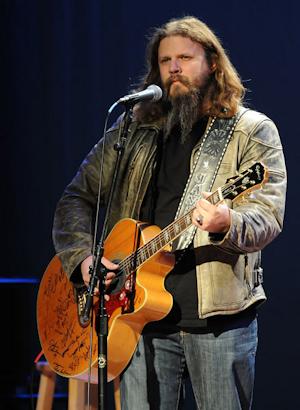 Alabama ace Jamey Johnson joins the Stapleton duo Behind Bars with his revival of Every Night Is Saturday Night in New Orleans.
Steppenwolf singer John Kay wrote the 1976 song Jamey performed in lockdown.
Johnson, 45, is a regular act at Willie Nelson's Farm Aid concerts and July 4 picnics and has released five albums.
Jamey also appeared in Behind Bars live with time travel to an historic Farm Aid Concert.
He recalled Baptist battles before prison cured his sins and the high cost of living led to his costs of living high.
Johnson's life on the edge echoed the plight of subsistence farmers
High Cost Of Living was originally on That Lonesome Song - his second album in 2008.
Jamey's two later albums included a Hank Cochran tribute disc.
CLICK HERE for the Jamey Johnson Cochran Tribute CD feature in The Diary on November 4, 2012.
CLICK HERE for another Jamey Johnson CD feature in The Diary on December 13, 2011.
ALABAMA FIREMAN TYLER BRADEN DEBUT
Alabama born fireman and first responder Tyler Braden visits a small town where moonshine is also their sunshine on his Nu Country debut.
Braden grew up in Slapout , Alabama , just miles from the graveyard memorial to Hank Williams.
Tyler, now 27, explores the lifestyles of rural residents in Secret - title track of his new album.
The video, directed by Dustin Haney, expands on the world they created in their Love Is A Dead End Road by focusing on two previously introduced characters.
"This song really boils down to a single lyric - 'this simple life ain't as easy as it sounds,'" said Braden.
"It's about being from a small town and knowing things about everyone around you, good or bad. That lyric tells how it's almost impossible to live in anonymity in a small town. It makes everything more difficult when all eyes are on you. The way he was able to bring the characters to life in this video and really show how small-town relationships affect everyone around is a true sight to see."
Tyler also explored tiny town tales about locals in previous video Brother that featured fellow fire fighters and first responders.
Further info - https://www.tylerbraden.com/secret
EASTON CORBIN BEAT
Florida farm raised singer-songwriter Easton Corbin returns with Didn't Miss A Beat - title track of his fifth album.
Easton , now 38, was raised on his grand-parents cattle farm after his parents split when he was a child.
"I lived a mile from the Suwannee River ," Easton recalled.
"I grew up fishing on it and I loved to work on the farm. Every weekend, that's where I'd be."
Easton showed cattle at a local livestock fair and at 15 had guitar lessons from Pee Wee Melton - a local musician who played Nashville sessions.
The Gilchrist county born star graduated from College of Agriculture , University of Florida , with a degree in Agribusiness before following his music to Nashville.
He debuted on Nu Country in 2011 with I Can't Love You Back from his self-titled debut CD.
His first #1 single, A Little More Country Than That , written by Rory Feek, Don Poythress and Varble, explored rural life.
"My wife Brinn and I got married on September 2, 2006 - on October 14 we moved to Nashville ," he revealed.
"I always knew I wanted to move up here. There was never any question about it. I didn't want to wake up one day and wish I would have tried it, but I had to get my education first so I had something to fall back on."
Further info - www.eastoncorbin.com
EMILY BARKER MACHINE
West Australian singer-songwriter Emily Barker debuts on Nu Country with salient social comment on racism and sexism.
She wrote Machine after seeing Ava DuVernay's recent documentary - 13th.
The Bridgewater born singer, now 40, filmed her video for her EP Machine with Tori Styler.
Machine is also on her fourth solo album A Dark Murmuration of Words.
It was inspired by Ava DuVernay's powerful documentary 13th and slave trade statues along Charleston harbour front and connects racism and climate change.
"To this day, global corporations continue to benefit from cheap labour from the system of penal servitude," Emily explained.
"The same machine that perpetuates slavery around the globe also perpetuates the abuse of the planet. When I was on tour in the United States in 2016/17, I recognised similarities between Australian colonial history and that of America . I saw statues in the park that celebrate slave owners, much like those erected in parks around Australia to celebrate the wealthy landowners responsible for executing Indigenous peoples in order to clear the land for farming and industry."
Emily is known as writer-performer of the award-winning theme to BBC crime drama Wallander starring Kenneth Branagh and The Shadow Line .
She released albums and EPS with The Red Clay Halo, Vena Portae, Applewood Road and Marry Waterson .
Emily has written for film, including composing her first feature film soundtrack for Jake Gavin's debut feature Hector starring Peter Mullan and Keith Allen.
Further info - https://www.emilybarker.com/
JESSIE RITTER REVISITS HER MISSOURI FARM HOME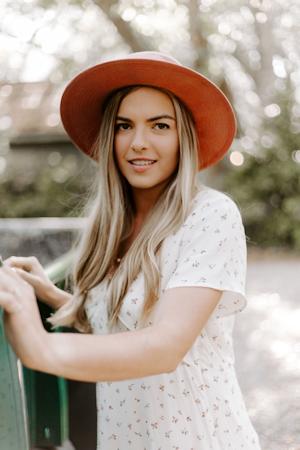 Singer-songwriter Jessie Ritter returned to her Cape Girardeau farm in Missouri in her Home video after a 20 year absence that evoked nostalgic memories.
Jessie, aged 27, now lives in Nashville and Pensacola, Florida.
"I wrote this song when I went back to visit my childhood family farm for the first time in twenty years," Jessie revealed.
"This is my story, about my loss, and the change I had to go through. But I think you'll find your own story here as well. I think we all long for the home that no longer exists."
Home follows her 2018 debut album Coffee Every Morning and EP Stories Told .
Further info - https://jessieritter.com/home
JESSI COLTER AND WAYLON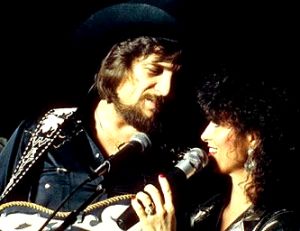 Late outlaw star Waylon Jennings returns with his widow and singing spouse Jessi Colter, now 77.
They perform It Wasn't God Who Made Honky Tonk Angels on several of their albums you can win by becoming Nu Country TV members or renewing your membership
It is among many albums by Waylon, Willie, George Jones, Merle Haggard and Highwaymen donated by country historian Barbara Dowling who died at 77 on December 11, 2020.
She co-hosted Long In The Saddle in our Nu Country FM era.
The pioneer Australian and Victorian country music awards judge was admired for rising above losing her sight as a young woman and pursuing country music passion with regular trips to Waylon's birthplace in Littlefield, West Texas.
Waylon died at 64 on February 13, 2002 and is also survived by his son Shooter, now 41.
WIN KEITH URBAN CDS ALSO
We have expatriate Australasian superstar Keith Urban's chart topping 12th album The Speed Of Now - Part 1.
Also BR5-49 CD Big Backyard Beat Show and Billy Ray Cyrus's historic 1992 album Some Gave All that features his Achy Breaky Heart hit.
Join Watling & Bates as members and win their 13 track CD Small Town Tales.
We have other CDS by major artists you can win by becoming a Nu Country TV member or renewing your membership.
They include Brad Paisley, Carrie Underwood, Eric Church, Kip Moore and late larrikin legend A.P. Johnson.
CLICK HERE for our Membership Page for details.