DAVE'S DIARY - 16/11/2020 - PREVIEW OF EPISODE 13 - SERIES 45
JASMINE RAE HEADLINES NU COUNTRY TV
Fawkner born singer-songwriter Jasmine Rae headlines Nu Country TV this Saturday November 21 at 9.30 pm on Channel 31/Digital 44.
Moonshiner's daughter Elizabeth Cook returns to the show repeated Wednesday at 10.30 pm.
Northern Territory stockman Tom Curtain and Texan rancher Mark Powell also appear on the program filmed and edited by our multi-skilled loyal lockdown host Laith Graham.
Kentucky singing actress Laura Bell Bundy and North Dakota born singer songwriter Brennen Leigh also return.
Nu Country TV is a highlight of C 31 streaming list on Digital 44.
Further info - https://www.c31.org.au/
JASMINE FINDS A GENTLE MAN
Jasmine Rae celebrates with a video filmed during lockdown on the week of her recent CD launch.
Jasmine, now 33, grew up in Fawkner before heading north to Sydney to follow her music dreams.
She filmed her Gentle Man video with Shannon Brown and Barb Baillie at the Fox Studios in Sydney.
It's one of her 10 original songs on her fifth album Lion Side, released earlier this year.
" Gentle Man reaches through the tough exterior that people (especially some men I know) often put around themselves, and gets to heart of who they truly are," Rae revealed.
"Sometimes they can be misunderstood. But they are understood by somebody and that's what I wanted to let them know by writing and singing this song."
Jasmine recorded chart-topping songs with U.S. stars Joe Nichols and Kellie Pickler and opened national arena tours for Grammy winners Brooks & Dunn and Alan Jackson.
But she had five-year hiatus between albums - her fourth Heartbeat was released in 2015.
CLICK HERE for our Lion Side feature in The Diary on November 9.
MOONSHINER'S DAUGHTER ELIZABETH COOK RETURNS
orida born singer-songwriter Elizabeth Cook has plenty of reality rooted fodder for her songs.
The youngest of 12 children is now aged 48 and wrote diverse songs with Sydney singer Melinda Schneider.
Cook and Schneider wrote together after Melinda saw Elizabeth on the Grand Ole Opry in Nashville.
The duo wrote Sometimes It Takes Balls To Be A Woman, Rest Your Weary Mind and I Like Men In Trucks and several other tunes in creative sessions.
Elizabeth shares maternal music genes with Schneider whose mother Mary is an Aussie country pioneer.
Cook's mum Joyce played mandolin and guitar and her dad Tom played bass in an Atlanta prison band as he did time for moonshining.
Tom and Joyce fronted a duo named Medicare after the last of his 10 years in jail in the sixties.
Elizabeth is joined by Kevin Kinney in her Nu Country TV return with their Thick Georgia Woman video filmed in a barn and studio.
Thick Georgia Woman is on her seventh album Aftermath.
One of Cook's previous Nashville bands featured recently deceased Midnight Oil bassist Bones Hillman.
She toured here with former singing spouse Tim Carroll in 2013 and played Northcote Social Club and Tamworth .
CLICK HERE for our historic interview with Elizabeth in the Diary on November 9, 2008.
TOM CURTAIN HIGH IN THE WEST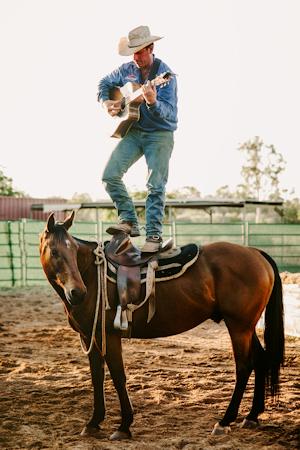 Northern Territory stockman Tom Curtain trains horses and dogs at his Katherine Outback Experience when he is not writing songs and performing.
This week he filmed high in the air above the red dirt plains of the territory and South Australia as he drove cattle with his jillaroo, horses and canines.
The dual Golden Guitarist performs live in his In The West video on his fourth album We're Still Here .
"After touring through the country again in 2019 and 2020 and seeing small communities and townships smashed by the drought, fire and floods, I wanted to write a song that celebrates the good times out here in the bush," Tom revealed.
"Co-written with Garth Porter, In The West highlights the fact that, although people in the country endure a lot of hardships, it's also an amazing and inspiring place to live and work."
The Mildura born singer grew up at Kumbia near Kingaroy before heading to the territory where he runs the Katherine Outback Experience with wife Annabel.
His previous Nu Country videos included When The Pindan Meets The Ocean at Barn Hill Station and Beachside Stay caravan park near Broome.
" Where The Pindan Meets The Ocean was the fourth song released from my third album Territory Time ," Tom recalled.
" Barn Hill Beachside Station Stay also happens to be the place I proposed to my beautiful wife Annabel."
He also appeared on Nu Country with Living In The Bush and his Golden Guitar winning video with Luke O'Shea for Never-Never Land .
Further info - https://www.katherineoutbackexperience.com.au/music/
MARK POWELL ABILENE OUTLAWS & LEGENDS
est Texas rancher Mark Powell returns live to Nu Country TV with his band Lariat at the Outlaws & Legends festival in Abilene .
Powell singer wrote This Bar Needs A Town with fellow Texan rancher Randall King.
The song is one of the Abilene singer's Top 5 Texas hits on fifth album Breaking Things.
Others include Projects that debuted on Nu Country last month and Second-Hand Smoke.
Powell and wife of 17 years Meredith have three children Ella, 13, Hayden, 12, and Macy, 10.
Mark tours with his family band Lariat he formed with his brother John after fiddler father Bishop taught them about strings and things.
They toured with artists diverse as late Merle Haggard, Mac Davis, Johnny Gimble, Texas Playboys , Tracy Byrd, Johnny Lee, Tommy Overstreet, Johnny Bush, Pat Flynn, Western Flyer , Lionel Cartwright, Red Steagall, Doug Supernaw, Cooder Graw , Jake Hooker, Darrell McCall, Curtis Potter, Asleep at the Wheel and Michael Martin Murphey.
His first CD Overdue (2003) featured hits Mexican Honeymoon and Doublewide Dreaming in Texas .
Powell combines music with ranching where he has a diverse range of livestock.
He has two buffalos named Lavern and Shirley and five Longhorns titled Cletus, Sugar Rush, Wendy Kay, Eliza and Ginger.
His chickens also have memorable names - Oprah and Beyonce.
Further info - http://markpowellmusic.com/
LAURA BELL BUNDY FEMALE EMPOWERMENT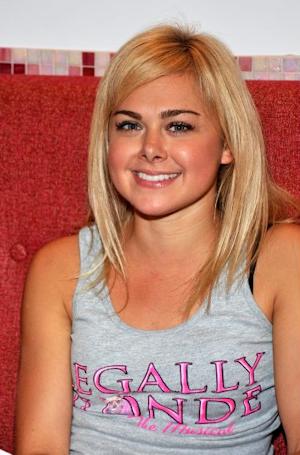 Kentucky singing actress Laura Bell Bundy returns to Nu Country w ith a timely song of female empowerment.
Laura, 39, was born in Ohio and raised in Kentucky and has been in more than 13 movies and 20 TV series.
Shoshana Bean and Anika Noni Rose joined her cast on Get It Girl, You Go - an uplifting anthem on her sixth album Women Of Tomorrow.
She previously appeared in her Swiss Alps video for I Am What I Am from fifth album Another Piece Of Me.
It was where the famed Sound Of Music movie - based on the famous Van Trapp family - was filmed in 1965.
Bundy eulogised her home state in another video Kentucky Dirty.
Laura plays a doctor in TV show Anger Management with Charlie Sheen and has recurring roles in Hart Of Dixie .
The Hairspray and Wicked stage star was nominated for a Tony award for her lead role of Elle Woods in Legally Blonde .
Her movie roles began in The Adventures of Huck Finn in 1993 and include Life with Mikey Courtney, Strangers with Candy: Retardation , 2003 All Grown Up, Dirtbags, Surf School, Dreamgirls Sweetheart , The Drum Beats Twice, Hound Dogs, To the Mat, Watercolour Postcards and Dear Dumb Diary.
She also appears in Home Is Where The Heart Is starring Bailee Madison, Conrad Goode, Jonathan Banks and John C. McGinley.
CLICK HERE for a Bundy CD review in The Diary on August 16, 2010.
BRENNEN LEIGH FROM NORTH DAKOTA TO AUSTIN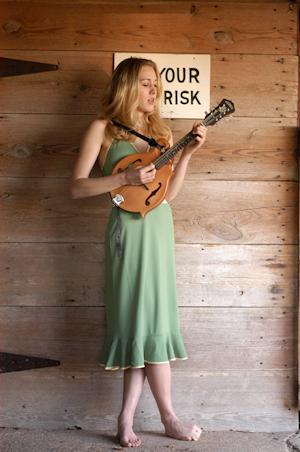 North Dakota born Brennen Leigh returns with a powerful message.
Brennen, now 36, made it clear she is from the town she left in 1999 in her new video Don't You Know I'm From Here on her sixth album Prairie Love Letter.
She wrote all songs on the concept album produced by Robbie Fulks.
"This is a collection of songs about my childhood home: the line between Western Minnesota and Eastern North Dakota ," Leigh revealed.
"I've lived away for eighteen years and been homesick every one of them."
"Like the character in the Twilight Zone episode that's able to time travel back to his childhood, I've learned that expectation only leads to disappointment and a feeling of loss. Don't You Know I'm From Here is my version of The Rank Stranger."
Brennen was born in North Dakota and moved to Austin , Texas , and released 2009 solo album The Box and Before The World Was Made with singer-songwriter Noel McKay in 2013.
She also cut a Lefty Frizzell tribute disc after her songs were recorded by Grammy winning Texan Lee Ann Womack.
Leigh collaborated with Jim Lauderdale, John Scott Sherrill and David Olney and was twice voted Texas Music Awards Best Female Vocalist.
The mandolinist also fronts country bluegrass band High Plains Jamboree , with frequent writing and touring partner-guitarist McKay, bassist Simon Flory, and fiddler Beth Chrisman.
Leigh also wrote songs with Sunny Sweeney including their animated video for But You Like Country Music and Staying's Worse Than Leaving for Sweeney's second album Concrete in 2011.
She now lives in Nashville where she plays Lower Broadway at Layla's and Robert's Western World and historic Station Inn.
Further info - https://www.brennenleigh.net/
HOW TO KEEP NU COUNTRY ON AIR
We need your support in Nu Country TV's 45th series with Australian record companies and major artists teaming to ensure our survival.
We have expatriate Australasian superstar Keith Urban's chart topping 12 th album The Speed Of Now - Part 1.
Also vintage BR5-49 CD Big Backyard Beat Show and Billy Ray Cyrus's historic 1992 album Some Gave All that features his Achy Breaky Heart hit.
You can join Watling & Bates as members and win their 13 track CD Small Town Tales.
We also have other CDS by major artists you can win by becoming a Nu Country TV member or renewing your membership.
They include Brad Paisley, Carrie Underwood, Eric Church and late larrikin legend A.P. Johnson.
CLICK HERE for our Membership Page for details.