DAVE'S DIARY - 24/03/14 - PREVIEW OF EPISODE 4 - SERIES 22
GEORGIAN SUPERSTARS HEADLINE NU COUNTRY TV
The eclectic Georgian Zac Brown Band headlines Nu Country TV with its latest hit video on Thursday March 27 at 10.30 pm on Channel 31.

Californian surfing cowboy Gary Allan also returns to the show, filmed and edited by Laith Graham and repeated Monday at 5.30 am and 2.30 pm and Wednesday 11.30 pm.

Hank Williams Jr, Jamey Johnson and Shooter Jennings honour late outlaw dad Waylon in a special tribute in Behind Bars.

And Mississippi multi-instrumentalist Marty Stuart also returns to the show featuring the debut of Melbourne musician and singer-songwriter Frank Reno.

Nu Country TV has been added to the C 31 streaming list.
Just follow this link on your computer or mobile phone - http://www.c31.org.au/program/view/program/nu-country-tv

ZAC BROWN BAND PRAISE CRAZY ANNIE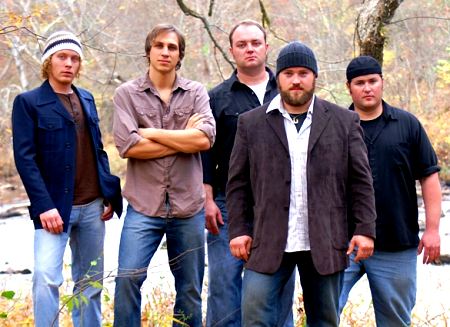 Zac Brown Band perform the humorous new video for their 10th #1 hit Crazy Annie - fourth single - from their sixth album Uncaged.

They played the Myer Music Bowl last year with Jason Mraz and the 2014 Super Bowl after cutting a new album with Dave Grohl.

The Grohl Sessions Vol. 1 was released in December - a precursor to further collaborations with the lead singer from the Foo Fighters.

"Vol. 1 is literally everything we recorded, but we liked the idea of adding to this at some point," band member Clay Cook says.

"We don't know what the future holds, but we like the idea, and Dave loves the idea of making more music, too. It's as open-ended to us as it is to you, but Dave was cool with calling it Vol. 1. So maybe Vol. 2 comes in 30 years; we don't know. But we love the idea of the intention to do more, that's for sure."

Zac Brown Band performed with Jake Owen for Super Bowl XLVIII and on a cruise ship docked at the Hudson River as part of a Bud Light Hotel Concert.

Grohl joined the Zac Brown Band for their performance.

CLICK HERE for a Zac Brown CD review in the Diary on August 8, 2012.
CLICK HERE for a Zac Brown feature on November 2, 2011.
SURFING COWBOY MAKES WAVES IN CHURCH
Californian surfing cowboy Gary Allan worships whiskey in a Nashville church in a video released on Black Friday - November 29, 2013.

The thrice wed singer filmed his video at the Downtown Presbyterian Church Nashville - a historic landmark resembling a Confederate hospital for the clip.

It Ain't The Whiskey is on Gary's ninth album Set You Free released long after his bout of Australian tours over the past 25 years.

It captures the deep suffering Allan is so skilled at conveying - his third wife Angela Herzberg committed suicide with a single gunshot wound just after midnight on October 25, 2004.

Texan born Angela pulled the fatal trigger but the ricochet fuelled morose songs by latter day Nashville widower Gary, now 46 and father of six children.
In It Ain't The Whiskey the singer questions his character's attendance at a meeting to address the source of his inner torment.
The song was written by Greg Barnhill, Jim Daddario and the wryly named Cole Deggs.
CLICK HERE for a Gary Allan CD Review in the Diary on February 8, 2013.
OUTLAWS LOCKED UP BEHIND BARS
Hank Williams Jr, Shooter Jennings and Jamey Johnson go Behind Bars to celebrate the colourful career of the late Texan born outlaw Waylon Jennings.

We have timed their homage shortly after the 12th anniversary of Waylon's death at 64 on February 13, 2002.

Hank Jr, Jamey and Shooter perform Jennings signature tune Waymore's Blues.

Ironically, Shooter recently hooked up his dad's band The Waymores with his mum Jessi Colter.

The trio also perform Are You Sure Hank Did It This Way and Good Hearted Woman in their medley.

CLICK HERE for an exclusive Shooter interview in The Diary on April 28, 2012.
CLICK HERE for a Jamey Johnson feature in The Diary on December 13, 2011.
CLICK HERE for a Hank Jr CD review in the Diary on February 16, 2010.
MARTY STUART TEARS WOODPILE DOWN
Nashville legend Marty Stuart first toured here with Johnny Cash and the late Cowboy Jack Clement in the early eighties with his then wife Cindy - one of the singing daughters of the late Man In Black.

Stuart and Cash were married from 1983-1988.

Marty went on the road with Lester Flatt when he was just 14 and performs Tear The Woodpile Down - title track of his 16th album.

Stuart, now 55 is the fourth husband of iconic singer Connie Smith - 17 years his senior at 72.

They wed in 1997 and often play the historic Ryman Auditorium - original home of the Grand Old Opry.
Fittingly that's where Marty and his Fabulous Superlatives shot their video and recorded a live album.

Marty will release his second gospel album - The Gospel Songs of Marty Stuart - on April 15.

It will include some of his most-beloved hymns and spiritual songs and is the sequel to Soul's Chapel in 2005.

Stuart made his first professional appearance at 13 with Carl and Pearl Butler, performed with gospel group The Sullivans at weekends and at 14 made his Grand Ole Opry in an eight-year stint with Lester Flatt and The Nashville Grass.

When Flatt died in 1979 Stuart stayed in Nashville and worked sessions.

He also toured with Vassar Clements, Doc and Merle Watson and Bob Dylan before joining Johnny Cash's band in 1980.

CLICK HERE for a Marty Stuart CD review in the Diary on July 5, 2005.
FRANK RENO GOES TO CHURCH IN COBURG
Melbourne singer-songwriter Frank Reno continues the Biblical theme by recording some of his new video for Better Road at St Paul's Church in northern suburb Coburg - once the locale for infamous historic prison Pentridge.

It was there he found glamorous model Danielle Ruth whose make-up was applied by Mishel.
They mined gold by car on a long winding to Shepparton in the Goulburn Valley.
The video was shot and edited by Usman Zuberi.

"I'm not sure the name of the road," Reno confessed.

"It was going towards Shepparton. We kind of stumbled on it. And it was perfect for the clip."

Reno has since filmed a second video that revolves around a young couple discovering the simple yet beautiful things in their lives.

The video was be shot in and around Melbourne and is planned with U.S. release in mind.

Casting involved "beautiful but believable characters."

Further info - francologozzo@hotmail.com

HOW TO KEEP NU COUNTRY ON AIR
We need your support as we celebrate our 22nd series of Nu Country TV.

Australian record companies and artists have joined forces to ensure our survival.

We have new CDS by major artists you can win by becoming a Nu Country TV member or renewing your membership.

They include singing actors Willie Nelson and Tim McGraw, Voice judge Blake Shelton, Ashley Monroe, Brad Paisley, Gary Allan, Toby Keith, Dierks Bentley, Eric Church, Carrie Underwood, Chris Young, Charley Pride, Slim Dusty, Eli Young Band, Rosanne Cash and more.

We also have the latest John Denver all-star tribute album and DVDS by Lady Antebellum.

CLICK HERE for our Membership Page for full details.