DAVE'S DIARY - 9/03/14 - PREVIEW OF EPISODE 2 - SERIES 22
ADELAIDE HILLS EXPORT IMPORTS TOPANGA CANYON RUNAWAY GIRL
Adelaide Hills born singer-songwriter Liam Gerner features a mystical maiden he found in Topanga Canyon when he debuts on Nu Country TV on Thursday at 10.30 pm on Channel 31.

Gerner highlighted the brunette he discovered in California where he wrote, recorded and filmed Mother Nature's Runaway Girl in an overseas odyssey.

Georgian superstar Alan Jackson and Missouri young gun Tyler Farr perform a double shot of redneck video clips on the show repeated Mondays at 5.30 am and 2.30 pm.

Bluegrass veterans Del McCoury and Peter Rowan also revive historic songs in Behind Bars.

And Texan Aaron Watson also honours war veterans on the program hosted by Mid Pacific Bob Olson and filmed and edited by Laith Graham.

Nu Country TV has been added to the C 31 streaming list.
Just follow this link on your computer or mobile phone - http://www.c31.org.au/program/view/program/nu-country-tv
LIAM GERNER TRACES RACHEL'S TATTOOS IN SONG
Liam Gerner sowed the seeds of Mother Nature's Runaway Girl in Topanga Canyon in California on his new album Land Of No Roads.

Liam, 30, wrote it with his producer Eric Lynn while living in Topanga Canyon after starting his overseas odyssey in London.

The video was directed by Lily Baldwin and Jefferson T Jones.

"Jefferson is a brilliant cinema photographer from Topanga (his home garden features in the clip)," Gerner revealed.

"After Jefferson heard this song he showed me a book of the photography of Anne Brigman."
"Lily, Jefferson and I came up with the story of the film clip and we filmed it in Topanga Canyon in one day. A fitting location as Topanga is where the song was written.
"Lily Baldwin is a wonderful dancer and film director. I first saw her dance in David Byrne's band in London and just loved it. She was in LA for a few days and we hatched this plan to make this film clip. Alex Lee Moyer edited the film clip, and what a great job she did."

It was a fitting companion to the song embryo.

"I wrote Mother Nature's Runaway Girl when I was wandering around the State Park trails of Topanga Canyon," Gerner explained.

"I met some girls out on a trail one day, and what was a lonely mountain man to do but to chat with them? I noticed one of the girls had a giant rose tattoo covering her chest, and for some reason I pictured a bee flying onto it. They walked off and I wrote the song. I actually have her email somewhere so I shall send her the clip. I never saw them again. But thanks for the song girls. Eric Lynn helped me kick this song into shape too.

"This is I guess one of those "It's me, not her" songs. It's about my wanting to get back to nature. Topanga Canyon does have somewhat of a wildness to it, with the wild coyotes, deer, mountain lions, rattlesnakes, owls, and hummingbirds, but as its so close to all things Los Angeles. There are always people wanting to get up there and out into nature for a day hike and that makes Topanga a very unique place to witness the wonderful sites of modern humans feeling at a loss of how to survive or even at a loss of how to interact with the wilderness and nature, myself included. Weirdly enough just after I recorded this song, I met in Topanga a very special person called Rachel. And the song has become very much about her too."

The singer shares South Australian geographical roots with expats Kym Warner from The Greencards and prolific guitarist for hire and songwriter Jedd Hughes who was born in Quorn, Beccy Cole and Kristy Cox.

Liam has a Thursday night March residency at the Labour In Vain Hotel in Fitzroy.

CLICK HERE for a Gerner CD review in the Diary on March 5.
ALAN JACKSON DEFENDS REDNECKS
Georgian superstar Alan Jackson goes back to school in his classic video to prove It's Alright To Be A Redneck - fourth single from his 2000 album When Somebody Loves You.

The music video was directed by Steven Goldmann and premiered in August 2001, before the song's official release.

It begins with a child in an elementary school talking about a presentation on the origins of the word redneck.

Jackson makes an appearance and performs the song in front of the class.

The song was written by Bill Kenner and Pat McLaughlin.
Just a few weeks after its release it was pulled so Jackson's newly penned single, Where Were You When the World Stopped Turning, could be released.
Alan, son of a motor mechanic Eugene whom he honoured in song Drive (for Daddy Gene) has toured Australia twice and released two gospel albums and bluegrass disc that topped the U.S. bluegrass charts this year.

Now 55 and father of three daughters Jackson has released 16 albums in a career kick started when managed by expatriate Australasian Barry Coburn.

Jackson was born in Newnan - same hometown as revered singer-songwriter Steve Young who has also frequently toured here since the eighties.

CLICK HERE for an exclusive Jackson interview in the Diary on October 24, 2010.
TYLER FARR REDNECK CRAZY
Missouri minstrel Tyler Farr, 30, debuts on Nu Country with the video for the title track of his debut album Redneck Crazy.

Tyler's character parked his Silverado on his belle's lawn with the headlights on her boudoir.

His jealousy sent him Redneck Crazy with help from fellow artists Colt Ford, Lee Brice and Willie Robertson from Duck Dynasty TV show as his characters in rhyme.

Darius Rucker snagged a few of the Duck Dynasty stars for his video of Wagon Wheel - the song penned by Bob Dylan and updated by Old Crow Medicine Show when they recorded it.

Throwing beer cans and toilet paper rolls is not torn from the southern etiquette book so Tyler's Redneck Crazy video was accompanied by some mock shock in the U.S. media.
It's not clear if Farr's character won back the blonde bombshell who shattered his ego when she cheated on him.
Farr also co-wrote songs Hey Y'all for Colt Ford and She's Just Like That for Joe Nichols.

In early 2012, Farr released debut single Hot Mess that he co-wrote with Rhett Akins.

Following the merger of his original label, BNA Records, Farr moved to Columbia Nashville to release second single, Hello Goodbye.

Third single, Redneck Crazy was his first Top 10 hit in 2013 - it was followed by Whiskey in My Water that peaked at #28.

Further info - http://www.tylerfarr.com/home
DEL MCCOURY MINES CALIFORNIA GOLD
Bluegrass great Del McCoury debuts on Behind Bars with his video for Woody Guthrie's 70 year old song California Gold.

Del added his melody to his band's tribute to the Oklahoma legend filmed in the Butcher Shop studio in Nashville.

McCoury - now 75 and mentor to many - fired seven times wed Texan Steve Earle from one of his tours for using profanities on stage.

Pennsylvania born Del, real name Delano Floyd McCoury, celebrated his 50th anniversary of playing music in 2010 and has released 30 albums.
As leader of Del McCoury Band, he plays guitar and sings lead vocals along with his two sons, Ronnie and Rob who play mandolin and banjo.

In June 2010, he received a National Heritage Fellowship lifetime achievement award from the National Endowment for the Arts and in 2011 he was elected into the International Bluegrass Music Hall of Fame.

Originally from North Carolina, he joined Bill Monroe's Bluegrass Boys as lead singer and guitarist in 1963 (although he was originally hired to play banjo).

He left the following year to join the Golden State Boys in California.

Subsequently he went back East and worked in logging and construction for a number of years while continuing to play music on the side.

In recent years, the band have become extremely popular at non-bluegrass festivals and has worked extensively with groups such as Phish.

Del has also performed with The String Cheese Incident, Steve Martin & The Steep Canyon Rangers and Donna the Buffalo, and recorded with Earle.

McCoury has covered songs by artists as diverse as The Lovin' Spoonful, Tom Petty, and Richard Thompson.

Del has a very enthusiastic fan base - the Del-Heads.

Further info - http://delmccouryband.com

PETER ROWAN RETURNS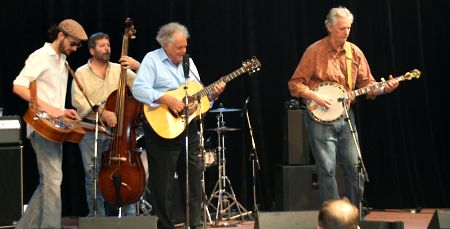 Photo by Carol Taylor
Peter Rowan, who soared to fame with the Rowan Brothers, returns to Nu Country with his tribute video to a much maligned Oklahoma tumbleweed at the Old Settlers Festival in Austin, Texas.

Rowan won an avid Australian following at the 36th Port Fairy folk festival in 2012 and other gigs including the famed Caravan Club in Oakleigh.

When Peter Rowan ambled onstage with his quartet it was a trip through his bluegrass archives.

Not only did Rowan, now 71, reach back to his embryonic era with late Bill Monroe he also pioneered bluegrass psychedelia with Jerry Garcia of Grateful Dead fame.

It was during that trail blazing and genre-blending epoch that Rowan also created Old And In The Way in 1973 that morphed into Old And In The Grey.

But on his second sojourn here in two years it was his bluegrass custodians - Michael Witcher on dobro, double bassist Paul Knight and Mike Munford on banjo.

They kicked off their first set with the riveting Dust Bowl Children - title track of his 1990 Sugar Hill album - that segued into harmonica fuelled Ruby Ridge.

"I bring out a CD every four or five years so every copy you buy is brand new," the Massachusetts born minstrel joked as he previewed The Family Demon from his 2010 CD Legacy on which he wrote all but three songs.

The quartet preceded "an old Ralph Stanley tune (an instrumental) with Father Mother - a new song he and brother Chris wrote after burying their father on a snowy Easter morning.

Equally evocative was another new song - Hey Jailer.

Rowan then recalled his era with Monroe's Bluegrass Boys and a trip on the icon's bus Bluegrass Breakdown where the vehicle emulated its title after they drove interstate to the Bean Blossom festival in Indiana after appearing on the Grand Ole Opry.

"I happened to be driving the bus when it broke down," Rowan recalled of writing The Walls Of Time.

"It was a beautiful spring morning and Bill and I wrote this song about it.

The quartet stretched out on The Land Of The Navajo and injected Bill Monroe's Brakeman's Blues, a train song, replete with yodels honouring The Singing Brakeman Jimmy Rogers.

Rowan's combo covered geographical extremities in Sitting On Top of The World - a Garcia-Rowan gem with "bluesgrass refrain" - and Dallas and El Paso locales.

They also headed further south in the Lone Star state to San Antone for Moonlight Midnight and When The Train Left The Station.

The singer became satiric in Occupy The Tea Party with a Panama Red reference and extolled the virtues of the civil rights movement in Selma Montgomery in Freedom Ride.

It was a rich and warm performance with credit to Compass label-mates The Waifs and East Adelaide added to the lyrics of another song.

Further info - www.peter-rowan.com
AARON WATSON WARRIOR TRIBUTE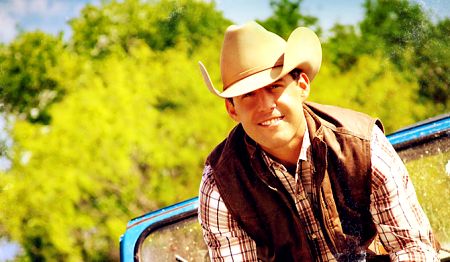 Texan Aaron Watson performs the video for Raise The Bottle - a tribute to unsung war heroes including his late grandfather.

He returned from World War 2 in a wheel chair and walked with a cane.

Raise The Bottle is on Amarillo born Watson's 11th album Real Good Time.

Watson has used it to raise money and awareness for the Boot Campaign - a foundation that supports American troops upon their return home.

Asleep At The Wheel icon Ray Benson produced Watson's 2004 album The Honky Tonk Kid featuring guest cameo by Shotgun Willie Nelson.

Watson played junior college baseball in New Mexico and performed around Texas before releasing debut album, A Texas Café.

Aaron, now living in Abilene, and his band Orphans of the Brazos appear on his 2005 album, Live at the Texas Hall of Fame.

In 2006 his San Angelo release hit No 60 on Billboard country charts.

Later that year Watson, 37 and father of four, released a collection of gospel songs - Barbed Wire Halo - including readings by latter day veteran Waco singer-songwriter Billy Joe Shaver.

On April 1, 2008, Watson's eighth album Angels & Outlaws peaked at 28 and hit the Billboard Top 200 all genre chart.

He has since released The Road And The Rodeo in 2010 and Real Good Time in 2012.

Further info - www.aaronwatson.com
HOW TO KEEP NU COUNTRY ON AIR
We need your support as we celebrate our 22nd series of Nu Country TV.

Australian record companies and artists have joined forces to ensure our survival.
We have new CDS by major artists you can win by becoming a Nu Country TV member or renewing your membership.

They include singing actors Willie Nelson and Tim McGraw, Voice judge Blake Shelton, Ashley Monroe, Brad Paisley, Gary Allan, Toby Keith, Dierks Bentley, Eric Church, Carrie Underwood, Chris Young, Charley Pride, Slim Dusty, Eli Young Band, Rosanne Cash and more.

We also have the latest John Denver all-star tribute album and DVDS by Lady Antebellum.

CLICK HERE for our Membership Page for full details.